I still can't believe it. These Healthy Banana Pancakes have been a HUGE hit in my house!
I have been on this huge health kick the past year and have really been struggling with coming up with new recipes. Ya'll sorta lit a fire under my ass when you kept asking for Healthier recipes…you ask around here friends and you shall receive!
Now I've got several Pancake Recipes here at MHR, but, all of them have added sugar, oil or eggs. Now while eggs aren't necessarily bad for you we do have to watch for our friends that have egg allergies (such as my nephew). I've pretty much perfected the Homemade Pancake recipes with this Healthy Banana Pancake recipe!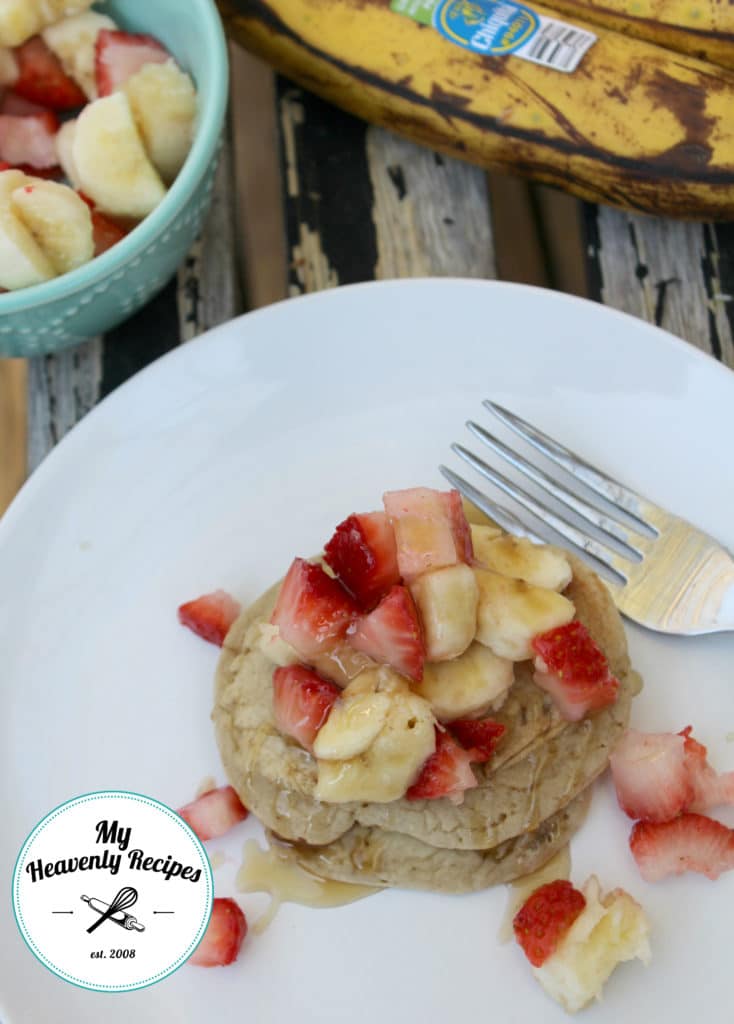 Ya'll I'm seriously proud of this healthy pancake recipe. It doesn't lack flavor and 4 out of the 5 of us LOVE them…my oldest daughter refuses to enjoy ANYTHING we do, but, she eats them…so take it as you will!
She's also 8 and apparently in that LYING ABOUT EVERYTHING STAGE. If someone could push the fast forward button in life for me during this period I would greatly appreciate it. She's literally cost me about $800 in the past 3 weeks from her lies…needless to say, she's now trying to earn back her Mommy and Daddy's trust…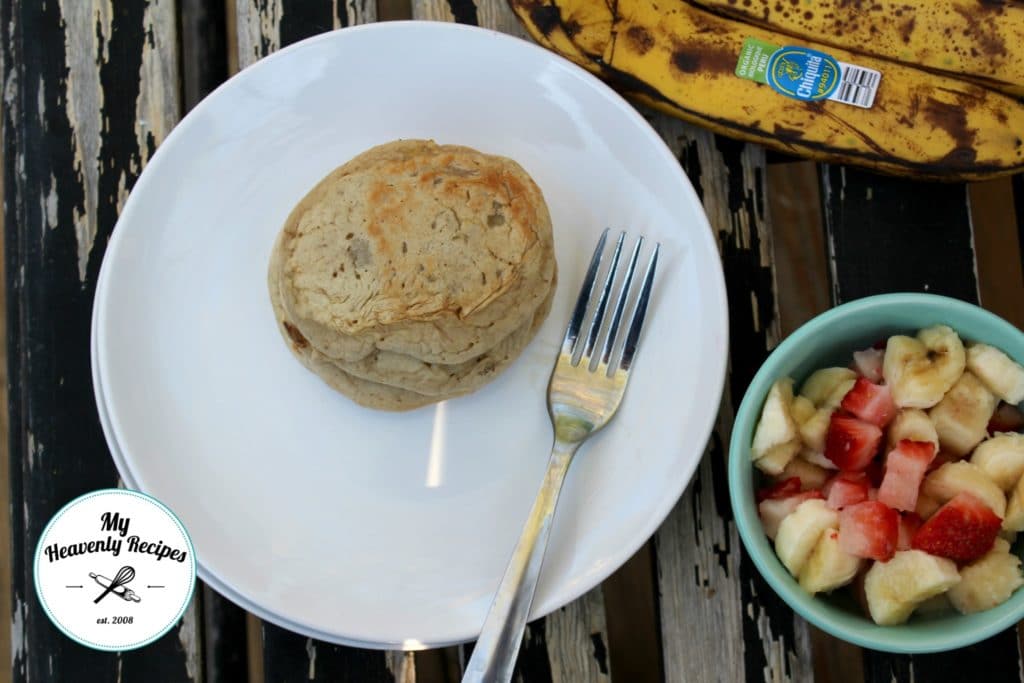 Now when I am making these recipes for my family I often think about those times when we go out to eat. For breakfast we like to hit up a local joint called the Original Pancake House. Jas always orders the Tiny Timmy and gets pancakes with strawberry topping. Being as this is a Banana Pancake recipe I decided to top these Healthy Banana Pancakes with a combination of strawberries and pancakes. I am so glad I did…if fruit could get married the Banana should marry the Strawberry…K?
Now you can totally make this Gluten Free with Gluten Free flour!
Healthy Banana Pancakes
---
Marci Loehner | MyHeavenlyRecipes.com
Yields 13
These Healthy Banana Pancakes are amazing, light, fluffy and packed full of flavor. You'll never miss the oil, egg or sugar!
5 minPrep Time
10 minCook Time
15 minTotal Time
Ingredients
1 1/2 C Unsweetend Almond Milk
1 Banana, Mashed
1 TSP Vanilla
1/3 C Pure Honey
2 C Flour
1 TSP Ground Cinnamon
1/4 TSP Nutmeg
2 TBSP Baking Powder
Instructions
In a large bowl whisk together milk, banana, vanilla and honey.
Add in flour, cinnamon, nutmeg and baking powder and stir until combined.
Heat a griddle on medium low heat and grease with butter or baking spray.
Using a 1/3 C measuring cup pour mixture onto preheated griddle.
Once bubbles begin to emerge from the top of the pancake it is time to flip.
Cook this side for 3-4 minutes until soft and fluffy.
Continue to repeat process until all pancakes are made.
Top with a fruit topping and syrup and even whipped cream should you dare!
http://myheavenlyrecipes.com/healthy-banana-pancakes/