When it comes to heavenly desserts I like to go all out. I came up with this Smore Cookie Bars recipe one afternoon as guests were on the way over for a S'more Party!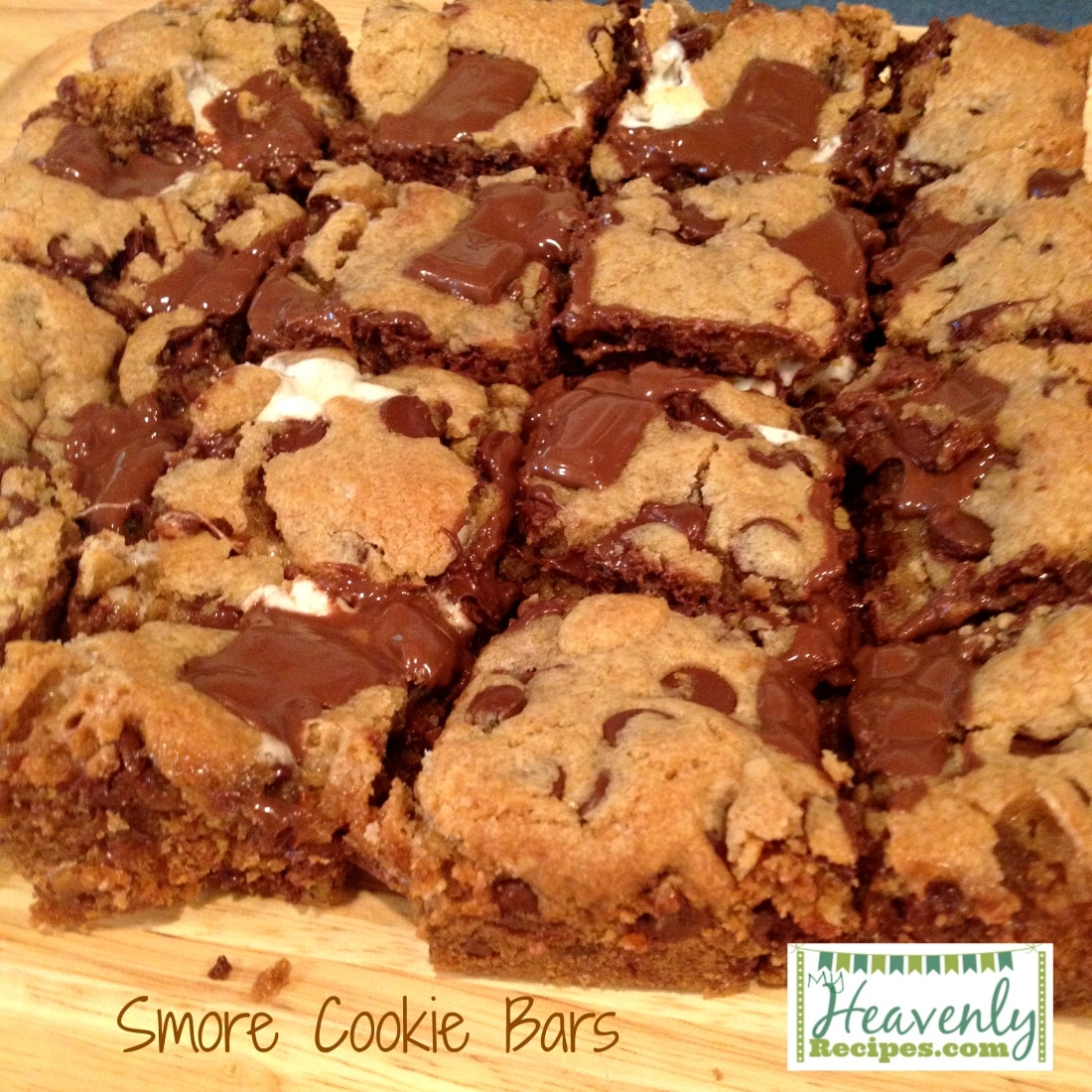 When you have 3 kids you tend to "wing it". There's a time to go all fancy and a time to take short cuts. As much as I would like to be all fancy all the time, I'll be real with you for a second…
my life is nothing fancy!
I'm in yoga pants, a work out shirt and my hair is up in a pony 90% of the day. So when you see me with make up on and real clothing that's my fancy! So much in fact that when I get out of the shower and so much as dry my hair my 3 year old says "Why you so fancy?" It's a sad and pitiful truth 🙁
So as I remained in my yoga pants I needed to use up the rest of the Chocolate Chip Cookie dough that was chillin' in the fridge. I didn't have the time to scoop, roll and bake another two dozen cookies and decided to try my hand at some S'more Cookie Bars to go with our Smore Party and I am SO glad that I did!
Enter your Name and Email Address Below to receive a email when a new recipe is published!
I PROMISE I won't sell your info to those scammer people!
These things turned out to be the biggest hit of the party….by far!
So the next time you want to present something a little bit different in the way of a dessert try these S'more Cookie Bars. I bet your friends and family will rave about them as much as your kids do!
You will need to make the Homemade Hershey Syrup ahead of time (or use the store bought stuff!).
S'more Cookie Bars
---
Yields 16
A decant and heavenly treat that is sure to be a crowd pleaser!
15 minPrep Time
25 minCook Time
40 minTotal Time
Ingredients
2¼ cups all-purpose flour
1 teaspoon baking soda
½ teaspoon salt
1½ teaspoon cornstarch
¾ unsalted butter, softened
¾ cup granulated sugar
3/4 cup packed brown sugar
1½ teaspoon vanilla extract
1 TBSP Homemade Hershey's Syrup
1 egg and 1 egg yolk
2 cups Nestle Toll House Semi-Sweet Chocolate Morsels
1 C Miniature Marshmallows
16 Pieces of Hershey Chocolate
Instructions
COMBINE flour, baking soda, salt and corn starch in a large bowl. Beat butter, granulated sugar and brown sugar until fluffy. Stir in Hershey's Syrup and vanilla extract. Add egg beating well and then add in the egg yolk and beat until combined. Gradually beat in flour mixture. Stir in morsels.
Chill dough in the refrigerator for a minimum of 1 hour.
PREHEAT oven to 350.
SPRAY a 8x8 pan with baking spray or coat with butter to prevent sticking.
SEPARATE half the dough and place in the bottom of the pan on top of cookie dough.
PLACE pieces of Hershey's Chocolate and Miniature Marshmallows.
Next using your fingers take the remaining cookie dough and place on top of the chocolate/marshmallows. You will need to press the dough to make sure it combines evenly.
BAKE for 20 to 25 minutes or until the middle of the cookie bar has set.
ADD Hershey Pieces to top of S'more Cookie Bars once they've cooled a bit.
COOL completely before serving.
7.6.3
174
http://myheavenlyrecipes.com/smore-cookie-bars/
I love to see what you are creating in your kitchens! Feel free to share your results of this Smore Cookie Bars Recipe with me on Facebook or Instagram. And, be sure to follow me over on Pinterest for more Heavenly Recipes.