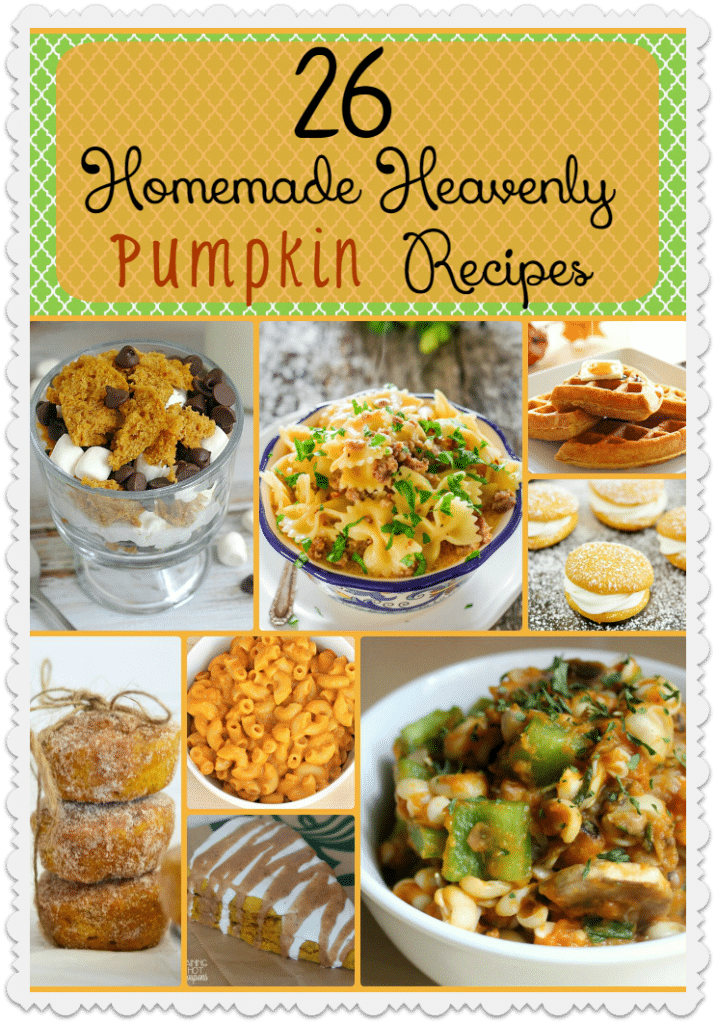 I love to see what you are creating in your kitchens! Be sure to share the recipes you found on MyHeavenlyRecipes.com with me on Facebook, Twitter, Pinterestand Instagram.
Nothing says Welcome to Fall like a homemade & Heavenly Pumpkin recipe right? I think the first recipe that comes to mind when talking fall + pumpkin is a Pumpkin Roll. It's become a tradition in our house and one the girls and I look forward to making every year. It's also super popular amongst my friends. I bet if I had enough time I could make quite a few bucks selling these just as the cooler weather begins to surface 😉 So if you need a few extra dollars there's a good idea for you!
Alright let's get you some more inspiration…
Savvy Saving Couple – Gluten Free Pumpkin Chocolate Chip Cookies
Mama Likes to Cook – Easy Pumpkin Soup With Toasted Pine Nuts
Thrifty Jinxy – Pumpkin Pie Muddy Buddies Recipe
Thrifty Jinxy – Fluffy Pumpkin Dip Recipe
Simple Thrifty – Pumpkin Pie Fudge
Honey and Birch – Pasta With Pumpkin Sauce
Simply Stacie – Pumpkin Chili Recipe
A Cultivated Nest – Delicious Mini Pumpkin Bread S'More Trifle
Tried and True – Vegan Pumpkin Pie
Savvy Saving Couple – Creamy Pumpkin Ice Cream
Savvy Saving Couple – Cinnamon and Sugar Mini Pumpkin Muffins
Strength and Sunshine – Sweet Pumpkin & Bell Pepper Sprouted Black Eyed Peas
Strength and Sunshine – Savory Pumpkin Lentil Tacos
Amanda's Cookin' – Cranberry Pumpkin Coffee Cake
Amanda's Cookin' – Pumpkin Cheesecake with Rum Whipped Topping
Amanda's Cookin' – Pumpkin Cranberry Muffins with White Chocolate Chunks
Just Us Four Blog – Green Chili Pumpkin Soup
Raining Hot Coupons – Copycat Starbucks Pumpkin Scone
A Pumpkin and a Princess – Pumpkin Spice Whoopie Pies
Chocolate Covered Katie – Pumpkin Mac and Cheese
Amy's Healthy Baking – Pumpkin Cinnamon Rolls
Julie's Eats and Treats – Cinnamon Swirl Zucchini Pumpkin Bread
Jo Cooks – Pumpkin Sausage Bowtie Pasta
Lil Luna – Pumpkin French Toast Bake
Recipe Girl – Baked Pumpkin-Parmesa Chicken
The Girl Who Ate Everything – Pumpkin Waffles
Stay tuned as I'll be sharing my Pumpkin Pancake within the coming weeks!
Be sure bookmark Submit a Recipe so that I can feature it on the site once you've completed this project! See you soon 😉
Enter your Name and Email Address Below to receive a email when a new recipe is published!
I PROMISE I won't sell your info to those scammer people!