How to Make Salmon in the Air Fryer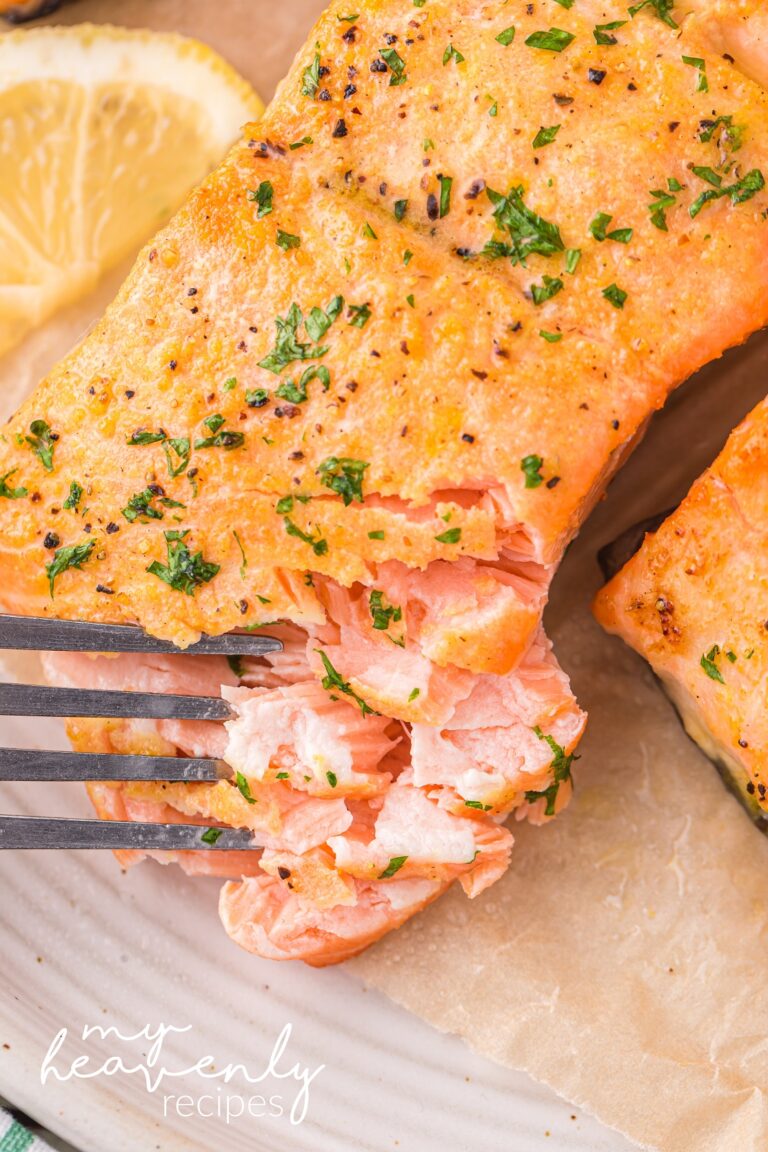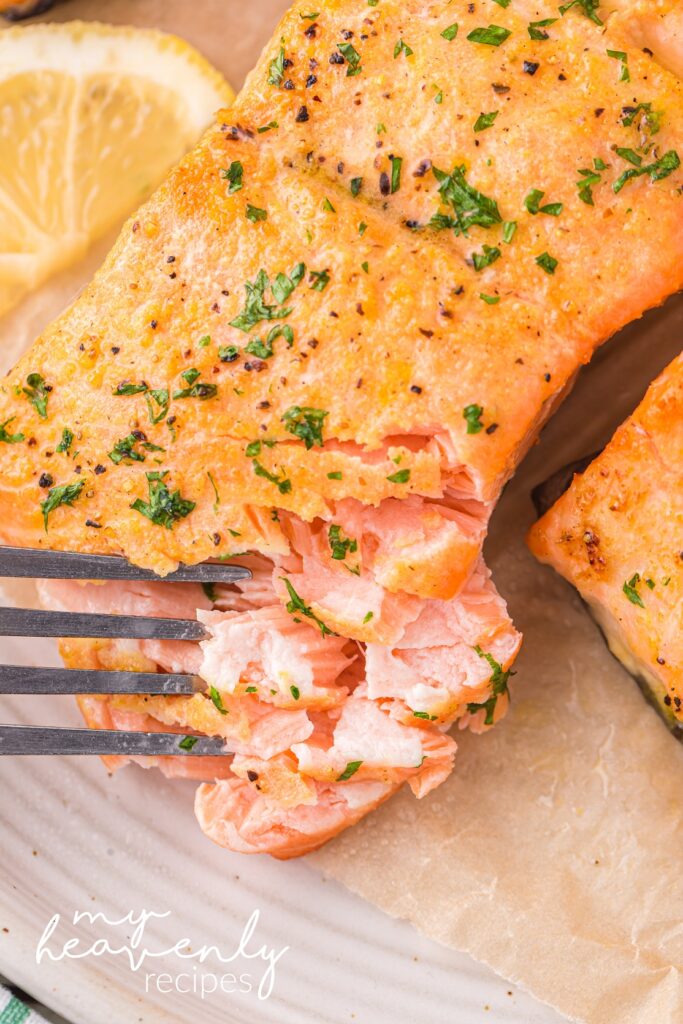 One of my fail proof ways of cooking salmon is in the air fryer! It is THE fastest and easiest way to cook it. It gives the outside a little crisp to it while the inside just melts in your mouth!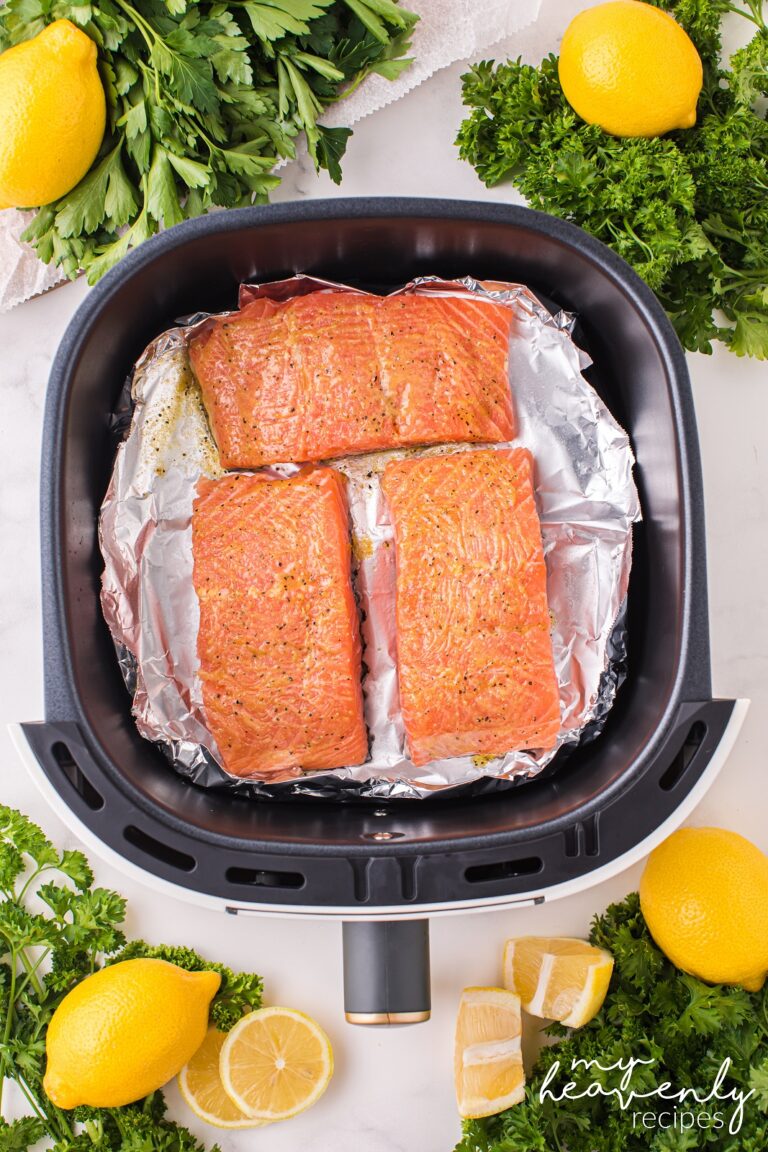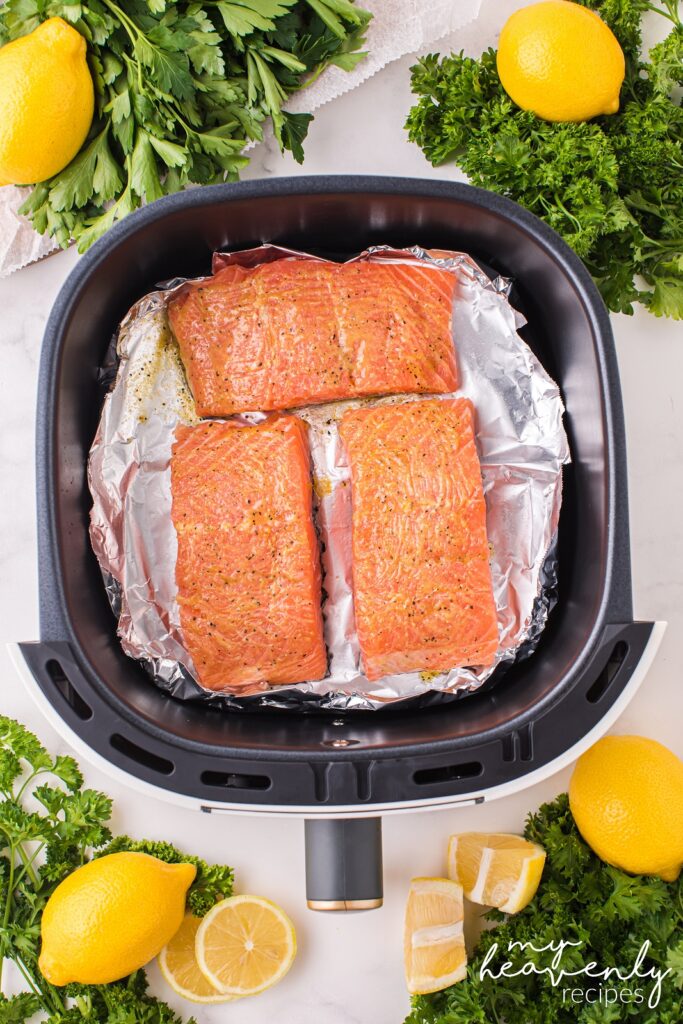 What will I need to complete this recipe?

You will need the following ingredients:

Salted butter: You can also use unsalted butter with just a pinch of salt or your favorite cooking oil such as olive oil, avocado oil or grapeseed oil. 
Lemon pepper seasoning
Brown sugar: You can substitute honey for a similar result. 
Salmon: This recipe works best with fresh salmon however you can use frozen salmon that has been thawed, if necessary. 

You will need the following supplies:

Small bowl
Wire whisk or fork
Aluminum foil
Cooking spray
Air Fryer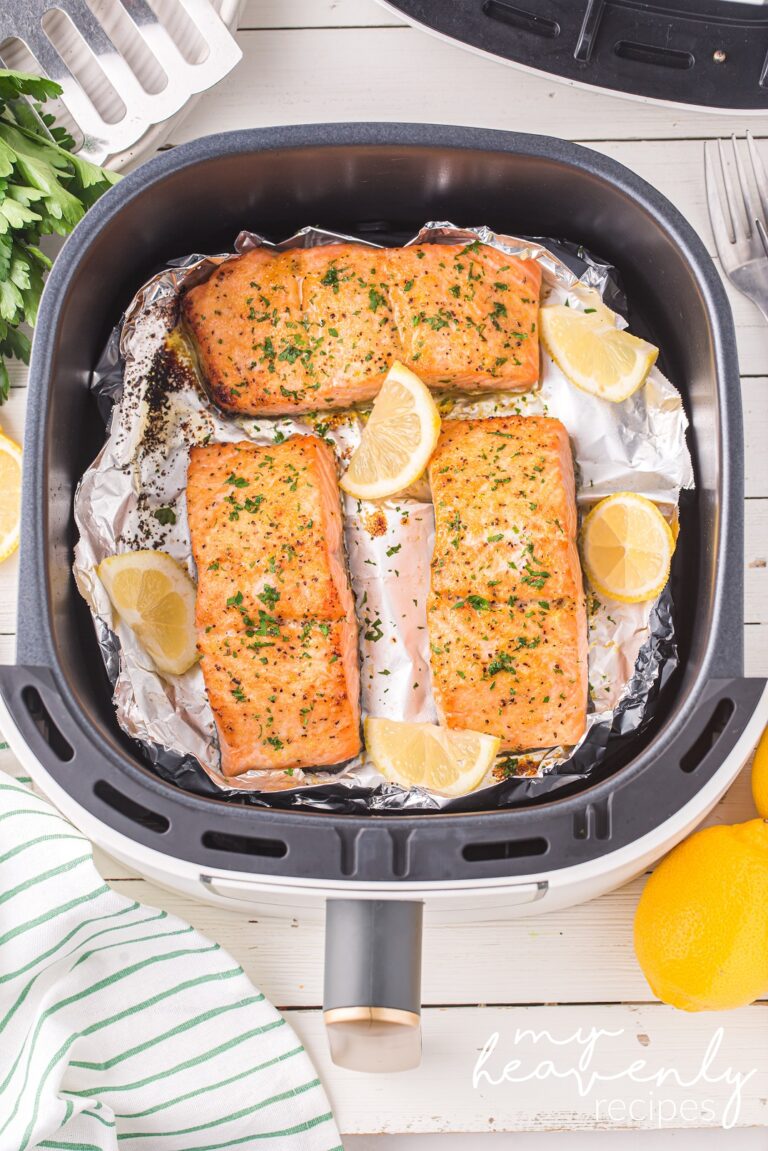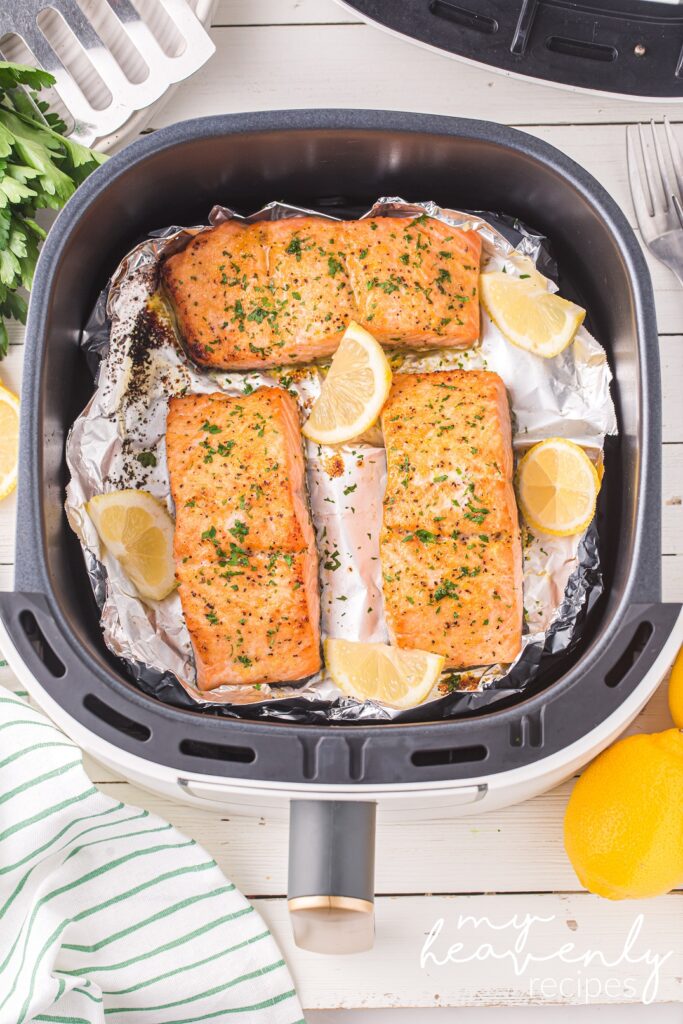 How do I store this Air Fryer Salmon?

This salmon can be stored, in an airtight container, for 2-3 days in the refrigerator. You can also freeze it for 2-3 months however it is more likely to dry out and may not keep the soft, tender texture it had when it is reheated. Thaw in the refrigerator overnight and reheat in the microwave or air fryer.

What are some tips and tricks for this recipe?

This recipe is kept simple intentionally, however there are some tips and tricks that will help you get the perfect Air Fryer Salmon every time.

I like to pick out a large cut of salmon, a little larger than 1 pound, that is uniform in size and thickness and cut it into my 3 filets. This makes it easier to get even sized salmon so that they cook equally in the air fryer.
Make the aluminum foil pan before you preheat your air fryer. That way you can use your basket to determine the size of aluminum foil that you need and you don't have to worry about burning yourself.
If you like to crisp up and eat the skin on your salmon, turn your filets over halfway through cooking so that the skin can cook out of the juices. If you leave the skin up the whole time it is likely to blacken. If you leave it down the whole time it won't get crispy but it easily peels off of the salmon.
If you have a small air fryer, cut the filets in half and do multiple batches. One of the worst things you can do with an air fryer is overcrowd it because it makes it harder to cook the food fully and evenly. Be sure that there is a little space on all sides of your filets and cook as many batches as you need to for them to all cook well.
Serve with some delicious vegetables. You can make some asparagus, broccoli or potatoes to complement this gorgeous salmon. They can also be made in the air fryer or baked or steamed while you are working on your salmon.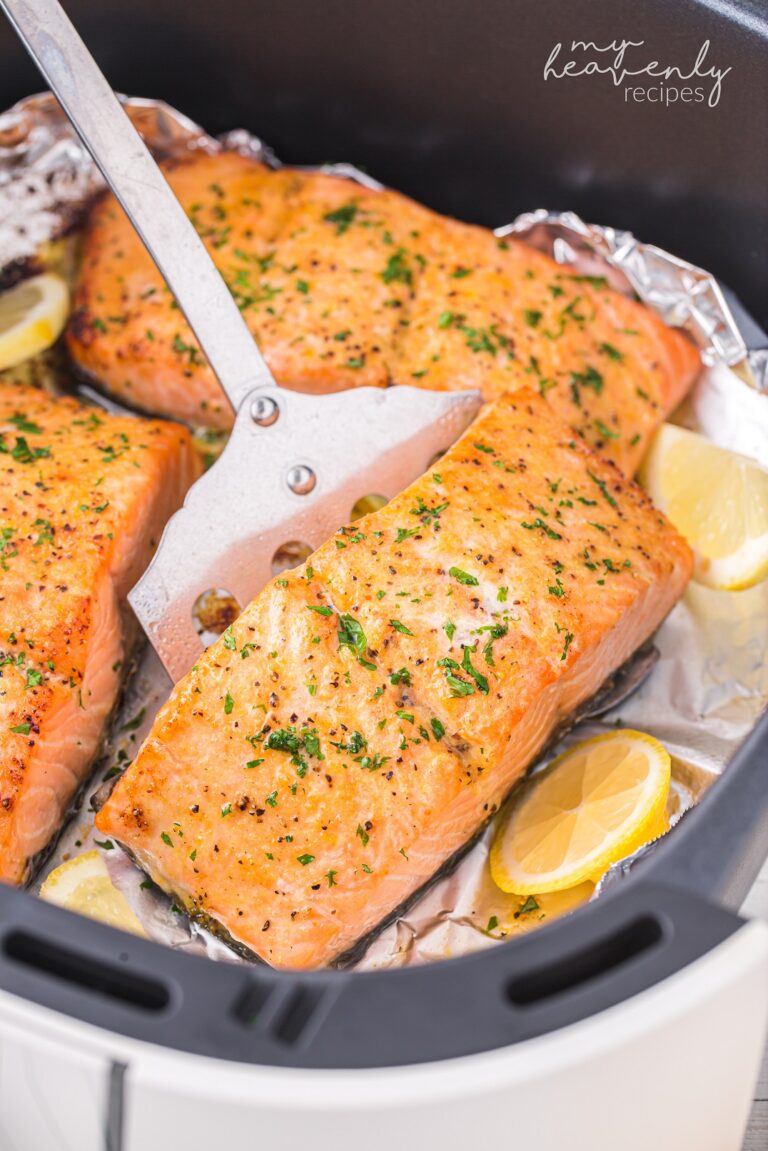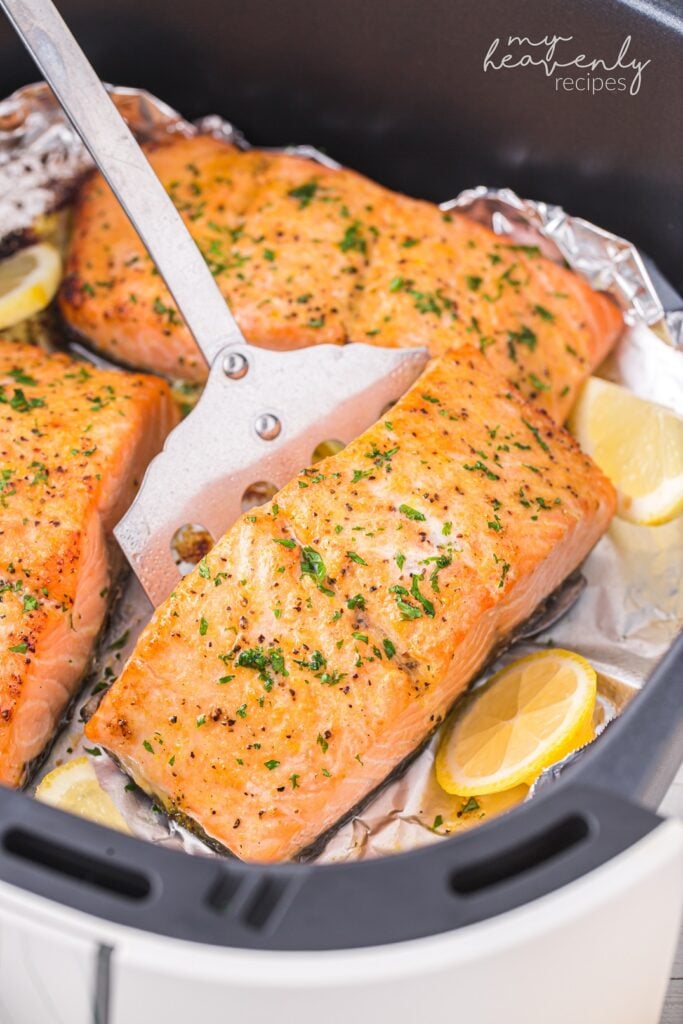 Air Fryer Salmon
Ingredients
1

Tablespoon

salted butter

melted

1

teaspoon

lemon pepper seasoning

½

teaspoon

brown sugar

3

6 ounce filets of salmon

Fresh chopped parsley

optional garnish

Fresh lemon wedges

optional garnish
Instructions
Make a square "pan" out of aluminum foil with a lip all the way around to keep the juices from getting all over your air fryer and spray it lightly with cooking spray. It should be just smaller than your air fryer basket.

Preheat your air fryer to 400 degrees Fahrenheit.

Whisk together the melted butter, lemon pepper and brown sugar in a small bowl, with a fork or wire whisk.

Place the 3 filets on it, skin side down, with about ½ inch space between them. If you have a small air fryer you may need to do 2 batches.

Mix up the butter mixture again and pour it all over the salmon filets. I recommend using a spatula to scrape out any seasoning that sticks to the bottom of the bowl.

Carefully place your aluminum foil "pan" into your heated air fryer and cook for 8-10 minutes or until a meat thermometer placed in the thickest part of the salmon reads at least 125 degrees Fahrenheit and the salmon flakes off easily with a fork.

Remove the aluminum foil from the air fryer and serve your salmon hot with minced parsley and lemon wedges as optional garnishes.