How to Make Italian Ricotta Cookies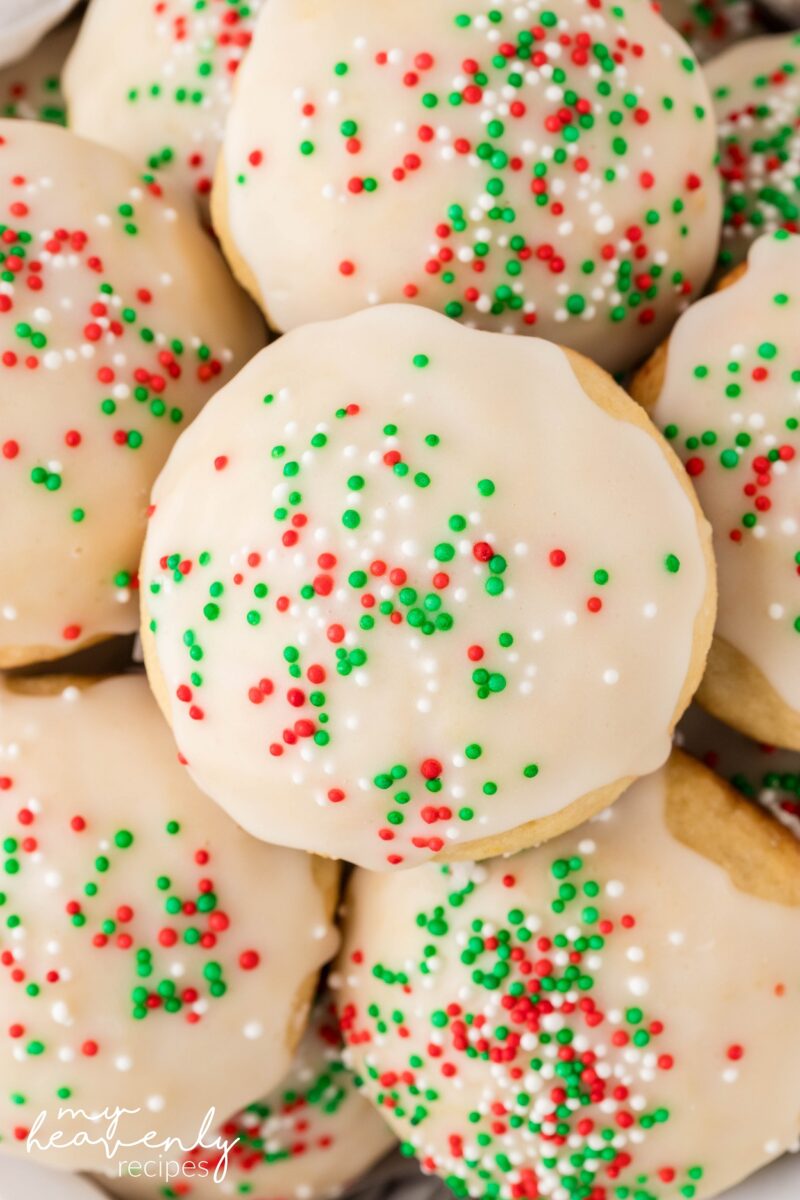 Make this Christmas classic cookie….an Italian ricotta cookie! They are easy to make and great for a cookie exchange party during the holidays!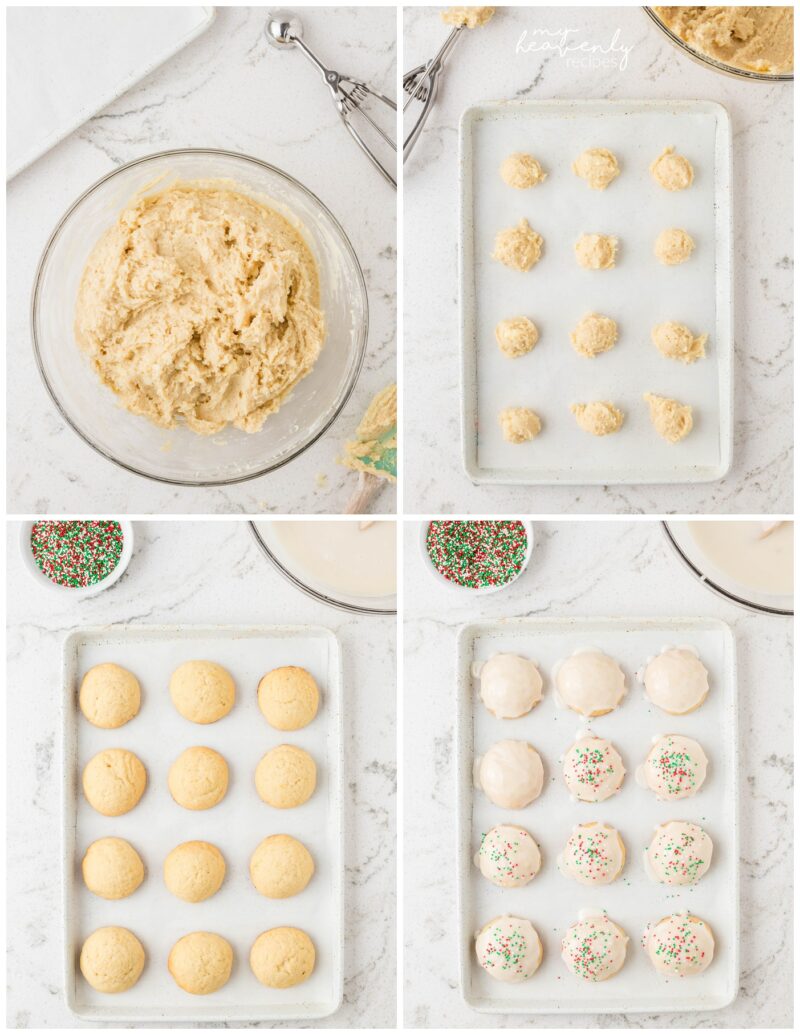 You will need the following ingredients:

All-purpose flour: AP flour creates the structure of these cookies.
Chemical leaveners: Baking powder and baking soda are used in this recipe to give these delicious cookies their height.
Kosher salt: Salt elevates the flavor profile of this recipe.
Unsalted butter: Butter enhances the cookies by adding richness, tenderness, and structure to these yummy cookies. Be sure to set out your butter for at least 30 minutes to give it time to get to room temperature.
Granulated sugar: We use sugar to elevate the taste of the cookies.
Large eggs: This recipe uses 2 large eggs to create structure and enhance the flavor of this recipe.
Ricotta cheese: Ricotta is used to create amazingly soft, cake-like cookies.
Pure vanilla extract: Vanilla adds warmth, depth, and sweetness to the cookies.
Fresh lemon zest: Lemon zest elevates the taste and smell.
Glaze: We use powdered sugar, milk, vanilla, and fresh lemon juice to create the sweet glaze that covers the cookies.
Sprinkles: We love to use nonpareils for their texture and colors, but you can use your favorite sprinkles for these cookies.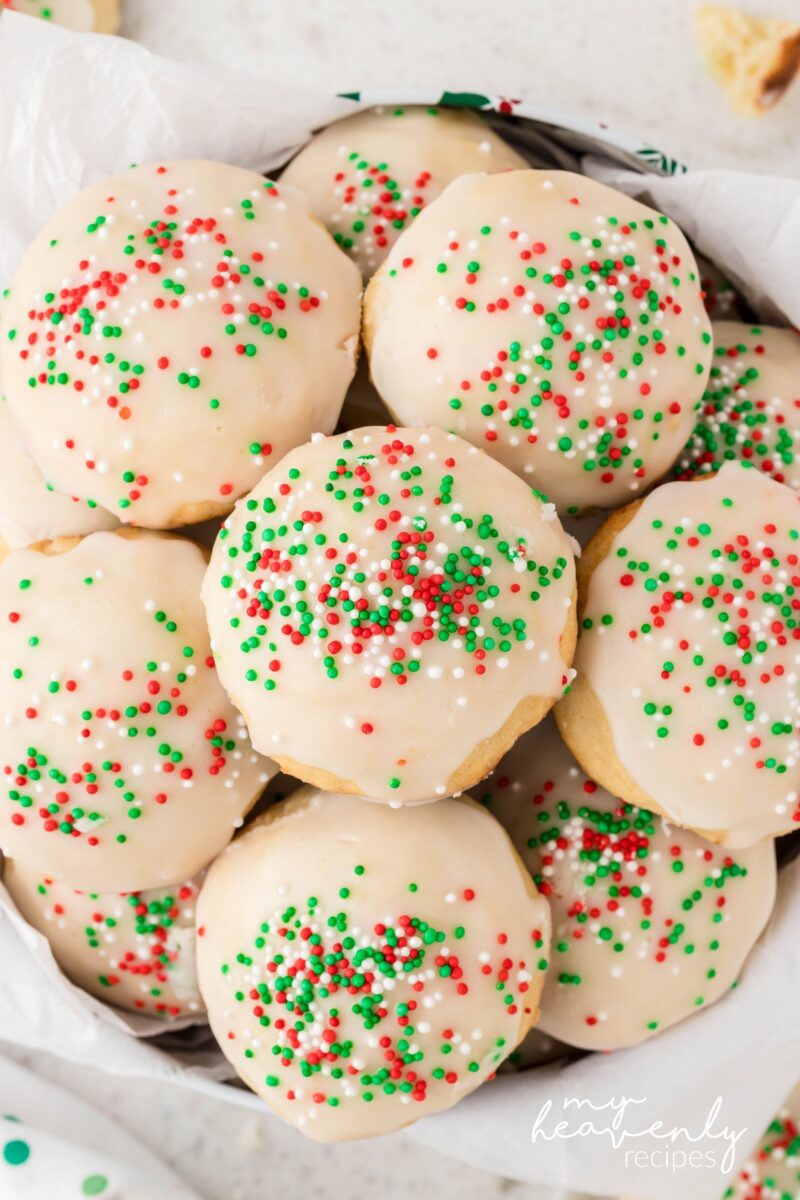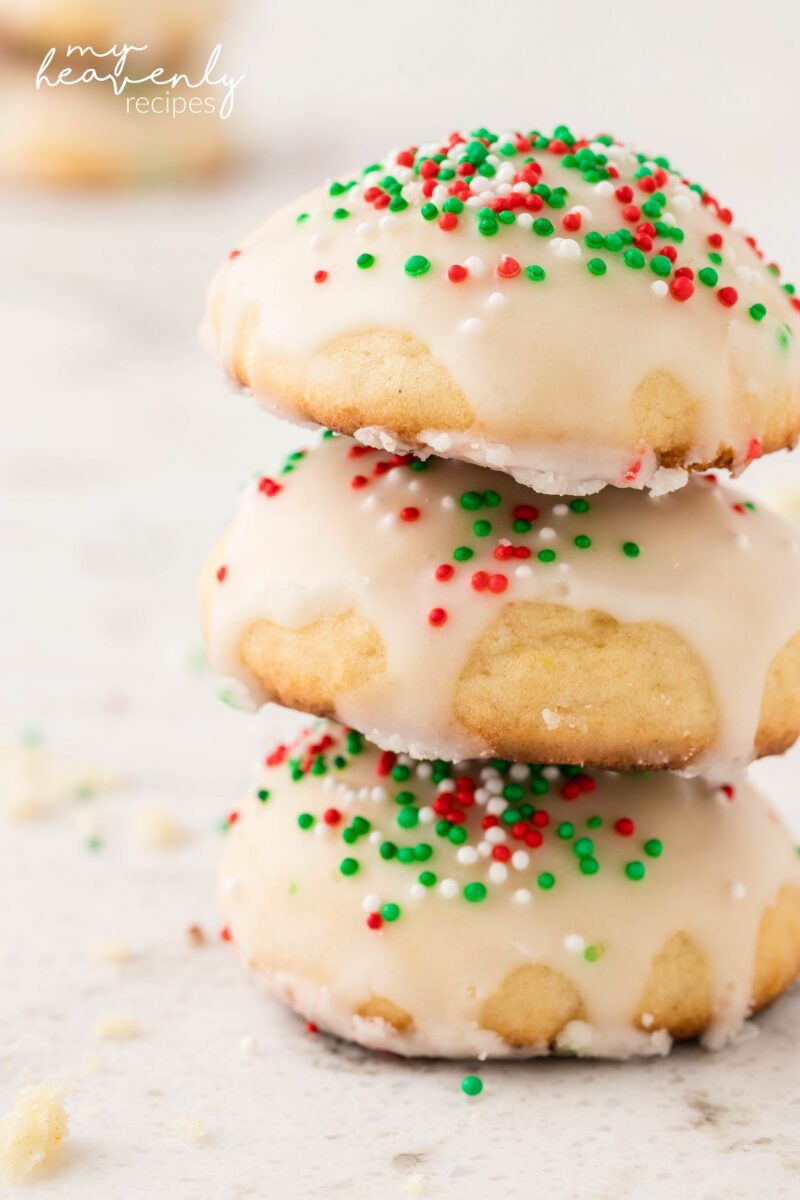 Italian Ricotta Cookies
Ingredients
4

cups

all-purpose flour

1

teaspoon

baking powder

1

teaspoon

baking soda

1

teaspoon

kosher salt

1

cup

2 sticks unsalted butter, room temperature

2

cups

granulated sugar

2

large eggs

room temperature

1 15-ounce tub ricotta cheese

1

tablespoon

pure vanilla extract

½

tablespoon

fresh lemon zest
Glaze:
4

cups

powdered sugar

4

tablespoons

milk

2

tablespoons

lemon juice

1

teaspoon

pure vanilla extract

Sprinkles
Instructions
Preheat your oven to 350°F and prepare 2 large baking sheets with parchment paper. Set aside.

In a medium mixing bowl, whisk 4 cups of all-purpose flour, 1 teaspoon baking powder, 1 teaspoon baking soda, and 1 teaspoon kosher salt until combined. Set aside.

Using a stand or hand mixer, cream 1 cup of unsalted butter and 2 cups of granulated sugar. Scrape down the sides and add 2 large eggs, (1) 15-ounce tub of ricotta cheese, 1 tablespoon pure vanilla extract, and ½ tablespoon fresh lemon zest and mix until combined. Scrape down the sides, add the contents of the dry ingredient bowl to the wet ingredients, and mix until combined. Cover or wrap the dough in plastic and place in the fridge to chill for 1 – 2 hours.

Once chilled, use a 1-tablespoon cookie scoop to form small dough balls. Place them 2 inches apart on your prepared cookie sheets. Bake for 10 – 15 minutes or until the edges are set and are just beginning to turn golden. Allow to cool on a cooling rack until completely cool.

While the cookies are cooling, mix 4 cups powdered sugar, 4 tablespoons milk, 2 tablespoons lemon juice, and 1 teaspoon of pure vanilla extract until creamy and thick.

Dunk the top of each cookie into the glaze, then place them back onto your cooling rack. Add sprinkles and allow the glaze to set at room temperature (about 10 minutes).

Serve and ENJOY!
Notes
– Pro Tip: Wet your hands before rolling dough into balls. Slightly wet hands will help to keep the dough from sticking to your hands.
– Add the sprinkles while the glaze is wet, or they will not stick to the cookies!