How to Make Stained Glass Cookies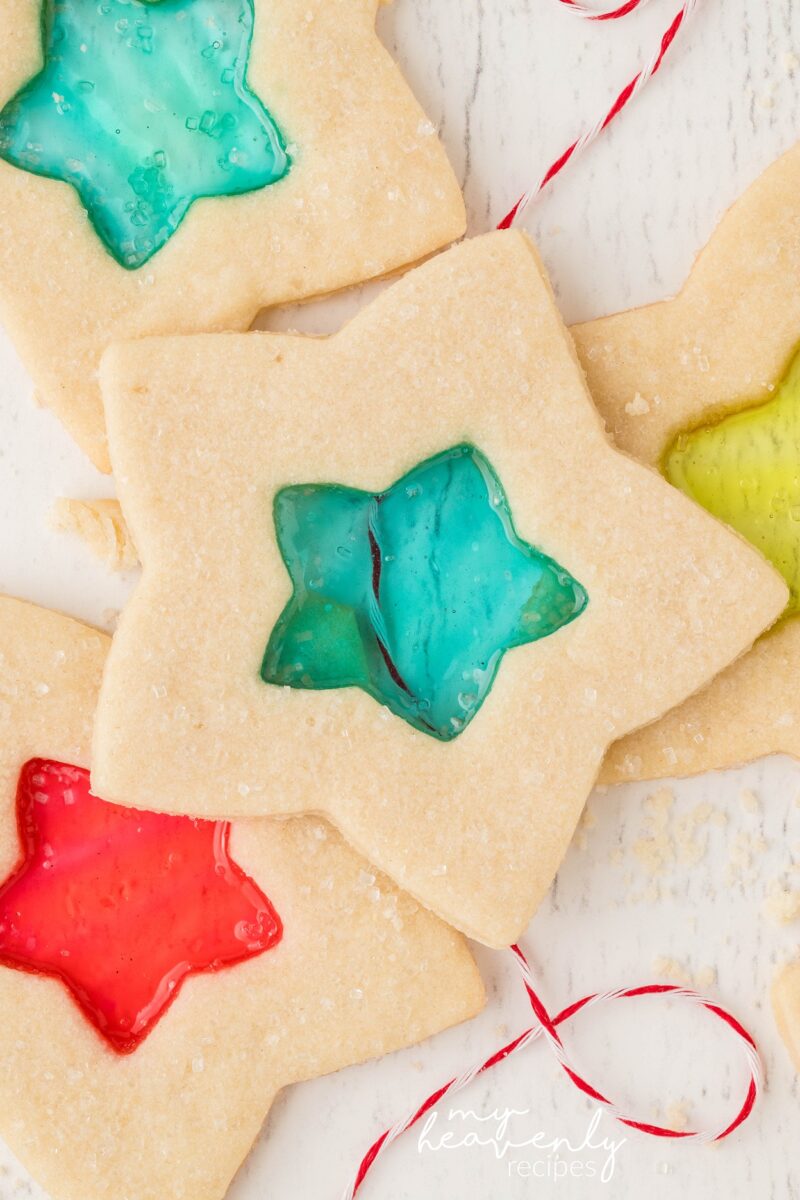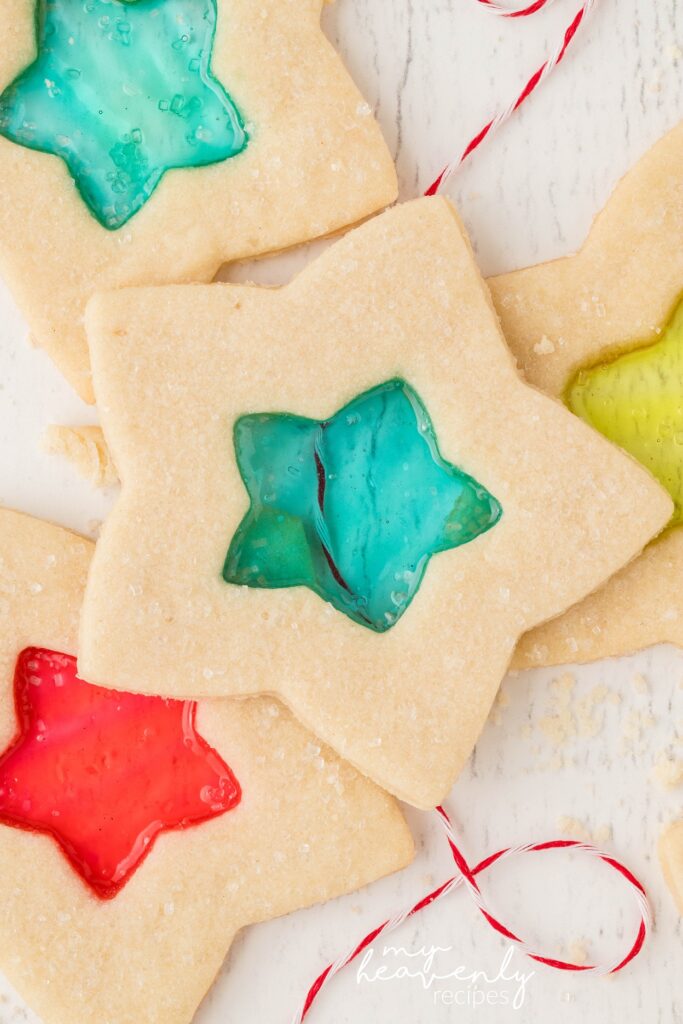 Make some beautiful unique cookies using jolly ranchers this year! The kids eat the outside and then suck on the middle. So fun for Christmas! You could also make these stained glass cookies in any shape for a birthday, baby shower, bridal shower, you name it!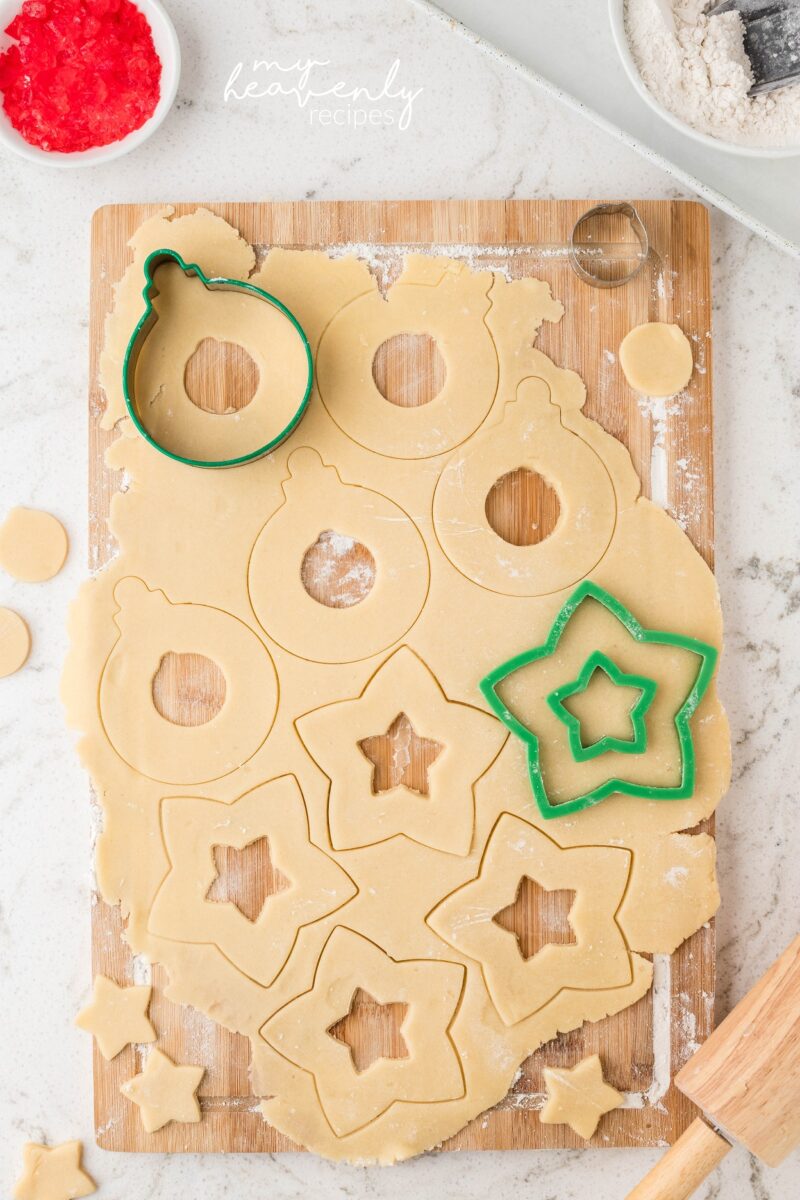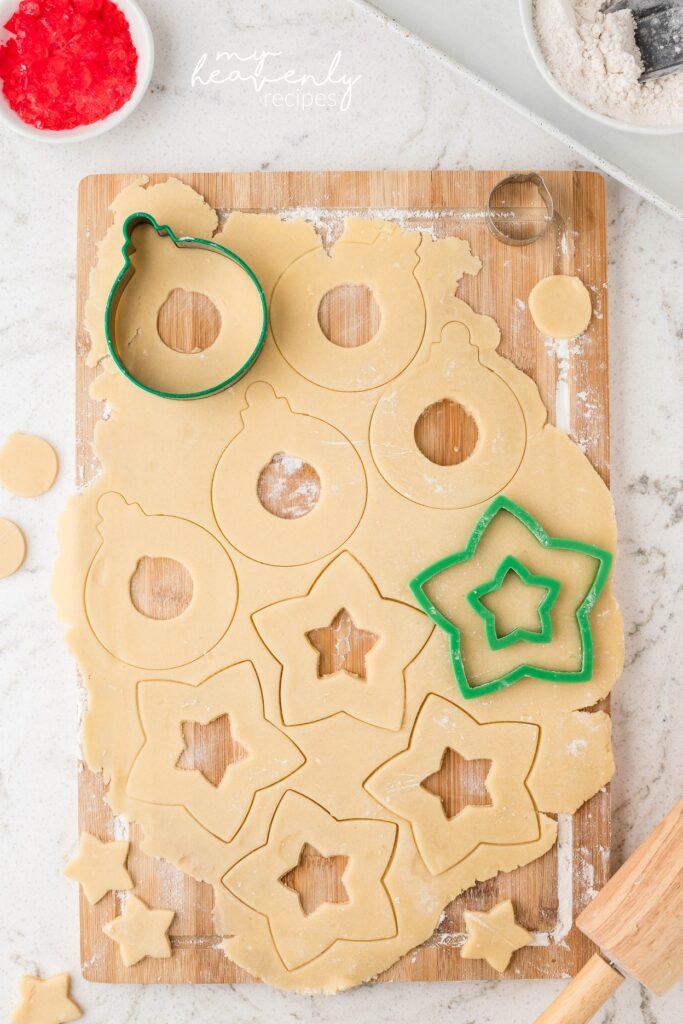 You will need the following ingredients:

All-purpose flour
Baking powder
Kosher salt
Unsalted butter
Granulated sugar
Eggs
Pure vanilla extract
Jolly Rancher candies
Clear coarse sanding sugar

You will need the following supplies:

Measuring cups
Measuring spoons
Large baking sheets
Parchment paper or silicon mat
Mixing bowl
Whisk
Stand or hand mixer
Rubber spatula
Plastic wrap
Rolling pin
4-inch holiday cookie cutters
1 ½-inch holiday cookie cutters
Food processor or sandwich bag

How do I store my Stained Glass Cookies? Store them in an airtight container at room temperature for up to 5 days.
Can I make substitutions?

Pure vanilla extract: You can substitute pure vanilla for imitation vanilla.
Jolly Rancher candies: You can substitute the Jolly Ranchers with Life Savers or other clear hard candies. Do not use gummy candies.
Clear coarse sanding sugar: You can use your favorite colors of sanding sugar.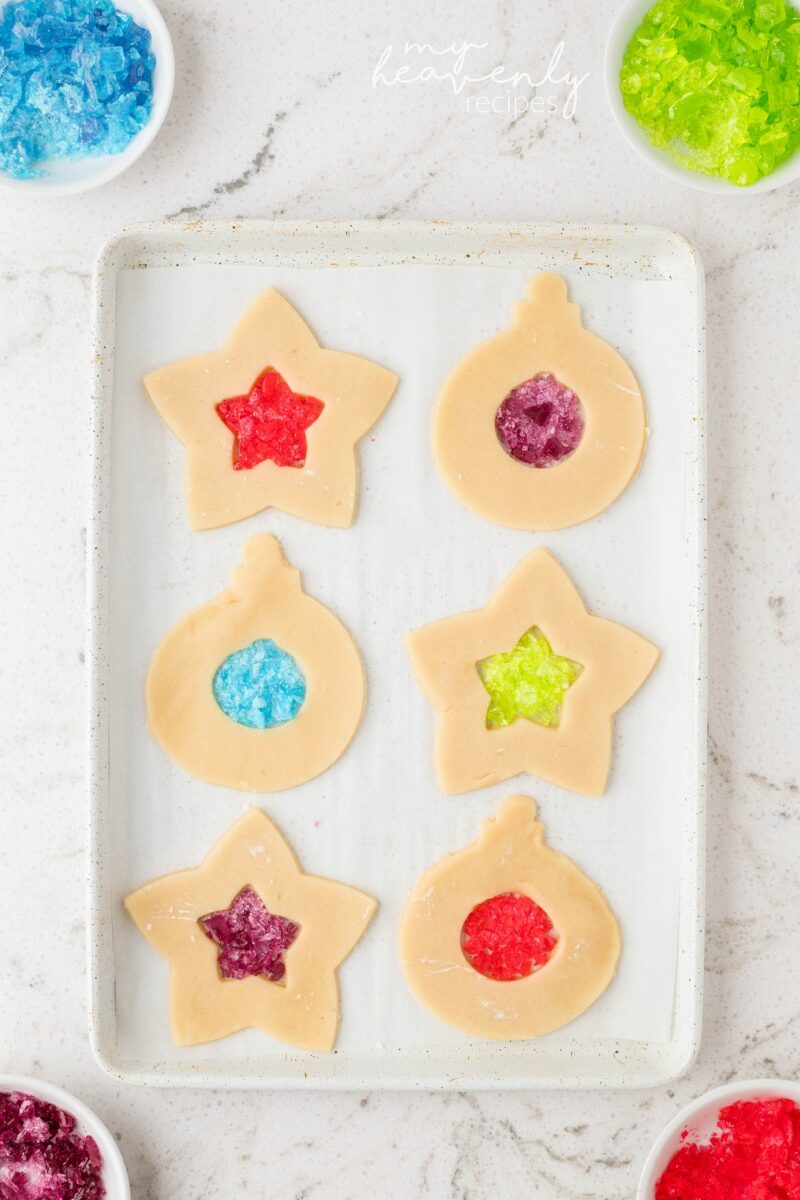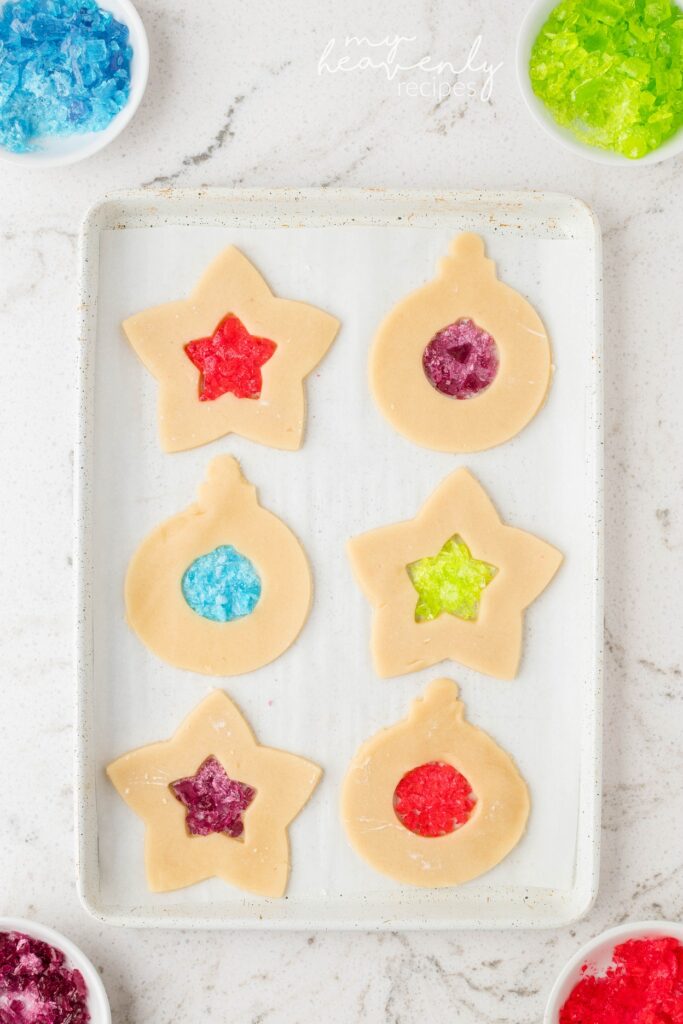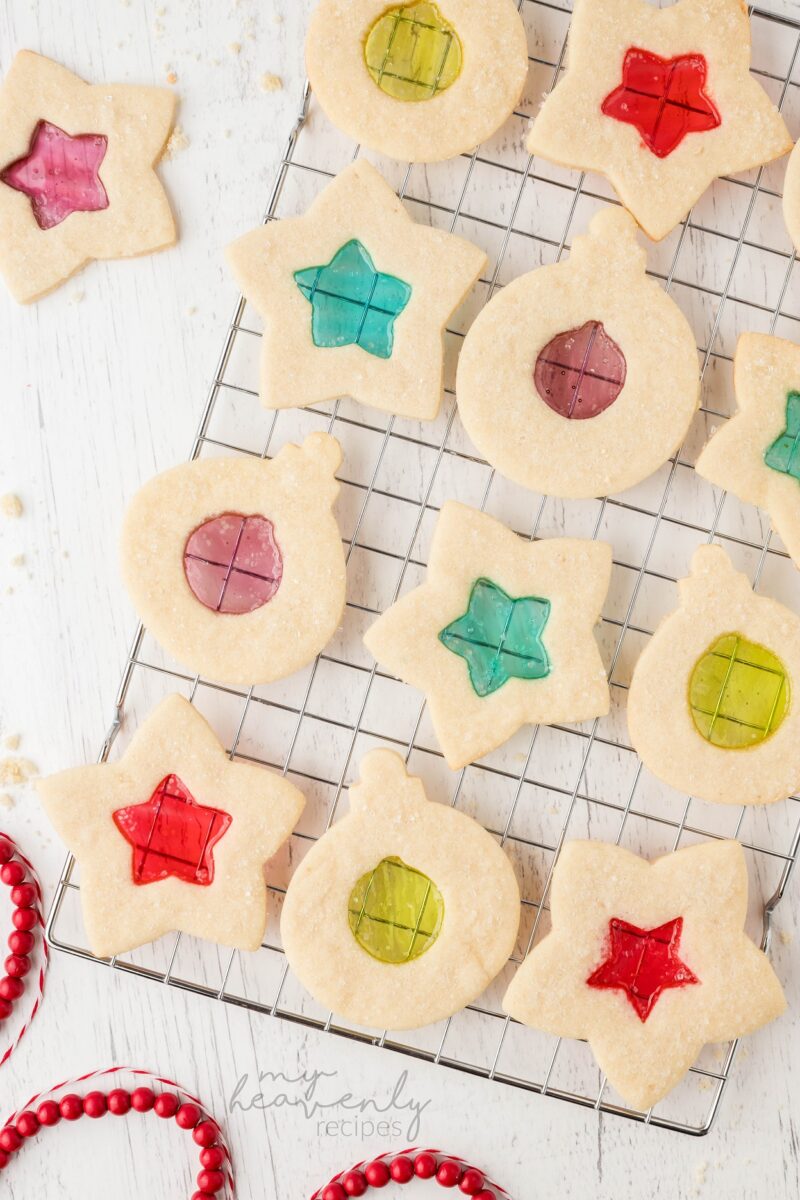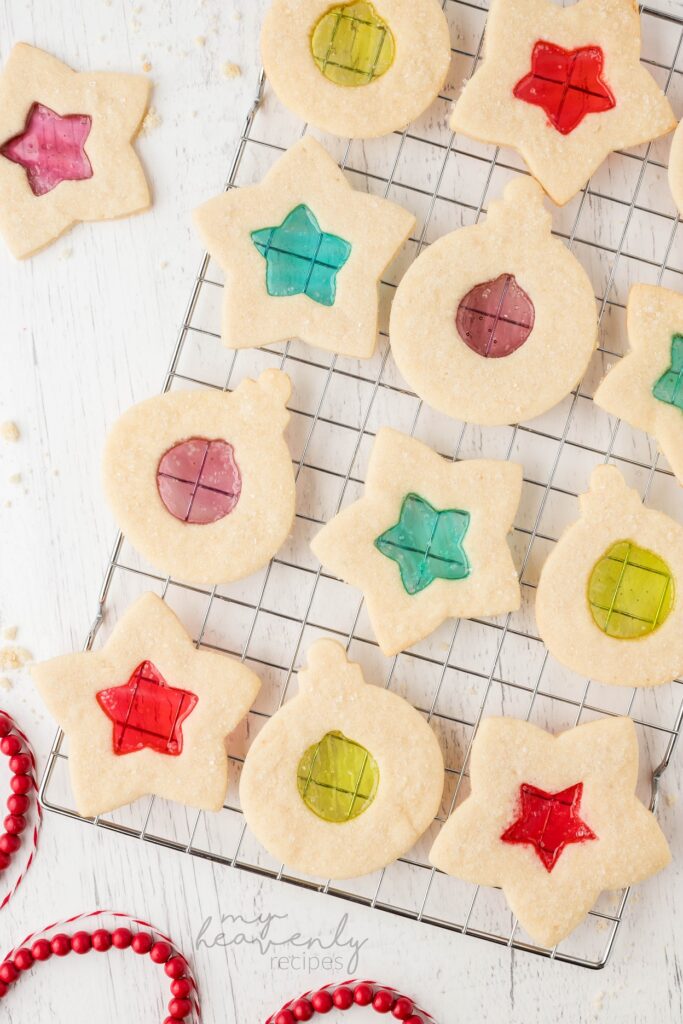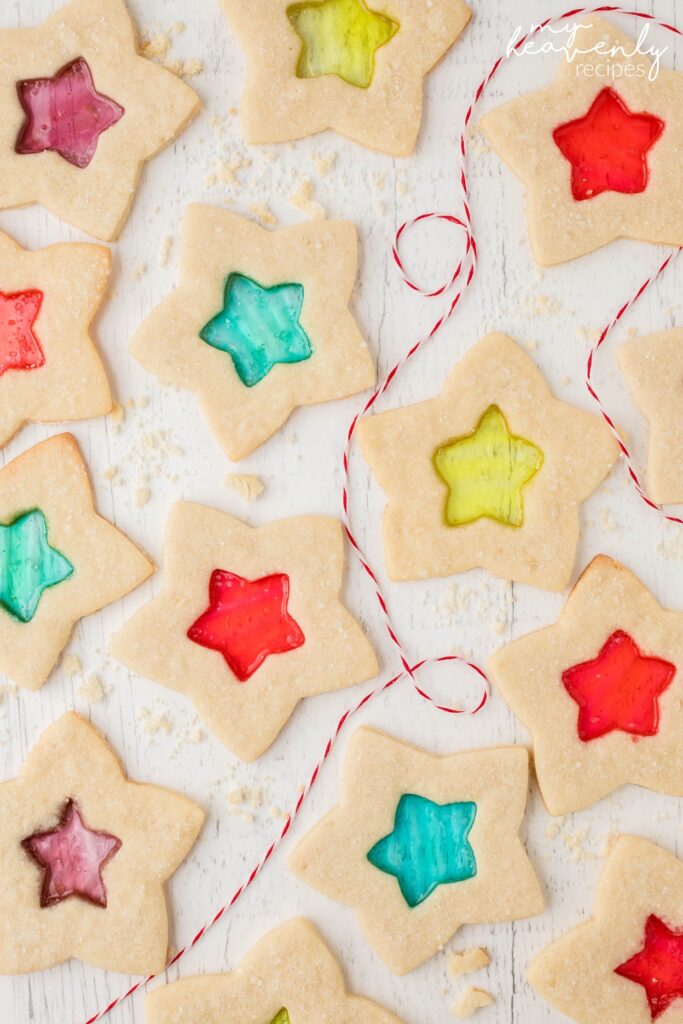 These cookies look like stained glass and make fabulous Christmas gifts in bags!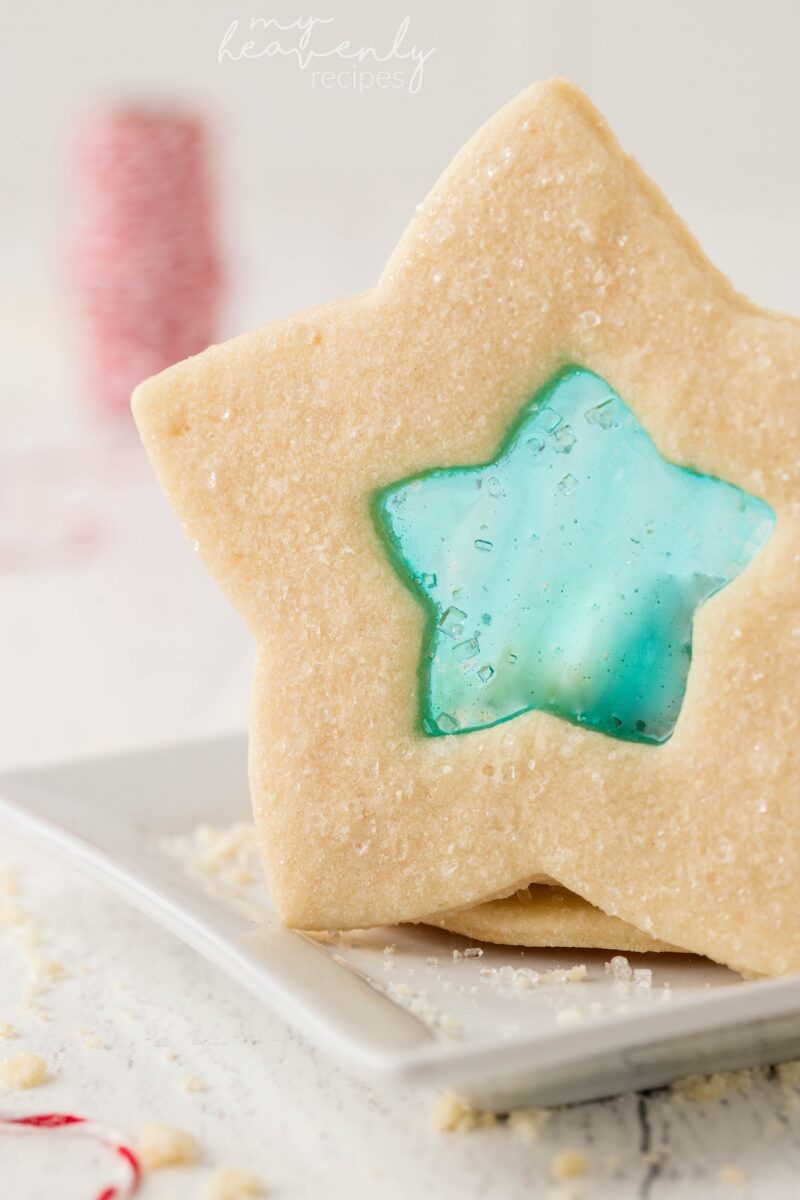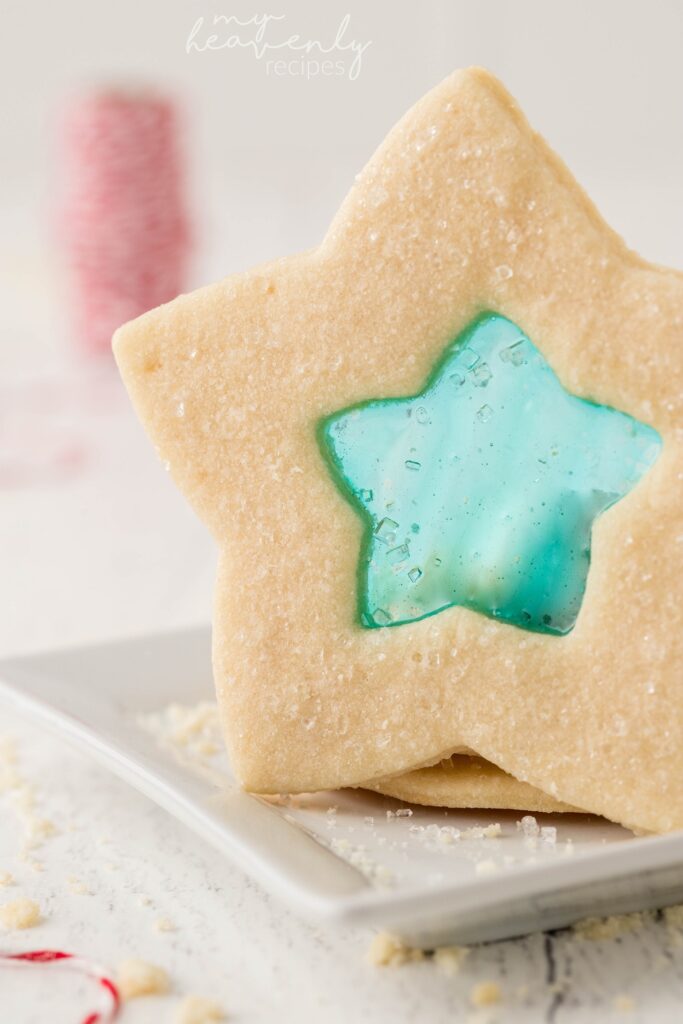 Stained Glass Cookies
Ingredients
3

cups

all-purpose flour

½

teaspoon

baking powder

¼

teaspoon

kosher salt

1

cup

2 sticks unsalted butter, room temperature

1 ¼

cup

granulated sugar

2

large eggs

whisked

1 ½

teaspoons

pure vanilla extract

30

Jolly Rancher candies

Clear coarse sanding sugar
Instructions
Prepare a large baking sheet with parchment paper or a silicone mat.

In a medium mixing bowl, whisk 3 cups of all-purpose flour, ½ teaspoon baking powder, and ¼ teaspoon kosher salt until combined. Set aside.

Next, using a stand or hand mixer, cream together 1 cup of unsalted butter and 1 ¼ cup of granulated sugar until light and fluffy. Scrape down the sides, then reduce the speed of the mixer to low-medium and add 2 whisked large eggs and 1 ½ teaspoons pure vanilla extract and blend until combined. With your mixer on low speed, slowly add the contents of your dry ingredient bowl to the wet ingredient mixing bowl until the ingredients are combined.

Remove your dough from the bowl and press it into a rectangular shape on plastic wrap. Wrap completely and place in the fridge to chill for 1 hour.

While the dough is chilling, separate your Jolly Ranchers into like colors. Remove the wrappers, crush the candies, and keep each color in separate bowls.

Once the dough is chilled, cut the dough in half. Prepare a countertop with a light dusting of flour. Roll the first half of the dough using a rolling pin to about ¼ inch thickness. Using your larger 4-inch cookie cutter, cut out the cookies from the dough. Place the cookies on the prepared baking sheet. Using the smaller cookie cutter, carefully cut out the center portion of each cookie. Return the scrapes of dough back to the remaining dough. Repeat until all of your dough is gone.

Fill each center area about ¾ of the way with crushed Jolly Ranchers. Sprinkle the tops of the cookies with clear, coarse sanding sugar. Place the cookies back into the fridge to chill for 15 minutes. Preheat your oven to 350°F.

Once chilled, remove them from the fridge and place them in the oven. Bake for 8 – 10 minutes or until the candy center has melted, the cookies are set, and the edges just begin to turn brown. Allow the cookies to cool on the baking sheet until the Jolly Rancher centers have hardened and the cookies are completely cool.

Serve and ENJOY!
Notes
Use a toothpick or pointed knife to help remove the cookie's center portion and scrape them from the floured surface.
Be sure to allow the cookies to cool completely before removing them from the parchment paper.