How to Cook a Turkey Wrapped in Bacon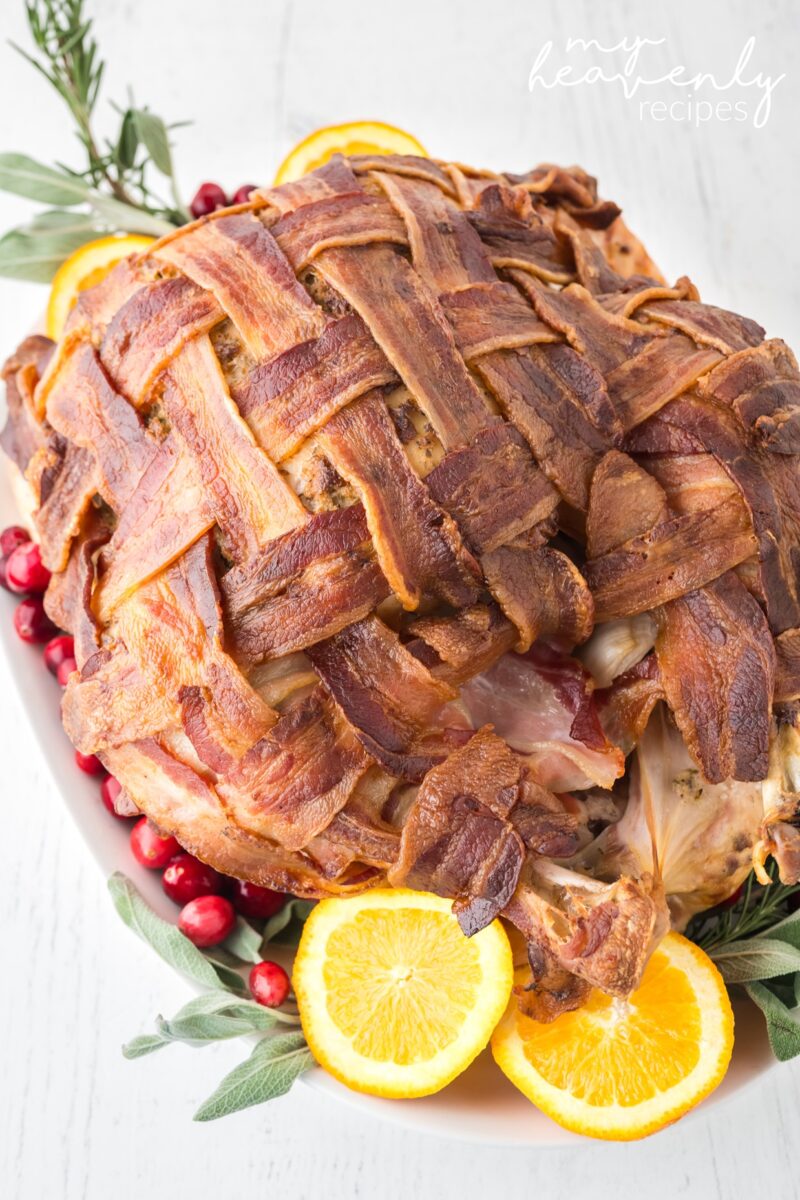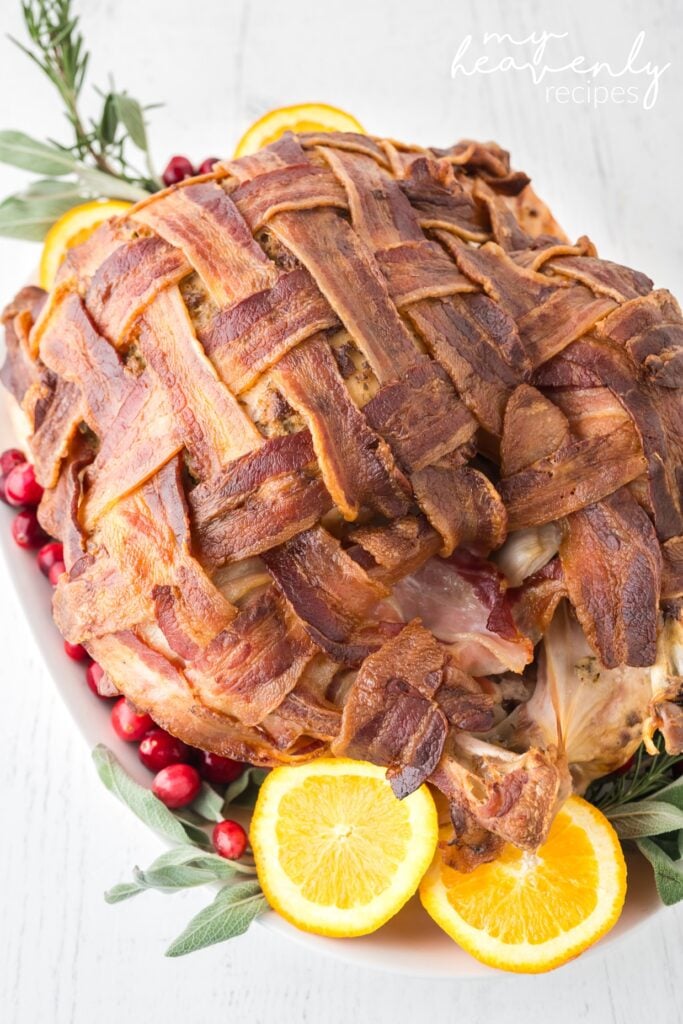 If you want to impress your guests this Thanksgiving, wrap your whole turkey in bacon slices! It turns out gorgeous and the turkey is moist!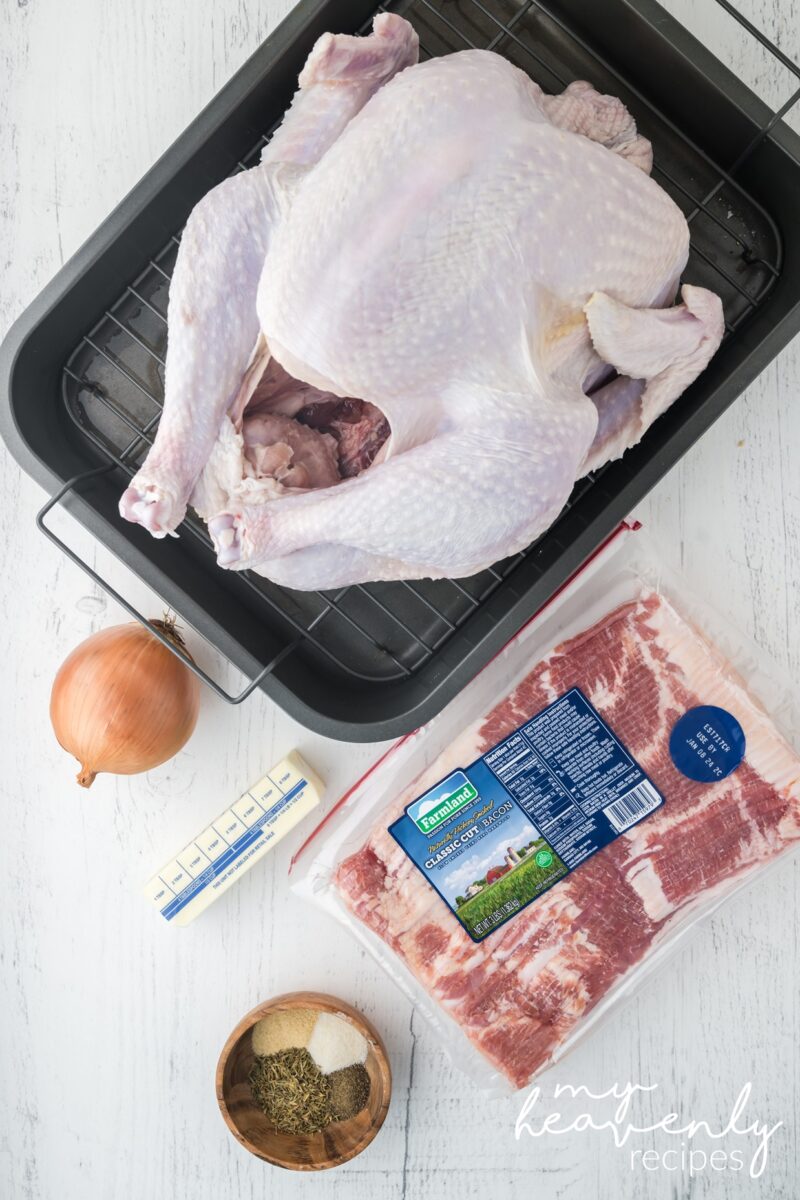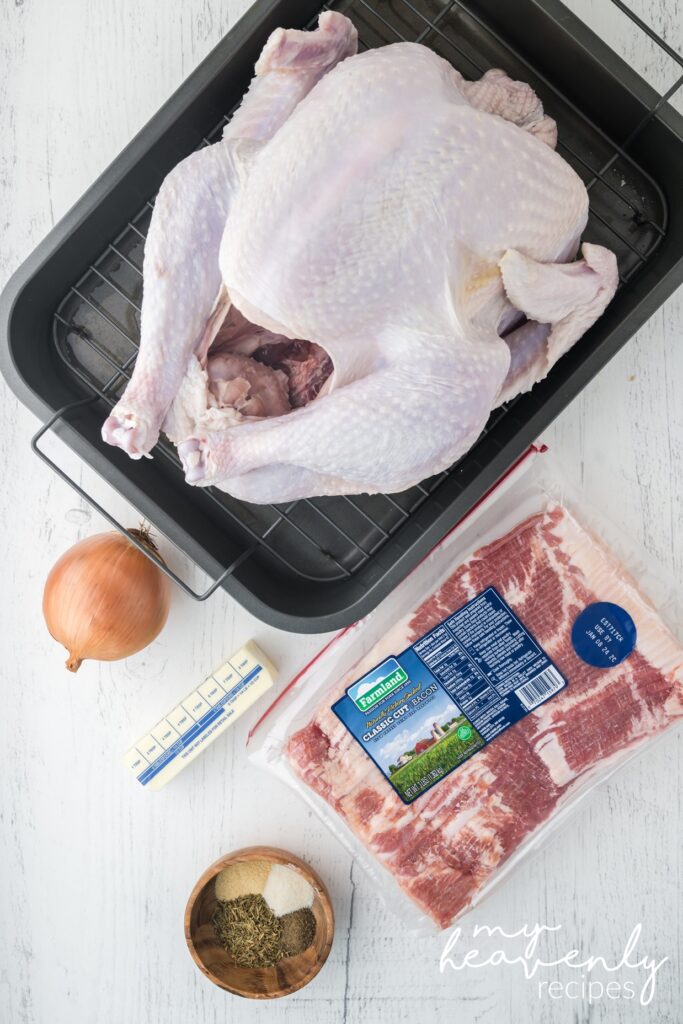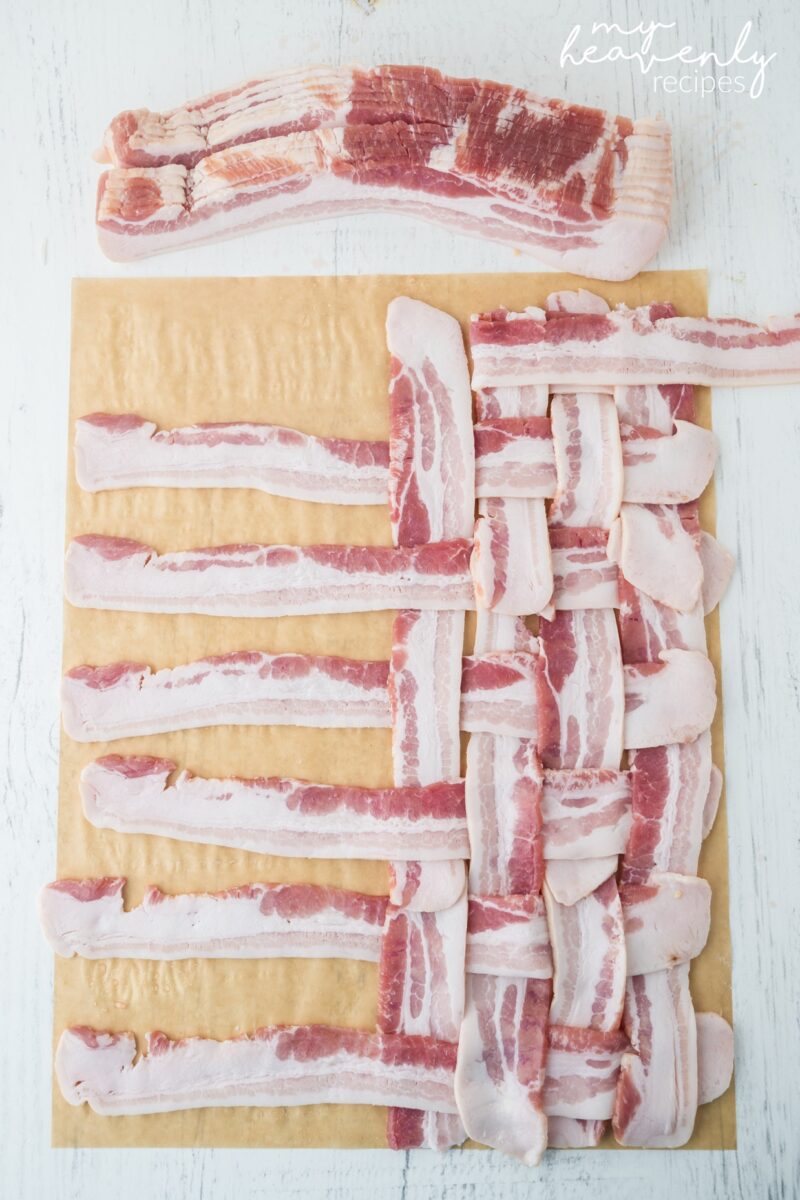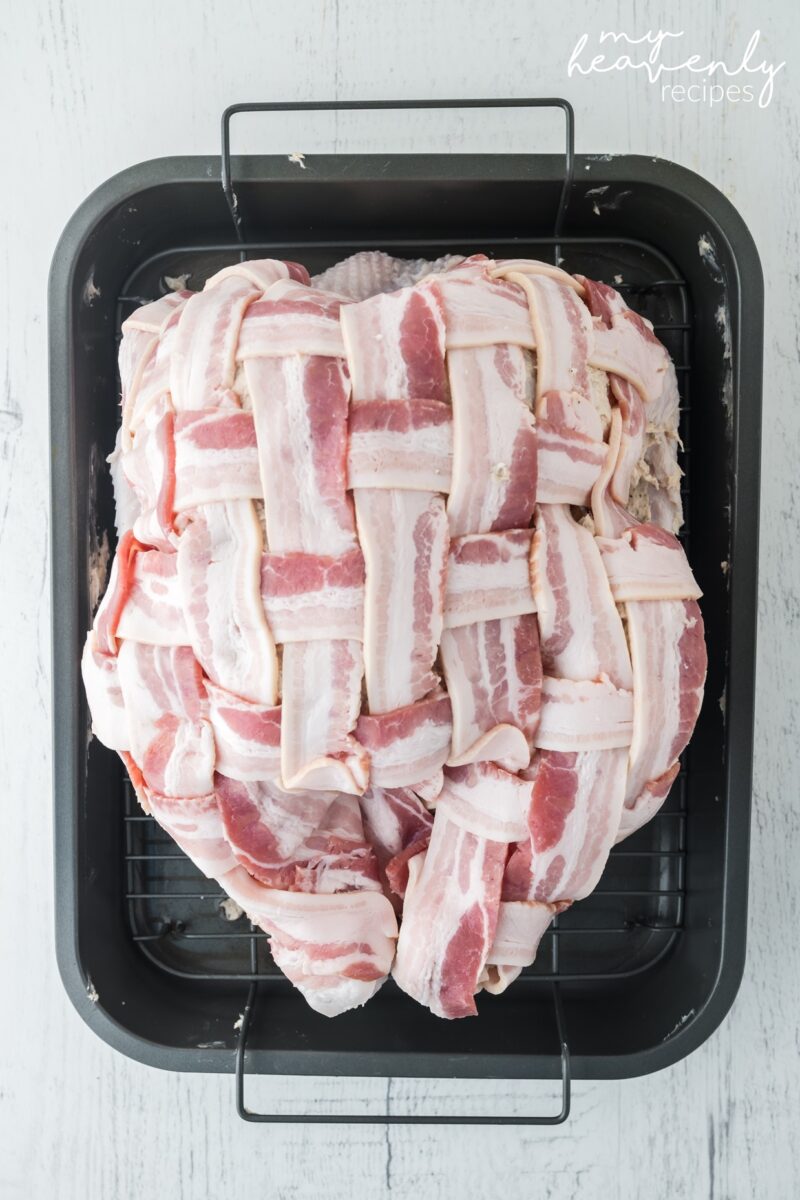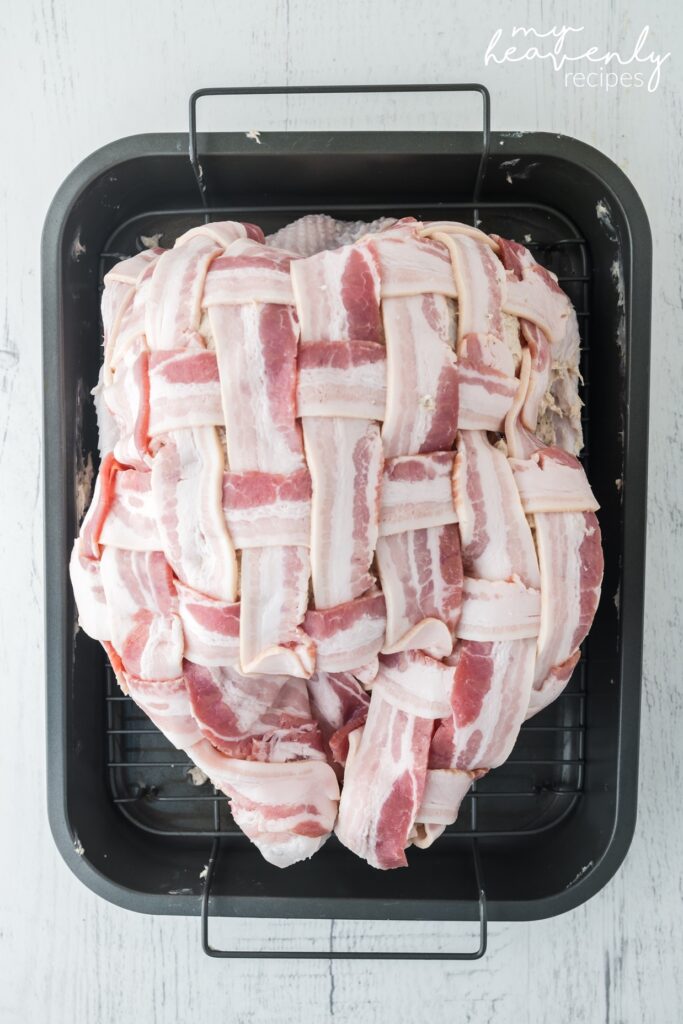 FAQ Questions
What ingredients will I need to complete this recipe?  You will need the following ingredients: butter, bacon, thyme, onion powder, garlic powder, pepper, onion, and turkey.
What supplies and baking equipment will I need? You will need the following supplies: Turkey roasting pan, knife, food processor, measuring cup & spoons and tinfoil.                    
How long will it take to make this recipe ? It should take you approximately 20 minutes to gather your ingredients and mix them. Cooking turkey will depend on size, usually about 13 minutes per pound.  Cook time will depend on how soon your turkey reaches 165 degrees internal temperature checked in several areas of turkey.  Cook time will range from 2 – 3 hours as a general guide.
How should store my turkey?  Store turkey in a air tight container in the refrigerator.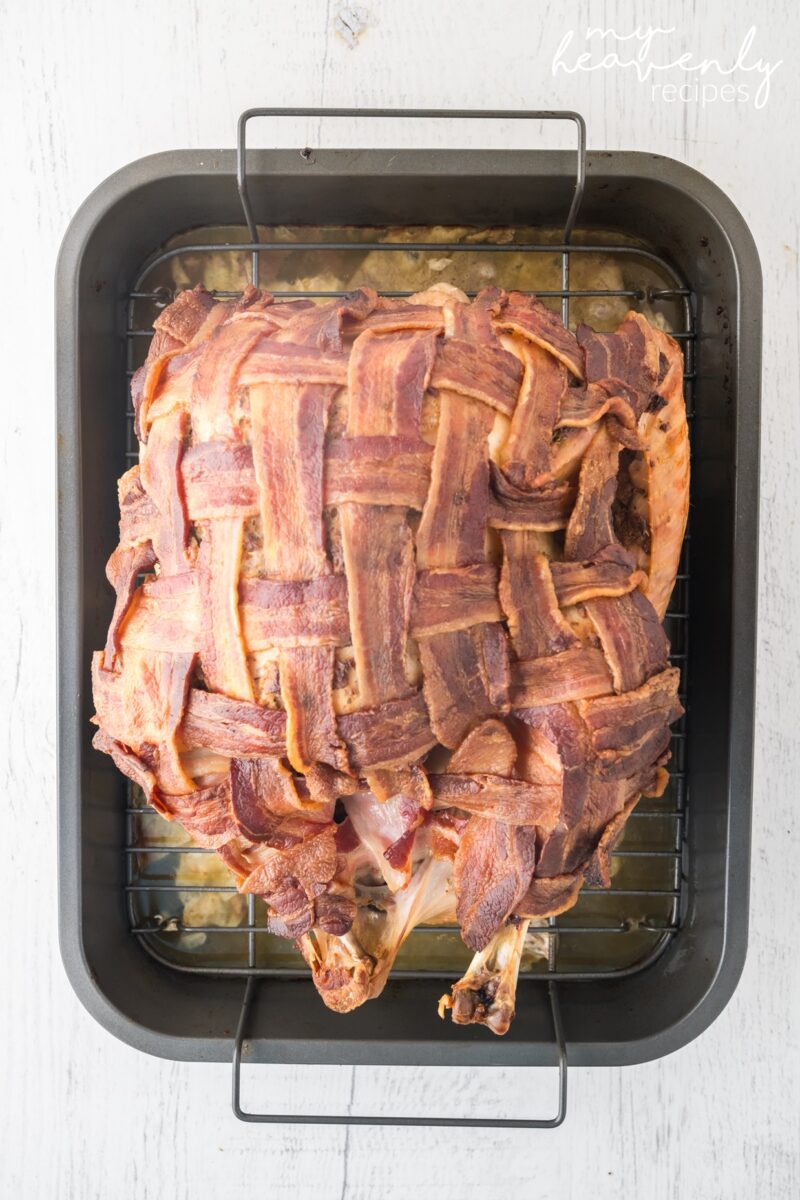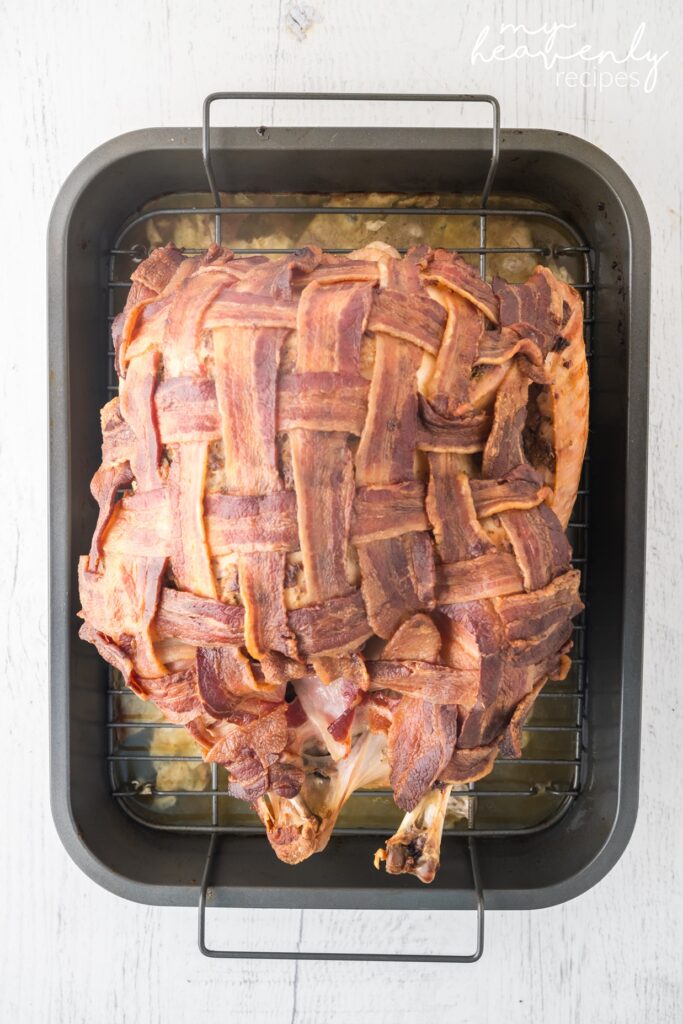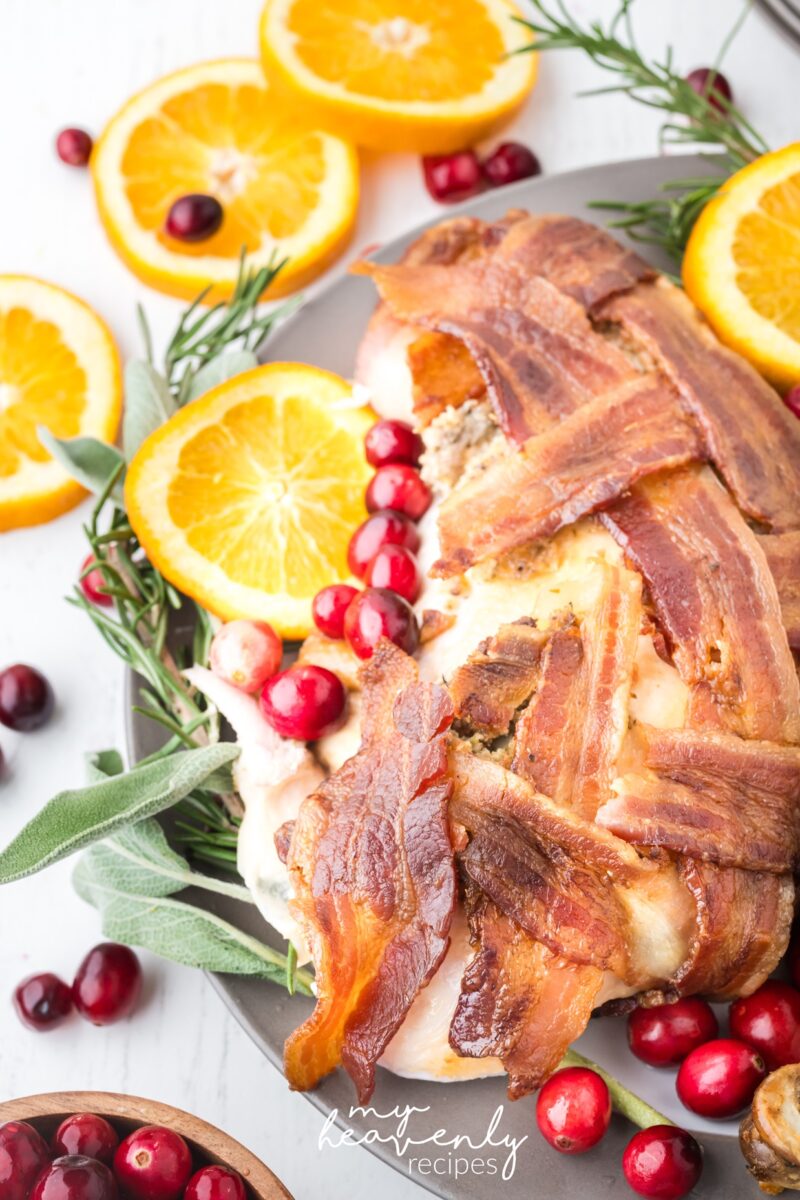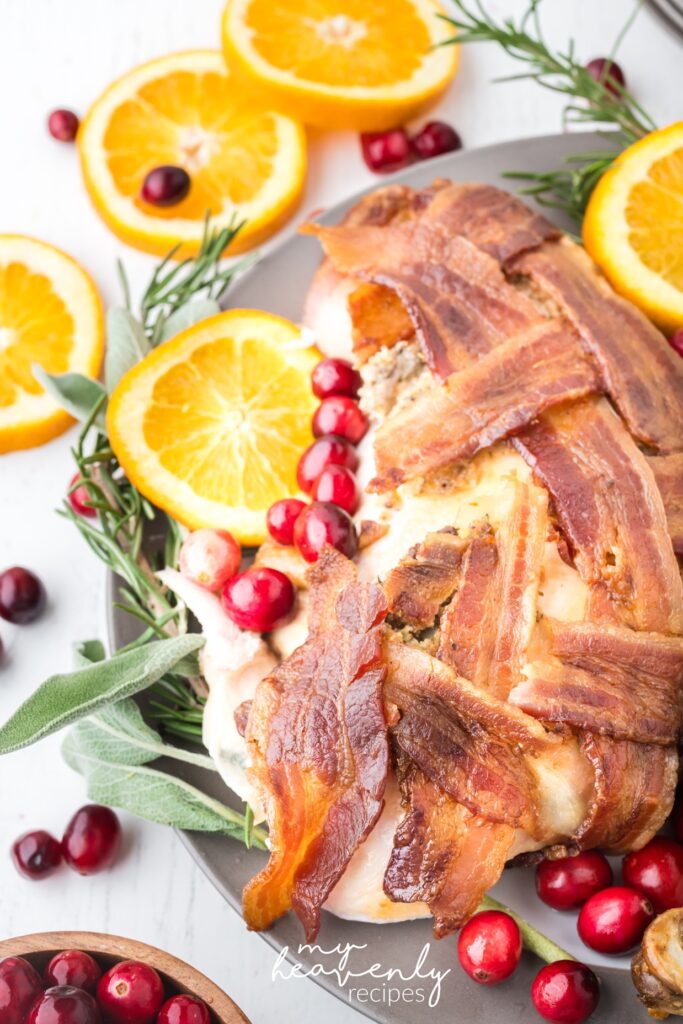 Bacon Wrapped Turkey
Ingredients
Rub for Turkey:
1

stick butter

4-6

slices

of raw bacon

1

tablespoons

thyme

1

teaspoon

onion powder

1

teaspoon

garlic powder

½

teaspoon

pepper
Turkey:
12-15

lb

turkey

1

medium onion

1 ½

bacon

about 22 slices
Instructions
Preheat oven to 425 degrees and prep roasting pan. Prepare turkey by removing neck and gizzards. Rinse turkey in the sink and then dry it off inside and out. Sit in roasting rack.

In a food processor add butter, raw bacon, thyme, onion powder, garlic powder and pepper. Mix together until smooth.

Spread butter mixture all over the top of the turkey. You can put a little inside for flavor too. Cut onion into large pieces (about 6) and put into the cavity of the turkey.

On a piece of parchment paper, weave your strips of bacon like a blanket. If strips are to short to go the long way, cut one in half to continue to end. Reserve about 4 strips for legs of turkey

Wrap the legs of turkey with two strips each. With the bacon weave still on the parchment paper, lift the paper over turkey and lay it over the top like a blanket and remove the parchment paper. Reposition strips to retain that weaving look. The "blanket" should stay in place with the butter all over. Tuck any loose pieces under the wings and legs.

Add 2 cups of water to the bottom of the roasting pan. Place turkey in the 425 degree oven uncovered to cook the top quickly for 30 minutes.

Reduce oven temperature to 325 degrees and continue to cook uncovered turkey until done, 2 – 2 ½ hours more depending on size of turkey. If bacon is getting to dark you can tent the top of the turkey while it finishes cooking. You want to cook turkey to temperature, so 165 degrees internal temperature checked in three areas, breast, leg and between the two of them.

Remove turkey from oven when cooked to 165 degrees and let it rest for about 30 minutes before carving.
Notes
Gather all ingredients at once and prepare pans ahead of time. Make sure all ingredients are at room temperature, including turkey for this recipe.
Using a food processor or blender makes it easier to mix butter mixture, but if you don't have either you can mix by hand.
Weaving your bacon on the parchment (or waxed) paper makes it easier to place on turkey. It will all hold together as you drape it over the turkey,
If bacon starts to get to dark, tent the top of turkey with tinfoil to finish cooking.