How to Make a Low Carb Broccoli Salad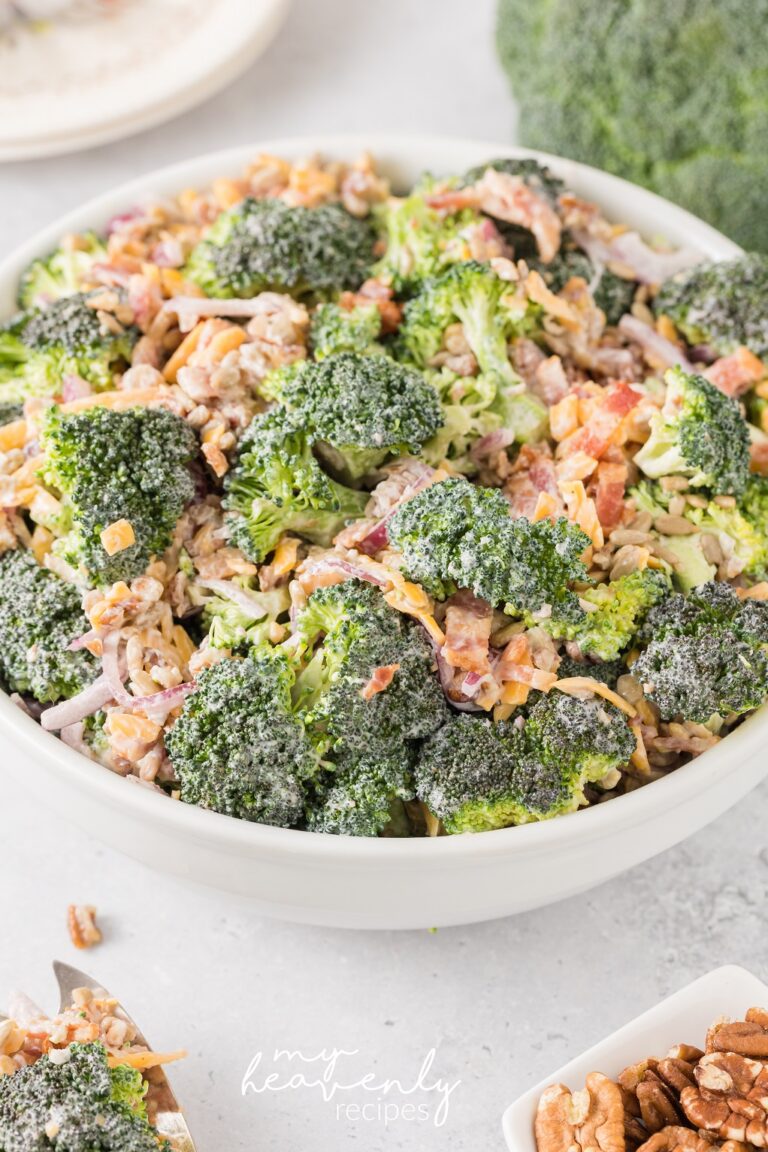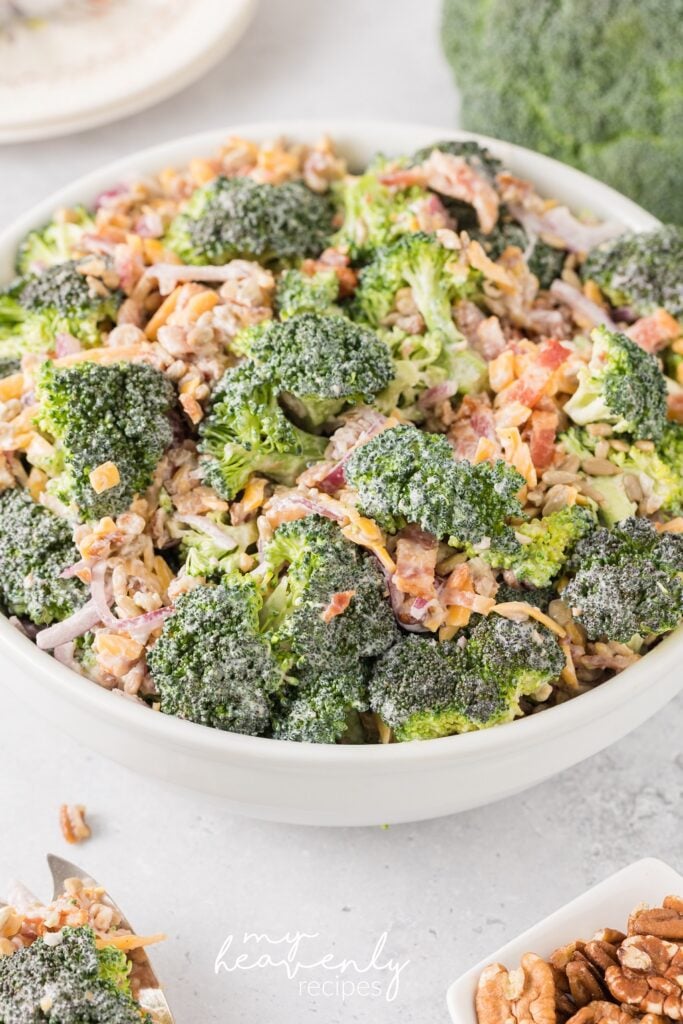 This broccoli salad is a family staple. It is full of flavor, satisfying and never disappoints. The broccoli and nuts add a satisfying crunch, the bacon provides that yummy bacon saltiness, the cheese adds creaminess and the sweet and tangy dressing brings it all together in this fresh, delicious broccoli salad. I can never eat just one serving! This salad is also easily made in advance, making it perfect for gatherings.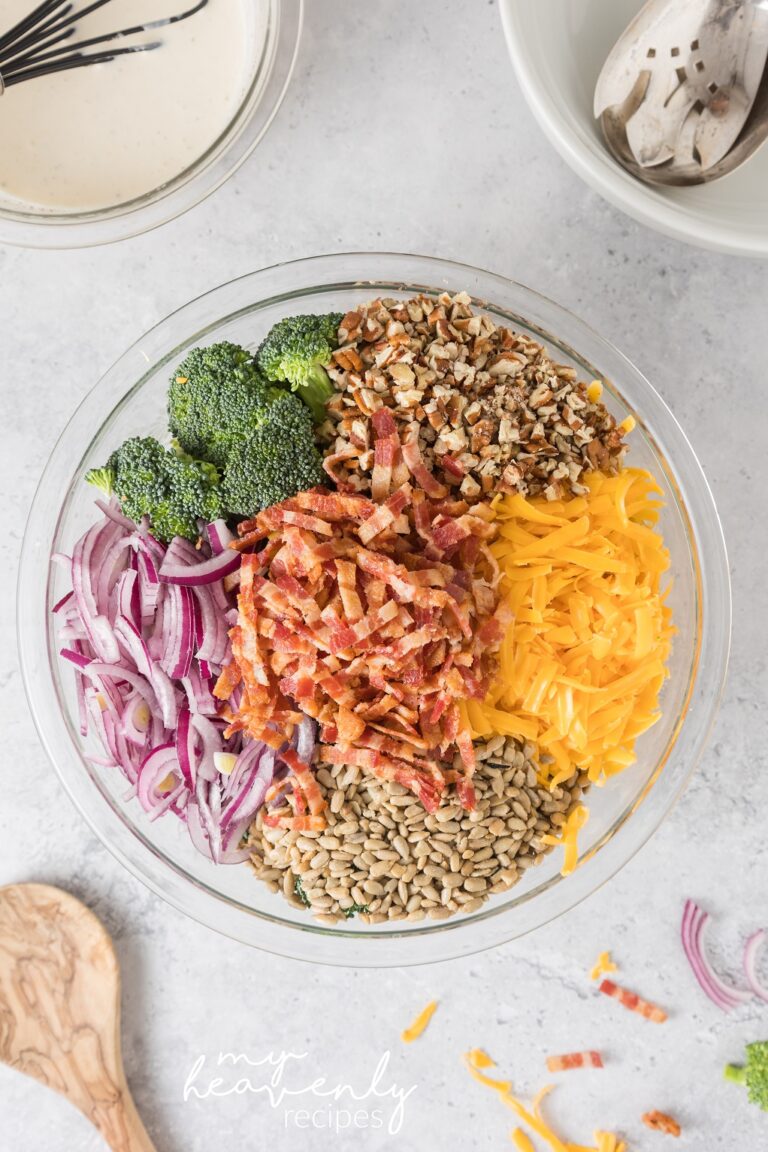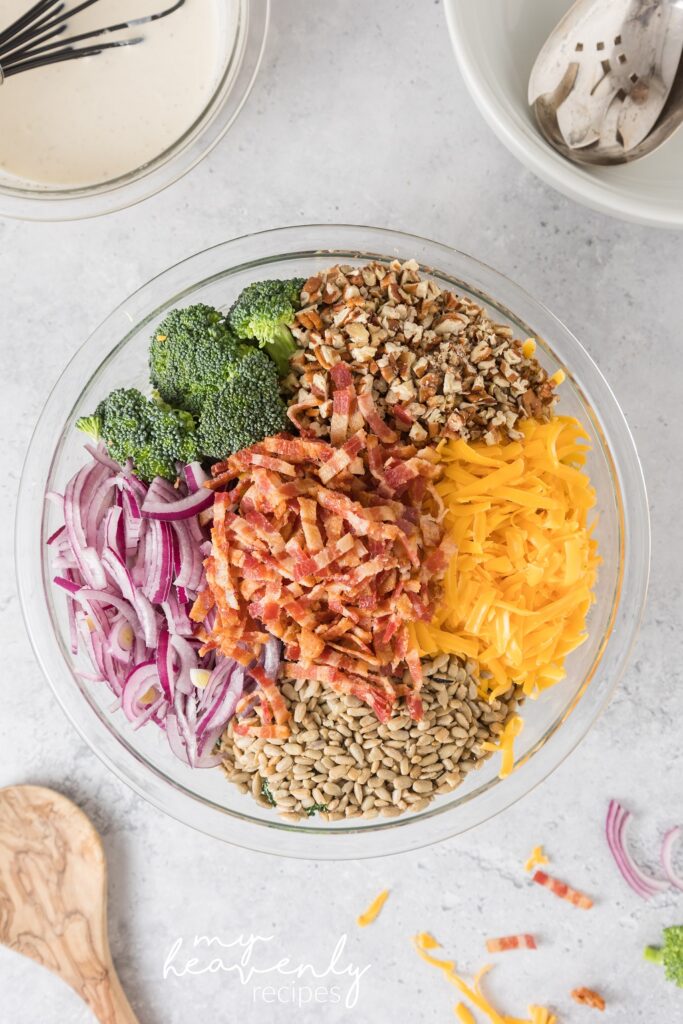 What will I need to complete this recipe?
You will need the following ingredients:
broccoli crowns
shredded cheddar
red onion
sunflower seeds
pecans
bacon
mayonnaise
sour cream
apple cider vinegar
water
monk fruit or sweetener of choice
garlic powder
salt and pepper
You will need the following supplies: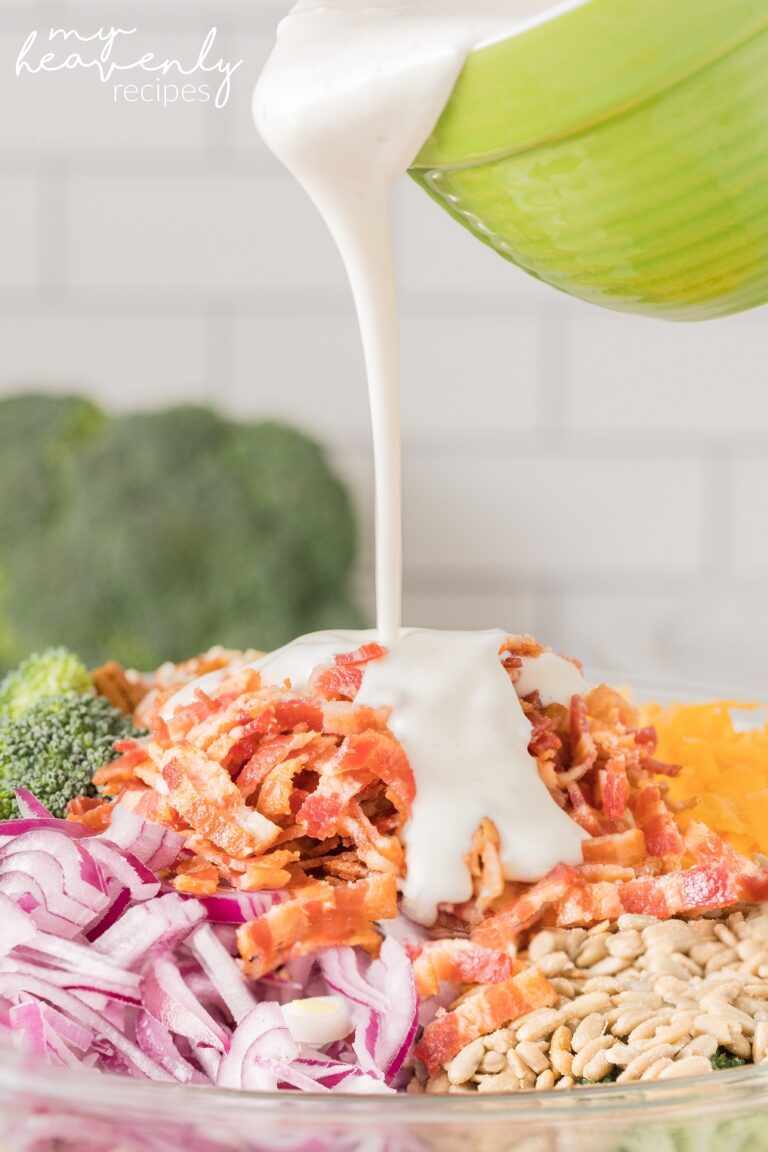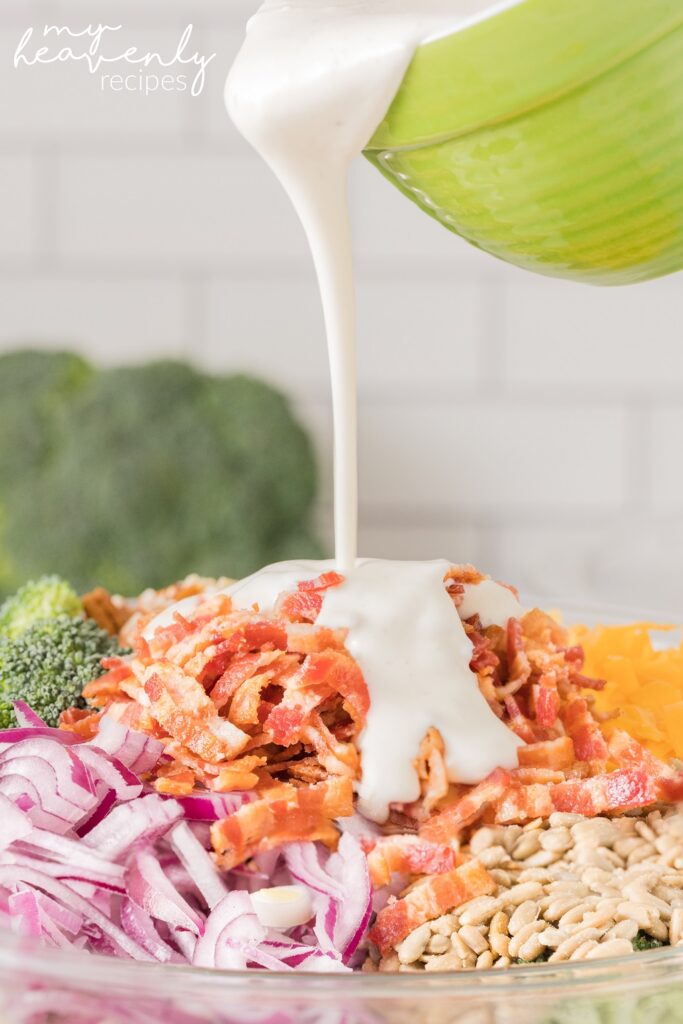 Storage Instructions Broccoli salad can be kept in the refrigerator for 3-4 days. If you plan on not consuming it right away, keep your bacon slices separate and add them just before serving to avoid them getting soggy. It is not recommended to freeze this salad.
Is Mayonnaise okay on Keto? Condiments are normally not recommended on Keto as they are often full of sugar. Mayonnaise however is perfect on a Keto diet as it is high in fat, and has no sugar. Be careful though, check the labels to ensure your choice of Mayonnaise has no added sugar. I love to use Hellman's Mayonnaise as it has 0 sugar/ carbs.
Is Broccoli good for you? Broccoli is high in fiber and Vitamin B6 plus it has more than your daily Vitamin C requirements, and all of that at only 50 calories per serving (148g/5.2oz). Fiber is what makes up plants, fruits, and grains. Fiber is basically roughage that helps our digestive system work better. Fiber has been shown to have the following health benefits: lowers cholesterol, helps regulate blood sugar levels, reduces constipation, and more!
Is it okay to eat Broccoli raw? Broccoli is a great addition to any diet, both in its raw and cooked form. To retain broccoli's nutrient value, it is best eaten raw. To increase the antioxidant benefits of broccoli, cooking is the way to go. Incorporating a mix of raw and cooked broccoli is the way to reap the full benefits of broccoli. (ADD A LINK TO OTHER COOKED BROCCOLI RECIPES HERE). Broccoli is part of the cruciferous family and can be hard to digest for some people. Cooking broccoli seems to lessen digestive discomfort but does not eliminate it.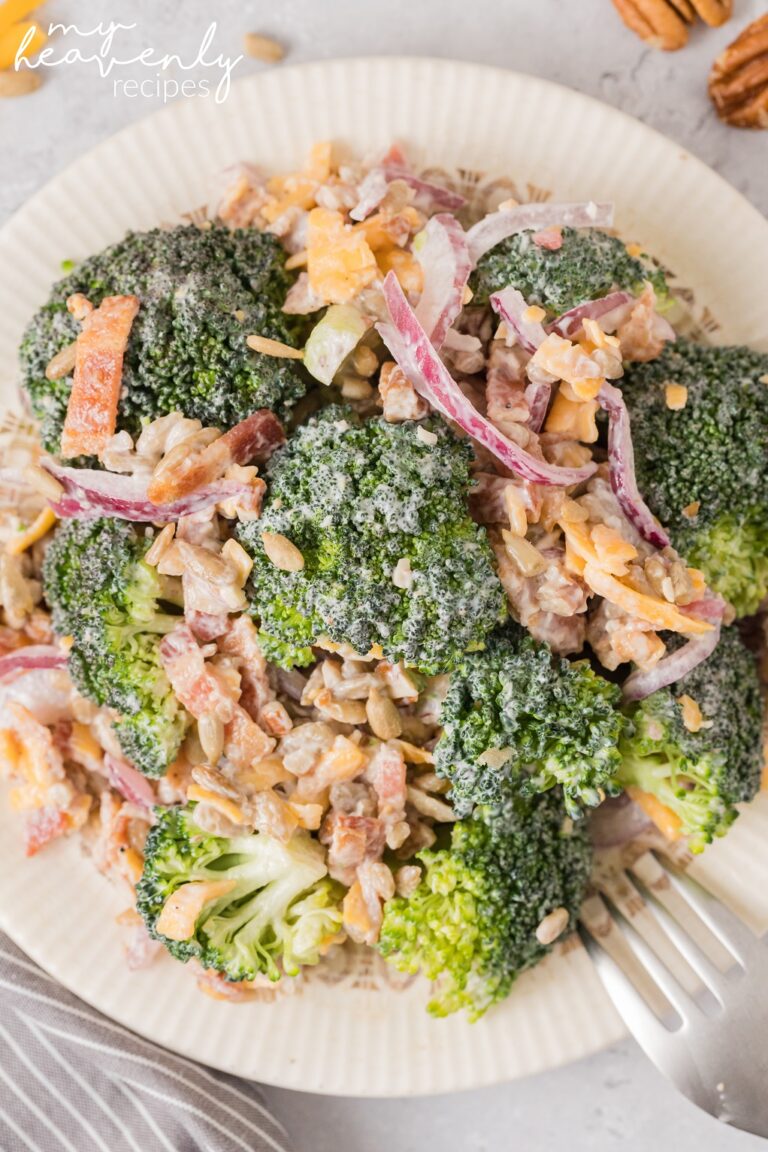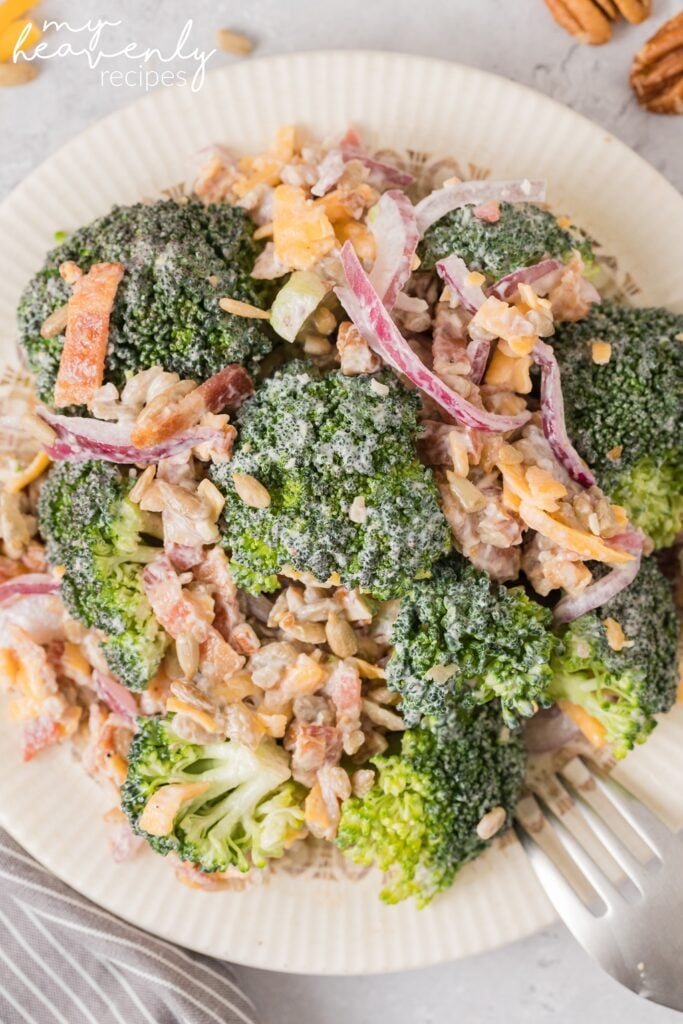 Serving Ideas: I love how versatile this recipe is. It is delicious with just about anything but we seem to make it most when the weather is warmer and we start grilling.
Here are some ideas:
Grilled chicken, especially lemon pepper chicken Hamburgers and Hot Dogs
Grilled Kielbasa and veggies
As a dinner salad, just top it with your favorite protein (Chicken, Shrimp, Avocado, Hard boiled eggs); great if you have some leftovers like pork roast or roasted chicken.
Summer barbecue gatherings: Perfect to make a day ahead and it tastes even better when the flavors have a chance to marinate.
Riced Cauliflower Roasted or grilled vegetables
Keto Broccoli Salad
Ingredients
2

broccoli crowns

1

cup

shredded cheddar

1

medium red onion

quartered and sliced thin

½

cup

sunflower seeds

½

cup

chopped pecans

8

slices

bacon

or 6 thick-cut bacon, sliced
Dressing
¾

cup

mayonnaise

¼

cup

sour cream

4

tablespoons

apple cider vinegar

2

tablespoons

water

1

tablespoon

plus 1 teaspoon monk fruit or sweetener of choice

1

teaspoon

salt

¼

teaspoon

garlic

Fresh ground pepper -5-6 turns
Instructions
Soak broccoli for 2 minutes in cold water, drain, and rinse under running water. Spin dry with a salad spinner or dab dry with paper towels.

Cut broccoli crowns into bite-sized florets and add to a medium-sized mixing bowl. Top with onion, cheddar cheese, sunflower seeds, and pecans, and set aside.

In a small mixing bowl, add mayonnaise, sour cream, apple cider vinegar, water, monk fruit, salt, and garlic. Mix thoroughly.

Pour dressing on top of the broccoli mixture and mix till the ingredients are evenly coated with the dressing.

Refrigerate for a minimum of 1 hour, add bacon slices, and serve.
Notes
1. If you are not following a Keto diet, you can replace the monk fruit with regular sugar or honey. 2. When making this dish for those not on a Keto diet, I also like to add shredded carrots (2 cups), an apple, and dried cranberries (½ cup). 3. Bacon should be added just before serving to avoid getting soggy. 4. If you prefer not to eat raw broccoli, blanch the florets for 1-2 minutes or till fully cooked but still firm and crunchy. 5. Aside from broccoli florets, this salad has a plentiful amount of additional ingredients, if you prefer a larger