How to Make Pumpkin Cheesecake Cookies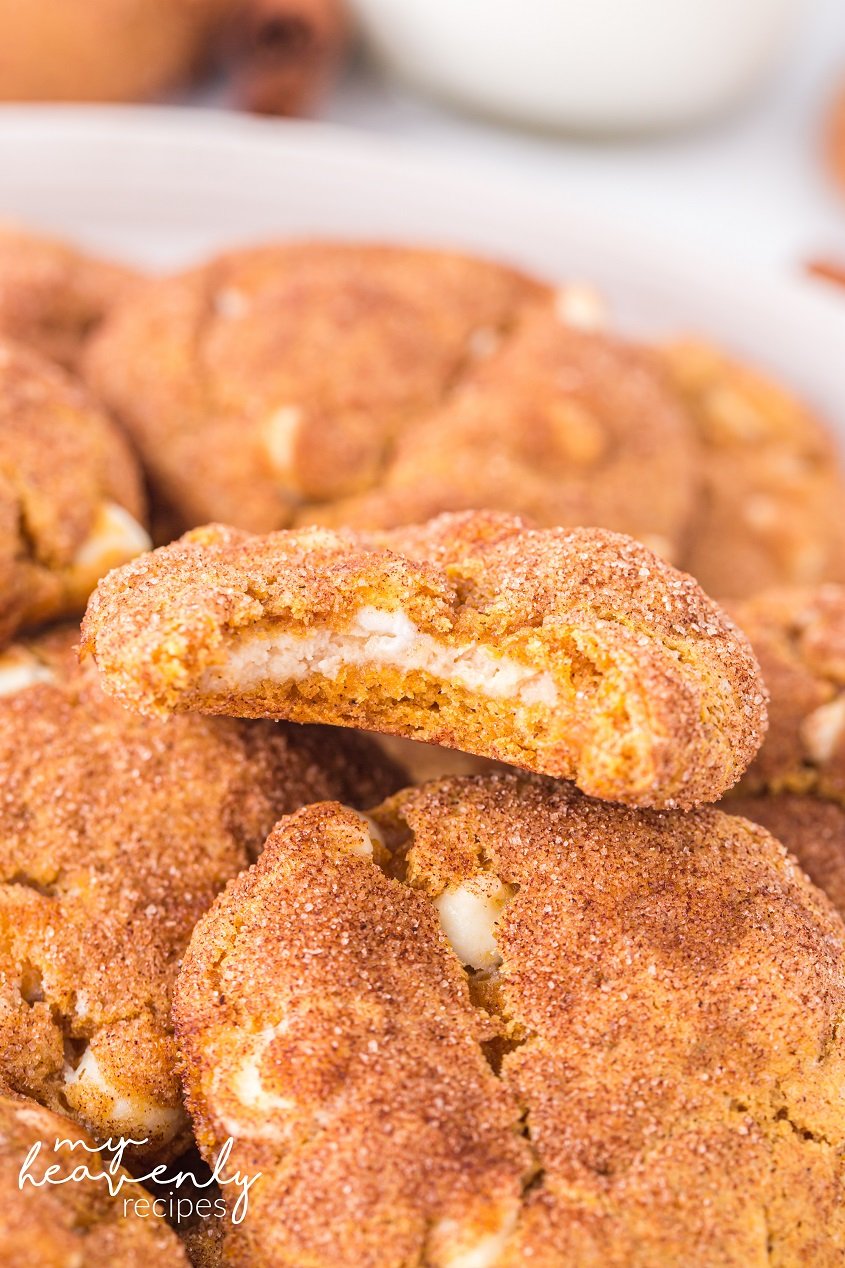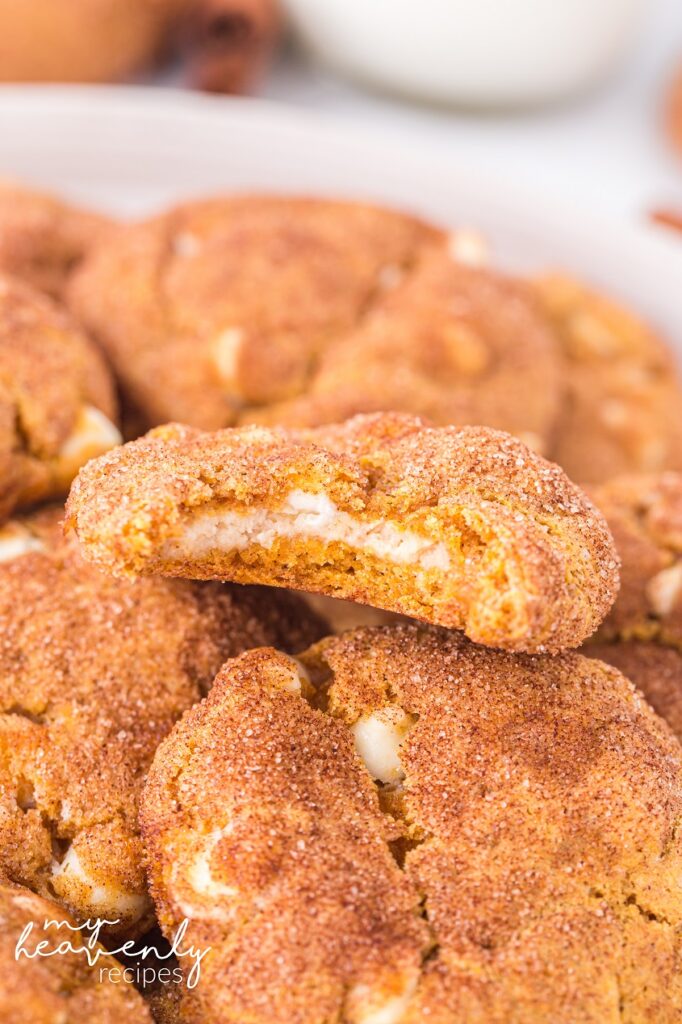 These gooey, semi-homemade Pumpkin Cheesecake Cookies are the perfect fall treat. Sweet and full of pumpkin flavor, they also have the slightly tangy cheesecake filling that balances out the flavors perfectly.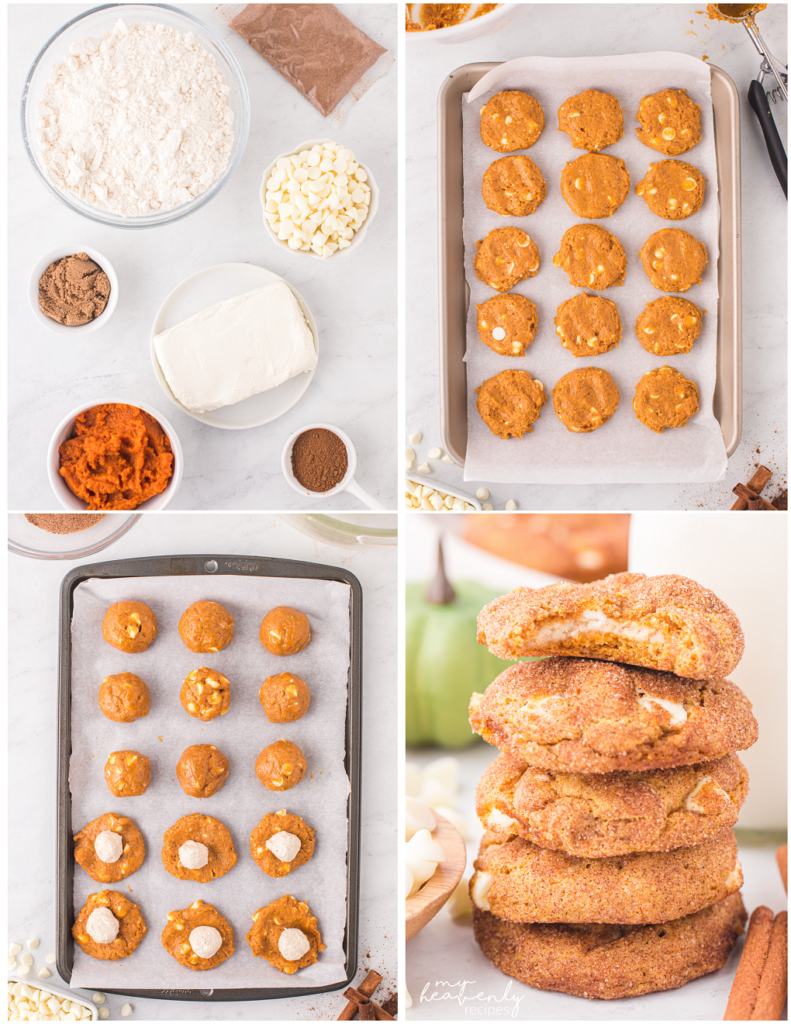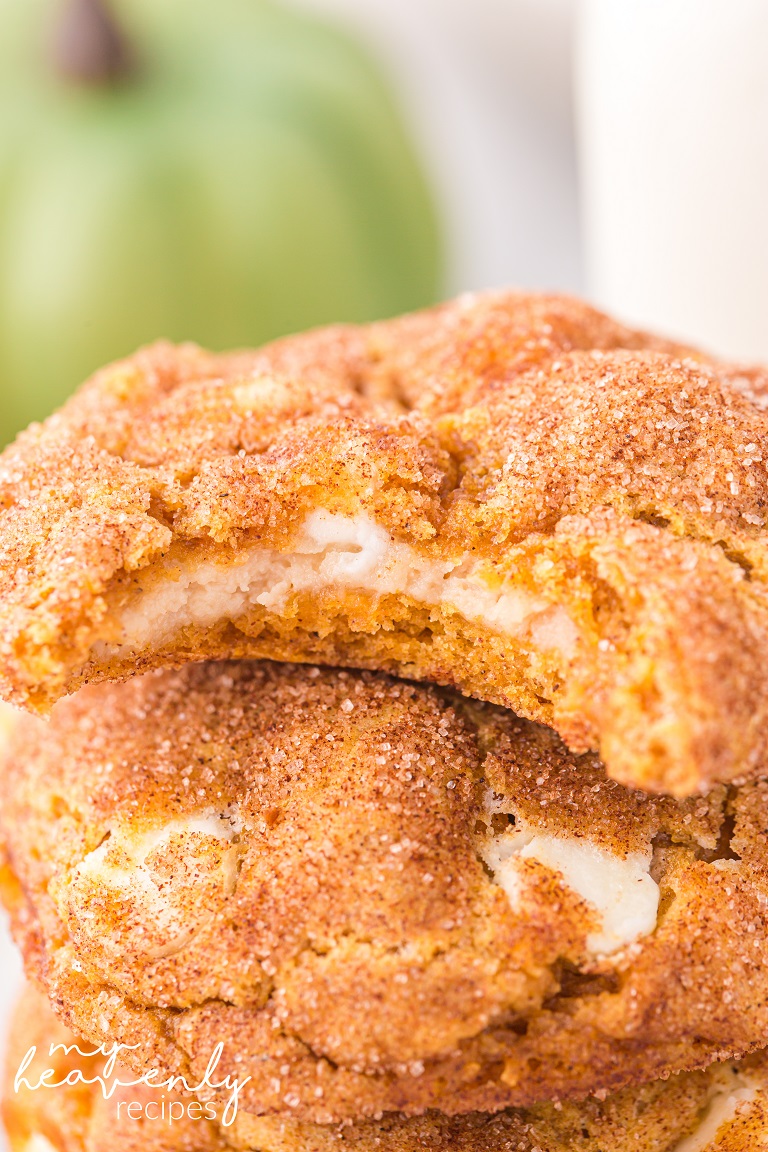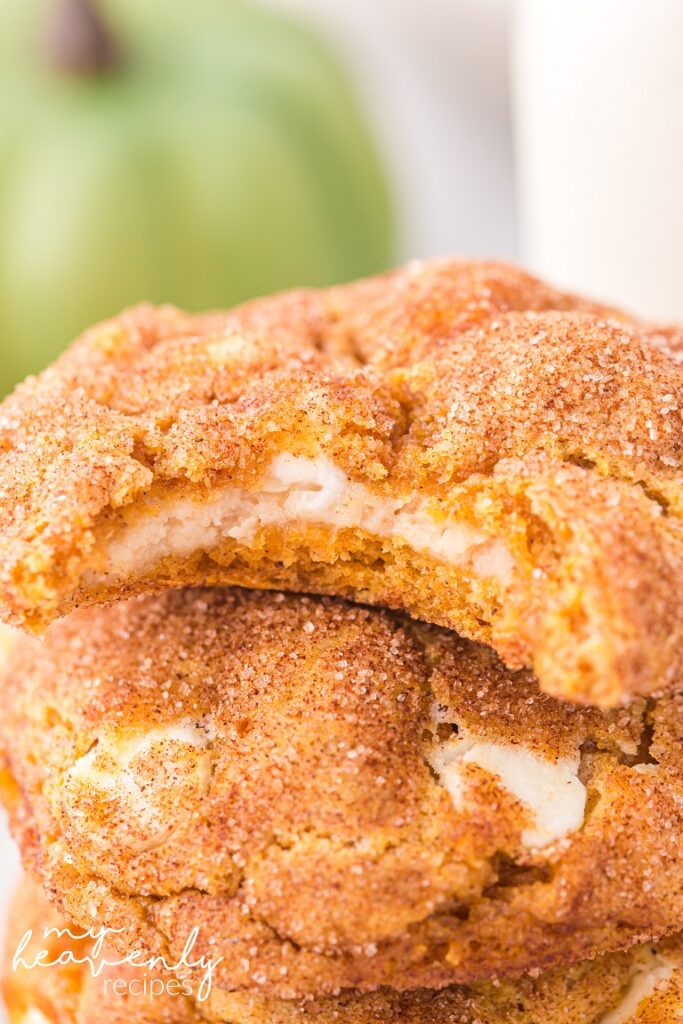 FAQs
What will I need to complete this recipe?

You will need the following ingredients:

Snickerdoodle cookie mix: You can also use sugar cookie mix but you will need to make up a sugar and cinnamon mixture to roll your cookies in. I used a Betty Crocker brand of cookie mix.
Pumpkin pie spice: If you don't have pumpkin pie spice you can use cinnamon, nutmeg and/or allspice instead.
Pumpkin puree
White chocolate chips: You can use chocolate chips for a slightly different flavor if you'd like.
Cream cheese
Dark brown sugar: You can use light brown sugar or even white granulated sugar, in a pinch.

You will need the following supplies:

Cookie/Baking sheets
Parchment paper
Mixing bowls
Hand or stand mixer
Mixing tools
Measuring tools
1 ½ Tablespoon cookie scoop

How should I store my Pumpkin Cheesecake Cookies?

These Pumpkin Cheesecake Cookies store best when kept in an airtight container or bag in the refrigerator, since they have a cheesecake filling. They will keep for 3-5 days before they begin to dry out and harden. To store them longer you can wrap them individually and freeze them for 2-3 months. Thaw them overnight in the refrigerator and serve them cold or microwave them for a few seconds for a fresh from the oven warm cookie.

Do you have any tips or tricks for making this recipe?

While this recipe is not difficult, there are a few steps that can make it tricky when trying it for the first time. Here are my tips and tricks to get you over that learning curve quickly!

Both the cookie dough and the cheesecake filling need at least 15 minutes in the freezer. If you don't have room for both pans at once you can freeze the cookie dough first and then transfer it to the refrigerator while you freeze the filling. Alternatively you can make up both mixtures and put a combination of cookie dough and filling on just one baking sheet. Once everything is chilled, you can make up the cookies from that batch, put them in the oven and put the rest of the dough and filling in the freezer to chill.
If you are a big fan of the pumpkin spice flavor, you can add an extra teaspoon of spice in the cinnamon sugar mixture. You will still get a delicious, crispy exterior but with extra pumpkin spice flavor.
Remember to let these cookies sit on the baking sheet after they come out of the oven for at least 5 minutes. The filling makes them gooey and if the bottom doesn't have enough time to cool and harden, you run the risk of it breaking and losing that delicious cheesecake filling to the pan.
Feel free to add other mix-ins to the cookies if you have the urge. I love some chopped pecans or walnuts or some dark chocolate chips. You can also drizzle on a glaze if you want a little extra sweetness.
Pumpkin Cheesecake Cookies
Ingredients
1

17.5 ounce package snickerdoodle cookie mix

2

teaspoons

pumpkin pie spice

¾

cup

pumpkin puree

¾

cup

white chocolate chips

¾

8 ounce package cream cheese, softened

3

Tablespoons

dark brown sugar
Instructions
Remove the cinnamon sugar packet from the cookie mix and set aside, you will use this later.

Line two cookie sheets with parchment paper and set to the side.

Whisk together the cookie mix and the pumpkin pie spice in a medium sized mixing bowl until combined.

Mix in the pumpkin puree and stir until a soft dough forms.

Fold in the white chocolate chips and then use a 1 ½ Tablespoon cookie scoop to place balls of the cookie dough onto one of the prepared cookie sheets.

Gently flatten out the cookie dough balls slightly so that you have thick discs, this will make the assembly easier later.

Once all of the dough has been scooped, you should get 20-22 scoops out of the dough, place the baking sheet in the freezer.

In a medium sized mixing bowl, beat together the cream cheese and dark brown sugar with a hand or stand mixer until a soft, fluffy mixture forms, about 5 minutes.

Scoop out the mixture into approximately 1 teaspoon sized balls and place on the second prepared cookie sheet. You will want to make the same number of cheesecake filling balls as you did cookie dough balls, though they will be smaller in size.

Place the cheesecake filling balls in the freezer with the cookie dough balls for an additional 15 minutes.

Preheat the oven to 350 degrees Fahrenheit and remove both pans from the freezer.

Place the cinnamon sugar mix into a shallow bowl and set to the side.

Take one cookie dough disc and place a cheesecake ball on the center. Gently fold the cookie dough up around the cheesecake filling and roll into a ball.

Roll the ball in the sugar and cinnamon mix and then place on an ungreased baking sheet, about 1 inch away from the sides and other cookies.

Repeat until your baking sheet is full. Place any extra dough and filling back in the freezer while the cookies bake.

Bake for 13-16 minutes or until firm on the outside and slightly browned on the edges.

Allow to cool for 5-10 minutes before removing from the baking sheet and serve warm or cooled.