The typical homemade ice cream takes a long while and is quite the process. I wanted to try my hand at Snow Ice Cream with the kids since we just received our first official significant snow fall of the season.
I've seen the recipes floating around Pinterest, the first recipe ended up in a complete and utter failure. There was WAY to much sweetness for the kids and they said that it was "NASTY!" – YES KIDS said that ice cream was nasty!
The second time I whipped the Snow Ice Cream up it was a total surprise to the girls. I had scooped out the snow from the back deck while they were laying down watching a movie 😉 I stuck the snow in the freezer in the instance they wanted up from the movie…they often come and ask for Popcorn!
So I scaled back the sweetness of the large amount of sugar and toned the vanilla down a good bit. The second time I'm pretty sure it was a success because there was nothing left in the bowls!
Now you can totally add chopped up fruit into the ice cream, add on some funfetti sprinkles that you can from the Funfetti Cookie Recipe or even top it off with some Homemade Hershey Syrup!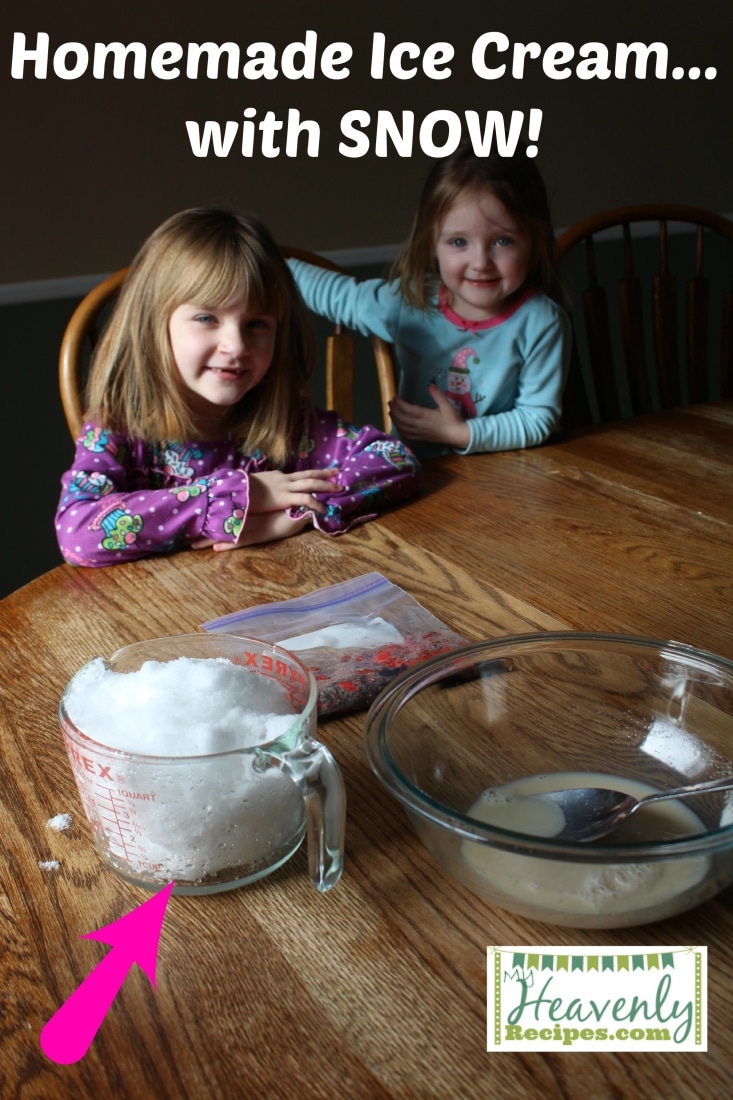 This was our first attempt….note how brown the milk mixture is from all the vanilla that was added!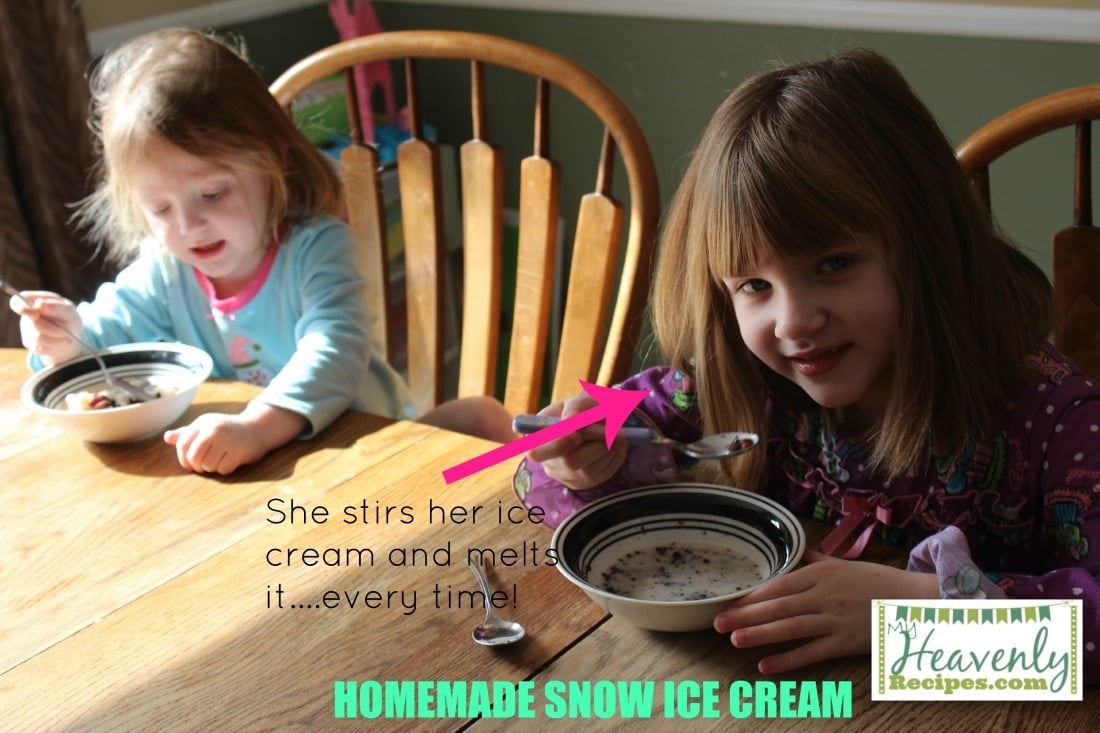 Is she the only one that stirs ice cream until it's all melted and runny?!? I know I use to do this as a kid….so PLEASE tell me you do it too?!?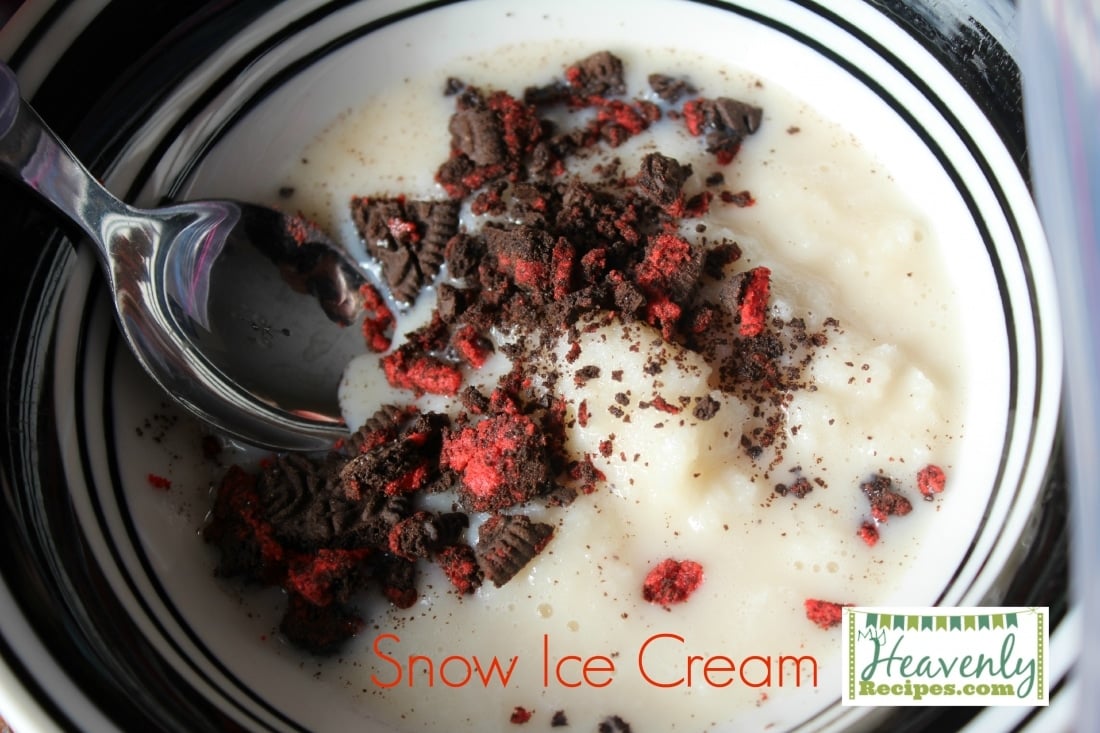 The girls chose Oreo Cookies as their topping for their ice cream. This is the ONLY treat in the house that I don't necessarily like them having, but, they are kids and you can't deprive them of their childhood….that's what I tell myself so I don't feel guilty with not giving them cereals and other foods filled with sugar, GMO's and dyed foods.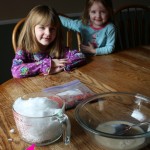 Snow Ice Cream
Ingredients
4

C

Snow

leave a bucket out to collect when snow is on it's way!

1/4

TSP

Vanilla Extract

1/8

C

Sugar

1/2

C

Milk/Cream
Instructions
In a large bowl mix the vanilla, sugar and milk.

Place in fridge.

Grab your snow and quickly mix into the milk mixture.

Serve immediately with your favorite topping!
I love to see what you are creating in your kitchens! Feel free to share your results of this Snow Ice Cream Recipe with me on Facebook or Instagram. And, be sure to follow me over on Pinterest for more Heavenly Recipes.