Are you looking for more Crockpot Chicken Recipes to try in your kitchen? Look no further as I share with you 18 of the Most Pinned Crockpot Chicken recipes on Pinterest!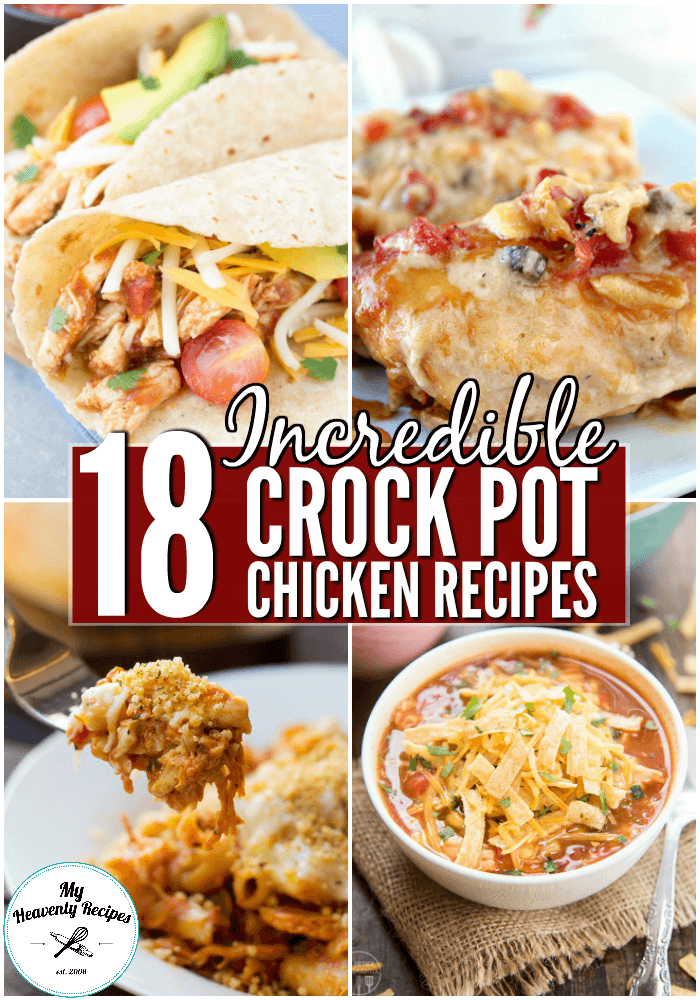 One of our my most favorite crockpot chicken recipes right now are our Crack Chicken Tacos. If you are cooking to please a crowd, this recipe is it! Plus, you can create a taco bar and have your friends and family create their own taco that they will actually EAT!
https://www.greatgrubdelicioustreats.com/crock-pot-cheesy-chicken/
Crock Pot Cheesy Chicken Chili will be going on my Meal Plan next week!
https://therecipecritic.com/2016/09/slow-cooker-chicken-mushroom-stroganoff/
2. I seriously need my family to eat mushrooms so that we can try this recipe. Maybe YOU can just come over and eat it with me?
https://kristineskitchenblog.com/3-ingredient-slow-cooker-taco-chicken/
3. Can taco night get any better? I think not!
https://therecipecritic.com/2016/12/slow-cooker-italian-chicken-potatoes/
4. There's nothing more comforting than chicken and potatoes, am I right?!?
https://www.southernplate.com/2010/09/slow-cooker-cheesy-chicken-and-rice-the-downside-of-being-a-swan-princess.html
5. My kids love ANYTHING chicken and rice! Momma loves it for being cooked in the Crock Pot.
https://diethood.com/crock-pot-honey-garlic-chicken/
6. I've tried this garlic chicken recipe and it's DELICIOUS! Just keep all the veggies out!
https://www.familyfreshmeals.com/2014/06/best-crockpot-bbq-chicken.html
7. Serving up a party soon? You need this Crockpot BBQ Chicken recipe in yo' life.
https://www.laurengreutman.com/slow-cooker-chicken-parmesan-casserole/
8. Why does chicken and spaghetti sauce go so well together?!?
https://thesouthernladycooks.com/2016/09/24/crockpot-chicken-and-noodles/
9. Such a easy and filling chicken recipe all made in the crock pot baby!
https://backforseconds.com/crock-pot-cheesy-bacon-ranch-chicken/
10. You can't go wrong with bacon, ranch and chicken, you can't!
11. Again with the whole chicken and spaghetti sauce sorta thing…DELICIOUS!
12. I think this could quite possibly be the best comfort food recipe!
https://diethood.com/easy-crock-pot-salsa-verde-chicken/
13. Want to kick things up a little bit? You've GOT to try this crock pot chicken recipe!
https://damndelicious.net/2015/10/15/slow-cooker-chicken-and-corn-chowder/
14. Where are my corn chowder fans? Can you believe I've NEVER had it?!?
https://lmld.org/2016/09/19/slow-cooker-chicken-enchilada-soup/
15.  This chicken enchilada soup is perfect for warming up on nights when you've gotta run kids around all day!
I don't want you to miss three of our favorite crock pot chicken recipes…they are: