This post may contain affiliate links, read our
Disclosure Policy
for more information. As an Amazon Associate I earn from qualifying purchases, thank you!
Want a salad that's healthy but filling? Try this easy Broccoli Apple Salad with Avocado Dressing!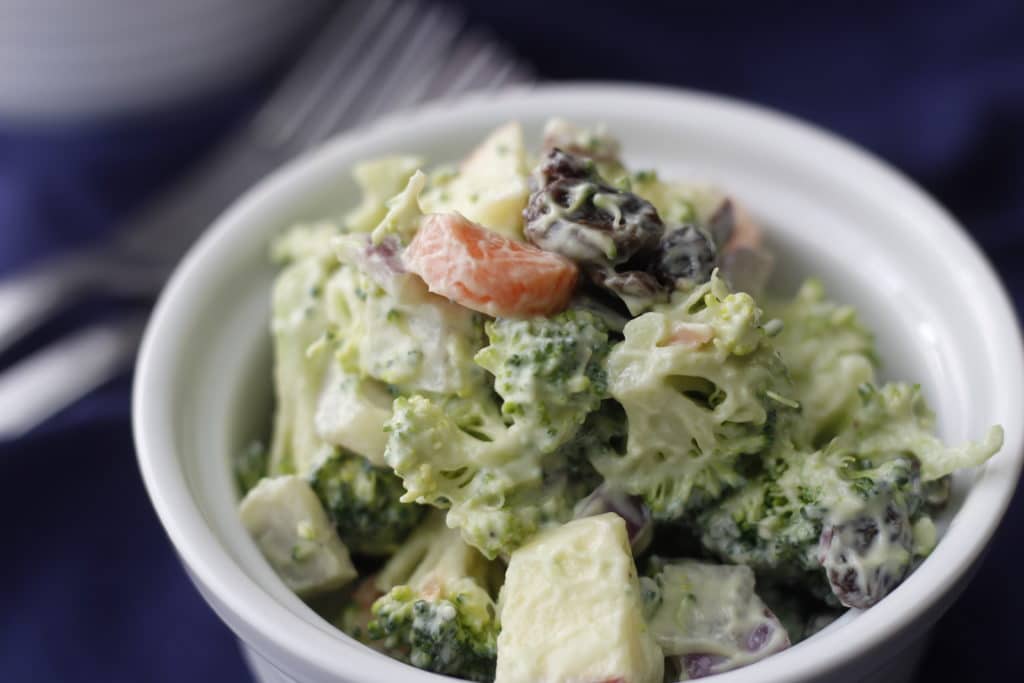 I think most people struggle to eat veggies but have no problem eating fruit. I'm the complete opposite… veggies are no problem, but I could go days without getting in any fruit. (Completely bassakwards, I know.) My answer to this "problem" is to create recipes that include a ton of veggies, but also sneak in a little fruit… like this salad or my Super Simple Strawberry Salad.
Before you shoot me over a email asking what the purple thing was on the onion, it's called a Food Hugger. They come in a set and can be purchased here on Amazon for a few bucks. It's a quick way to save your fruits and veggies that's reusable!
Broccoli Apple Salad with Avocado Dressing is also the perfect meal for people who have the opposite problem: they don't really love vegetables, but they know they need to eat them… so they have to be enticed by a little sweet addition to their veggies. (No shame in that.)
This salad is sweetened with the addition of a red apple, plus you can add raisins too if you'd like. The avocado dressing (made with blended avocado, Greek Yogurt, and olive oil) is rich in healthy fats and will keep you full for hours. This is definitely the kind of salad you can eat for lunch at noon and not think about food again until 5 or 6 p.m.!
What You'll Need to Make a Broccoli Apple Salad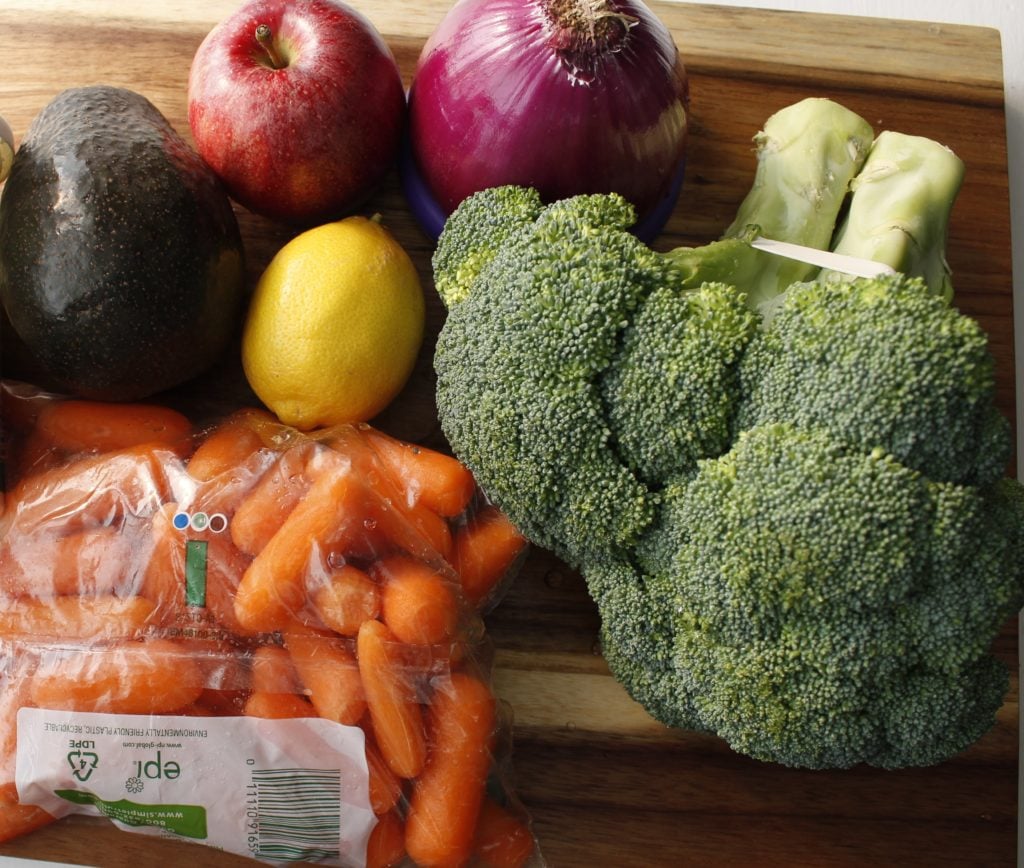 broccoli florets
apple
Red Onion
 (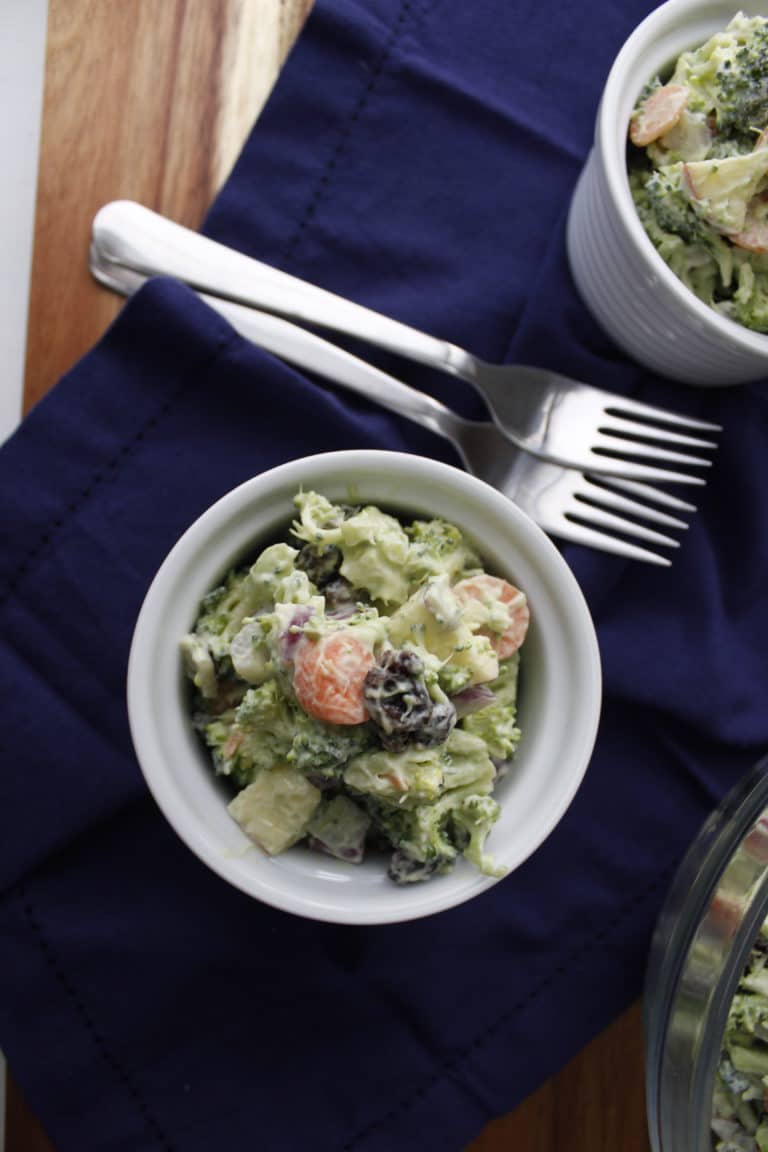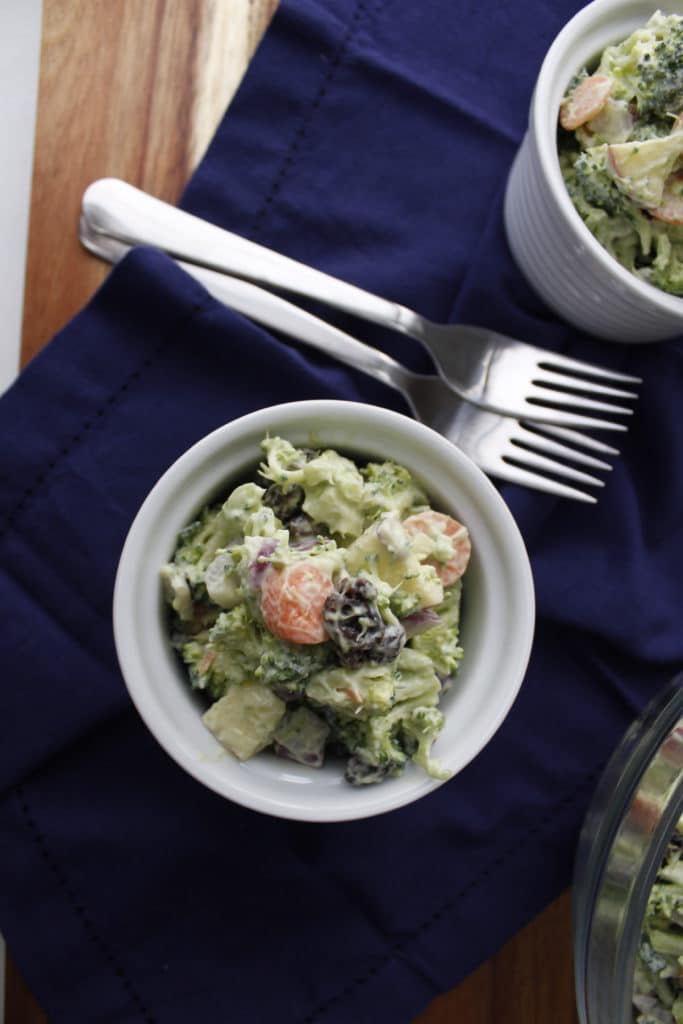 How to Make Healthy Broccoli Apple Salad in Four Easy Steps + Video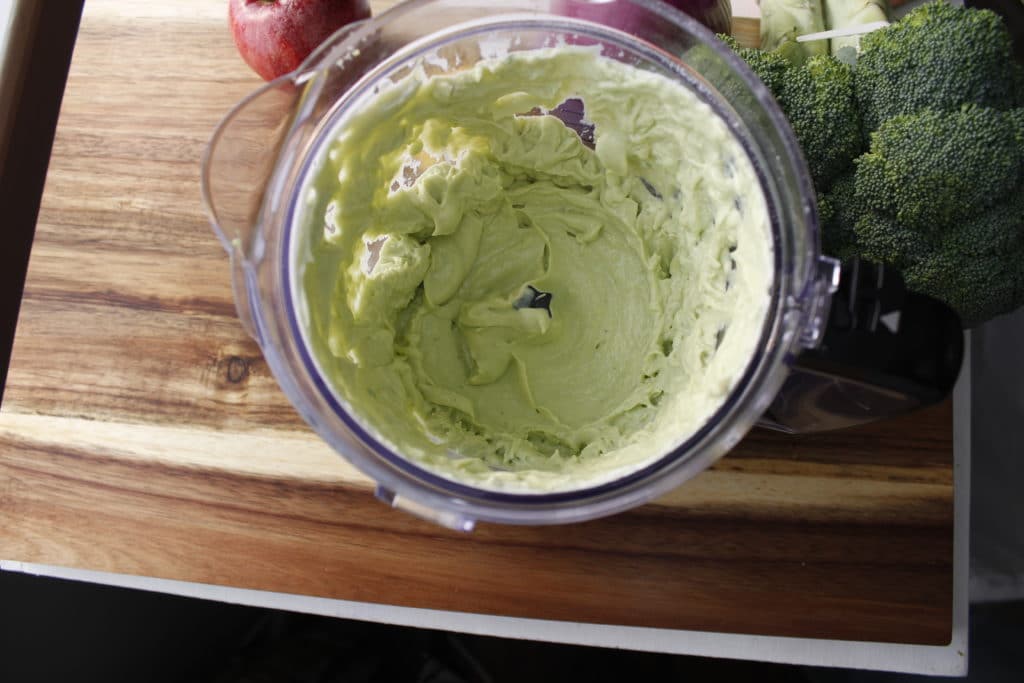 Step 1. In a mixer, blend avocado and Greek Yogurt to create your salad dressing base.
Step 2. Place the avocado-yogurt mixture in a bowl and add olive oil (up to 2 tbsp) to get to your desired consistency. I like mine a little thinner, so I usually add the full 2 tbsp.
Step 3. Add broccoli, carrots, apple, red onion, lemon juice, and raisins (optional) into the bowl.
Note: Because the raisins are optional, the nutrition label for this recipe has been calculated WITHOUT the raisins included. Keep that in mind if you decide to include them!
Step 4. Toss all ingredients until they're well-coated by the avocado dressing.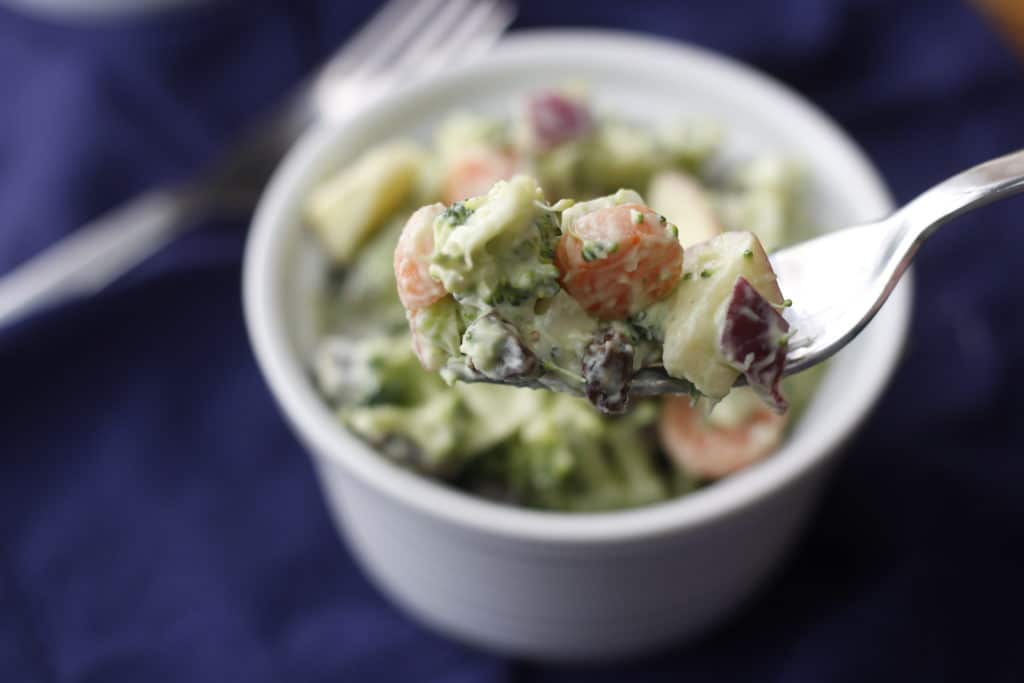 What Else to Add to Broccoli Apple Salad
If you want to make your Broccoli Apple Salad even more filling, you can add toasted walnuts or pecans. (Pecans if you want your salad to taste sweeter; walnuts if you want it to taste more savory.)
If you're watching your carbs or sugar, make sure to completely omit the optional raisins and go for walnuts or pecans instead!
A Few More Healthy Salad Recipes to Try
Broccoli Apple Salad with Avocado Dressing
Broccoli Apple Salad with Avocado Dressing makes the perfect healthy and filling meal.
Ingredients
1

Avocado

½

C

Greek Yogurt

1-2

TBSP

Olive Oil

2

medium broccoli heads

chopped into bite size pieces

1

C

carrots

diced or shredded

1

Red Apple

diced

½

Red Onion

diced

1

Lemon

juice

1

C

Raisins

optional
Instructions
In a mixer, blend avocado and greek yogurt.

Place in bowl and mix with olive oil until you get the consistency for the dressing. I like mine a little thinner.

Next add broccoli, carrots, apple, red onion, lemon juice and raisins in bowl.

Toss all ingredients until coated in dressing.

You can also add in a toasted walnut or pecan if you enjoy them in your broccoli salad.
Notes
WW FreeStyle Plan: 3 SmartPoints per serving