This salmon salad recipe will become one of your favorite ways to eat salad! If you're tired of eating boring salads, you need to make this Strawberry Fields salmon salad recipe!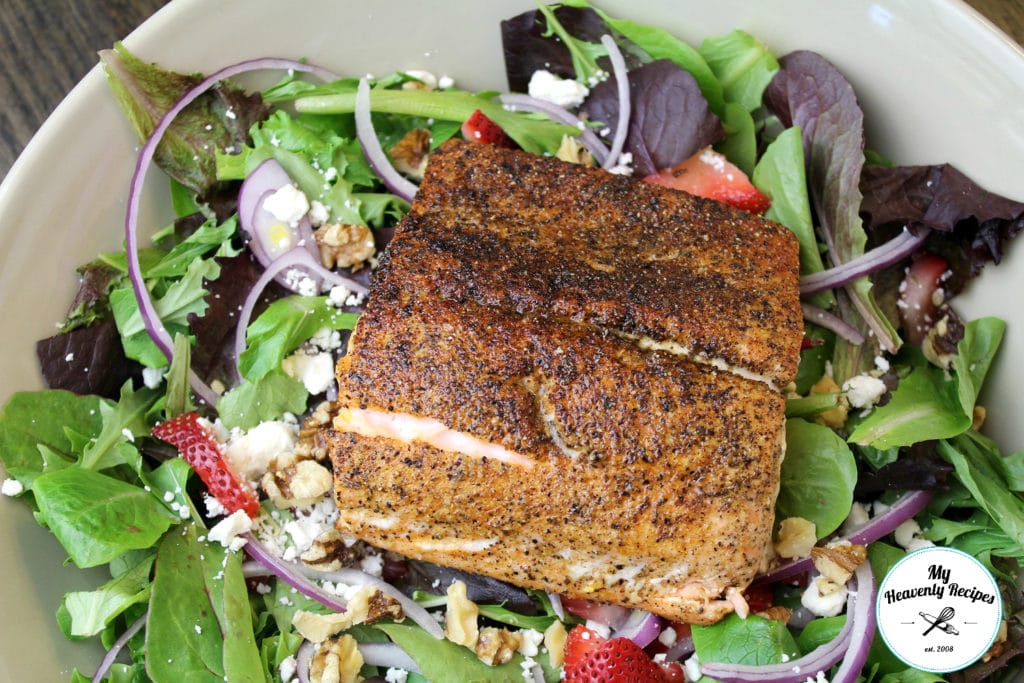 So one night, Jas and I happened to get a babysitter! This doesn't happen EVER. We are a boring old couple and ran some errands that needed to be done. We both put them off because going into a store with 3 kids ends up in someone screaming because we told them no candy, someone gets upset that they didn't get to ride in the cart or someone gets mad because they just wanted to stay home! Please, PLEASE, tell me I'm not alone here!
After our errands were completed, we sat in the truck, debating on where we would go for dinner. It just so happened to be Cinco de Mayo, so we opted out for mexican food because all those restaurants were probably slammin' at 8 o'clock at night! Jas LOVES the Rusty Bucket and we typically forget that the restaurant is right down the road from us…and headed there!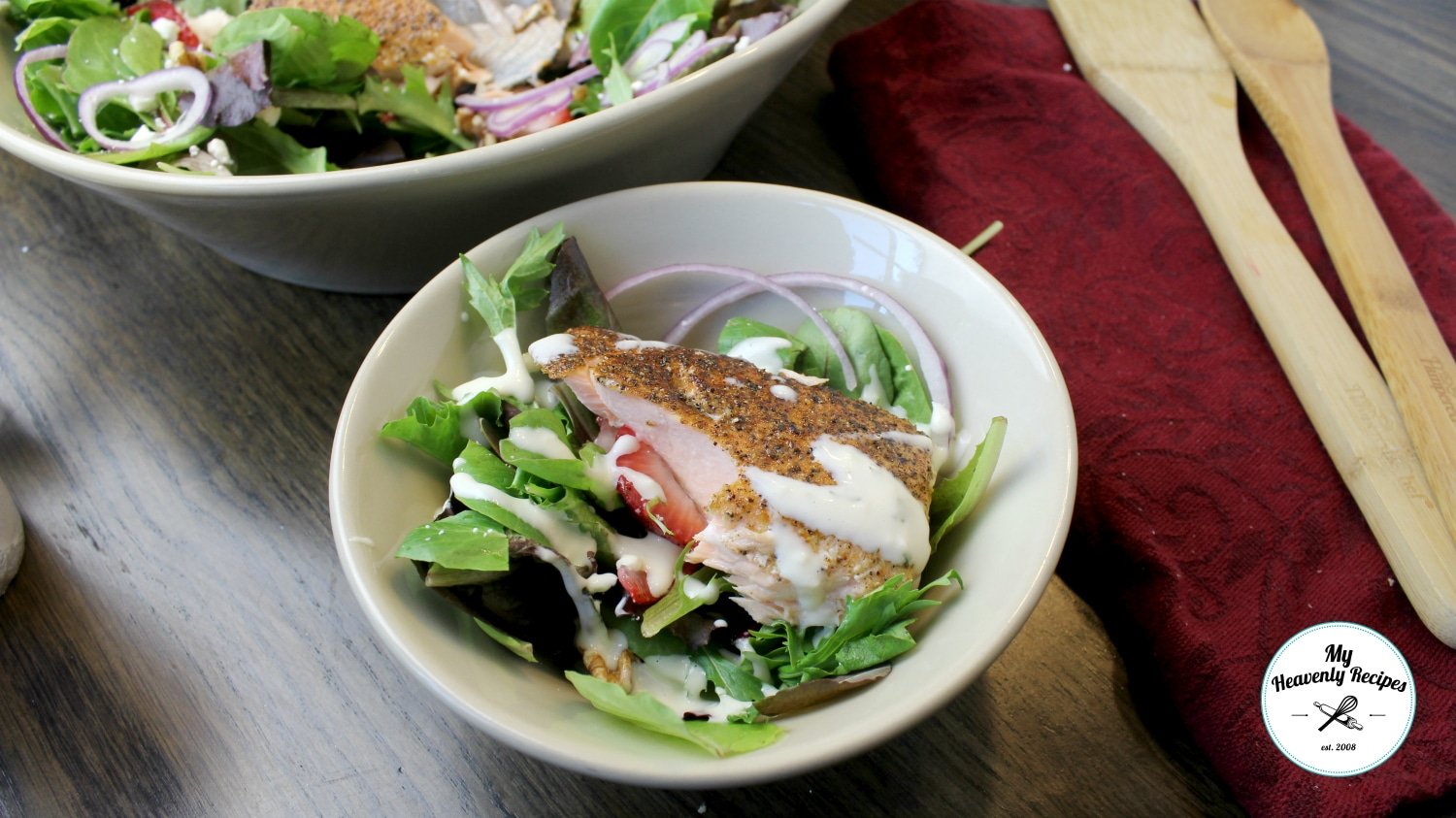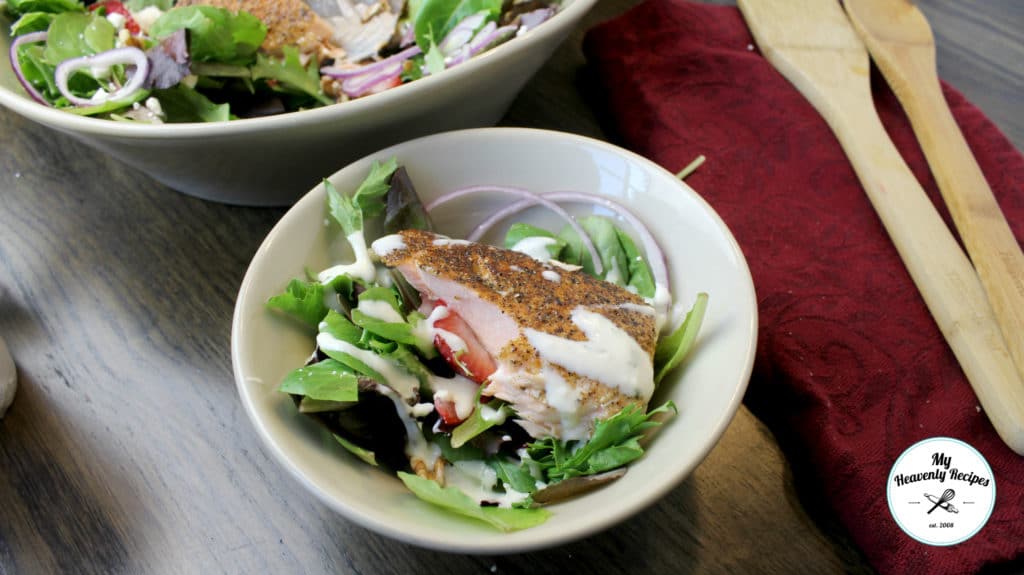 We eargerly awaited our 20 minute wait time with a Blue Moon and Patron Margarita's in hand. Our table was ready and we both agreed to try the Spinach Con Queso. It wasn't anything spectacular, but, we did eat it all! Now, I've been eating "right". And what I mean by that is healthy. Before my foot surgery I lost over 50 pounds by eating right and exercising. The depression took over after surgery and I let it get the best of me.
Want more Salmon and Salad recipes? Check these out:
I realize that I may not be able to exercise like I want to right now, but, at least being active and eating right will play a part in how I can start to feel good about myself again. Jas said that I needed to "cheat" and I didn't agree. If I cheated then, I'd cheat tomorrow and the next day and it would spiral out of control really freakin' fast.
When I dived into the menu and saw the Blackened Salmon Salad I knew I needed to put that in my mouth! I ordered that baby up and was sure to substitute the blue cheese crumbles for feta, because I don't roll with the blue!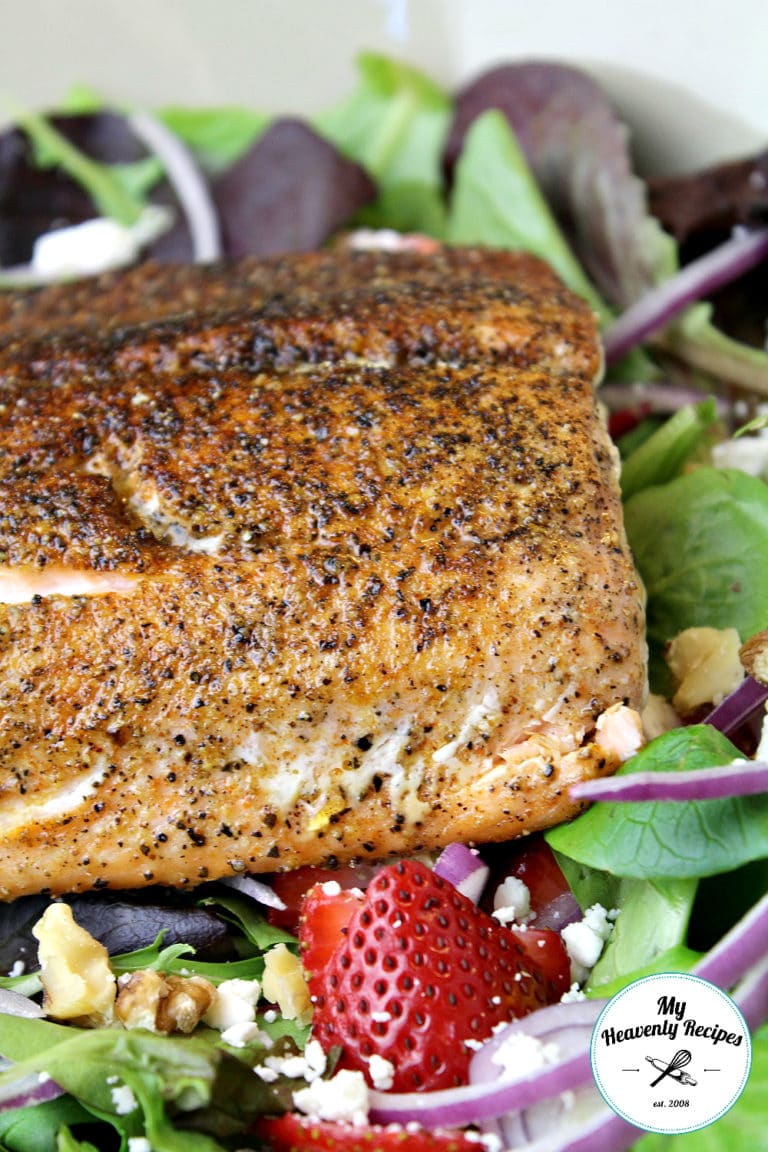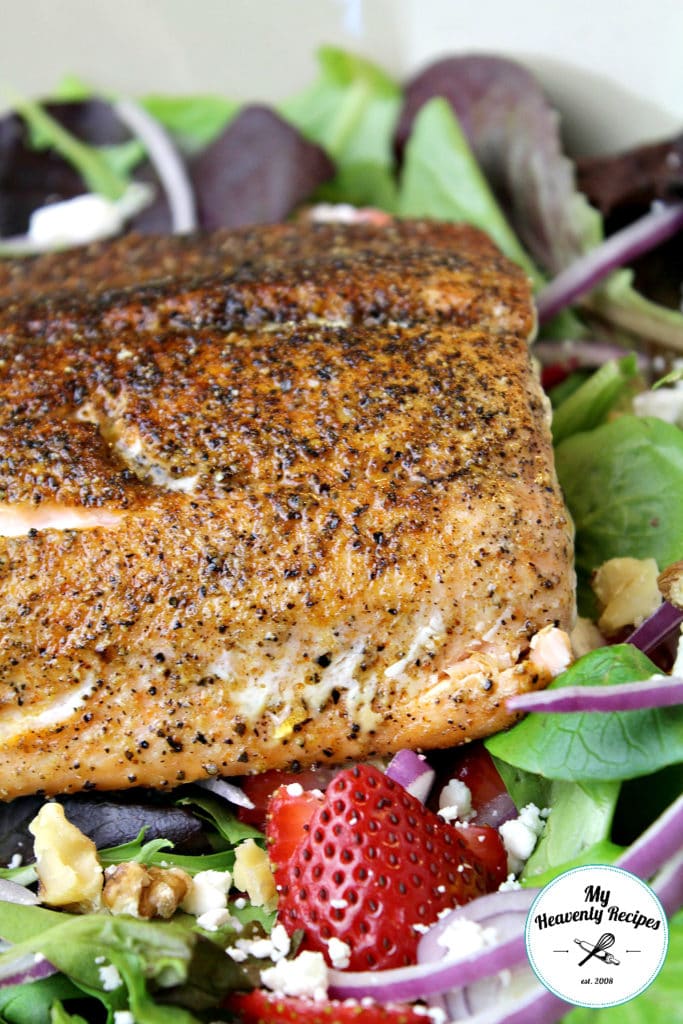 Salmon Salad Recipe Ingredients
1 lb salmon
salt, to taste
lemon pepper, to taste
cayenne pepper, to taste
1 package Baby Spring Lettuce
⅓ C Strawberries, sliced
½ C Walnuts or Pecans
Feta cheese, garnish

Candied Pecans
1 cup  Pecan Pieces
⅓ oz Butter
⅛ cup Brown Sugar
⅛ cup Worcestershire Sauce
⅛ cup Cayenne Pepper
Honey Vinaigrette
4 cups Mayonnaise
½ cup Rice Wine Vinegar
½ cup Honey
½ cup Mirin
1 tsp   Parsley, fine chopped
1 tsp   Salt
¼ tsp  White Pepper
Salmon Salad Recipe Video
Weight Watchers FreeStyle Plan: 13 SmartPoints per serving when using 2 tablespoons homemade dressing
Strawberry Fields Salmon Salad Recipe
If you have ever had the pleasure of nibbling on the Salmon Salad from Rusty Bucket, this is my version of it! You simply can't get enough!
Ingredients
1

lb

salmon

1

salt

to taste

lemon pepper

to taste

cayenne pepper

to taste

1

package Baby Spring Lettuce

⅓

C

Strawberries

sliced

½

C

Walnuts or Pecans

2

tbsp

Feta cheese

garnish

Rusty Buckets Honey Vinegarette Dressing
Instructions
Heat up large skillet, drizzle with olive oil so salmon does not stick.

Mix all seasoning into a small bowl and rub onto the salmon.

Once skillet is hot, place salmon and cook until done to your liking.

While salmon is cooking, put together salad with lettuce, strawberries and red onion.

Place salmon pieces on top of salad, garnish with nuts and feta cheese. Plate and drizzle with homemade dressing.
Nutrition
Calories:
282
kcal
|
Carbohydrates:
3
g
|
Protein:
26
g
|
Fat:
18
g
|
Saturated Fat:
3
g
|
Cholesterol:
69
mg
|
Sodium:
145
mg
|
Potassium:
638
mg
|
Fiber:
1
g
|
Sugar:
1
g
|
Vitamin A:
80
IU
|
Vitamin C:
7.1
mg
|
Calcium:
70
mg
|
Iron:
1.4
mg