This smores dip recipe came to me as the kids wanted smores at home…but, I wanted that crispiness of the marshmallow!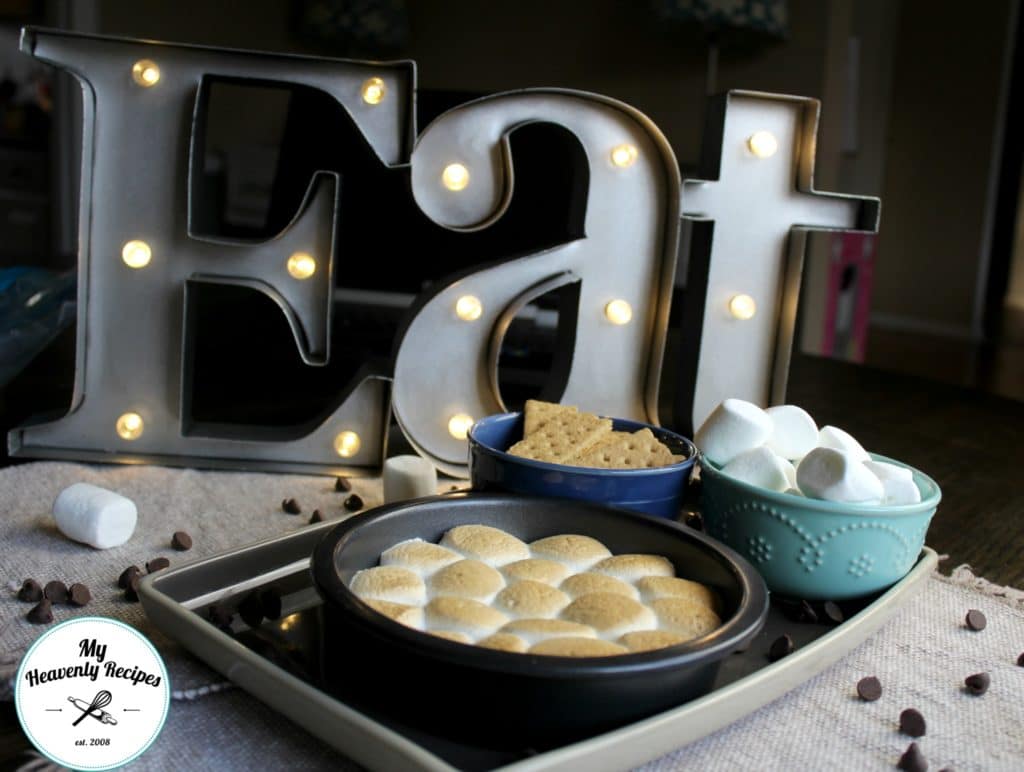 Sometimes cravings hit and you just gotta give in. Smores are one of those cravings around here! It's been awhile since we've been to camp, the weather is much to warm for a fire in the fireplace and honestly to warm to have a fire outside. Not to mention if we have a fire going, you've got to be near it, tend to it, make sure it doesn't go out, blah blah blah!
The kids had been wanting smores for like a week. I had bought fire wood to burn a fire in the fireplace, but, it just hadn't gotten cold enough to burn a fire. One Saturday afternoon I was making the Crock Pot Adobo Pulled Pork recipe (coming this week so stay tuned) and the kids were playing with their new found neighbor friends! So, I figured I could be a cool Mom and make smores in the microwave. I was initially just going to "toast" the marshmallows first with a lighter, but, I didn't have time for all that. Thankfully, I didn't have to as I decided to just throw them in the oven and see what would happen….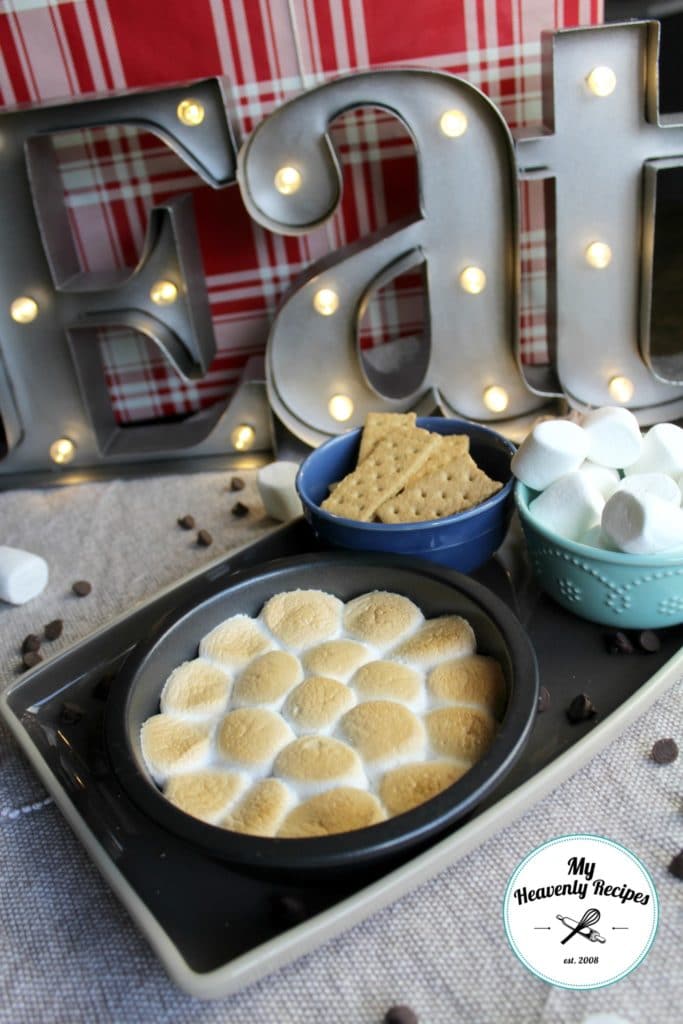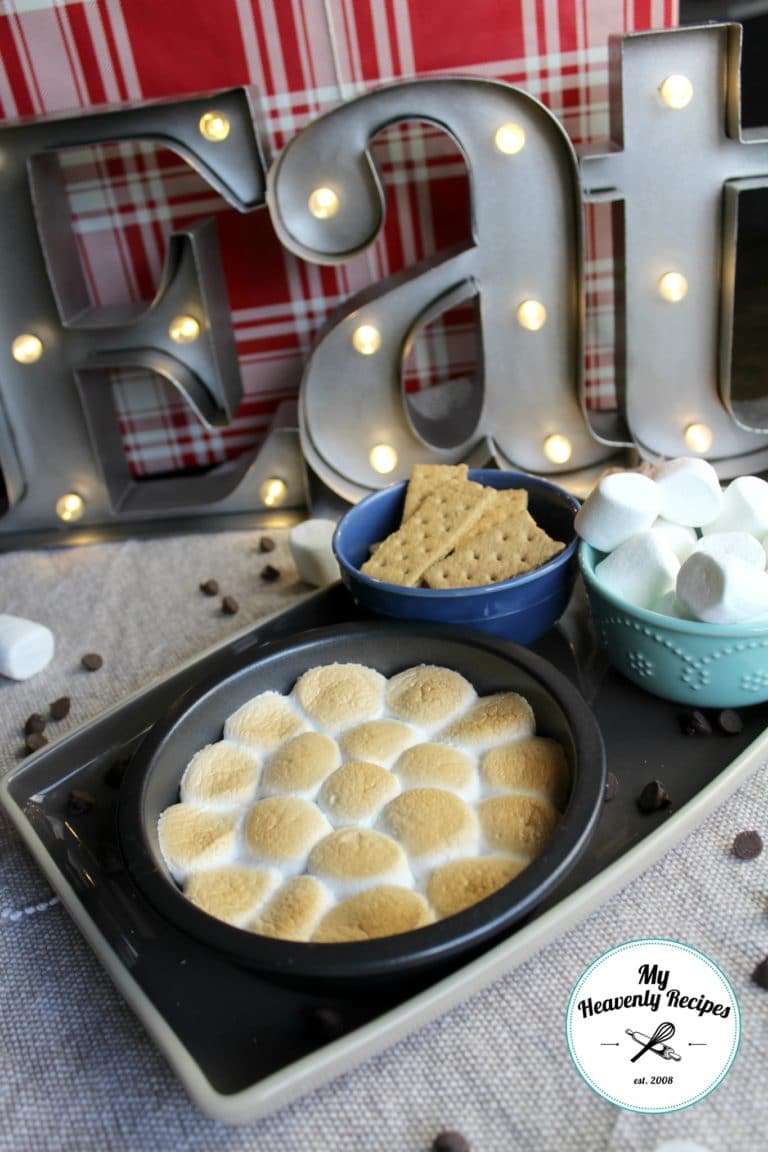 So I'm not going to put a particular recipe on here per say. Basically, you need some Chocolate Chips, Marshmallows and Graham Crackers. Whether you make this smores dip recipe in a small skillet, cake pan, 9×13 dish or anything else you can safely put into the oven — all you need to know is to have enough chocolate chips to fill the bottom of your dish with a nice even layer. Then cut marshmallows in half with food scissors, place in another even layer and bake. Then get creative! We used the traditional graham crackers to dip into our smores dip. However, the kids also ended up using marshmallows!!!
Take a look at the smores dip recipe below to take a peek at the deliciousness…
A Few Other Chocolate Dessert Recipes You'll Love:
Weight Watchers FreeStyle Plan: 32 SmartPoints for 1/4 batch
Smores Dip
Be sure to surprise the family with this Smores Dip recipe for dessert this week. Only a few simple ingredients, made in the oven and can feed a crowd!
Ingredients
2

C

Chocolate Chips

9

Large Marshmallows

cut in half

10

Graham Crackers
Instructions
Preheat oven to 350.

In a oven proof baking dish, pour chocolate chips in a even layer.

Place cut large marshmallows on top in a even layer with the "cut" side down.

Bake for 8-10 minutes until marshmallows begin to melt.

If the marshmallows aren't brown, turn broiler on high for 2-3 minutes until marshmallows have browned.

Serve with Graham Crackers and enjoy!
Nutrition
Calories:
786
kcal
|
Carbohydrates:
135
g
|
Protein:
7
g
|
Fat:
24
g
|
Saturated Fat:
13
g
|
Cholesterol:
13
mg
|
Sodium:
338
mg
|
Potassium:
61
mg
|
Fiber:
3
g
|
Sugar:
98
g
|
Vitamin A:
4
%
|
Vitamin C:
0.7
%
|
Calcium:
13.2
%
|
Iron:
14.9
%