This post may contain affiliate links, read our
Disclosure Policy
for more information. As an Amazon Associate I earn from qualifying purchases, thank you!
You've got to try this easy lemon salmon recipe. With a kick of heat from cayenne pepper, this pan-seared salmon is UHmazing ya'll!
So I have something to tell you.
Up until about a year ago, I'd never even eaten fish. Sure, I had the occasional tuna salad, but, that was about the extent of it. That being said, I did try blackened mahi-mahi at my Grandfather's BFFs restaurant. But, it was pretty damn fresh and legit. I never thought I could make something that delicious at my own house. You know, there are just some things that taste better dining out…like a Jeff Ruby steak, KWIM?!?
Anyway.
Over the course of this past year of my weight loss journey, I knew that I needed to eat more fish. I can't eat a lot of red meat because it flares up my endometriosis, and my family doesn't eat a whole lot of pork because the hubs doesn't care for it. As a result, that leaves chicken or fish. At my 29th (again and again) birthday last year, the Hubs took me and some friends to Valley Vineyards in Lebanon, OH. We had a great time and cooked our own meat. Of course, there was either steak or salmon to choose from…I chose steak, he chose salmon.
The hubs made this like gourmet freakin' foil packet….I had my doubts.
We ended up sitting down for dinner and his lemon salmon was the most amazing thing I had tasted in awhile. I knew instantly that we were going to make that at home and it turned out even better!
How to make cayenne lemon salmon
So for this lemon salmon recipe, there are a few cooking options. You can either
Wrap it up in tin foil and set on some coals/ashes in the fire.
Cook it in a skillet on the stove top, or
Fire up your grill and have grilled lemon salmon.
I first start out with about 1 lb of fish between the two of us and have the fish store cut the two fillets. We leave the skin on because I feel like it helps to keep the fish intact. I've never made it without the skin, so let me know if I'm wrong!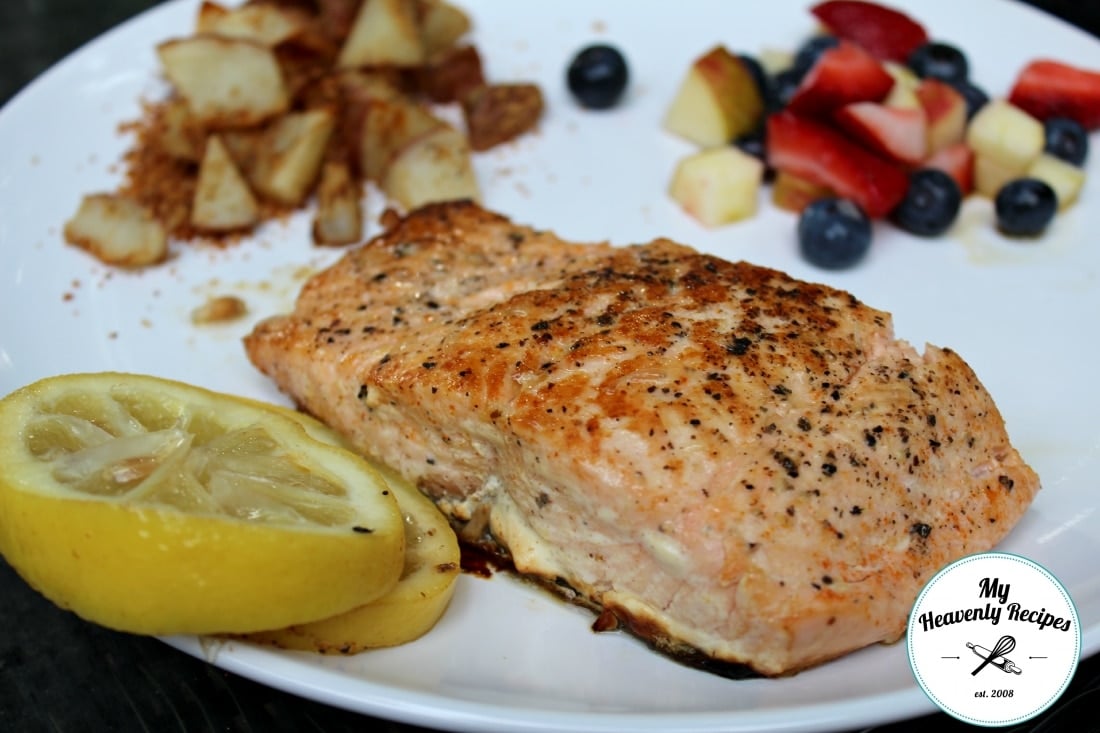 Sprinkle the salmon with a decent bit of salt, pepper and a little lighter on the cayenne, unless you can take the heat.
In the skillet, place 3-4 tablespoons of butter and place the flesh side down. You are looking to create a nice crust on the top of your fish. Give it about 3 minutes. If you can pick your pieces of salmon up with a pair of tongs and it lifts up with ease, it's ready to be turned. On the other hand, if you try to pick the fish up and it still sticks to the pan leave it for another minute or so.
Once you flip the fish to the other side, place two slices of lemon on the pan-seared side of the fish. Then cover and let it cook for another 3-5 minutes, depending on your skillet.
Now if you are going with the foil packet option you'll want to throw some butter in and stick the lemon to the top of the fish before sealing. You'll need to cook the fish in the packet for a good 15 minutes. If you open the foil up and the fish is falling apart it's done!
More Salmon Recipes to Try
Pan-Seared Cayenne Lemon Salmon
A salmon recipe that is buttery and contains a kick of heat. A squeeze of lemon tops the dish!
Ingredients
2

Salmon Fillets

Salt

Pepper, Cayenne Pepper to Taste

4

Lemon Slices

4

TBSP

Butter
Instructions
HEAT a cast iron skillet, melting butter.

SPRINKLE salmon with salt, pepper and cayenne pepper.

PLACE the flesh side of the fish down in heated skillet to create a crust for 3 minutes.

FLIP the fish with skin side down, place lemon on top of flesh side and finish cooking for another 3 minutes.

REMOVE from pan, let cool for 1-2 minutes and enjoy!
Notes
WW FreeStyle Plan:  10 SmartPoints per serving if using the entire amount of butter.  Butter is 5 SmartPoints per tablespoon.
I love to see what you are creating in your kitchens! Be sure to share the recipes you found on MyHeavenlyRecipes.com with me on Facebook, Twitter, Pinterest and Instagram.