This post may contain affiliate links, read our
Disclosure Policy
for more information. As an Amazon Associate I earn from qualifying purchases, thank you!
Looking for an incredible Low-Carb Taco Soup recipe that's quick and easy to make? You'll love this easy low-carb taco soup recipe that's perfect for the keto diet too!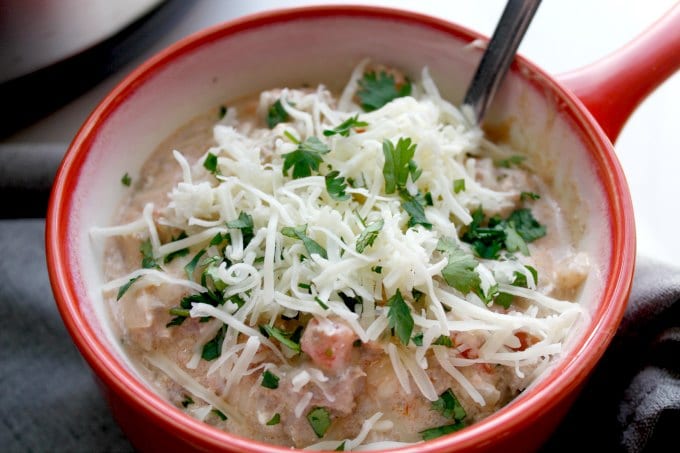 Let's talk taco soup! Taco soup is pretty awesome (anything recipe that's taco-flavored is a winner in my household), but it is traditionally full of carbs. Most recipes call for 2, 3, sometimes 4(!) cans of beans, plus a can of corn, too… and then they're served with rice or tortillas. Total carb overload.
While there is nothing wrong with eating carbs, some of us would prefer to reduce our consumption of them. But we still want taco soup, so why not make an awesome, low carb version?
So I set out to make the BEST Low-Carb Taco Soup I could. I also wanted it to be a keto taco soup so everyone on the keto diet ("high fat, low carb") could enjoy it too. Folks, I have a winner with this recipe.
Reader Julie emailed me about this low-carb taco soup recipe. Here's what she has to say: "So I just made this tonite, instead of last night, and oh my word, it is so delicious!! So much flavor! I followed your recommendation with only using the one package of cream cheese and I used ground turkey instead. Seriously, so good! This is a keeper! Thanks so much!"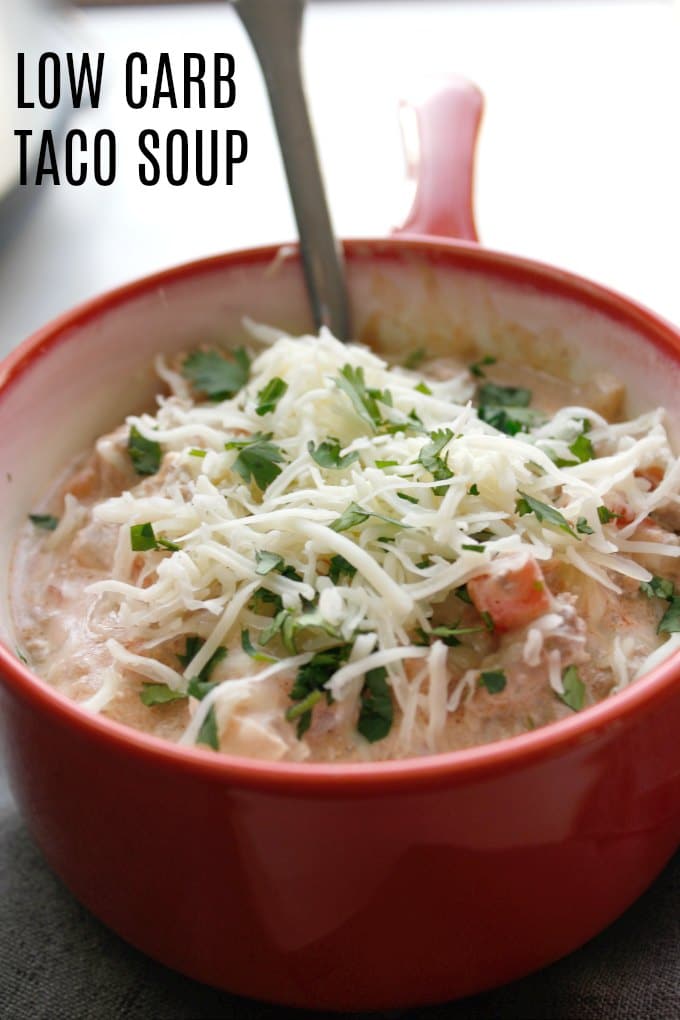 The original Taco Soup Recipe that everyone seems to be talking about and making is this version from Beyer Beware. But, I wanted a thicker soup that wasn't so runny and decided to try a few different variations (and post the best, of course!).
How to Make Low-Carb Taco Soup – Stove Top Version
This recipe is SO easy to make… just four simple steps! Plus, it uses just a few simple ingredients you probably already have on hand or are easy to find.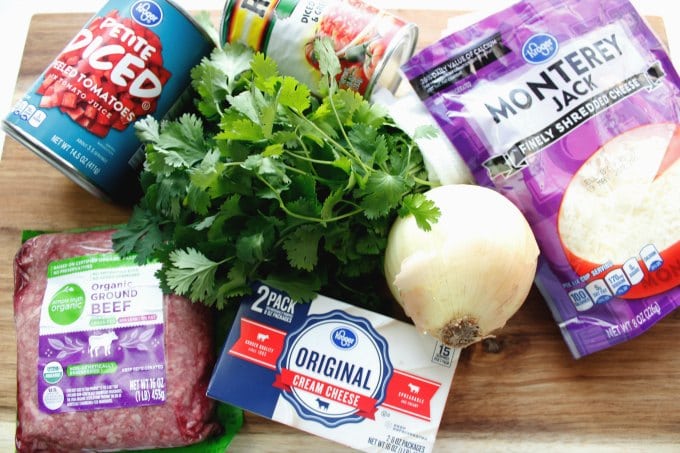 Step #1: In a large pot, brown hamburger and diced onions until the onions are translucent.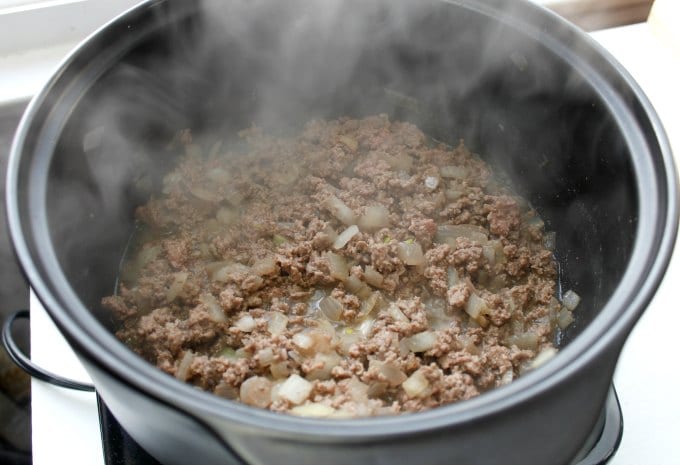 Step #2: Add in package of cream cheese. Allow cream cheese to melt.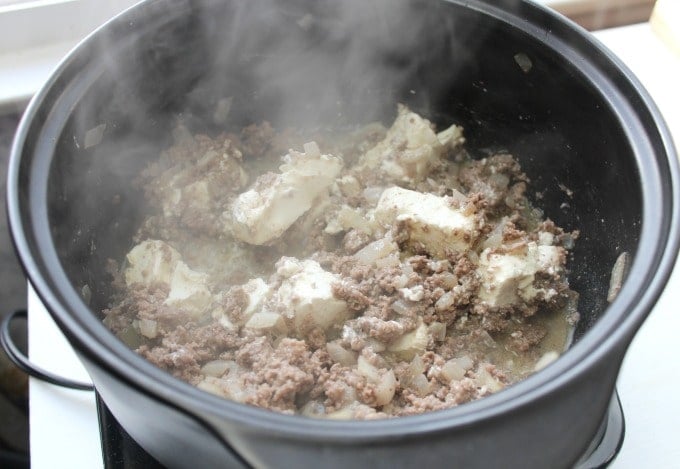 Step #3: Stir in can of tomatoes, can of Rotel, and taco sauce. Stir to incorporate.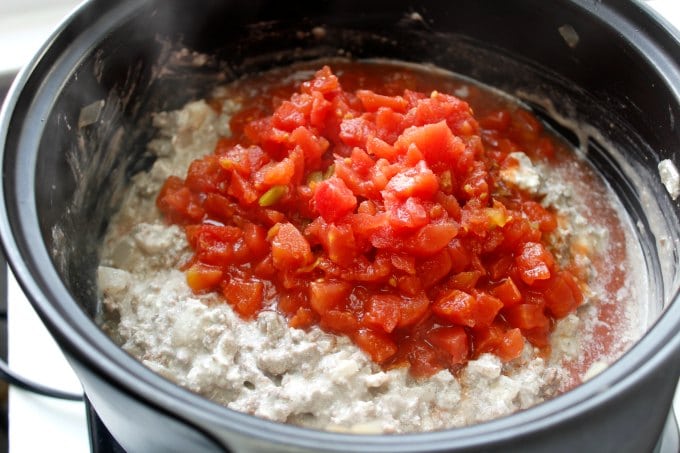 Step #4: Cook until heated through. Garnish with cilantro and cheese. Enjoy!
Low-Carb Taco Soup Crock Pot Version
For the Crock Pot Version, make sure to brown meat and then dump all the remaining ingredients in. Cook on low for a minimum of 2 hours to heat through and allow the cream cheese to melt.
If you are looking for a pot that can be used on the stove, in the oven, microwave and the crock-pot, you need to get this 4qt. Slow Cooker Set. I LOVE the fact that I can brown the meat in the same pot that I use with the slow cooker, that means LESS DISHES for me to CLEAN!
Tips for Making Low-Carb Taco Soup (Keto Taco Soup)
Go for less cream cheese. The original recipe called for two packages of cream cheese, but I really think that is way too much. I know those of you on the keto diet might be tempted to add that second package of cream cheese (more fat is better, right?), but by using only one package, you can taste the other flavors.
Use two cans of Rotel if you'd prefer. I appreciate a little more tomatoes in mine, but if that's not your thing, go for two cans of Rotel diced tomatoes and chilies instead of one can of Rotel and one can of tomatoes.
This recipe is easily adjustable. Remember that taste buds aren't treated the same, so this is more of a basis for the recipe. Adjust it to your preferences!
If you aren't on a low carb/keto diet, you can totally add in beans. Diced green peppers in with the onions are a great option too!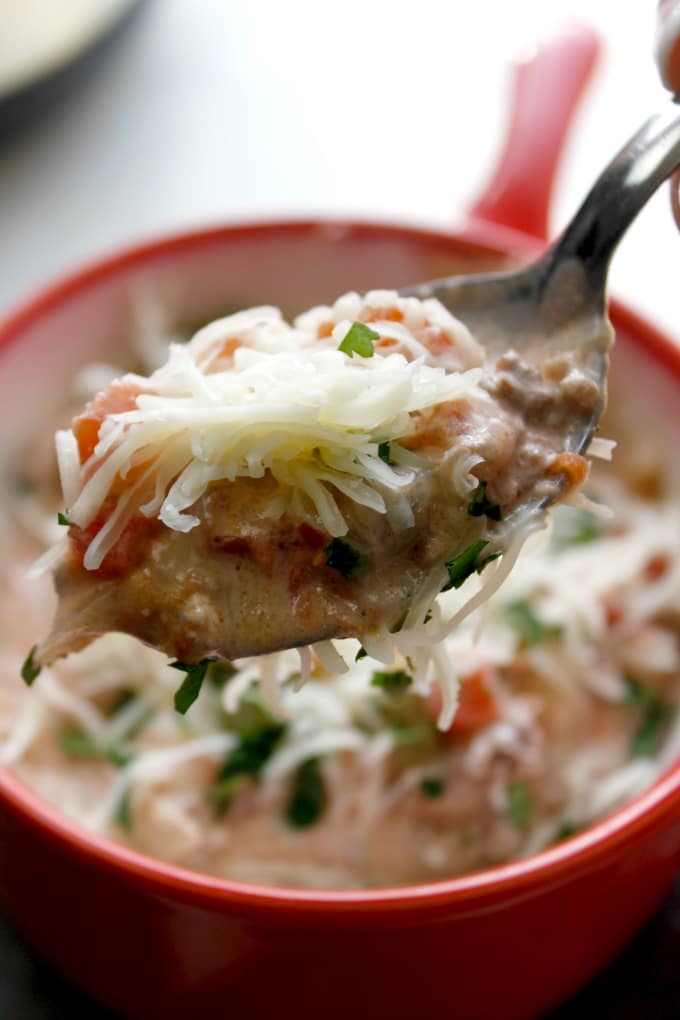 Want More Yummy Low-Carb Recipes?
Low-Carb Taco Soup Recipe
This Low-Carb Taco Soup (Keto Taco Soup) recipe is SO flavorful and easy to make!
Ingredients
1

lb

lean hamburger

1

whole

onion

diced

8

oz.

cream cheese

cubed

8

oz

diced tomatoes

8

oz

Rotel diced tomatoes & chilies

2

tbsp

Taco Sauce

2

tbsp

cilantro

garnish

2

tbsp

cheese

garnish
Instructions
In a large pot, brown hamburger and cook onions until translucent.

Add in cream cheese and allow to melt.

Stir in diced tomatoes, diced chiles and taco sauce stirring to incorporate.

Heat through, garnish with cilantro and cheese.
Notes
The can of tomatoes can be substituted with an additional can of Rotel.
WW FreeStyle Plan: 15 SmartPoints per serving if splitting into 4 servings