Listen you don't have to love salmon or even fish for that matter. This Foiled Lemon Grilled Salmon is pure Heaven!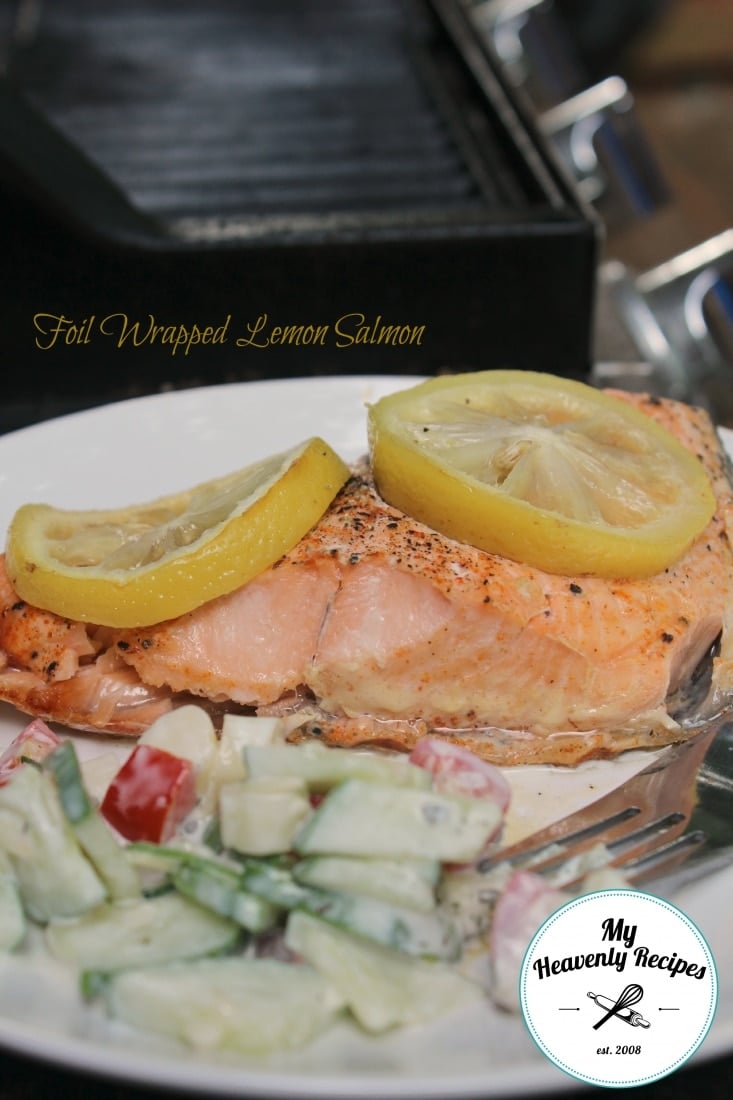 So you may have noticed that I have a love for Salmon. This was the first fish that I have tried & honestly haven't stepped outside of the box. As my friends and family will tell you I don't necessarily like to try new things!
I want a Samsung Galaxy S6, but, have my old iPhone 4s because I don't like change.
I should have a MacBook Pro, but, I have a HP Elitebook because I'm HP loyal and it's all I've ever used.
My wardrobe is full of neutral colors as much as I would love to wear color….it's change!
Now I will try new workout programs, run versus walk and try new hair styles…so I am not all that boring…..okay yes I am!
But, with Salmon I've learned that it's okay to have lemon and the fish needs flavor. I like to add heat when I can and this Salmon Recipe is one of those times.
Now this Foil Wrapped Grilled Salmon recipe is super similar to my Crusted Salmon & Lemon Salmon Recipe. It's the same flavor level, it's just cooked differently. So instead of cooking this salmon recipe in my Lodge Cast Iron Skillet I'm wrapping it in foil and placing on my Char-Broil Grill.
Now I grill A LOT. One of the tips I want to share with you about grilling is to make sure you spend money and have good cast iron grates. You don't want to scrub them, you want to clean them and oil them like you would a cast iron skillet….I'll have more on that in the coming weeks.
So let's get you started!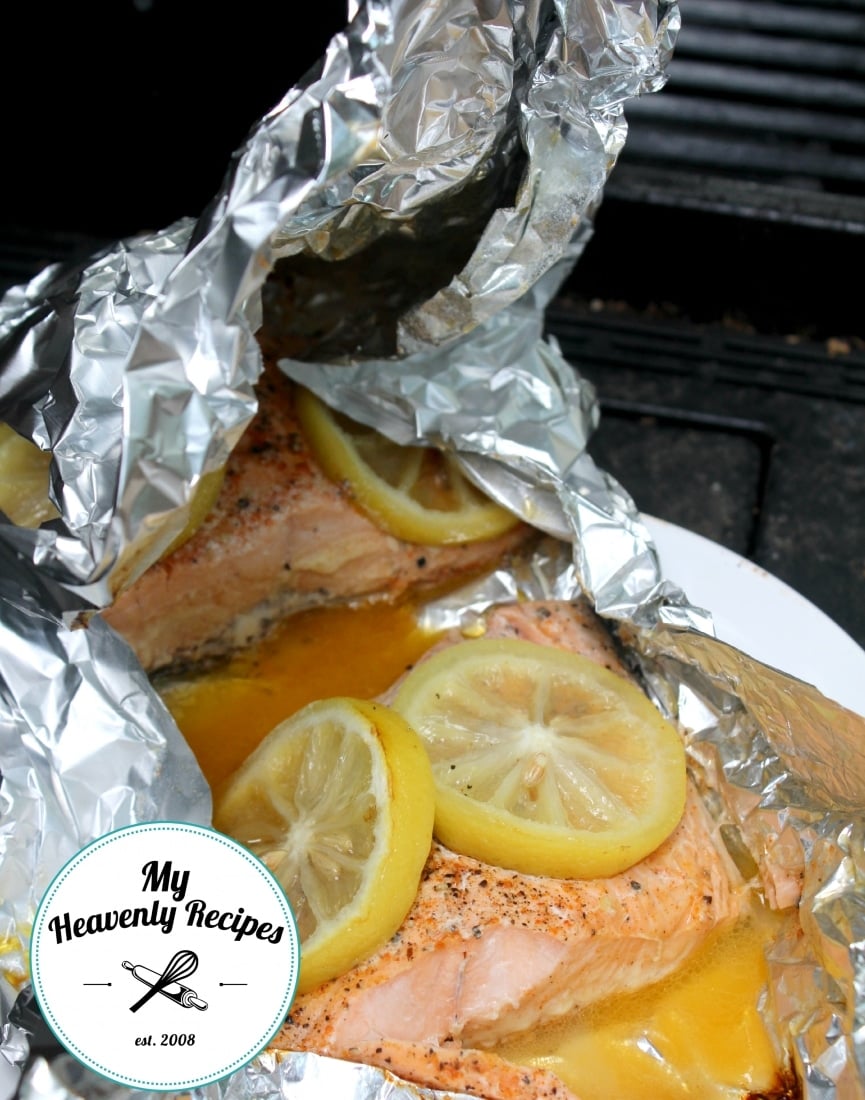 Ingredients
2 ½ lb. Salmon Filets
Cayenne Pepper
Salt
Pepper
2 TBSP Butter
4 Slices Lemon
Now if you are at camp and have the fire going scoot a few of the coals over to the side of the flame. You can place your foil directly ontop of the coal and cook for 10-15 minutes until the fish is tender and flaky! This is a great way to cook food while at camp with no resources.
WW FreeStyle Plan: 5 SmartPoints per serving (if using the full amount of butter)
Foiled Lemon Grilled Salmon
A salmon recipe that can be cooked over an open flavor and packed full of flavor.
Ingredients
2 ½

lb.

Salmon Filets

Pinch

Cayenne Pepper

Pinch

Salt

Pinch

Pepper

2

TSP

Olive Oil

2

TBSP

Butter

4

Slices

Lemon
Instructions
Place aluminum foil on a flat surface.

Pour Olive Oil on foil, this ensures the fish won't stick.

Place salmon fillets skin side down.

Sprinkle with cayenne pepper, salt and pepper.

Place Lemon slices on top of fillet.

Put butter in between the two pieces. This will melt and help to add flavor.

Add a piece of aluminum foil to the top of the salmon and fold in all sides so that the steam can not escape.

Cook over a low to medium low flame for 10-12 minutes until tender.
Nutrition
Calories:
475
kcal
|
Protein:
56
g
|
Fat:
26
g
|
Saturated Fat:
6
g
|
Cholesterol:
171
mg
|
Sodium:
175
mg
|
Potassium:
1398
mg
|
Vitamin A:
290
IU
|
Vitamin C:
3.7
mg
|
Calcium:
34
mg
|
Iron:
2.3
mg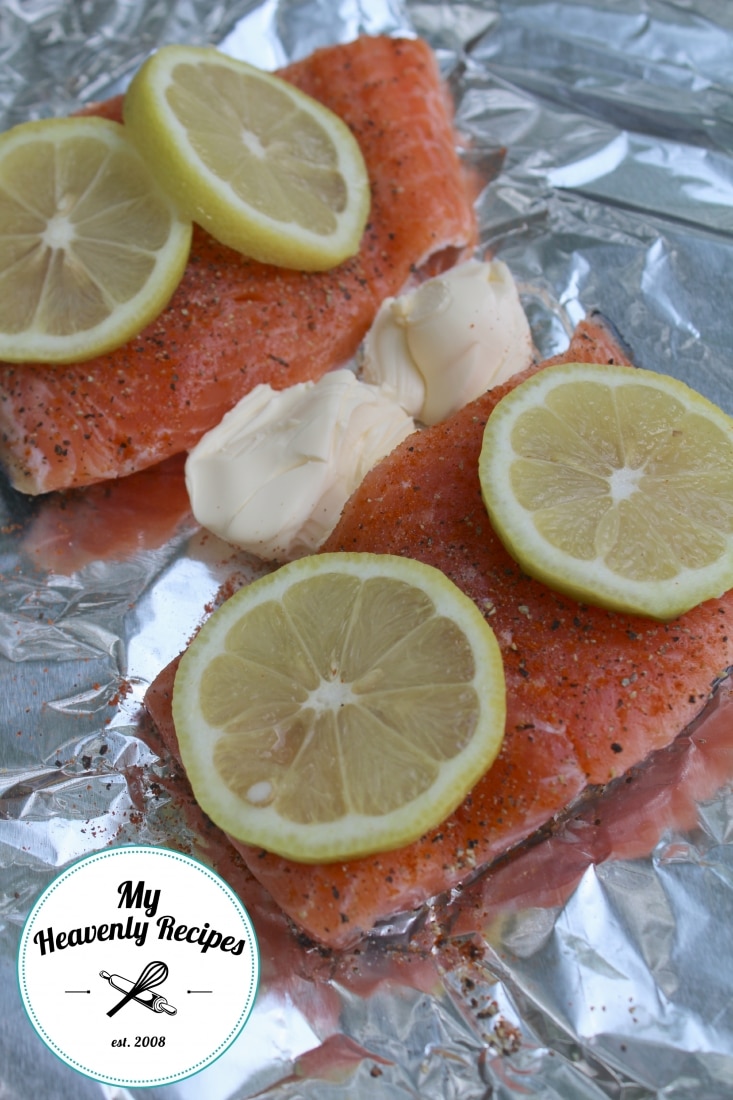 I recommend you pair this grilled salmon recipe with my super popular Foiled Potatoes – A Potato & Onion Recipe. You'll want to put the potatoes on the grill about 20 minutes previous to the salmon!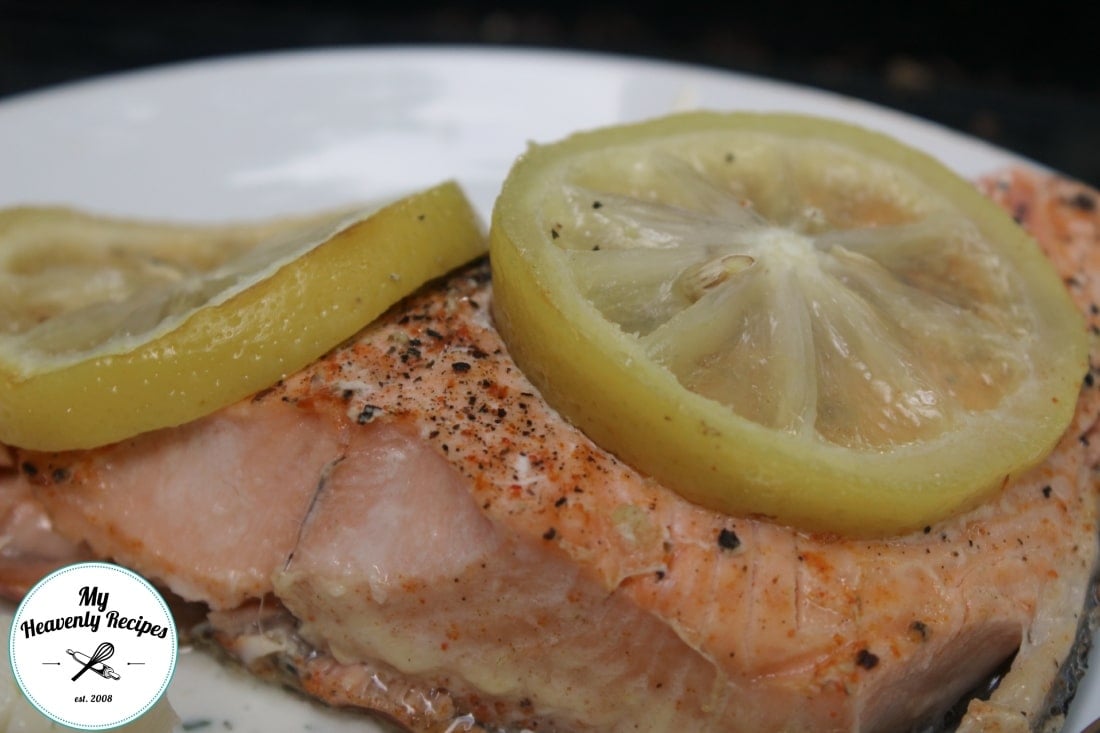 I love to see what you are creating in your kitchens! Be sure to share the recipes you found on MyHeavenlyRecipes.com with me on Facebook, Twitter, Pinterest and Instagram.