Did you recently obtain a Insta-Pot? If so, check out these 20 Easy & Delicious Insta Pot Recipes to help get you started!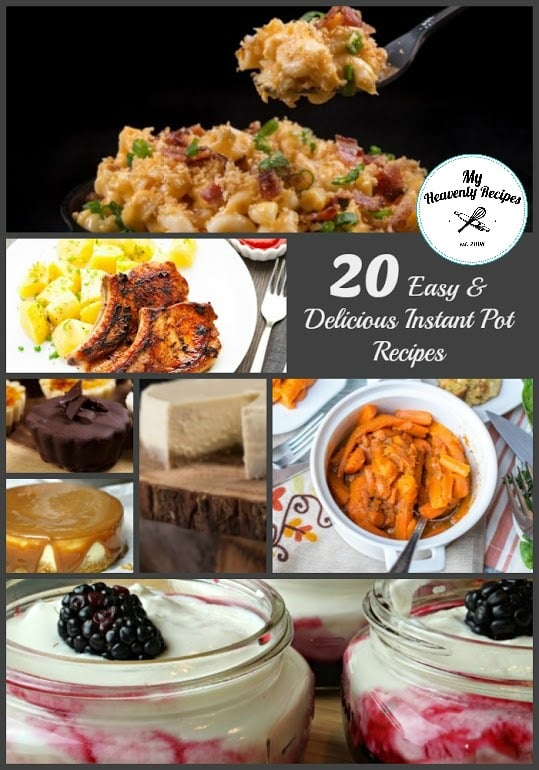 Honestly, I'm just going to put this out there – I'm SCARED of the Insta Pot. Like seriously. All I think of when I hear pressure cooker is the Boston Marathon Bombings. Now, I will probably never own one, yet alone use one, but, that doesn't mean I can't do a roundup of Insta Pot recipes for you from bloggers that I know who have legit recipes!
Want to share one of your favorite Insta Pot Recipes with me?
Feel free to do so HERE. I'll be happy to feature your recipe for other Insta Pot fans!
1. 3 Ingredient Crockpot BBQ Chicken Wings
3. Maple Mustard Glazed Carrots
5. Pressure Cooker Salsa Chicken Burrito Bowls
6. Quick Pressure Cooker Potato Salad
8. Instant ot Salted Caramel Cheesecake
12. Instant Pot BBQ Pork Chops
13. Pressure Cooker Mexican Beans
14. Pressure Cooker All-Beef Ancho and Anaheim Chili
16. Pressure Cooker Butternut Cauliflower Soup
And we can't have all of these delicious recipes without talking about dessert….
17. Instant Pot New York Cheesecake
18. Instant Pot Yogurt with Fruit
19. Pressure Cooker Applesauce
Be sure to comment if you would like to see more Insta Pot recipes. Maybe you all with end up converting me to a Insta Pot fan. But, in the meantime, I'm not jumping on board the Insta Pot train! I like my Crock-Pots and Deep Covered Baker just fine 😉 I know that I'm not going to blow myself or my family up, it's just not something I've been around, I'm unfamiliar with and just skeered of! Judge me all you want!!! I don't like change!!!