This post may contain affiliate links, read our
Disclosure Policy
for more information. As an Amazon Associate I earn from qualifying purchases, thank you!
Favorite List of Corn Salad Recipes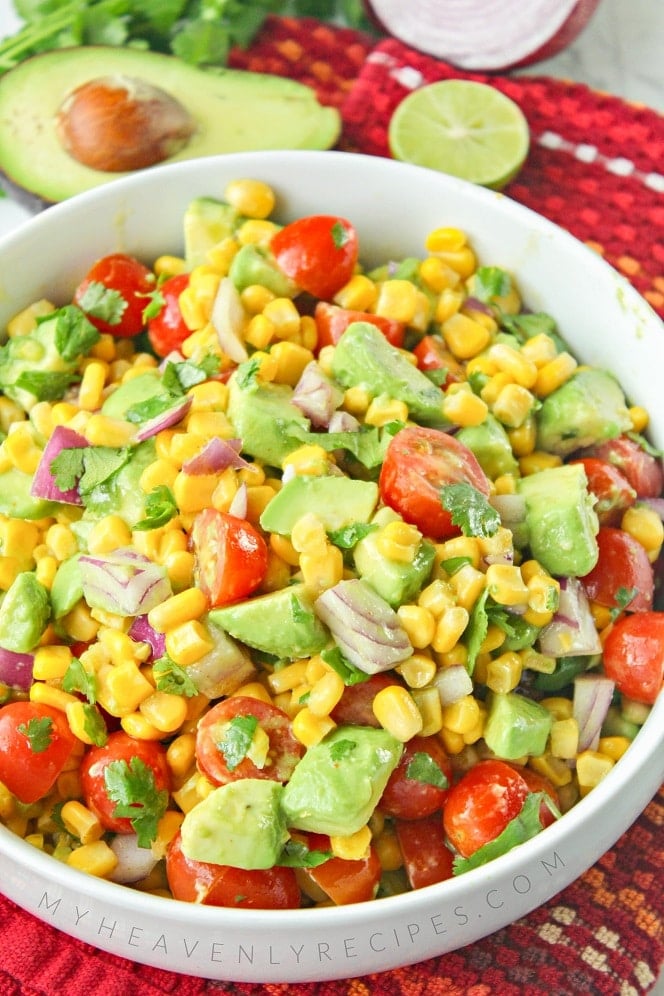 This Cajun Corn Salad makes a tasty side dish with more zest and spice than your traditional veggies. It's the best way to add flavor to your BBQ or outdoor picnic with this fire-roasted corn.
If you're looking for a delicious and easy dish to take to your next gathering or barbecue, here is how to make Mexican street corn pasta salad.

Mexican Street Corn Salad recipe (also known as Esquites) is packed with fresh flavors and cotija cheese! This is the perfect side dish that turns the classic Mexican street food into a delicious and easy to make salad!
This Avocado Corn Salsa dip is a family favorite that we make for every single gathering because it's always a crowd-pleasing, allergy-friendly appetizer or side. Plus it's healthy, flavorful, fresh, and super fast, and easy to make!
This Mexican street corn salad features sweet and smoky grilled corn that's tossed in a tangy, creamy sauce of mayonnaise and lime juice with salty cotija cheese and a little spice from chili powder to balance out the flavor. It goes great with grilled meats and barbecue and it's a perfect side dish for the summer.
Try this crunchy, tangy, and refreshing Mexican street corn salad this summer. It makes a great addition to any meal.
Charred corn couscous salad makes a tasty light meal or side dish. A quick and easy recipe, it's great on hot days!
This corn salad is one of my favorite salads to eat. It's creamy, and it has bacon. Who doesn't love bacon? All of the flavors go together so well, and the taste is irresistible. You will be hooked after the first bite–promise!
https://homeatcedarspringsfarm.com/easy-corn-salad-with…/
Mexican Street Corn Salad, AKA Elote Salad, is an easy and tasty side dish that will be the new star at all of your cookouts and potlucks.
https://gypsyplate.com/mexican-street-corn-salad/
This black bean corn salad is the perfect side dish for your next cookout. With fresh corn and black beans, it's a summer favorite that will steal the show. So good, you'll forget all about the main course.
Looking for ways to use up that sweet summer corn? Look no further! This simple Mexican Corn Salad hits all the right notes: lots of veggies, black beans for protein, and a nice citrusy dressing; it's the perfect light Mexican side dish, taco filling, or appetizer with chips for all your summer cookouts, BBQs, or potlucks.
https://lifecurrentsblog.com/mexican-corn-salad/

This Vegan Mexican Street Corn Salad is everything you love about grilled Mexican street corn without the mess! Fresh, grilled corn on the cob (elotes), sliced off the cob (esquites), and paired with a cool, creamy, and tangy gluten-free, allergy-free mayo-based sauce with cilantro, lime, and a dash of spice! An easy summer side dish recipe!
https://strengthandsunshine.com/vegan-mexican-street…/
An easy last minute side dish recipe for all your cookouts, bbqs, and potlucks! This Simple Summer Corn Macaroni Salad is gluten-free, vegan, top 8 allergy-free, and can be made in just 10 minutes! Seven ingredients are all you need for this family-friendly pasta salad!
https://strengthandsunshine.com/simple-summer-corn…/
The best and easiest Black Bean and Corn Salsa recipe! Transform canned black beans into a Mexican-inspired salsa with fresh grilled corn, peppers, tomatoes, onions, and loads of zesty lime.
Fresh Corn Salad made with sweet corn, artichoke hearts, cherry tomatoes, cucumbers, and tangy feta in a light red wine vinaigrette. Delicious any time of year, enjoy this awesome corn salad at BBQs, potlucks, and more!

A street corn kale salad is light, refreshing and totally delicious. Inspired by Mexican elote, this recipe boasts a rich variety of colors and textures in every mouthful. Mix it all together, and you have a fiesta of flavors in your mouth!
https://xoxobella.com/mexican-elote-street-corn-kale…/
Fresh sweet corn cut right off the cob, paired with creamy, salty feta, pickled red onions, and a bed of arugula. This is one you will want to make again and again!
https://seasonandthyme.com/sweet-corn-and-arugula-salad/
This Mexican corn salad recipe has all the favorite flavors of elote. It is made of sweet corn cooked in a skillet, then covered in a spicy mix of Mexican crema, jalapeño, spices, and topped off with cotija cheese to create an easy side dish.
https://spaceshipsandlaserbeams.com/mexican-corn-salad/
Serve this Spicy Feta Street Corn Dip as a crowd pleasing appetizer, a tasteful spread for poultry, or a snack to be enjoyed by the spoonful. Warm cheese, mayo, and roasted corn never tasted so good!
This is a super fresh salad made with freshly grilled corn, juice tomatoes and lots of herbs. Perfect for when you're grilling or eating outside.https://theveganlarder.com/chargrilled-chopped-corn…/
Enjoy this healthy version of Mexican Street Corn Salad (aka Elote corn salad), where flavorful corn is tossed with a light yogurt-mayo lime and cilantro dressing and sprinkled with feta cheese. It is an easy summer salad and perfect for a potluck!
https://ifoodreal.com/mexican-street-corn-salad/
Avocado Corn Salad with fresh corn, cucumber, tomato, avocado and hint of lime dressing is one of those summer salad recipes that disappears fast at any gathering. It's tasty, refreshing and easy! https://ifoodreal.com/corn-avocado-salad/
Fresh sweet corn and cherry tomatoes are the base for this easy Summer Corn Salad. A simple lime vinaigrette brightens up the flavors in this healthy side dish.
This Mexican Corn Salad is the perfect summer recipe! It's made with fresh corn that is loaded with smoky flavors from charing it on the grill. Then it's tossed together with a creamy and citrusy dressing and topped with vegan feta cheese.
https://veganhuggs.com/mexican-corn-salad-recipe/
A surprisingly flavorful simple raw corn and radish salad perfect for summer.
Nutritious and delicious, Corny Quinoa Salad will quickly become a summertime staple with its sweet pops of corn, earthy bell pepper, mild green onion, and zingy jalapeno lime vinaigrette.
https://www.midwexican.com/corny-quinoa-salad-with…/
This smoky Charred Corn Salad is super easy to make and absolutely delicious as a salad or served with chips for dipping or on top of tacos.
Crack Corn Salad is crunchy, creamy, sweet, sour, and savory all at the same time! Make it with fresh or frozen corn, Ranch dressing, bacon, and cheddar cheese. This summer salad is ready to serve in just about 15 minutes.
https://sweetandsavorymeals.com/crack-corn-salad/
Chipotle Corn Salsa is fresh and delicious, made with sweet corn, lime, and crunchy spicy jalapeno peppers, it makes the perfect appetizer or snack!
This 20 minute corn salad combines corn, jalapenos, bell peppers, cotija cheese, scallions, red onions tossed with a spicy and creamy dressing. Perfect for summertime.
https://whenisdinner.com/mexican-street-corn-salad/
Corn is the star of this creamy summer salad ~ it's sweet, juicy, crunchy, and delicious!
https://theviewfromgreatisland.com/creamy-sweet-corn…/
A super quick and easy corn and bean salad. This salad is also healthy and completely vegan.
https://www.masalaherb.com/corn-and-bean-salad/
A Mexican inspired corn and black bean salad. This salad is lightly spiced and pairs well with most summer meals.
This Mexican corn salad is corn kernels and vegetables tossed in a creamy lime dressing, then topped with cotjita cheese.
https://www.dinneratthezoo.com/mexican-corn-salad/
This corn salad is filled with sweet corn kernels, avocado, tomato, jalapeno and red onion, all tossed in a zesty cilantro lime dressing.
https://www.dinneratthezoo.com/corn-salad/
Grilled Corn Salad is the perfect way to enjoy the abundance of fresh corn in the summer! Sweet cobs of corn are grilled and tossed with tomatoes, feta cheese, and fresh herbs to create an easy summer salad recipe.
https://www.spendwithpennies.com/grilled-corn-salad/
Corn Salad is one of our favorite easy sides! This easy Corn Salad features sweet fresh corn off the cob, crisp cucumbers and ripe juicy garden tomatoes all combined in a light and easy vinaigrette. https://www.spendwithpennies.com/summer-corn-salad/
Grilled corn off the cob mixed with mayo, jalapeños, scallions, garlic and parmesan cheese! Finish with a squeeze of fresh lime!
https://sweetsimplemasala.com/mexican-street-corn-salad/
Quick, easy and delicious! This summer avocado, corn, cucumber, and tomato salad with tomatoes and cucumbers and a light vinaigrette is perfect for you next summer menu. https://amycaseycooks.com/summer-avocado-corn-salad/
Corn salad recipe for summer | How to choose the best corn for your salad + prepare six different methods! It's the perfect summer side dish!
https://rachelsteenland.com/corn-salad-recipe/
Crunchy sweet corn with crema and the perfect amount of spice. You won't be able to stop eating this Mexican street corn salad.
https://www.bakingbeauty.net/mexican-street-corn-salad/
This Southern cornbread salad is perfectly dressed with a tasty ranch-style sour cream mayo dressing. It's a crowd-pleaser and great to be served all year round!
This elote avocado and corn dip recipe is made with roasted corn and diced avocado for a delicious street corn appetizer! https://www.honeyandlime.co/elote-avocado-corn-dip-recipe/
This Cajun Shrimp Salad Recipe is colorful, satisfying and full of bold flavor.
https://recipesfromapantry.com/shrimp-salad-recipe-cajun/
This Charred Corn Avocado Salad with Roasted Red Onions combines all the fresh flavours of summer in a salad bowl. Sweet, smoky charred corn mixed with avocado, cherry tomatoes, roasted red onions and a lemon Dijon dressing makes it a perfect side salad for any barbecue or potluck gathering.
https://thedevilwearssalad.com/avocado-and-tomato-salad/
Indulge in some fresh baby corn and make a salad that showcases this premature vegetable. Topped with crispy parsnip ribbons and mixed through with a spicy salad dressing, it's a recipe you'd make over and over again!
https://thedevilwearssalad.com/baby-corn-salad/
This Chipotle copycat corn salsa is delicious and so easy to make. Sweet, savory, tangy…it's perfect for summer dinners and cookouts!
Grilled corn cut off the cob and mixed with fresh garden tomatoes, cilantro and jalapeno in a simple chili lime dressing. Bring this when you get invited to the cookout.
https://momfoodie.com/grilled-sweet-corn-and-tomato-salad/
Grilled Chicken and Sweet Corn Salad is a filling and delicious meal. Put kids to work desilking and wrapping ears of corn while you do other prep.
 An easy Corn Tomato Avocado Salad Recipe that is done in under 10 minutes. Gluten Free, vegan, healthy and delicious! The perfect side dish.
This is such an easy recipe made with corn and simple ingredients. Perfect for picnics and barbecues, it's a delicious corn salad side dish.
https://www.organizedisland.com/corn-tomato-and-zucchini…/

My sweet corn and watermelon salad is the most refreshing side dish of the season ~ everybody loves it!
https://theviewfromgreatisland.com/sweet-corn-and…/