This post may contain affiliate links, read our
Disclosure Policy
for more information. As an Amazon Associate I earn from qualifying purchases, thank you!
Sometimes I get these REALLY crazy ideas like this American Flag Handkerchief Wreath and they turn out so cute, so then I feel so inclined to share it all with YOU!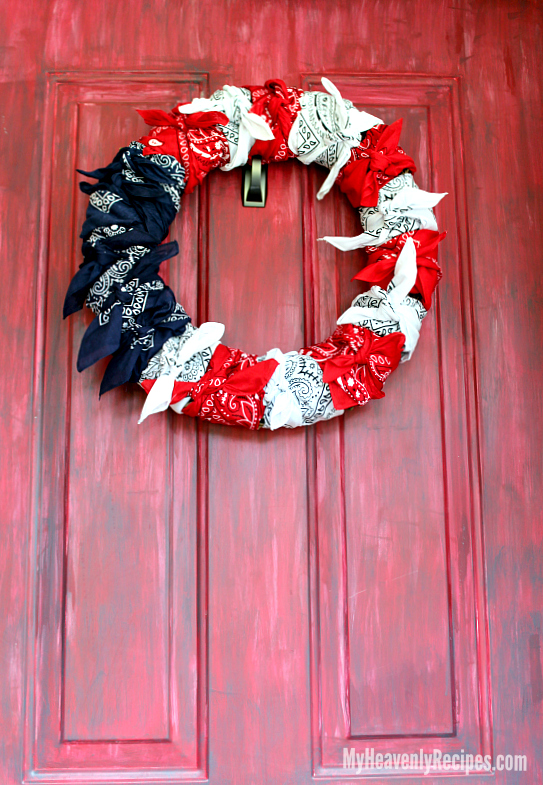 So, I wanted to use the bandanas because I had spent about $15 on them and wanted to use them up! I had a old grapevine wreath laying around that had fake flowers on it that the hot glue had pretty much done it's job three years ago. So I plucked those old flowers off and sat down and taped this video for ya'll…just incase this project turned out cute 😉
After I made this video and went to hang the wreath up, I added two more blues and there ended up being 6 blue bandanas, 6 white bandanas and 6 red bandanas. I actually found the best deal and ordered them on Amazon.com.
Thankfully, this American Flag Bandana Wreath came out cute. I hung it up on our Painted Front Door with Chalk Paint and LOVE the way that it turned out. Now if only I would take the time to go look at new front doors and screen doors we'd be in there!
I think this Americana Flag Bandana Wreath is also going to look cute at our campsite! Don't you just love decorating with Americana decorations? It makes me feel whole again and like a true American! I've always been into the whole Red, White and Blue thing. I LOVE those Americana Leggings from LuLaRoe (they're the only prints I'll buy!) and I think part of the reason that Jas and I are launching American Tactical K9 Vests. I feel like so many businesses are outsourced and I feel like if you live in the United States you should make and buy products made here as much as you humanly possibly can!
If you decide to make your own American Flag Bandana Wreath be sure to let me know. I'd LOVE to see it!