This post may contain affiliate links, read our
Disclosure Policy
for more information. As an Amazon Associate I earn from qualifying purchases, thank you!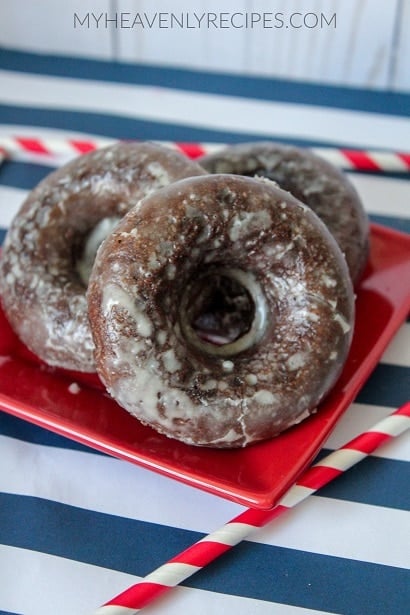 Make chocolate glazed doughnuts at home in your oven. Your family will go nuts for these.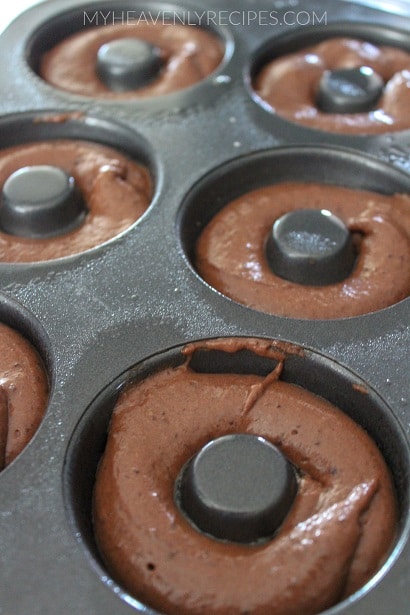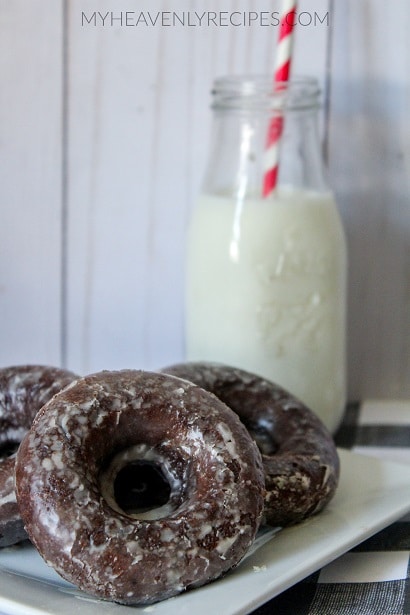 Baked Chocolate Glazed Donuts
Ingredients
● 2 ¼ cup all-purpose flour

● ¾ cup unsweetened cocoa powder

● 1 tsp baking soda

● 2 tsp baking powder

● ¾ cup brown sugar

● ¼ cup granulated sugar

● ⅛ tsp nutmeg

● pinch salt

● 2 cups powdered sugar

● 1 ½ tsp vanilla extract

● 3-4 tbsp hot water
Instructions
Preheat your oven to 350 degrees

Grease a doughnut pan (super well!) and set aside.

In a bowl, whisk the dry ingredients together. (The flour, cocoa powder, baking soda, baking powder, sugar, brown sugar, nutmeg and salt.)

Add in your wet ingredients (melted butter, eggs and milk).

Mix well until your batter is nice and smooth.

Add your batter to an icing bag or a ziploc bag. (These stands come in handy for putting things in bags!)

Cut a small hole in the corner of the bag and pipe the batter into a greased doughnut pan.

Bake for 11-13 minutes.

While the doughnuts are baking, mix the powdered sugar, vanilla and hot water in a bowl to make your glaze.

1When the doughnuts are done baking remove from the pan and let them cool for just a minute. You want to glaze them while they are still hot!

1Dip the doughnut into the glaze and put on a wire rack to cool. (Paper towels underneath will help with clean up!)
Try These Reader Favorite Breakfast Recipes
Quite a few of our Breakfast Recipes have been very popular across social media. Here's a few of our readers favorite breakfast recipes that we hope you'll also try!