How to Make Chocolate Chip Snowball Cookies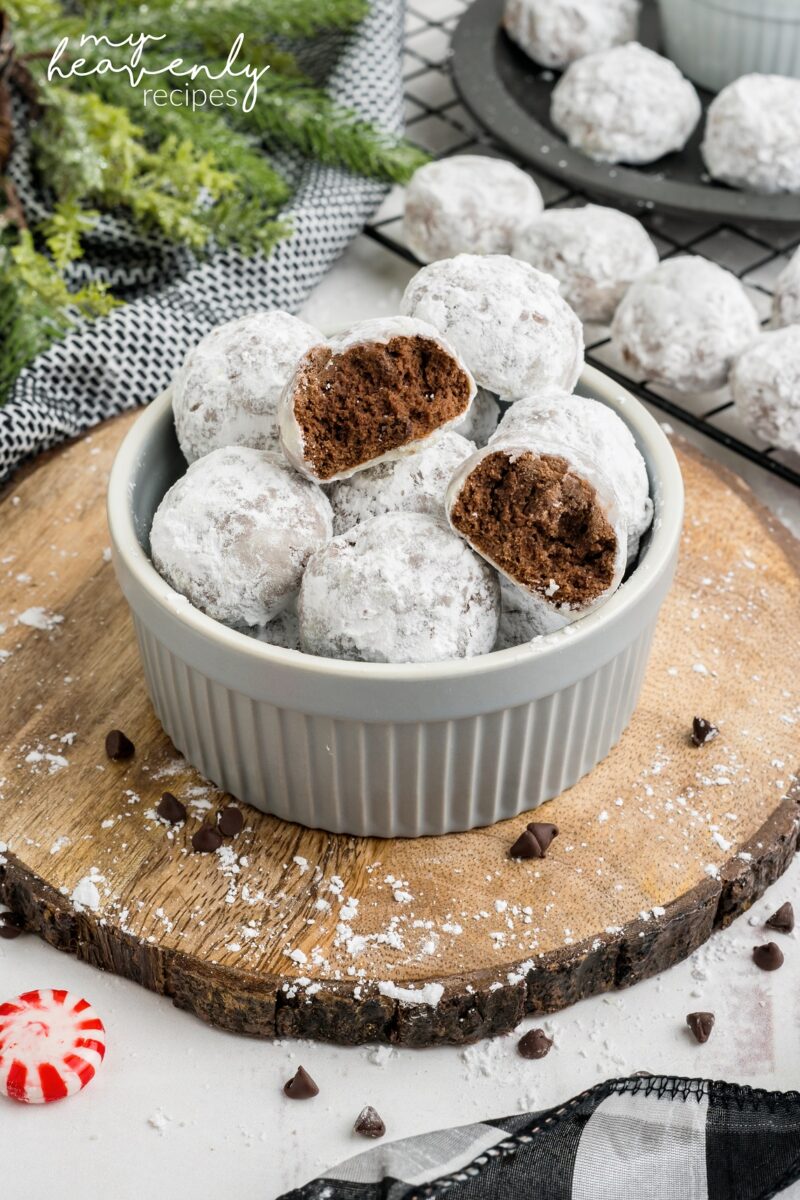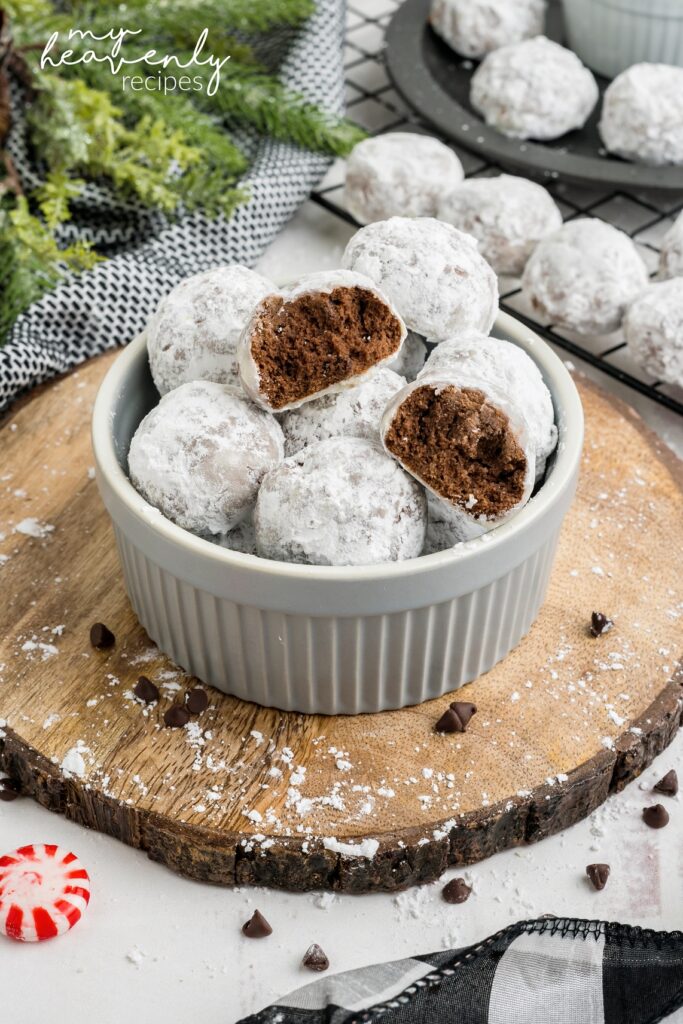 If you want a unique Christmas cookie this year, you have to try our chocolate snowball cookies! They are so good and make great gifts for the holidays. Make sure to try our classic snowball cookie recipe too!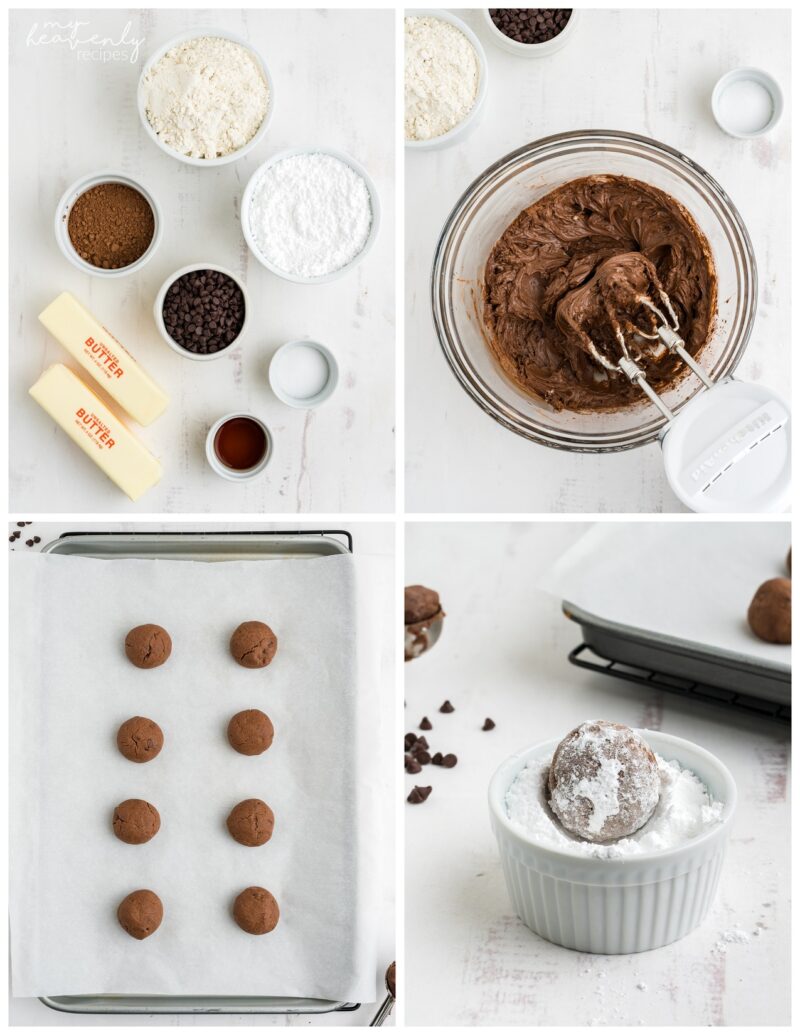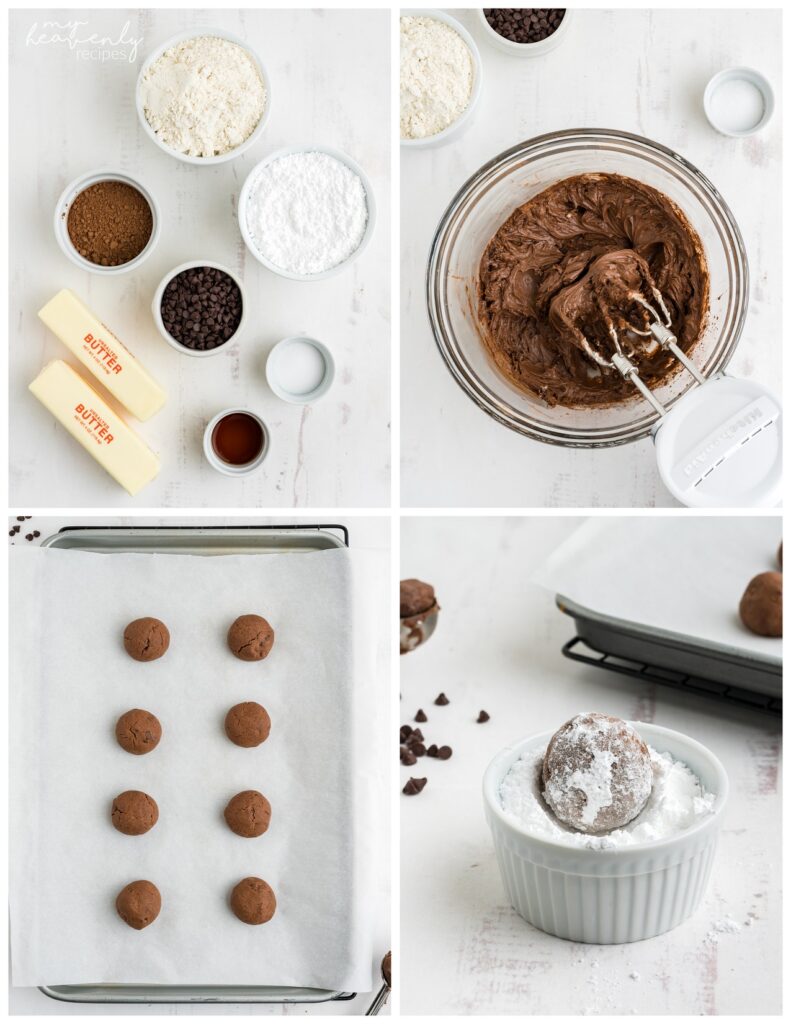 FAQs
1. What are chocolate snowball cookies?
Chocolate snowball cookies, also known as Mexican wedding cookies or Russian tea cakes, are delightful, bite-sized cookies made with a buttery, chocolatey dough that is rolled in powdered sugar. They are a beloved treat, especially during the holiday season.
2. Why are they called "snowball" cookies?
These cookies are called "snowball" cookies because they are typically rolled in powdered sugar after baking, giving them the appearance of little snowballs. This coating of sugar adds a sweet and snowy touch to the cookies.
3. Are there variations of chocolate snowball cookies?
Yes, there are various ways to customize chocolate snowball cookies. Some people add different flavorings like vanilla extract, almond extract, or espresso powder for extra depth of flavor. You can also experiment with different types of nuts, such as pecans, walnuts, or almonds, for a unique twist.
4. How do I store chocolate snowball cookies?
To keep chocolate snowball cookies fresh, store them in an airtight container at room temperature. They will stay good for about a week. You can also freeze them for longer storage. Place them in an airtight container or a freezer bag, separating layers with parchment paper to prevent sticking.
5. Can I make chocolate snowball cookies ahead of time?
Yes, you can make the dough for chocolate snowball cookies ahead of time and refrigerate it for up to a few days before baking. You can also freeze the dough for several weeks, allowing you to bake fresh cookies whenever you like.
6. How do I prevent my cookies from spreading too much while baking?
Chocolate snowball cookies are not known for spreading much during baking. However, if you encounter spreading issues, try chilling your dough before baking. Also, check that your oven temperature is accurate, and use parchment paper or silicone baking mats to prevent sticking.
7. Can I make gluten-free chocolate snowball cookies?
Yes, you can make gluten-free chocolate snowball cookies by using a gluten-free flour blend in place of regular all-purpose flour. Make sure to check that all your other ingredients, like cocoa powder and powdered sugar, are also gluten-free.
8. What occasions are chocolate snowball cookies good for?
Chocolate snowball cookies are perfect for various occasions, including holiday gatherings, cookie exchanges, birthday parties, and any time you want a sweet treat. They are a crowd-pleaser and make a lovely gift when packaged in decorative containers.
9. How do I know when my chocolate snowball cookies are done cooking?
It can be hard to tell when chocolate cookies are done because you cannot judge by color. The best way to tell if the cookies are done is by looking at the top and making sure they are opaque and no longer shiny.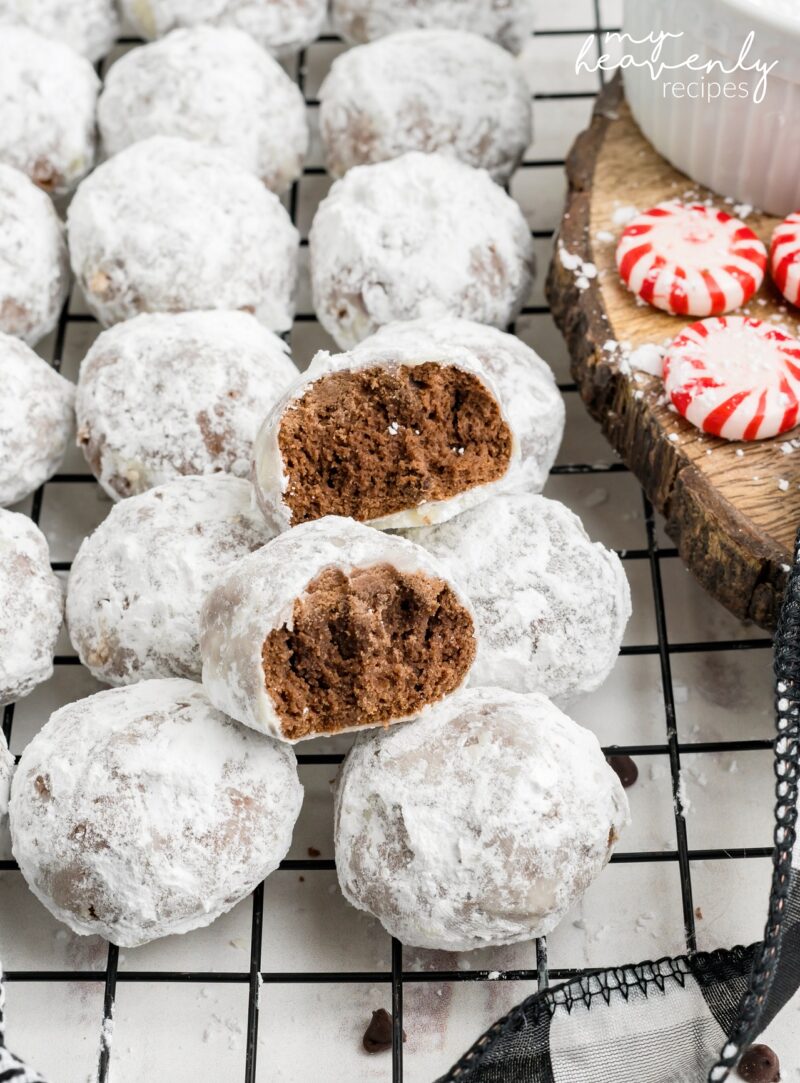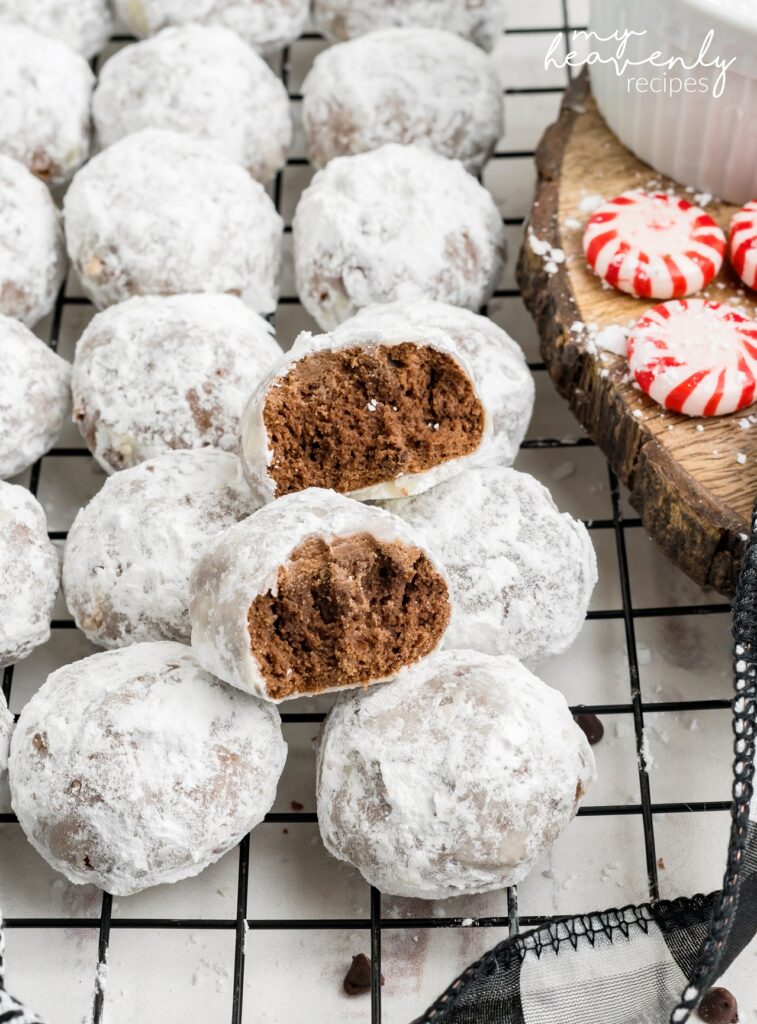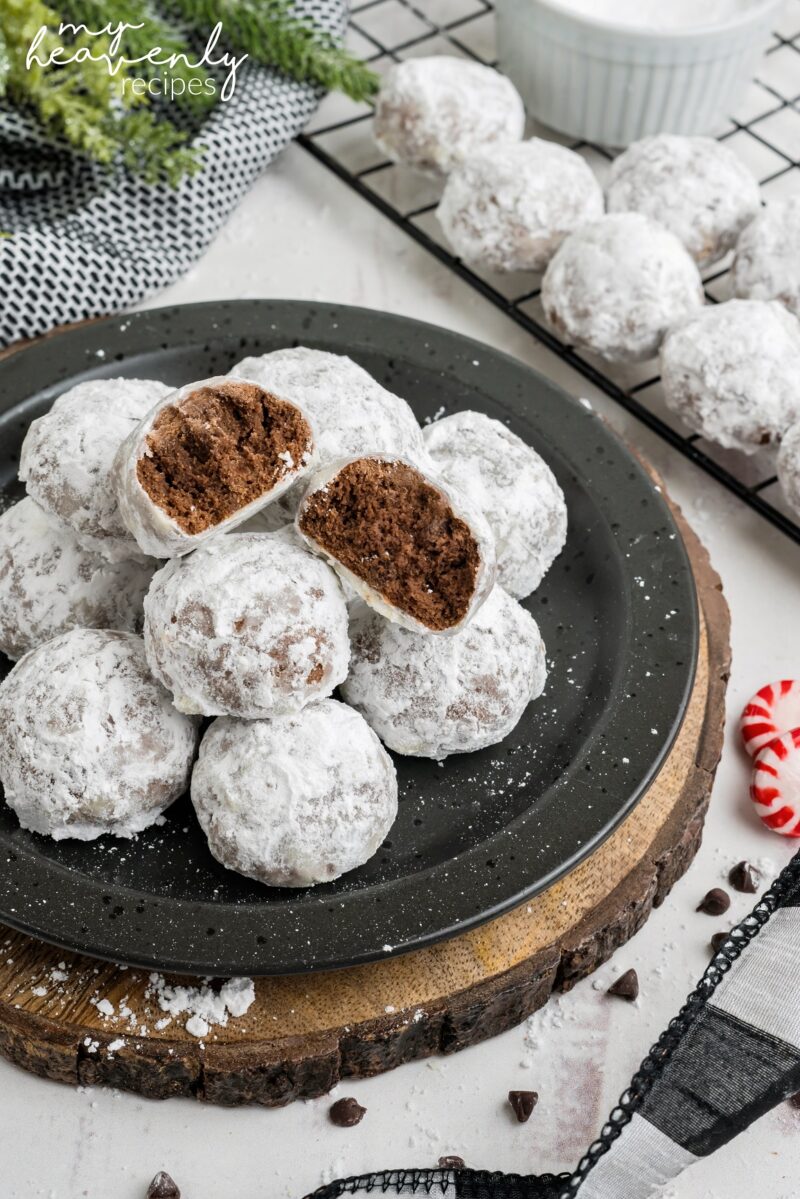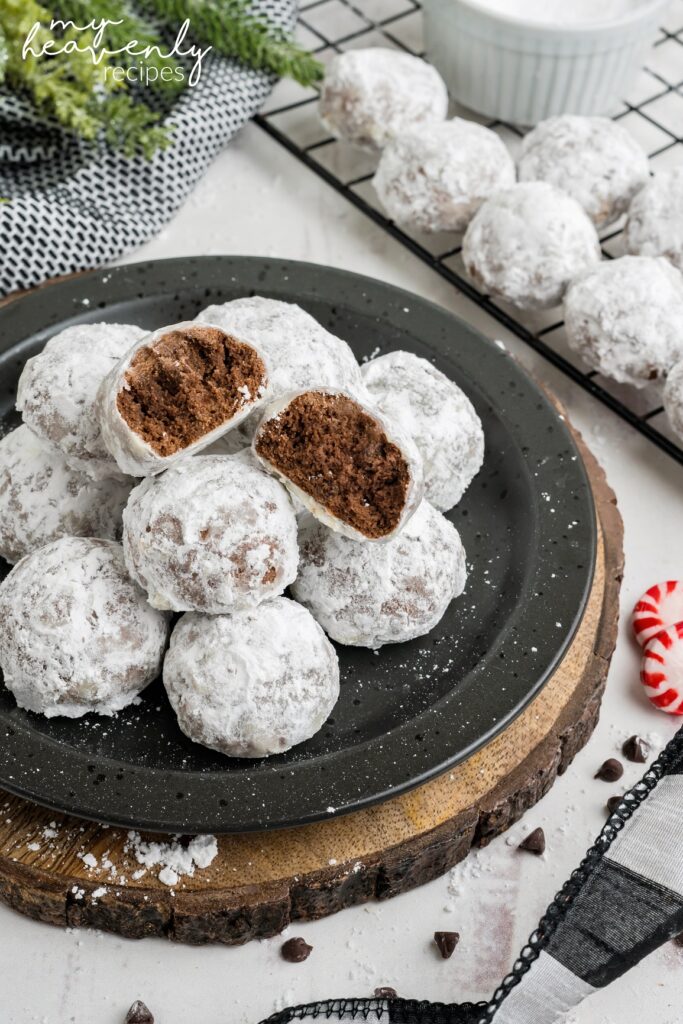 Chocolate Snowball Cookies
Ingredients
1

cup

salted butter

room temperature

1 ½

cup

powdered sugar

divided

2

teaspoons

vanilla extract

½

cup

cocoa powder

2

cups

all purpose flour

½

teaspoon

salt

1

cup

mini chocolate chips
Instructions
Preheat the oven to 350 degrees and prepare a baking sheet by lining with parchment paper, set aside.

In a large mixing bowl, use an electric mixer on medium speed to cream together the butter with ½ cup powdered sugar until light and fluffy.

Add the cocoa powder and vanilla and continue mixing until smooth and silky.

Reduce speed to low and add the flour, salt and mini chocolate just until mixed.

Use a small cookie scoop (1 Tb) to measure out small balls and roll between palms to get a round shape.

Place dough balls on the prepared baking sheet and bake in the preheated oven for 10-12 minutes or until bottoms are slightly darker and top of the cookies are no longer shiny.

Transfer cookies to a cooling rack and allow to cool for 15 minutes.

Roll warm cookies in remaining 1 cup powdered sugar and allow to finish cooling, then repeat this step again for extra "snowy" finish.
Notes
*Room temperature butter is necessary to create a smooth base that won't spread when cooking.
*Powdered sugar is ideal for this shortbread cookie as it gives the cookie a light and airy texture. In a pinch, granular can be used too.
*Pure vanilla extract is preferred for this recipe.
*Use high quality cocoa powder for this recipe.
*Mini chocolate chips are ideal for this recipe because of the small size of the cookie. Regular chocolate chips are just too big. In a pinch, you can chop regular chips and use those.
*Mixing the flour in last ensures it won't be overmixed.
*Rolling cookies twice gives optimal sugar cooking. 15 minutes is the perfect amount of time for the cookies to cool slightly. They should still be slightly warm which will help the first coating of sugar stick. A second coating after cooling will give the cookies an extra "snowy" finish.