How to Make Peppermint Blossom Cookies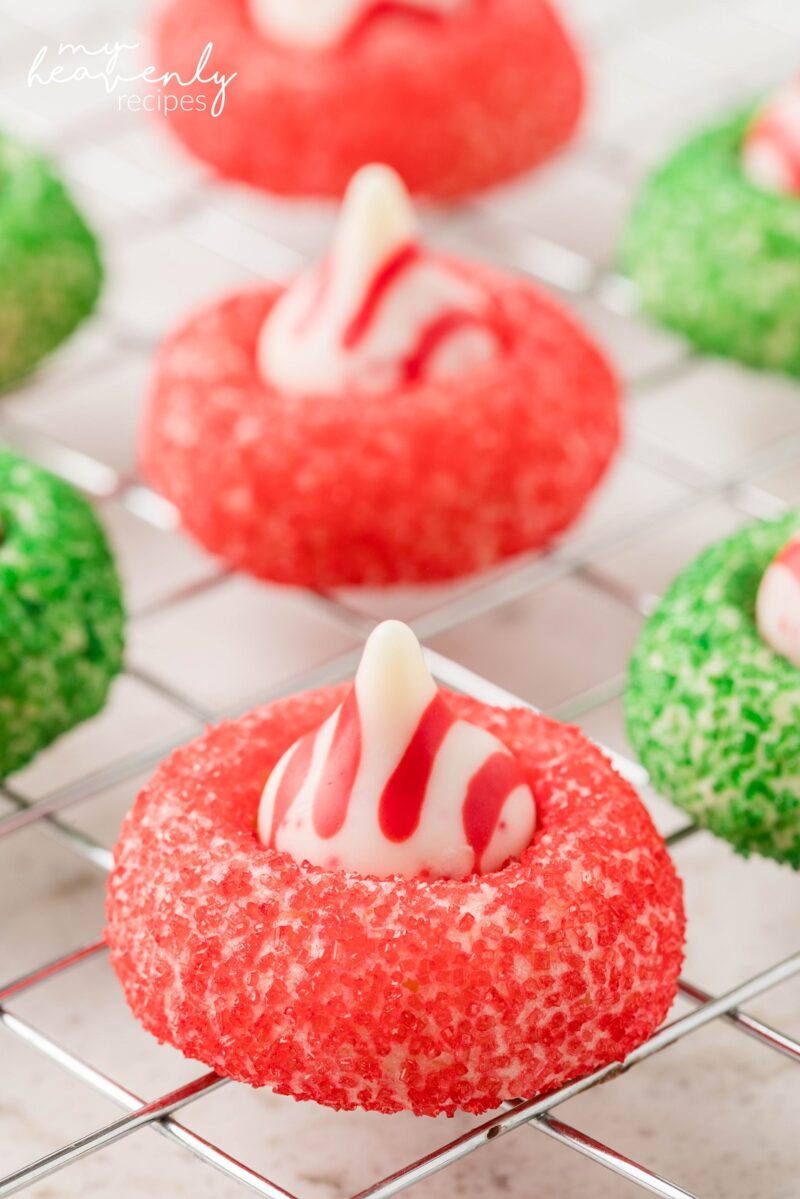 Looking for a unique Christmas cookie for your cookie exchange party?! Make these candy cane blossom cookies. They are so pretty and tasty!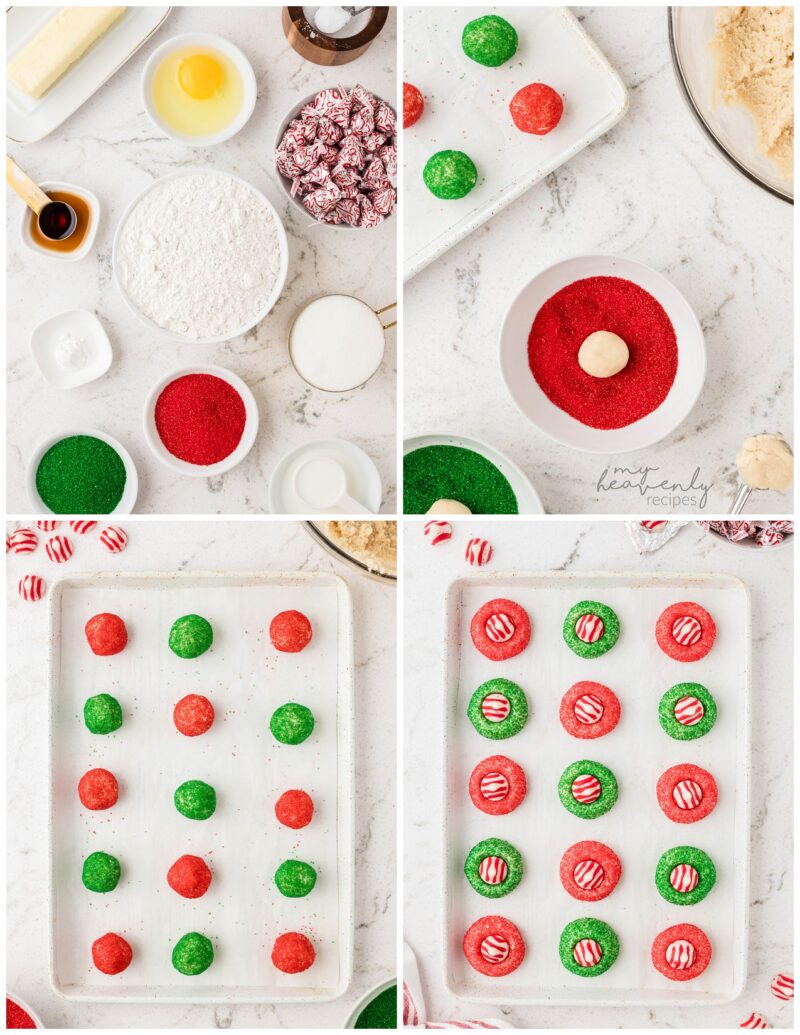 What will I need to complete this recipe?

You will need the following ingredients:

Hersey's Kisses Candy Canes: For this recipe, we use candy cane Kisses to elevate the flavor and add color to these cookies. You can find these Kisses in the seasonal candy aisle of your favorite supermarket.
All-purpose flour: AP flour creates the structure of the cookies.
Baking powder: Baking powder is a chemical leavening agent that gives the cookies their 'rise.' Be sure to check the expiration date on the side of your container.
Kosher salt: Salt elevates the flavor profile of the cookies.
Unsalted butter: Butter gives the cookies richness, tenderness, and structure. Be sure to allow time for the butter to come to room temperature.
Granulated sugar: Sugar adds sweetness and creates texture for these fun cookies.
Large egg: Egg is used to create structure along with AP flour. Be sure to allow the egg and the butter to come to room temperature.
Pure vanilla extract: Vanilla elevates the flavor of these yummy little cookies.
Whole milk: Milk adds sweetness and helps to brown the cookie.
Red and green sanding sugar: Sanding sugar elevates the taste, gives texture, and adds color to the cookies.

You will need the following supplies:

Measuring cups
Measuring spoons
Baking sheet
Parchment paper
Mixing bowls
Whisk
Stand or hand mixer
1-tablespoon cookie scoop
Cooling rack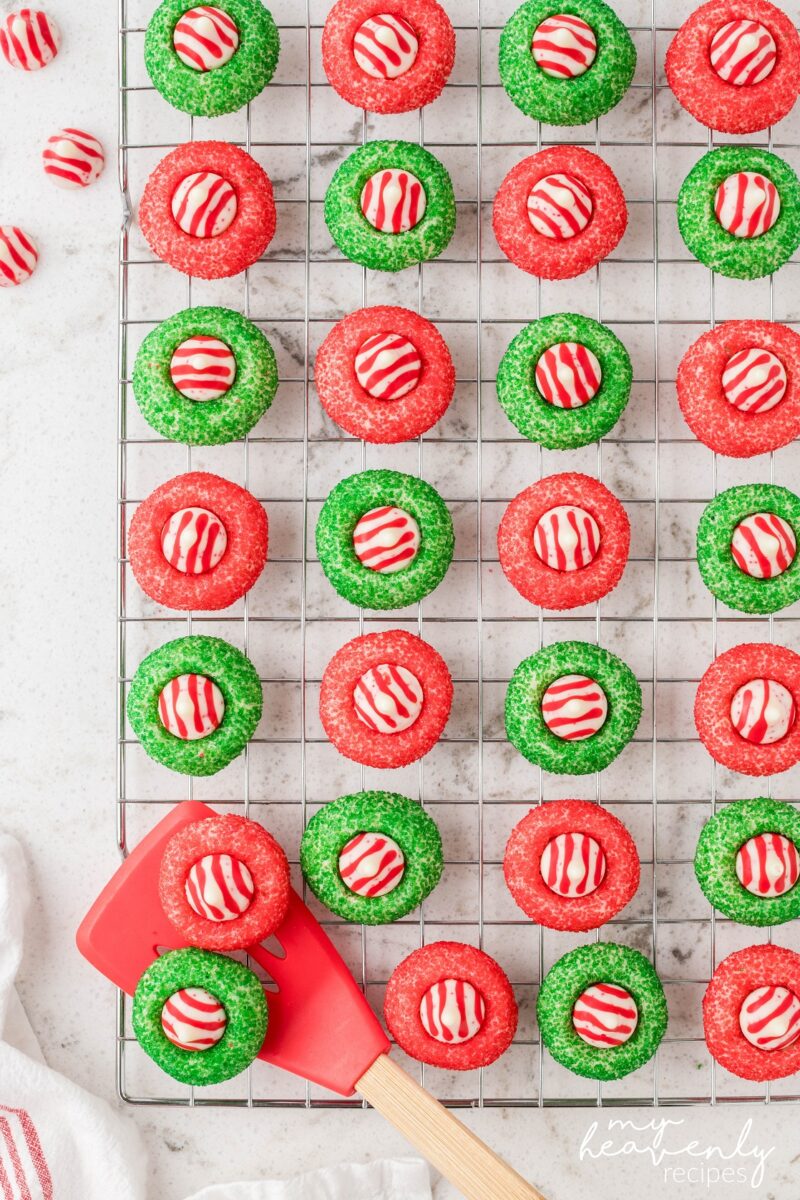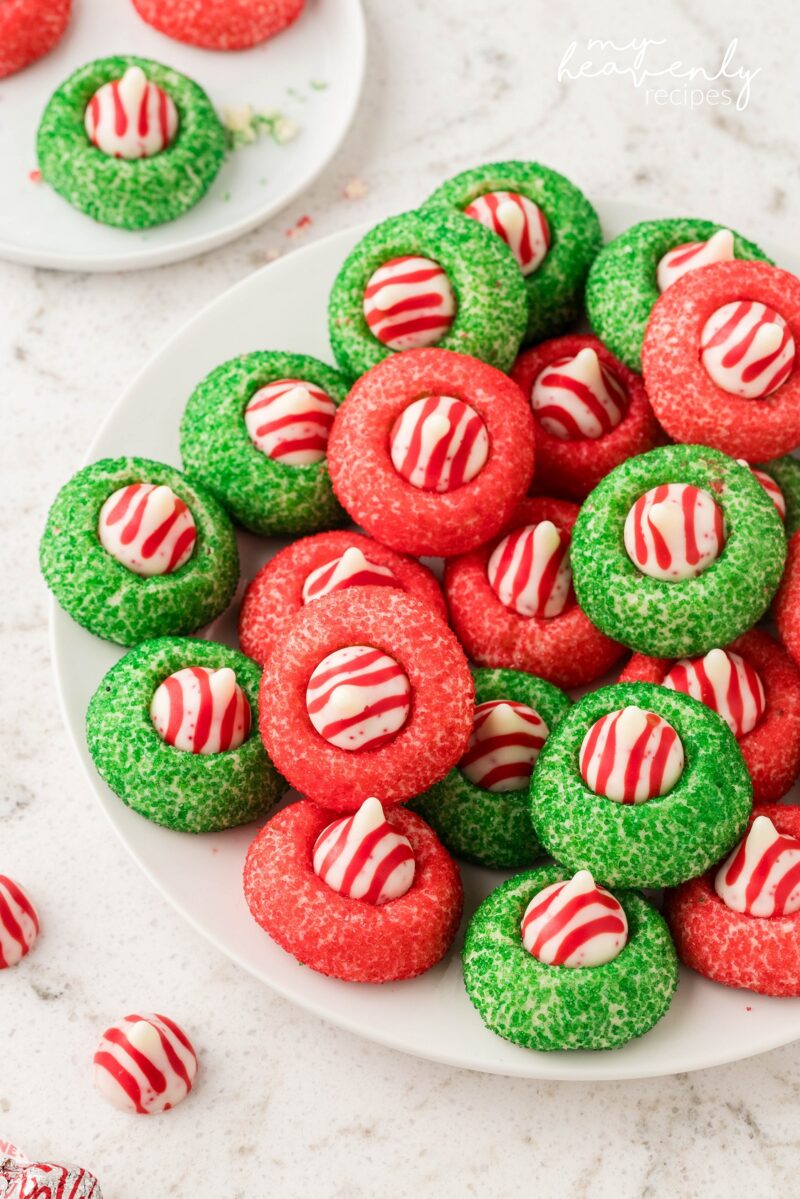 How do I store my Candy Cane Blossoms? Store your cookies in an airtight container at room temperature for up to 1 week.
Candy Cane Blossoms
Ingredients
40

Hersey's Kisses Candy Cane

¼

cup

red sanding sugar

¼

cup

green sanding sugar

2

cups

all-purpose flour

½

teaspoon

baking powder

½

teaspoon

kosher salt

½

cup

1 stick unsalted butter, room temperature

1

cup

granulated sugar

1

large egg

room temperature

2

teaspoons

pure vanilla extract

2

tablespoons

whole milk

room temperature
Instructions
Preheat your oven to 350°F. Prepare a large baking sheet with parchment paper. Remove the foil wrappers from your candy cane kisses and set aside. Place ¼ cup red and ¼ cup green sanding sugar into 2 separate shallow bowls. Set aside.

In a mixing bowl, whisk 2 cups of all-purpose flour, ½ teaspoon baking powder, and ½ teaspoon kosher salt until combined. Set aside.

Use a stand or hand mixer to cream together ½ cup room temperature unsalted butter, 1 cup granulated sugar, 1 large egg, and 2 teaspoons pure vanilla extract until fluffy (about 2 – 3 minutes). Scrape down the sides. Add 2 tablespoons of whole milk and your bowl of combined dry ingredients. Mix until combined. Scrape down the sides.

Use a 1-tablespoon cookie scoop to portion the dough and create dough balls using your hands. Roll each dough ball in either red or green sanding sugar. Place on your prepared baking sheet.

Bake for 8 – 10 minutes or until the edges are lightly golden brown. Remove from the oven and immediately press a candy cane Kiss in the center of each cookie. Allow the cookies to cool completely on a cooling rack.

Serve and ENJOY!
Notes
White chocolate kisses can be used if you can't find candy cane kisses.