Have you ever had the Whipped Buttercream Icing from Walmart? If you haven't, you've GOT to ask for it on your next cake that they make. It's AMAZING!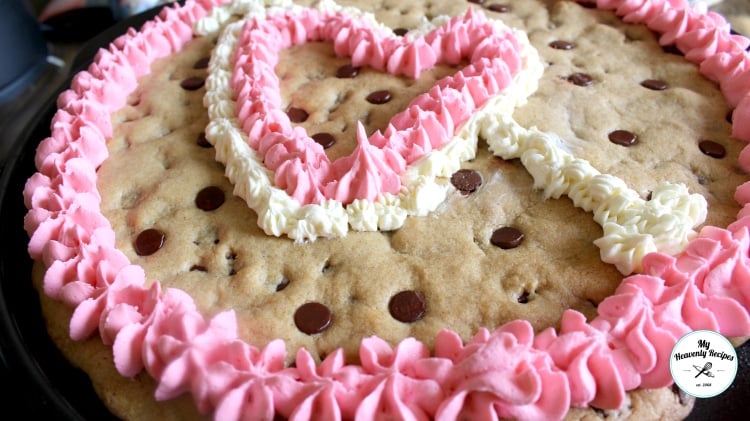 Anyhow, this Whipped Buttercream Icing recipe was inspired by the whipped icing that we fell in love with at Walmart years ago. This whipped buttercream icing recipe honestly came out from over mixing icing for the Santa Belt Cake. I had the mixer on combining the butter and the shortening. I had to walk away from death cries of a screaming kid and came back to some super fluffy stuff. I set it aside and started over.
Now, I know what you are thinking, that looks really good. In all honesty, this was the third Cookie Cake I've made! So seriously, if I can do this, you can too! It's super easy and fun if you have the correct tools that make your life easier! Nobody needs to be stressed in the kitchen!
INGREDIENTS
1 c. shortening (butter flavored)
1 c. butter
1½ tsp. vanilla extract
7 c. powdered sugar
⅓ c. heavy whipping cream
Food Coloring or Dyes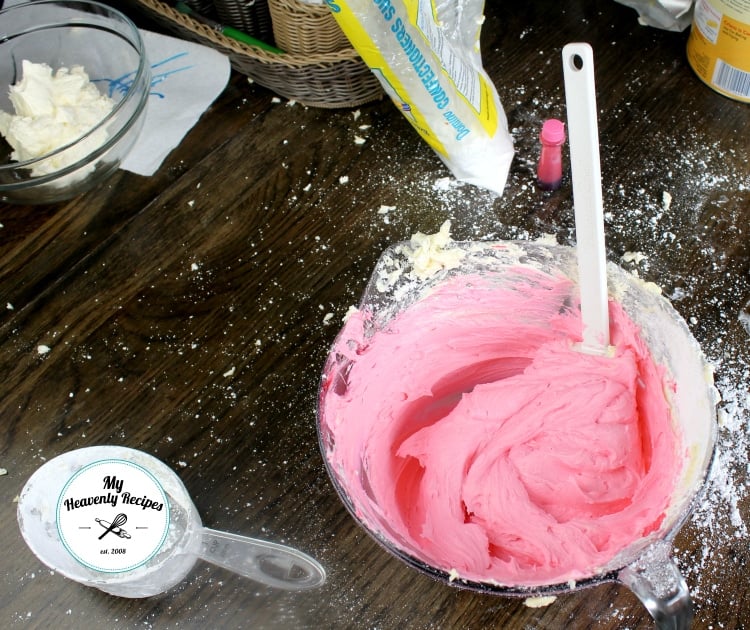 Then when I was cleaning up from the Santa Cake video I decided to see what would happen if I just continued on with the recipe that I had screwed up from over mixing. I grabbed another bag of powdered sugar and what came out was pure heaven. The icing was soft and light and perfect. I didn't have any cakes to decorate so I set it in the fridge for about two days.
The kids were asking for a Cookie Cake to celebrate something, I honestly can't remember! I think it was Beanies coming home with some super high test results for her MAP testing! The Cookie Cake Recipe has kinda became a thing as of late around here! Plus, I'm having fun with it. I've never been one to really decorate cakes, cupcakes or cookies so this is a new learning experience for me.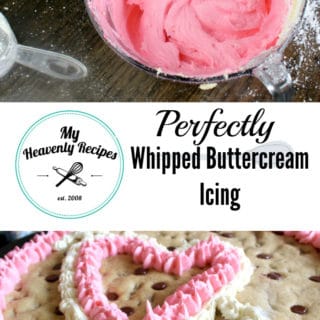 Whipped Buttercream Icing
Whipped Buttercream Icing is a must have recipe. It's the perfect icing recipe for your dessert recipes
Print
Pin
Rate
Ingredients
1

c.

shortening

butter flavored

1

c.

butter

1½

tsp.

vanilla extract

7

c.

powdered sugar

⅓

c.

heavy whipping cream

Food Coloring or Dyes
Instructions
In a large bowl mix together butter and shortening until creamed together and light.

Add in Vanilla Extract and heavy whipping cream and mix.

Add in 1-2 C of Powdered Sugar at a time and incorporate in.

Once the powdered sugar has all been added and evenly incorporated add in food coloring. You may need to separate amounts if doing multiple colors into separate bowls.

Allow to chill in the refrigerator for at least 20 minutes so the whipped buttercream icing is easy to work with. If you take it out and it's a bit runny allow it to firm up in the refrigerator longer or you may need to add more powdered sugar to thicken it up a bit.
Nutrition
Calories:
876
kcal
|
Carbohydrates:
137
g
|
Protein:
0
g
|
Fat:
38
g
|
Saturated Fat:
16
g
|
Cholesterol:
51
mg
|
Sodium:
146
mg
|
Potassium:
9
mg
|
Sugar:
135
g
|
Vitamin A:
11.8
%
|
Calcium:
1
%
|
Iron:
0.5
%