This post may contain affiliate links, read our
Disclosure Policy
for more information. As an Amazon Associate I earn from qualifying purchases, thank you!
Santa's Belt Christmas cake is a layer cake made from chocolate and red velvet cake, covered in red frosting. When it's sliced open, you'll see a big black Santa's belt! This easy Christmas cake makes the perfect, festive holiday dessert!
Alright, by NO means am I a baker. But, I wanted to give this easy Christmas cake a try and I think it came out cute, despite my lack of icing skills!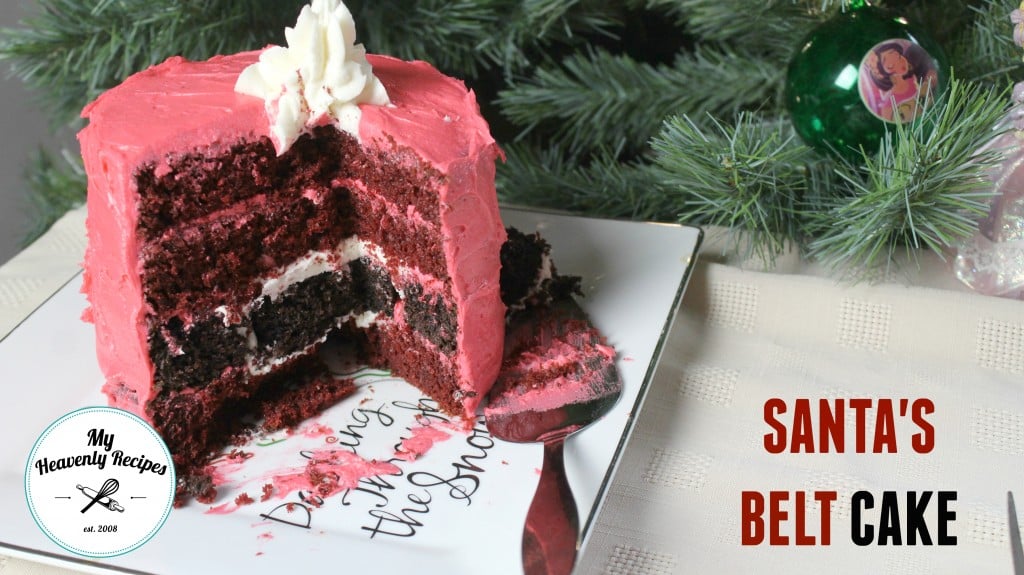 A few weeks ago, this video on Facebook grabbed my attention. It's a Santa's Belt Surprise Inside Cake from I Am Baker. It gave me the inspiration to create my own version of an easy Christmas cake with a Santa's belt design on the outside instead of the inside!
Now I'm just gonna tell you right now, I know nothing about how to ice a cake or how to make them look pretty, and I surely have never tried anything like this.
This is my first attempt and I have to say, I am a little proud of myself. The kids also love it! They told me, "You're the best Mommy eva!",  so of course I rewarded them with a slice of Santa's belt cake!
Once I cut into it, Beanies said, "I can't believe you made that, that's awesome!". Well kid, I'm sorry to disappoint you, but, yes, I made the easy Christmas cake.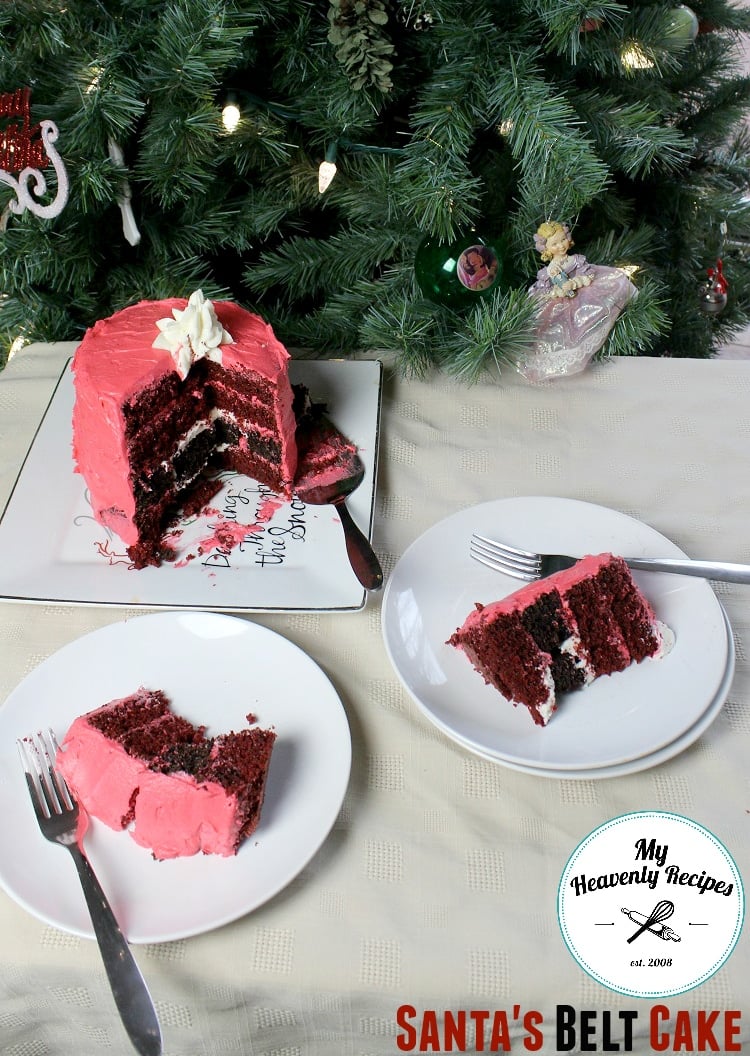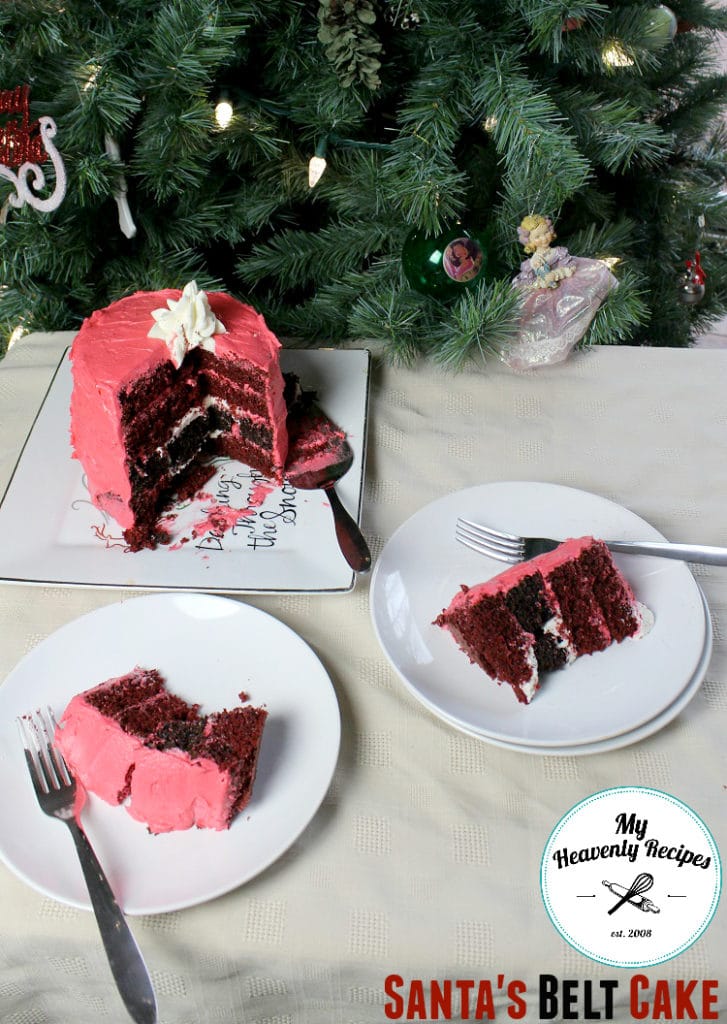 How to Make a Santa's Belt Cake
Originally, the kids helped me mix up the chocolate and red velvet cake mix. Once the eggs were cracked, they were pretty much over it and I was left on my own. Because I like to make everything I possibly can from scratch I went ahead and made the icing from I Am Baker as well. If you need this recipe to be quick, you can totally buy store bought icing or even head to the bakery and ask them for icing.
Here are the supplies you'll need to make the Santa's Belt cake:
Layering Cake Pan Set
Chocolate Cake Mix
Red Velvet Cake Mix
Decorating Bag
Buttercream Icing
2 Red Food Colorings
Biscuit Cutter Set
Small Spreader
Easy Christmas Cake Video
Watch this video tutorial to see how easy it is to make the Santa's Belt cake. Scroll down below the video to get the recipe for this easy Christmas cake!
Be sure to share your Santa Belt Cake with me on social media! I can't wait to see your creations!
Weight Watchers FreeStyle Plan: 14 SmartPoints per slice
Easy Christmas Cake: Santa's Belt
This easy Christmas cake recipe makes a chocolate and red velvet layer cake decorated to look just like Santa's belt. It makes the perfect holiday dessert!
Ingredients
1

box chocolate cake mix

1

box red velvet cake mix

1

batch whipped buttercream frosting

1

batch vanilla buttercream frosting

tinted red
Instructions
Make the chocolate and red velvet cake batters according to the instructions on the box.

Fill 3 8-inch cake pans with red velvet batter.

Fill 1 8-inch cake pan with chocolate cake batter. (You can make cupcakes out of the leftover batter)

Bake cakes in oven according to directions on box.

While cakes are baking, make the whipped buttercream icing and buttercream icing recipes.

Remove cakes from oven and allow them to cool completely.

Using a serrated knife, cut the top of the cakes off to create even cake layers.

Place the chocolate cake on a smooth surface. Using a small biscuit cutter, remove the center of the cake. Save this piece of cake, you'll use it in a minute.

Using a size larger biscuit cutter, remove another layer of the chocolate cake mixture.

Place one red velvet layer down on your platter. Using a pairing knife, remove a small amount of cake. This will be used to place a white layer of icing.

Grab your red tinted buttercream icing and place icing on the red velvet layer.

Place the chocolate layer of cake with hole in the middle on top.

Using a decorating bag fitted with a small round tip, fill the hole in with the white whipped buttercream.

Place the chocolate cake piece you removed first with your biscuit cutter on top of the whipped buttercream. Fill the sides with the remaining whipped buttercream.

Spread the top of the chocolate cake with the red buttercream icing.

Place a second red velvet layer on top and spread red buttercream icing, repeating for the last layer.

Use a light coat of red buttercream icing as the "crumb coat" around the entire top and side of the cake. Place in refrigerator to firm up for at least an hour.

Place a final layer of red buttercream to the outside and top of the cake.

I topped my cake with leftover whipped buttercream that I had on hand. If you have extra you can pipe icing around the bottom of the cake.

Slice and serve!