How to Make Yellow Rice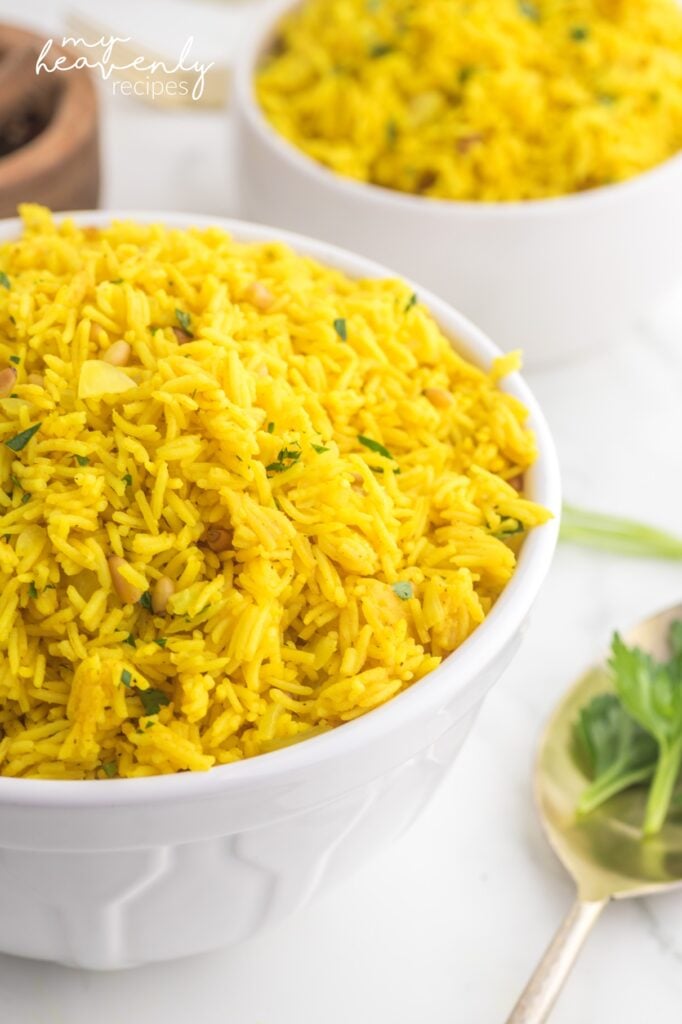 What is Mediterranean yellow rice? In Mediterranean cooking, rice is frequently served as a side dish, although it's rarely prepared simply. Usually, it is toasted in olive oil together with some onions and spices, and then it is cooked with broth or water. Mediterranean rice frequently includes sweet and crunchy ingredients, such as dried fruit (currants) and nuts (sliced almonds or pine nuts), for added textural interest.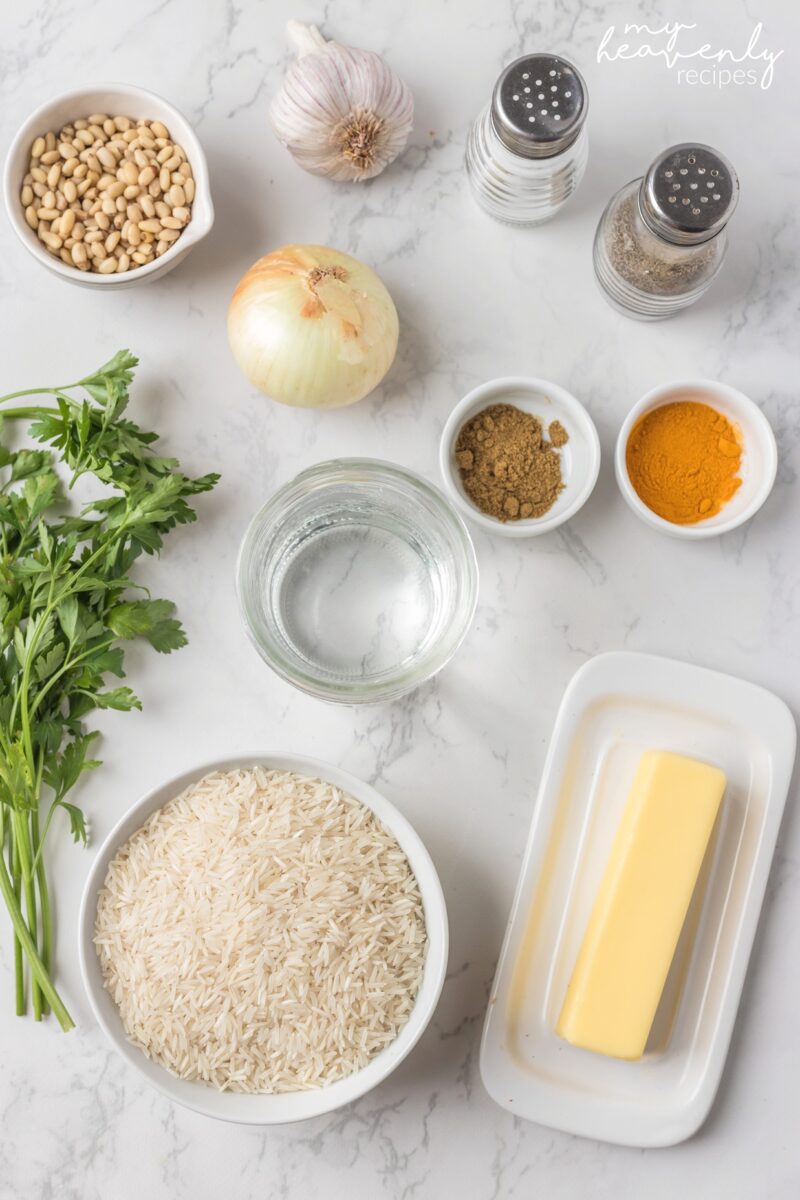 1. Can I use brown rice instead of white rice in this recipe?
Yes, you can use brown rice, but keep in mind that it will require a longer cooking time and may need more water. Follow the cooking instructions on your brown rice package and adjust accordingly.
While the recipe specifies long-grain white rice, you can also use other rice varieties like Basmati or Jasmine for slightly different flavors and textures. Adjust the cooking time and liquid accordingly if using a different type of rice.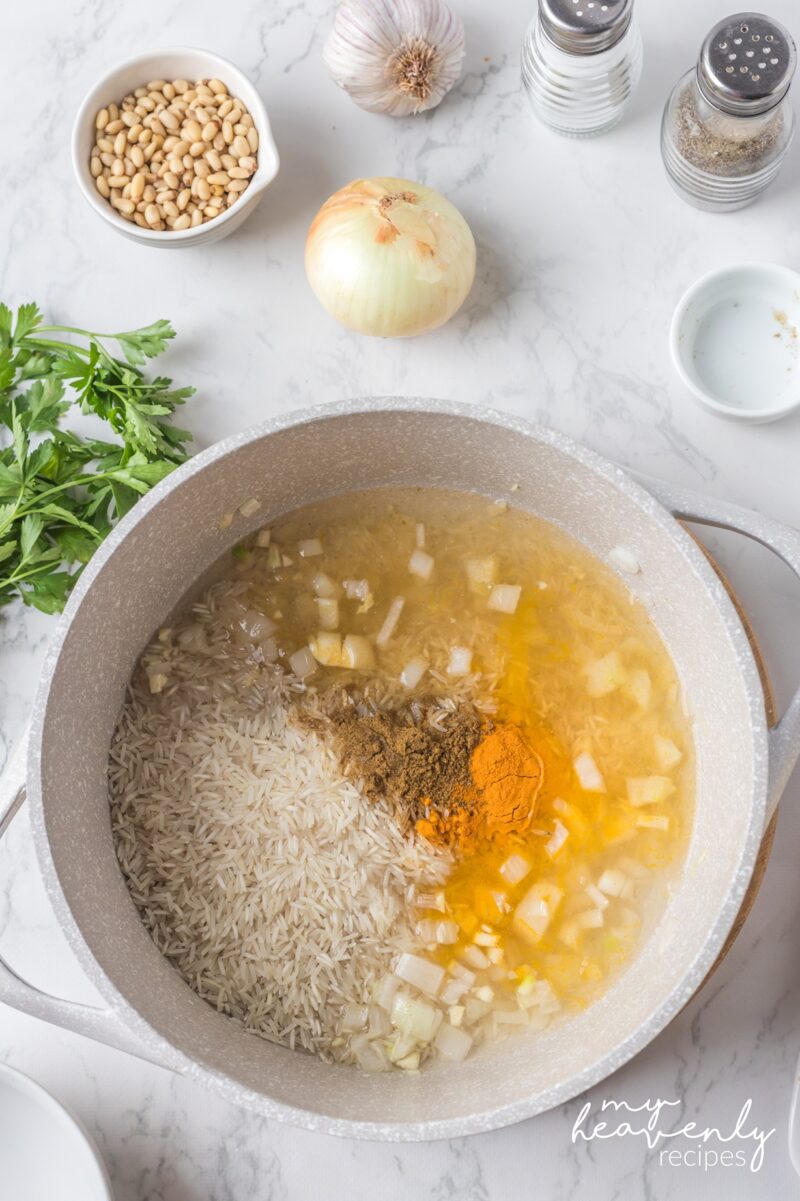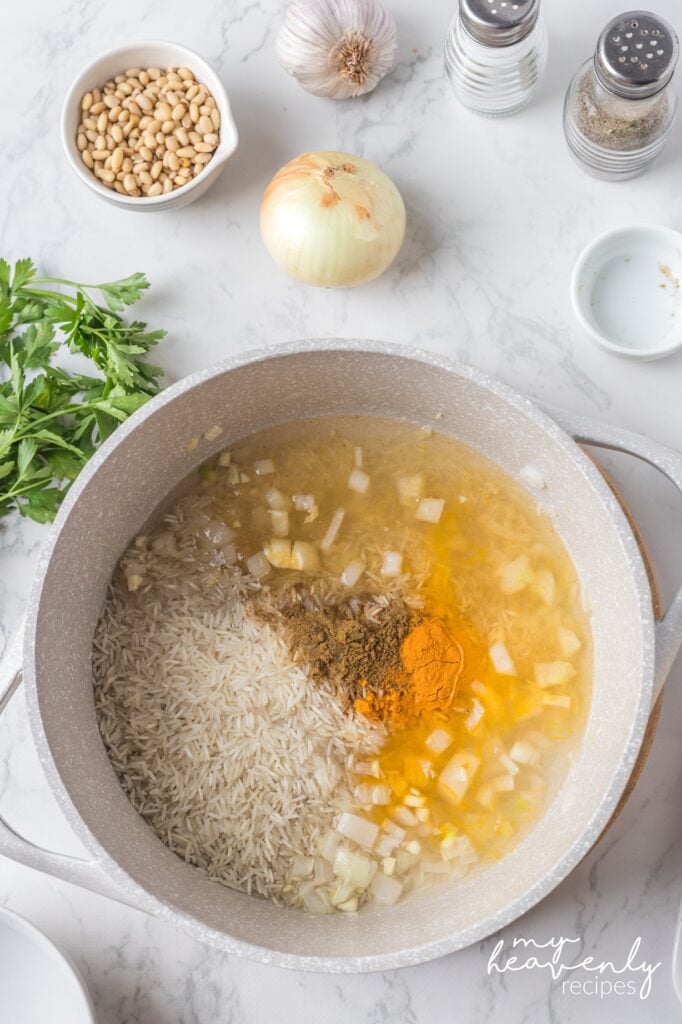 2. How do I prevent the rice from becoming too sticky?
Rinsing the rice thoroughly before cooking helps remove excess starch and prevents stickiness.
 3. Can I make this dish in advance and reheat it?
Yes, you can make the Mediterranean rice in advance and reheat it. Store any leftovers in an airtight container in the refrigerator. To reheat, add a touch of water to the rice and reheat it on the stovetop or in the microwave.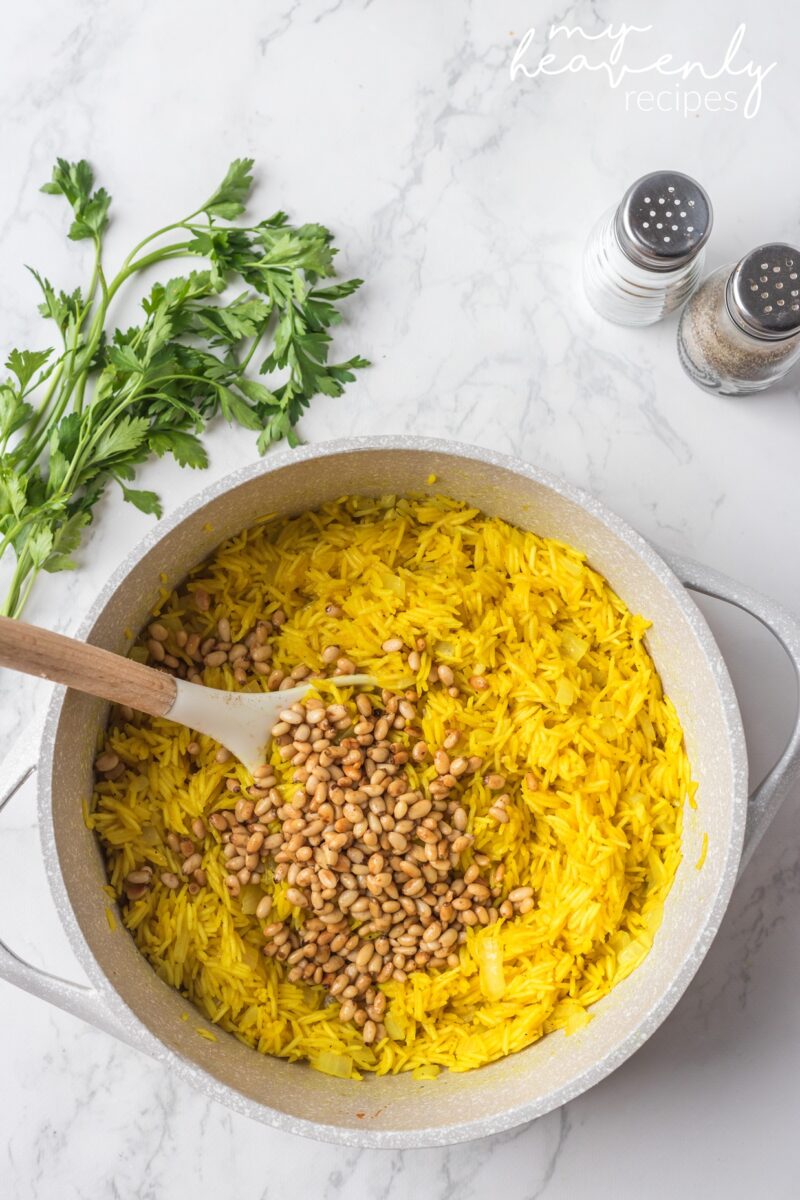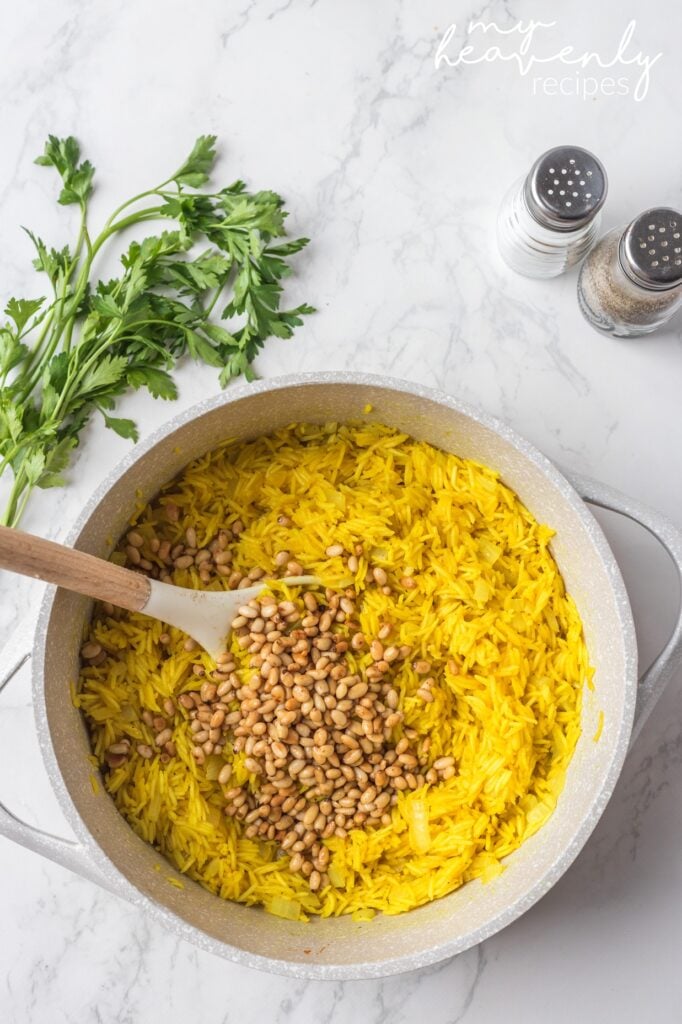 4. What can I serve with Mediterranean rice?
This rice pairs well with a variety of Mediterranean dishes such as grilled chicken, lamb, fish, falafel, or stuffed vegetables. You can also serve it alongside fresh salads, yogurt-based sauces like tzatziki, or hummus.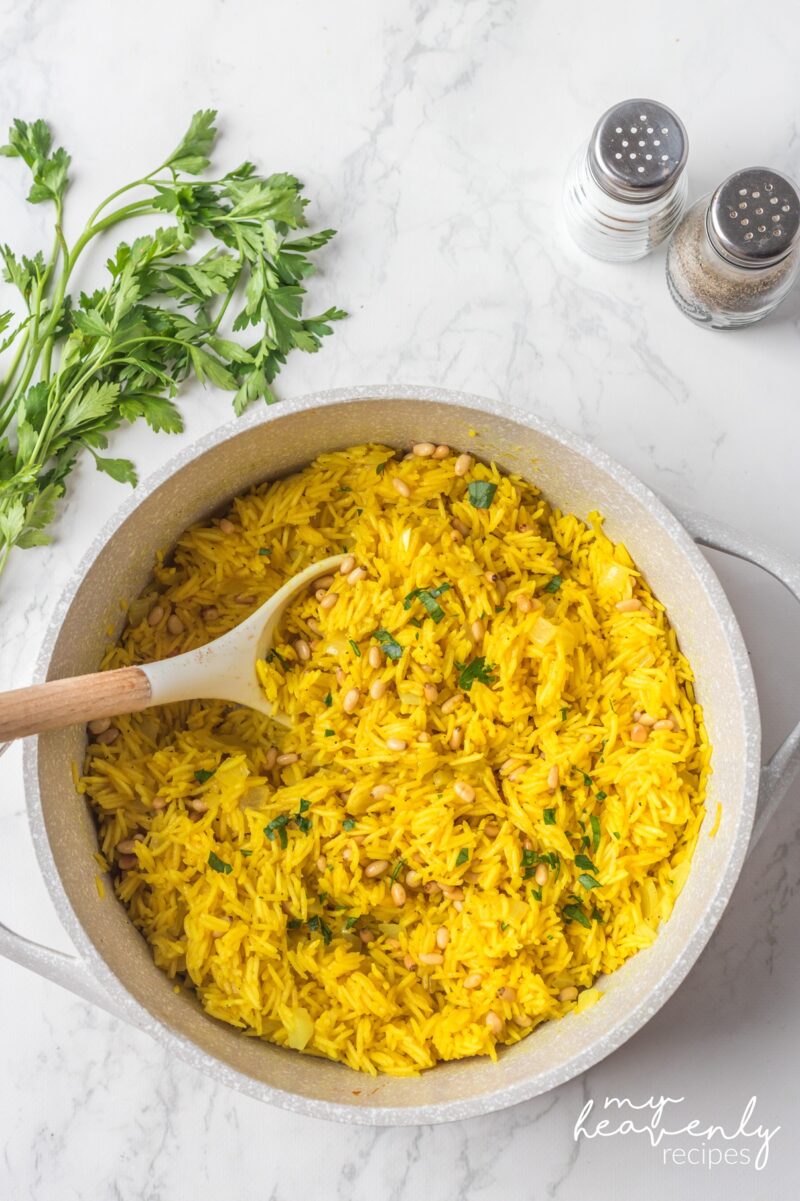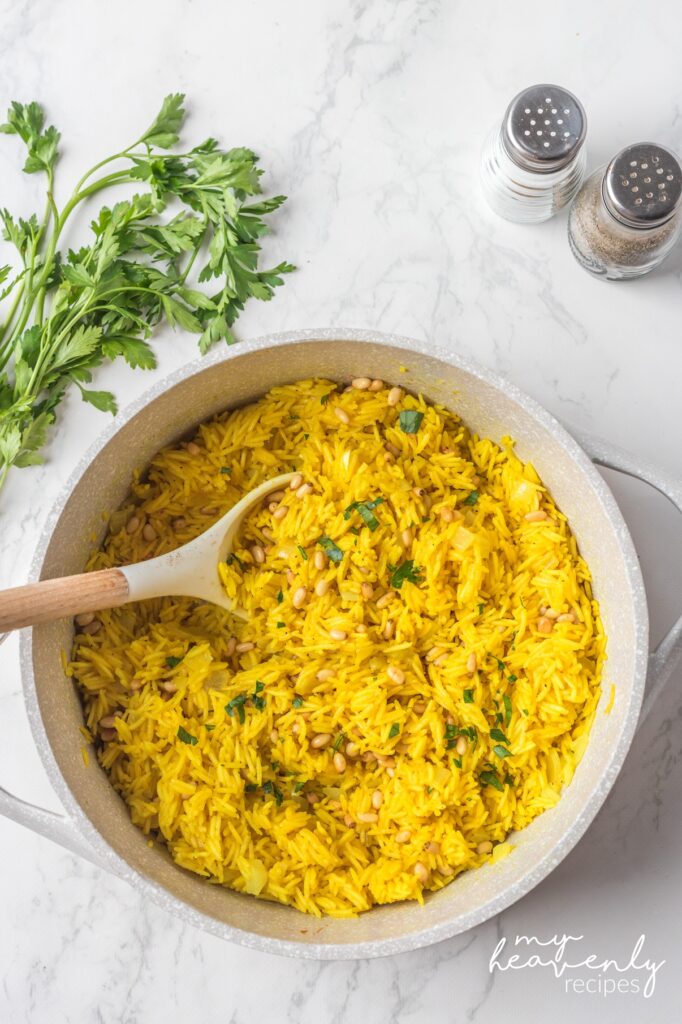 5. What is in Meditteranean rice?
Long-grain white rice rinsed and drained
Butter
Onion
Garlic cloves
Ground cumin
Turmeric powder
Salt and pepper
Water
Roasted pine nuts
Fresh parsley chopped
Tips
Experiment with additional spices or herbs to suit your taste. For a bit of heat, consider adding a pinch of red pepper flakes. For more aromatic complexity, try ground coriander or a dash of cinnamon.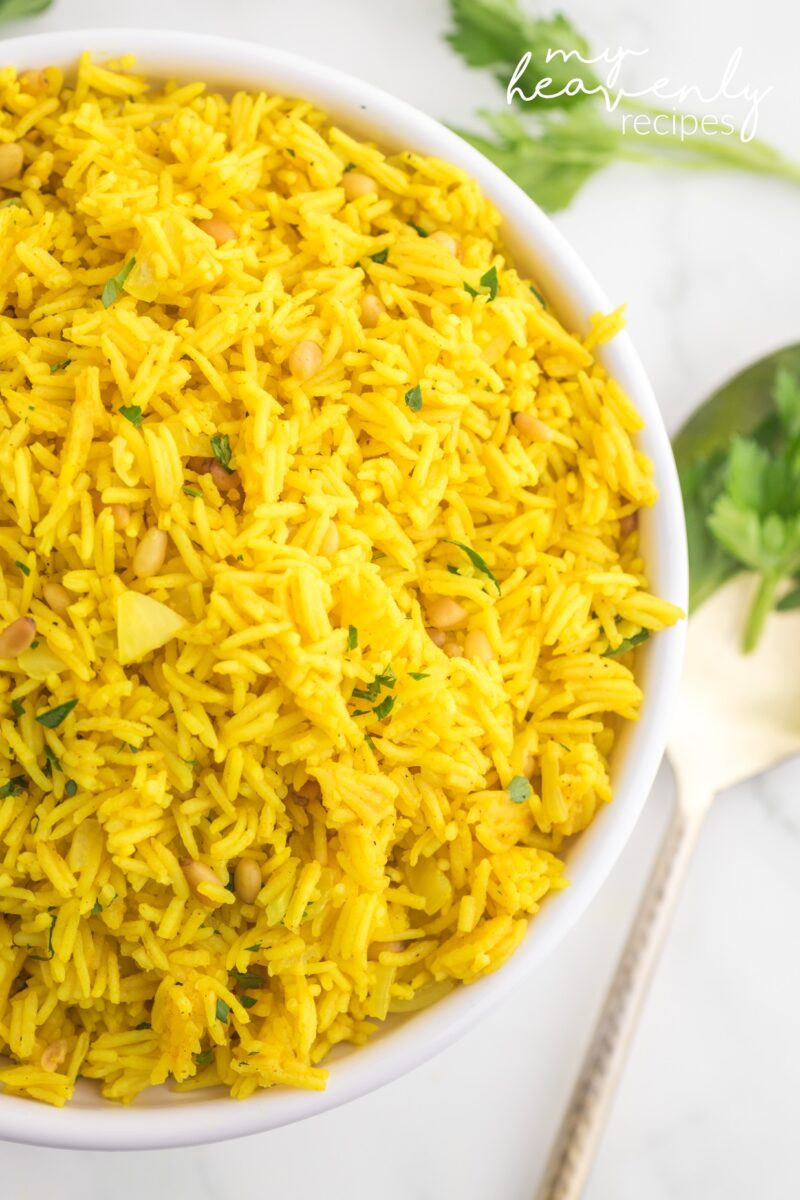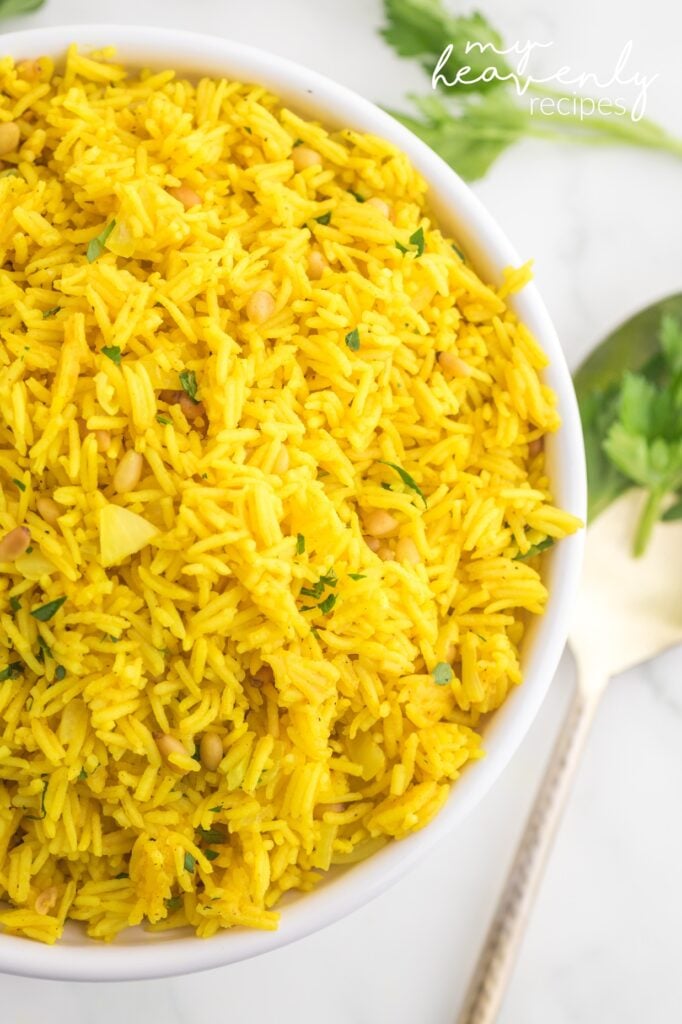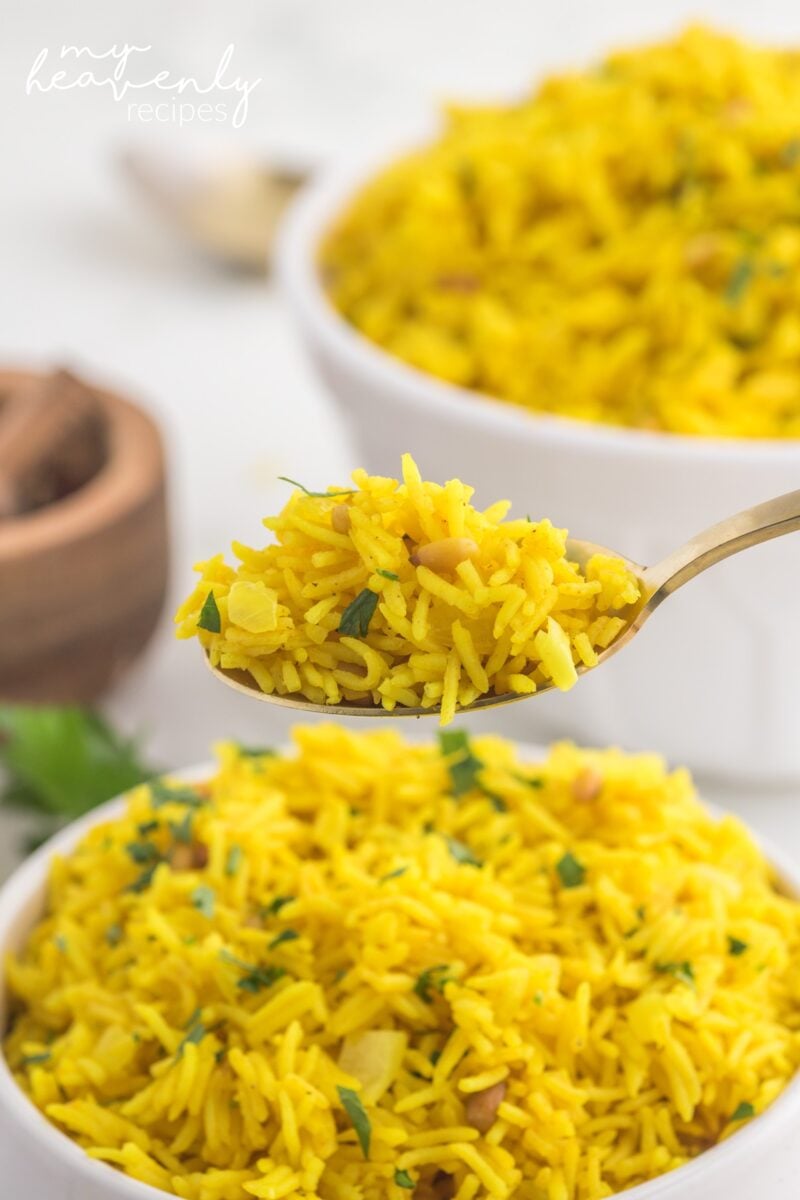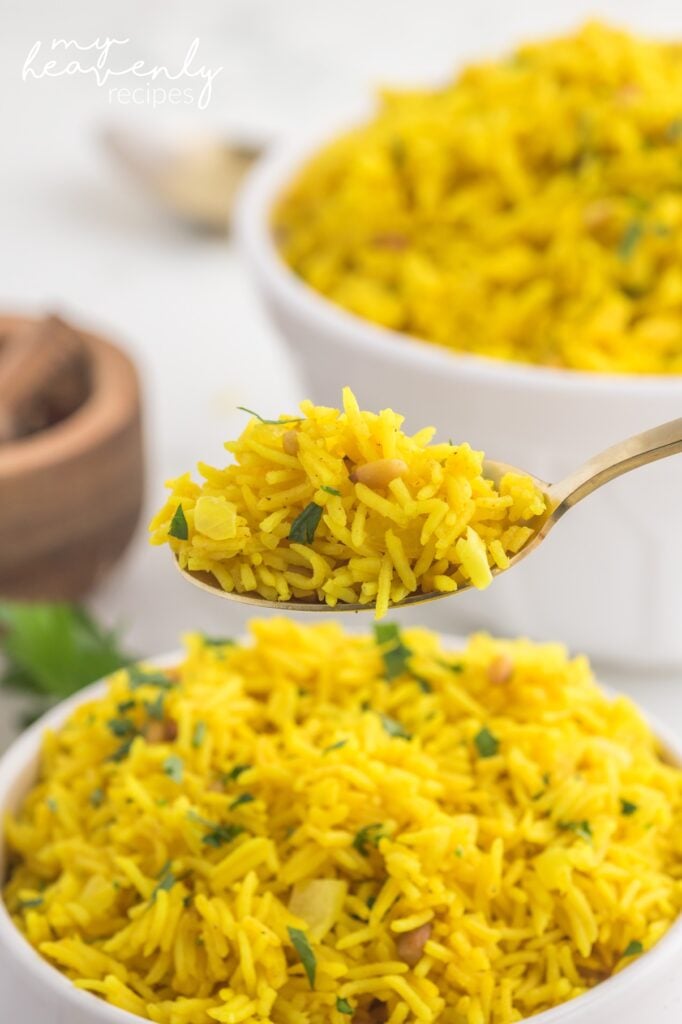 Mediterranean Rice
Fragrant long-grain white rice is cooked to perfection with aromatic spices and garnished with roasted pine nuts and fresh parsley.
Ingredients
2

cups

long-grain white rice

rinsed and drained

2

tablespoons

butter

divided

1

medium onion

diced

3

cloves

garlic

minced

1

teaspoon

ground cumin

1

teaspoon

turmeric powder

Salt and pepper

to taste

2 ¾

cups

water

¼

cup

roasted pine nuts

¼

cup

fresh parsley

chopped
Instructions
Start by rinsing the long-grain white rice under cold running water until the water runs clear. This helps remove excess starch and prevents the rice from becoming sticky during cooking. Drain the rice thoroughly.

In a large, heavy-bottomed pot, melt 1 tablespoon of butter over medium heat. Add the diced onion and minced garlic to the pot. Sauté until the onions become translucent and fragrant, which should take about 3-5 minutes.

Add the rice and the spices and pour in the water and bring the mixture to a boil. Once it's boiling, reduce the heat to low, cover the pot with a lid, and let the rice simmer for about 15-20 minutes, or until the rice is tender and the liquid has been absorbed.

When the rice is cooked, remove it from the heat. Using a fork, gently fluff the rice to separate the grains.

In a separate pan, melt the remaining 1 tablespoon of butter and toast the pine nuts until they are golden brown. Be cautious as they can burn quickly. Once done, remove from heat.

Add the toasted pine nuts and freshly chopped parsley to the cooked Mediterranean rice and stir.
Notes
Rinsing the rice helps remove excess starch, preventing it from becoming too sticky during cooking. Be thorough in rinsing until the water runs clear.
Feel free to adjust the amount of cumin, turmeric, salt, and pepper to suit your personal taste. Start with the recommended quantities and add more if needed.
Pine nuts can go from perfectly toasted to burnt quickly, so watch them closely while toasting. Stir them continuously for even toasting.
Leftovers can be stored in an airtight container in the refrigerator for up to 3-4 days. Reheat in the microwave or on the stovetop with a touch of water to prevent drying out.
MORE NOTES: 
Cooking on Low Heat: When simmering the rice, be sure to use low heat and maintain a gentle simmer. This slow cooking method ensures that the rice cooks evenly and doesn't burn.
The rice should be tender and all the liquid absorbed when done. If it's not quite done, you can add a bit more water and continue to cook until it reaches the desired consistency.