Red, White, and Blue Chocolate Covered Popcorn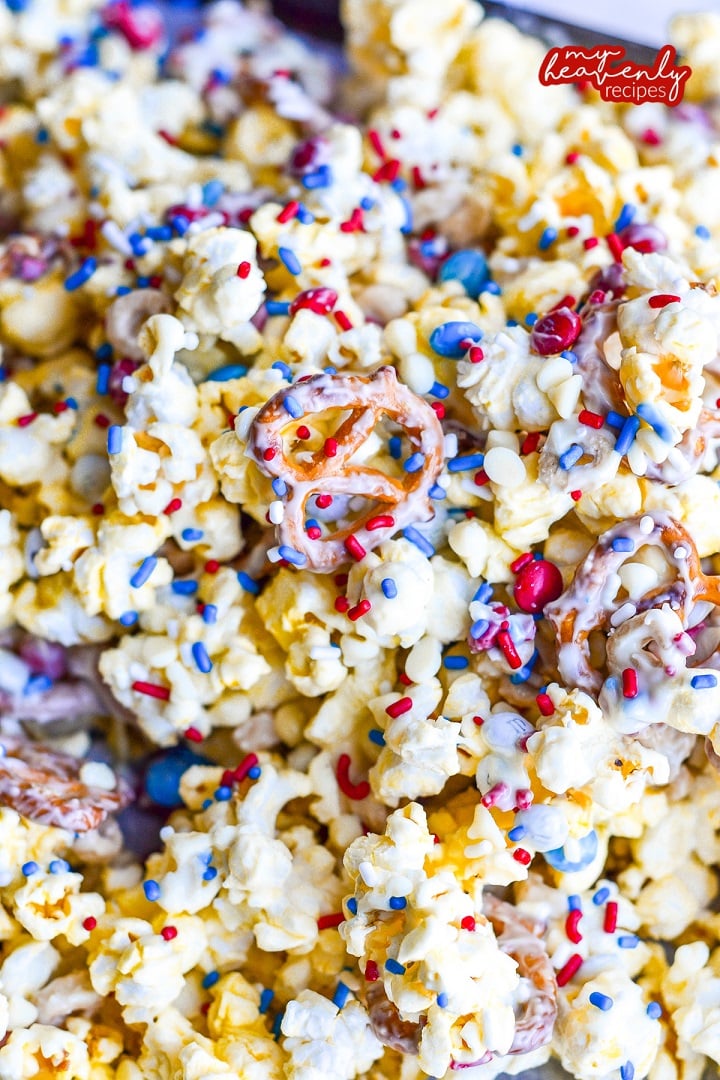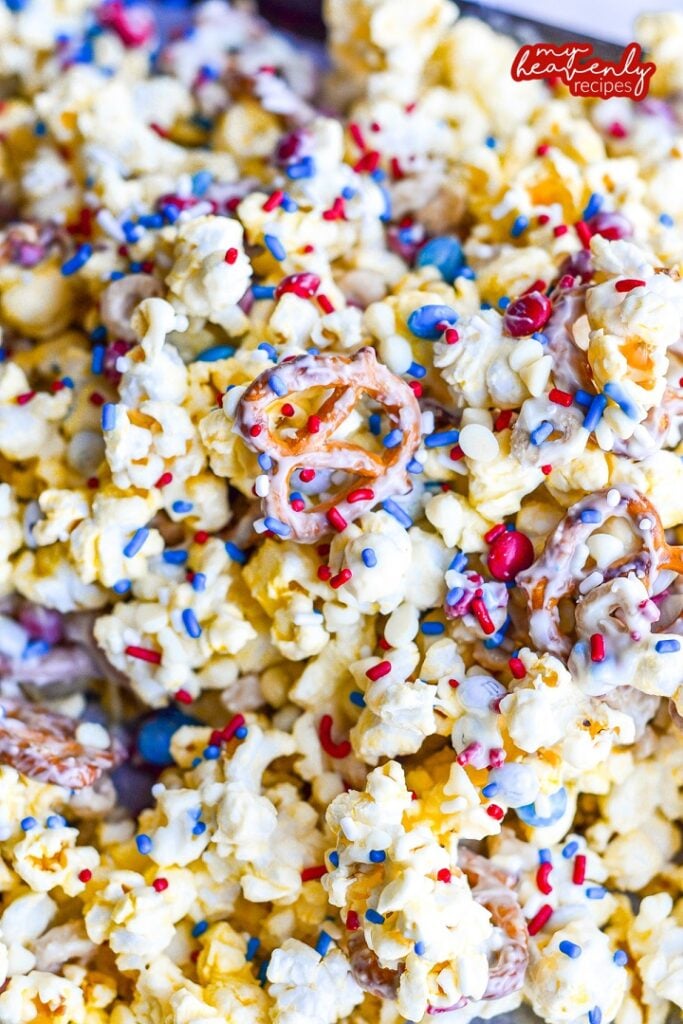 Make this fun red white and blue dessert idea! Patriotic chocolate covered popcorn is delicious and it's such fun colors.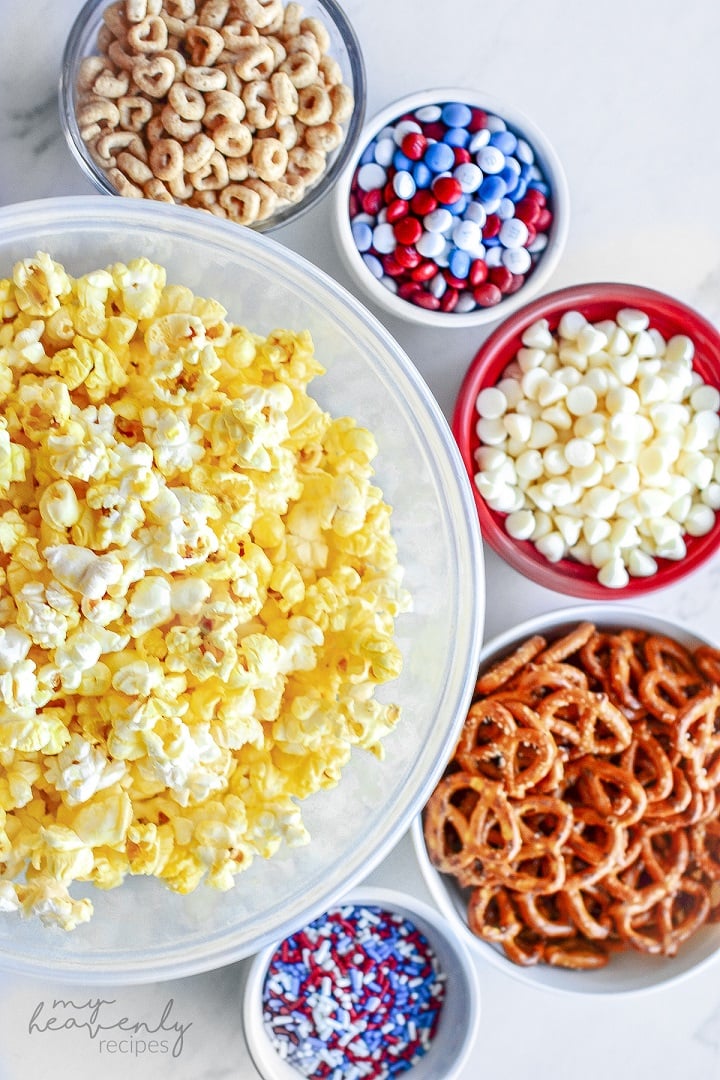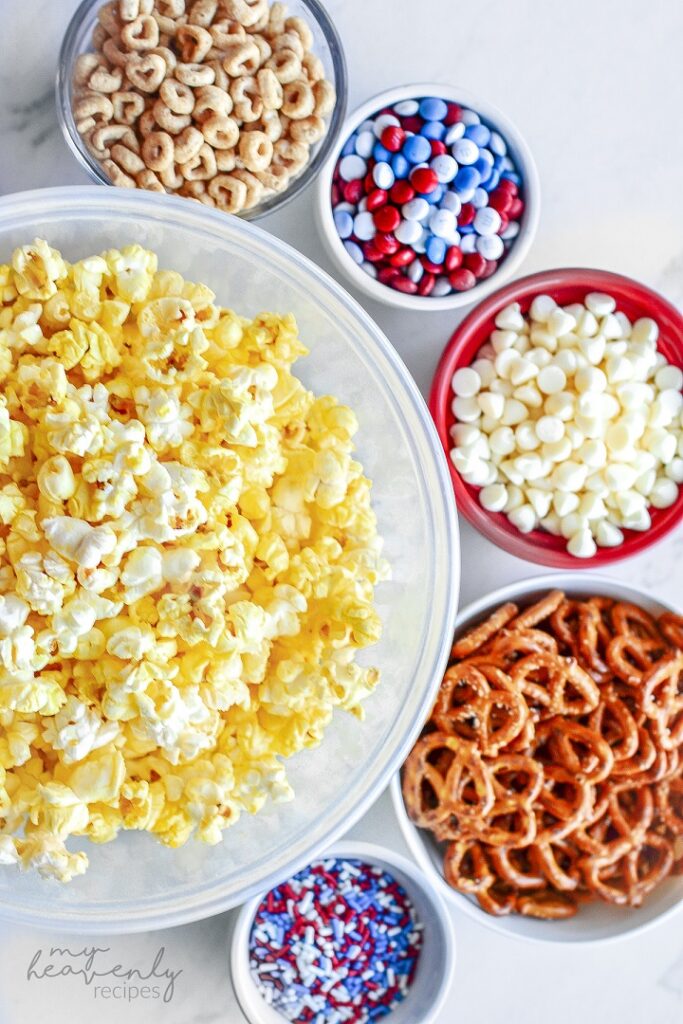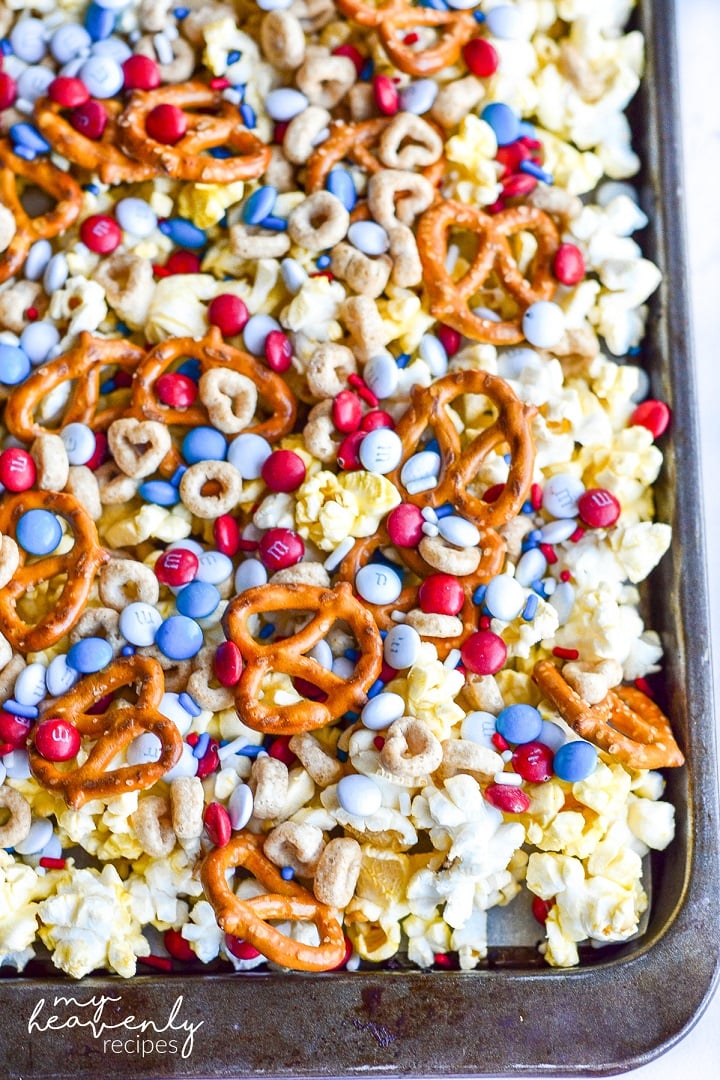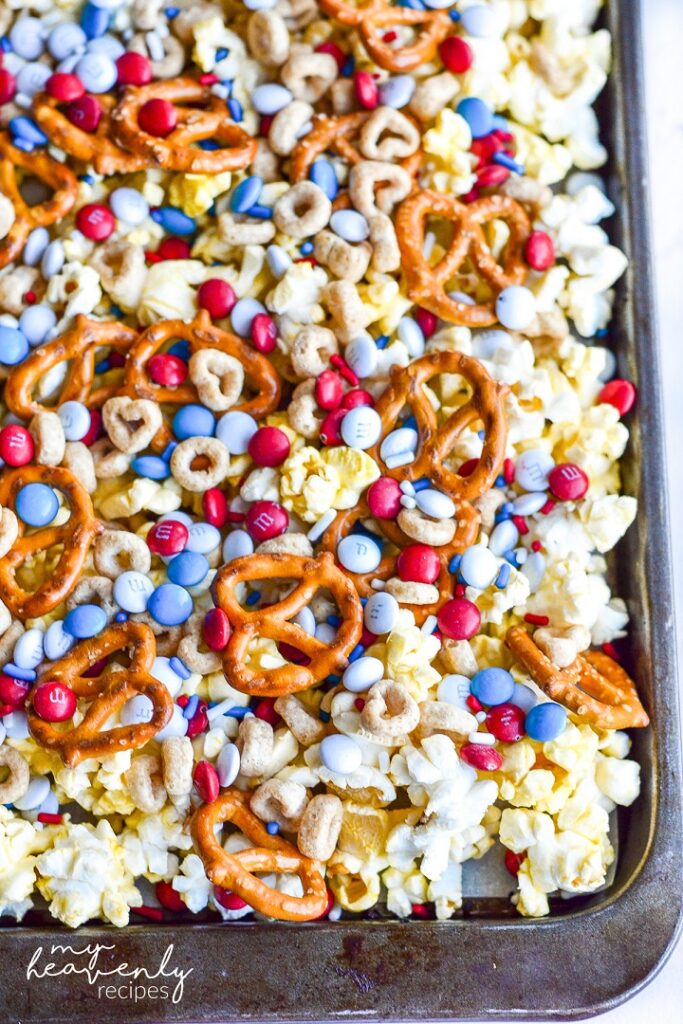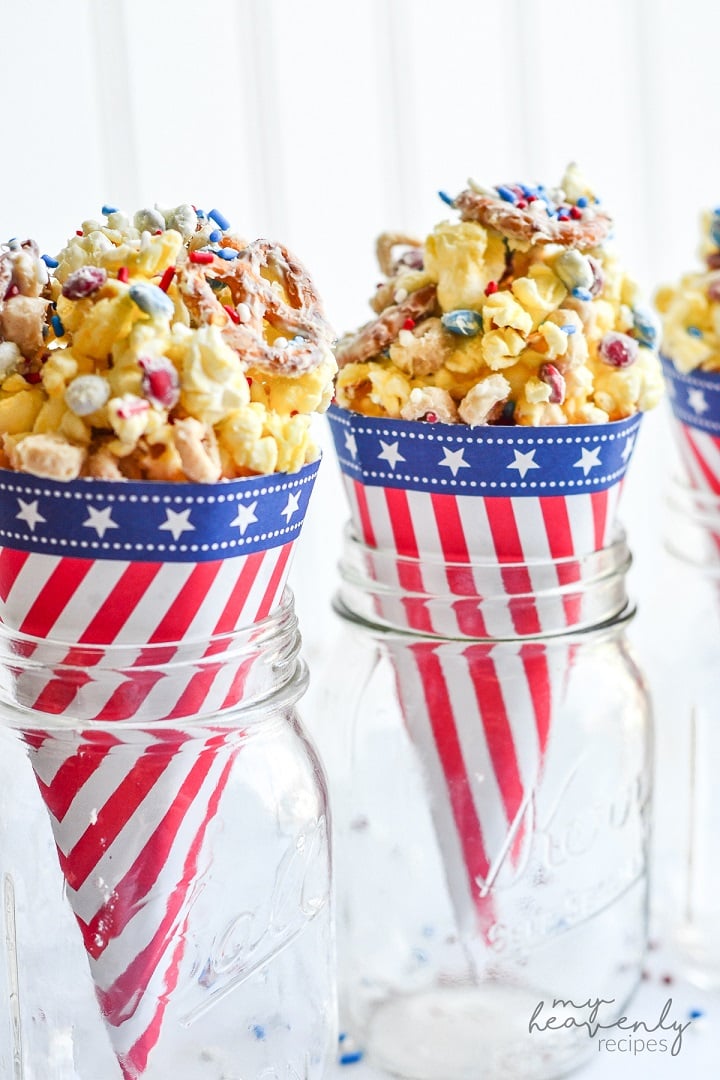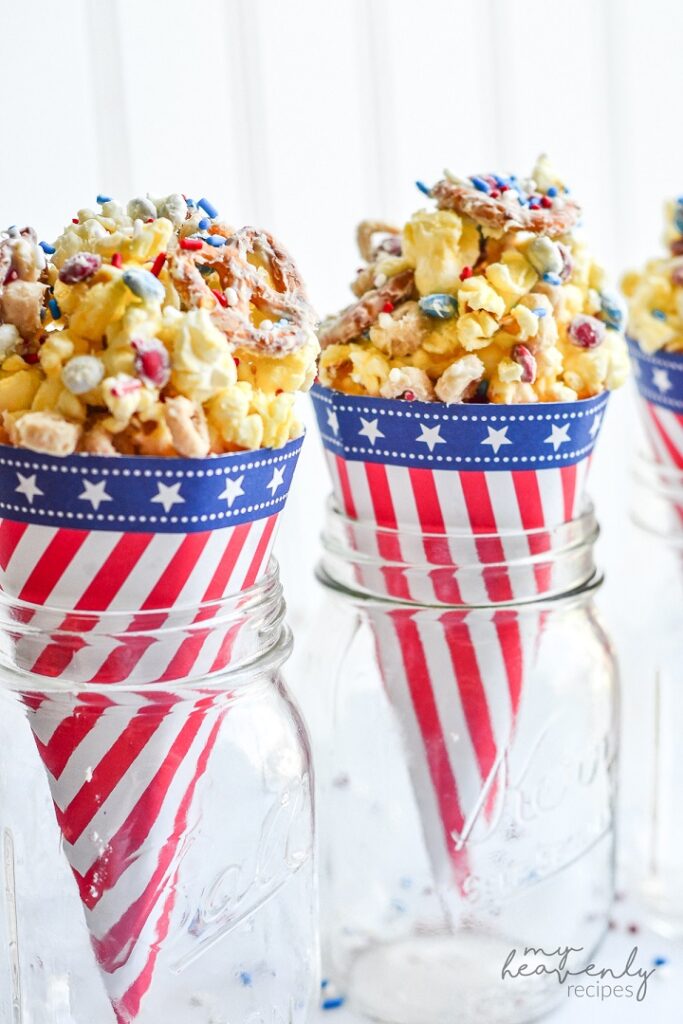 Tools used in this recipe:
Baking sheet
Parchment paper
Mixing bowl
Glass prep bowl
Spoon
Measuring cups & spoons
Patriotic Popcorn
Ingredients
6

cups

popped popcorn

2

cups

pretzels

1

cup

mini m&ms

1

cup

cheerios

1

cup

plus ½ cup white chocolate chips

2

tablespoons

coconut oil

¼

cup

sprinkles
Instructions
Prepare a large baking sheet with parchment paper and set aside.

In a large mixing bowl, toss together the popcorn, pretzels, m&ms, cheerios, and ½ cup of the white chocolate chips.

In another microwave safe bowl, melt the 1 cup white chocolate chips in 20 second increments until smooth.

Stir the coconut oil into the white chocolate until melted and combined.

Drizzle the white chocolate mixture over the snack mix and toss to coat.

Spread the mixture onto your prepared baking sheet into an even layer to allow the white chocolate to harden.

Once the white chocolate coating has hardened, serve as desired.
Notes
You can add anything you like to this snack mix! Some other options to try: nuts such as peanuts or almonds, Chex or Honeycomb cereal, dried fruits like cranberries, chocolate chips or butterscotch chips
Sub in regular m&ms, peanut m&ms, or any other variety for the mini m&ms if desired.
You can use 2 tablespoons of vegetable oil in place of the coconut oil if preferred.
This snack mix is best served within 1-2 days of mixing, as the popcorn will become stale.