How to Make Hot Chocolate Bombs with Alcohol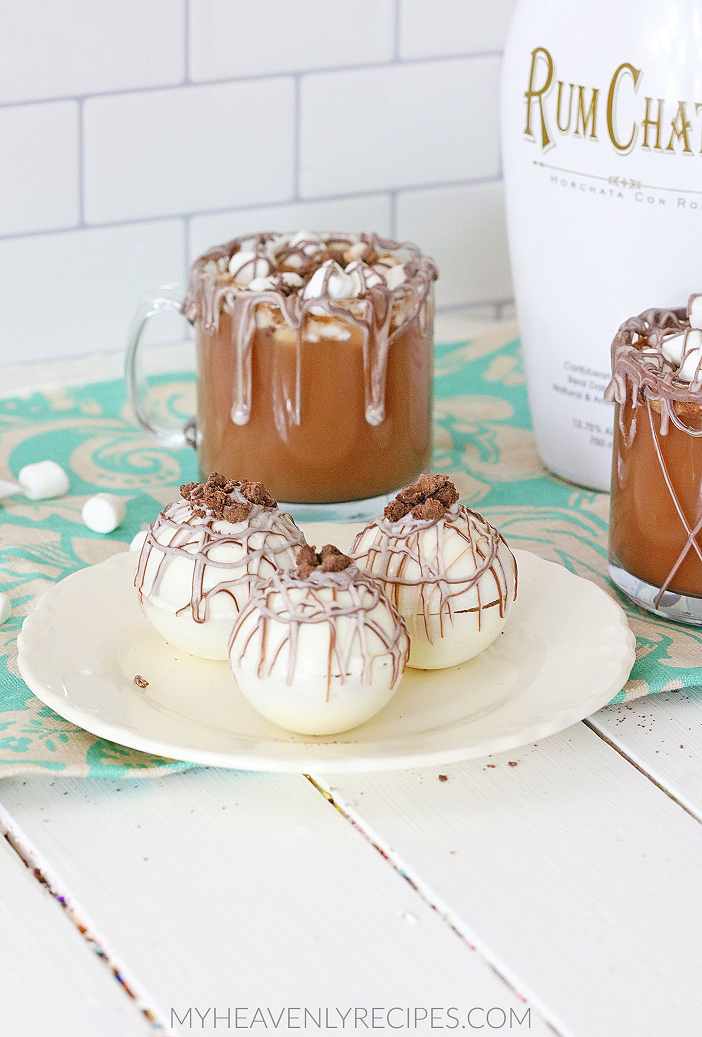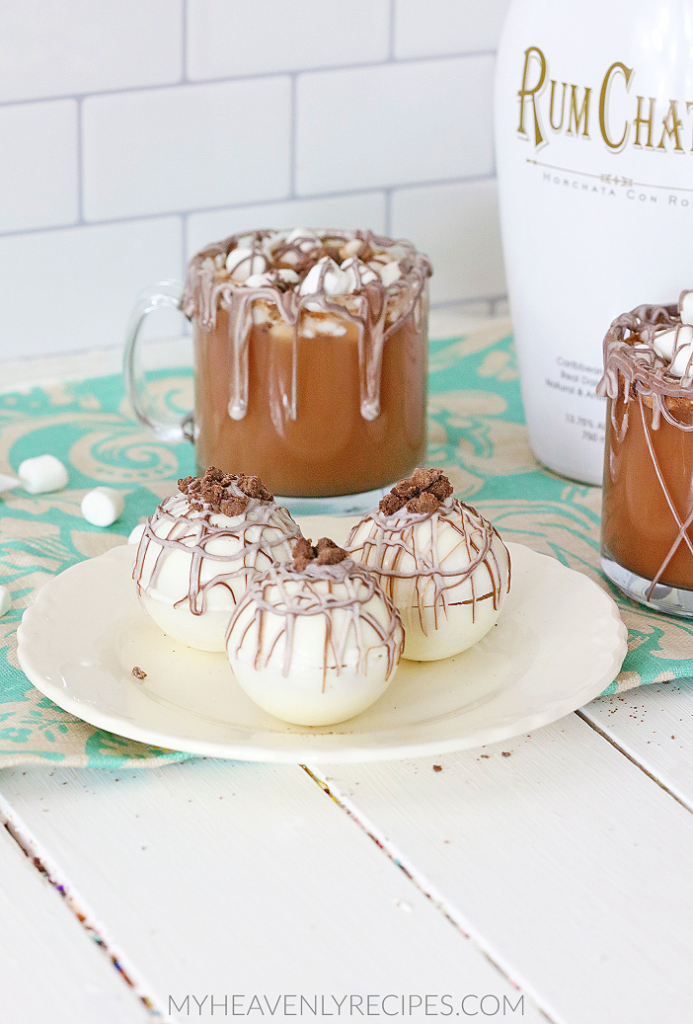 Last week we made our Frozen hot cocoa bombs for the kiddos and peanut butter hot cocoa bombs, but this week was all about the adults! Alcoholic hot cocoa bombs using Rum Chata. These are so yummy and would make awesome gifts for friends with a cute mug.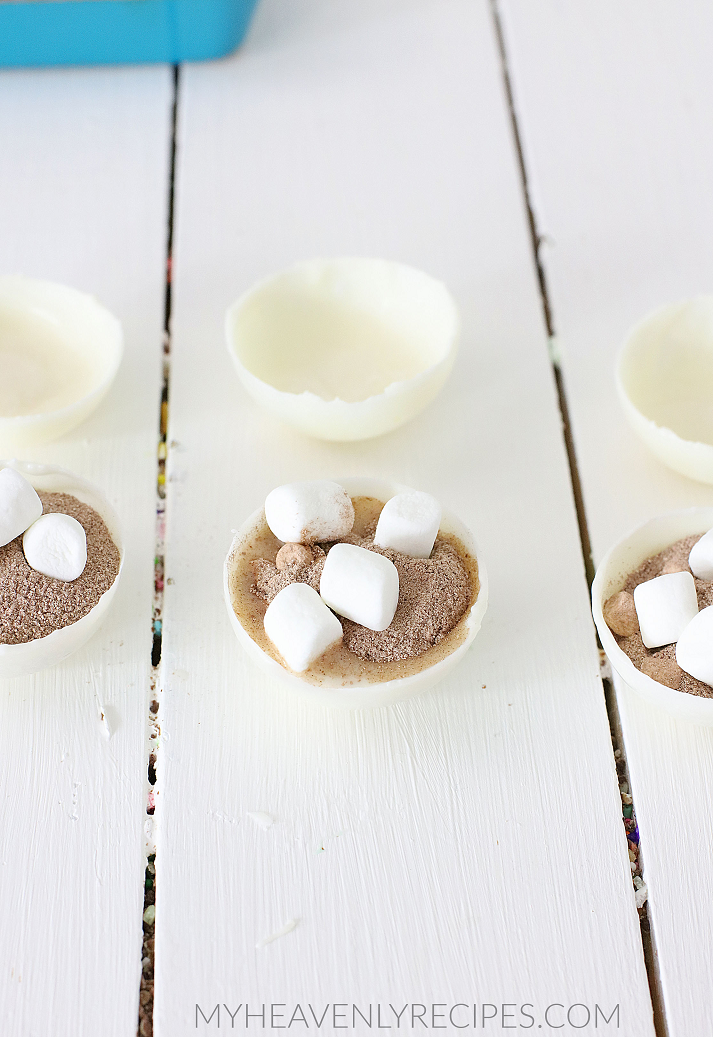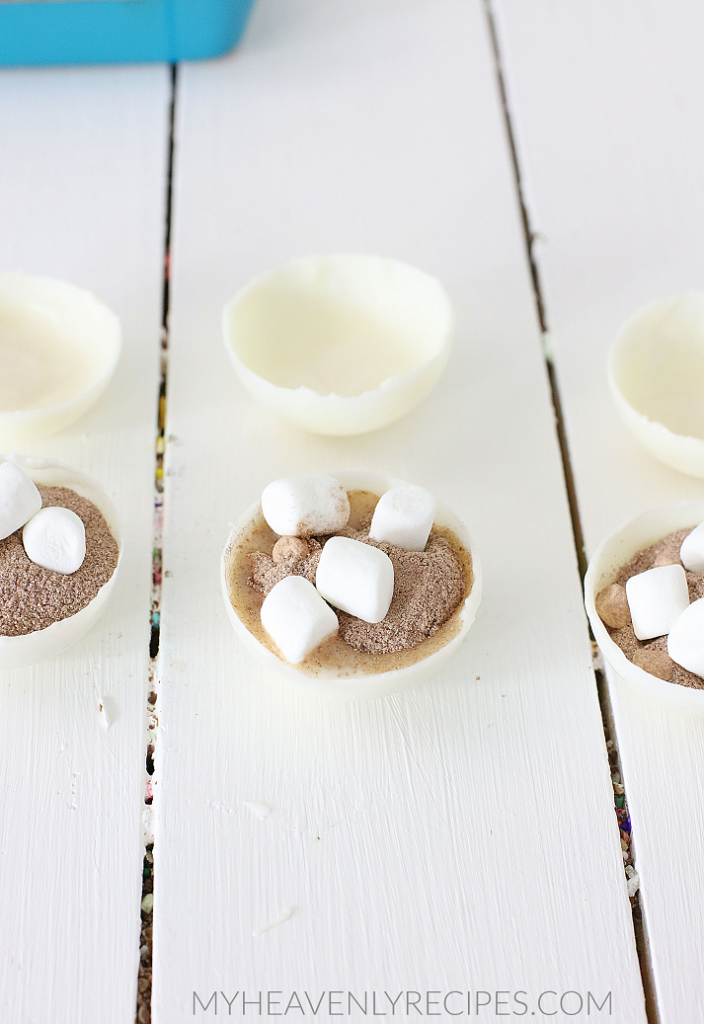 What size mold for making hot chocolate bombs? It depends on what size you want, if you have larger mugs you can make them bigger. The average size hot cocoa bomb molds are 2.55 inch in diameter. Some people even use clear Christmas ornaments that come apart in 2 parts but you have to test if they will fit in your hot cocoa mug first.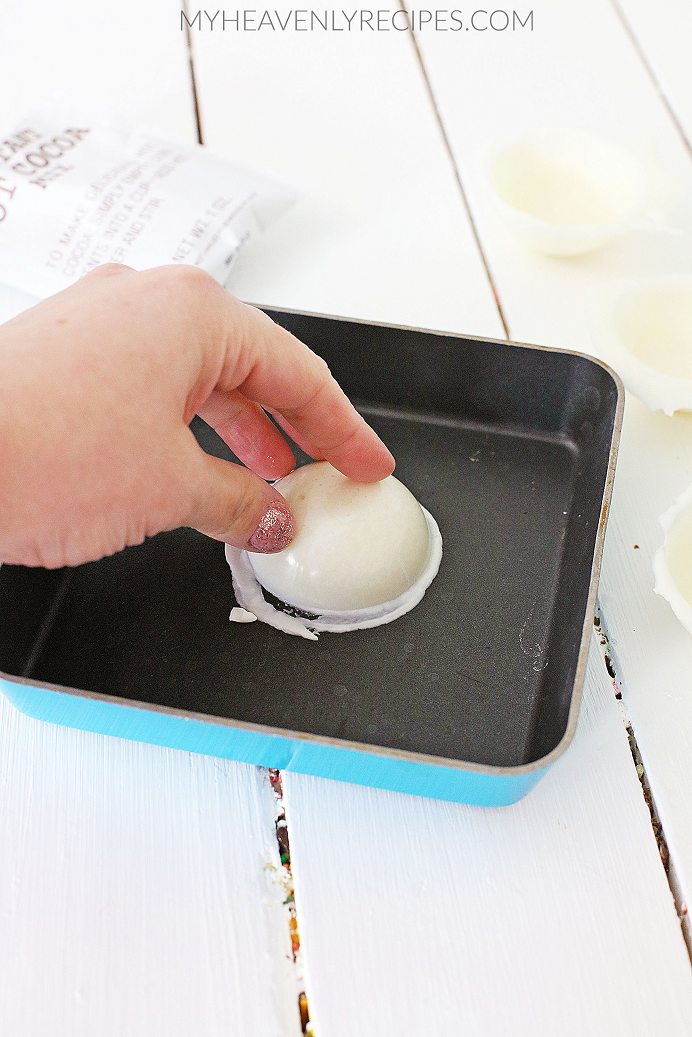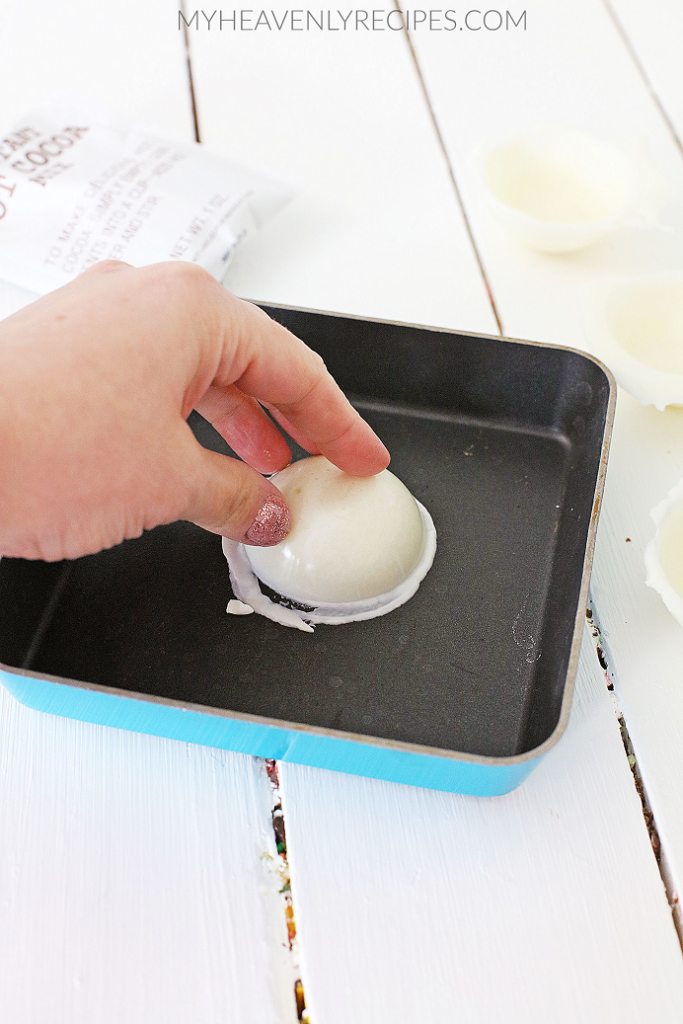 Where do you buy hot cocoa bomb molds? Look on Amazon! They have a ton of silicone molds to choose from just read the customer reviews first to know which works best.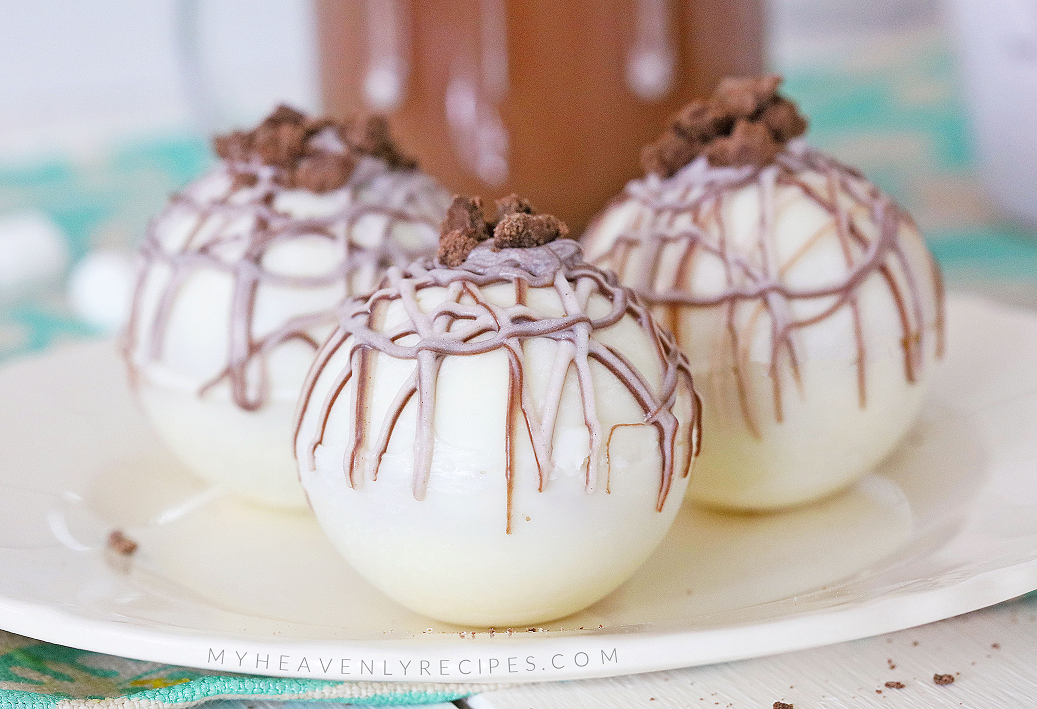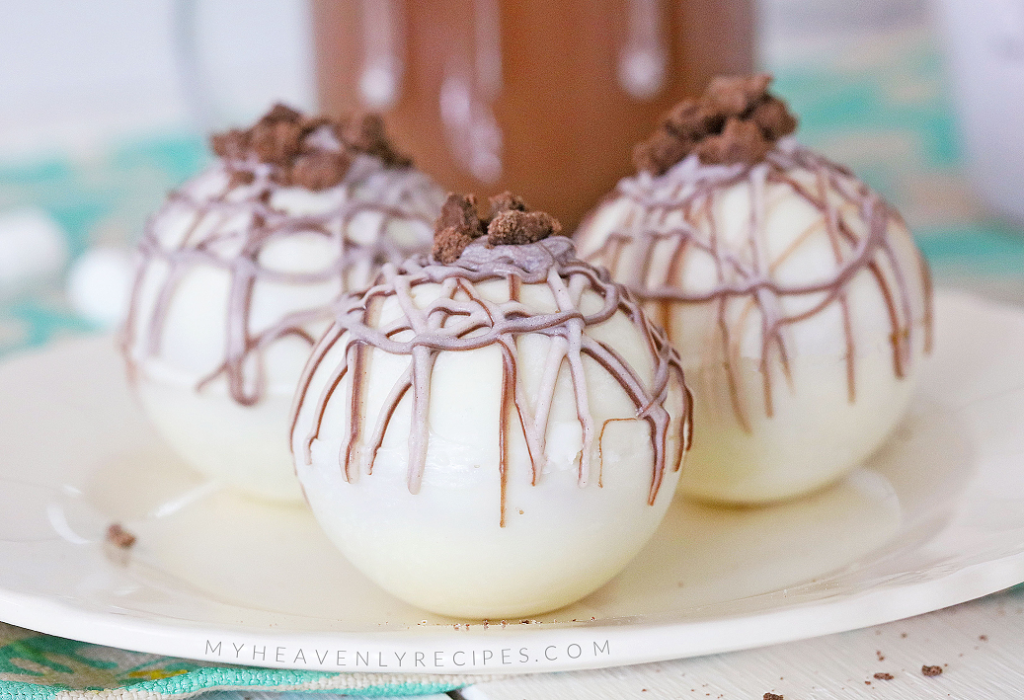 These Rum Chata hot cocoa bombs would look so cute wrapped up in cellophane bags with a bow! If you love this drink, make sure to try our Rum Chata Pudding Shots too!
Rum Chata Hot Cocoa Bombs
Ingredients
12

Ounces

White Melting Chocolate – Chips or Almond Bark

2

Packets of Hot Cocoa Mix

1

cup

Mini Marshmallows – about 5 to each Cocoa Bomb

2

Tablespoons

Rum Chata in each Cocoa Bomb

6

cups

Hot Milk

1

set of Silicone Molds

Melted White and Milk Chocolate to drizzle on top
Instructions
Place the Chocolate in a Microwave safe bowl, and melt until smooth and creamy. Stir well, and spoon or ladle into the molds, making sure to coat the inside of the molds. Pour excess chocolate back into the bowl, and place the molds in the refrigerator, and let harden for 15 minutes. Remove molds from refrigerator, and carefully remove chocolate from molds, placing 6 half balls in a row. These will be the bottom parts, or half of the Cocoa bombs.

Heat a non stick Skillet, on low, and place one half ball with the open side down, melting just the edges, remove, place on a cookie sheet, and fill the Ball with the powdered Cocoa, Rum Chata, and mini Marshmallows. Repeat, until all 6 Balls are done. Place the other half of the Chocolate balls in the skillet, with the open side down, and melt just the edges of the ball. Remove from the Skillet, and immediately place on one of the chocolate balls, filled with the cocoa, etc., making the top of the ball/bomb. Hold in place a few seconds to make sure the top and bottom are melted together. When all the Cocoa Bombs have been filled, and melted together, place them in the refrigerator for 30 minutes, until chocolate is completely set. Remove from the Refrigerator, and sit the cookie sheet on the counter.

Place White Chocolate, and Milk Chocolate in separate microwave safe bowls, and microwave at 15 second intervals until the chocolate melts. Stir well, and place the melted chocolate – white and milk – in a Pastry bag, and pipe the White Chocolate and milk chocolate over the Cocoa Bombs (see photo) and sprinkle with your favorite Sprinkle mix. Place one Hot Cocoa Bomb in the bottom of a large mug, and pour heated milk over the top. Cocoa Bomb will melt and bubble, and marshmallows will float to the top. Stir the powdered cocoa, and Enjoy!