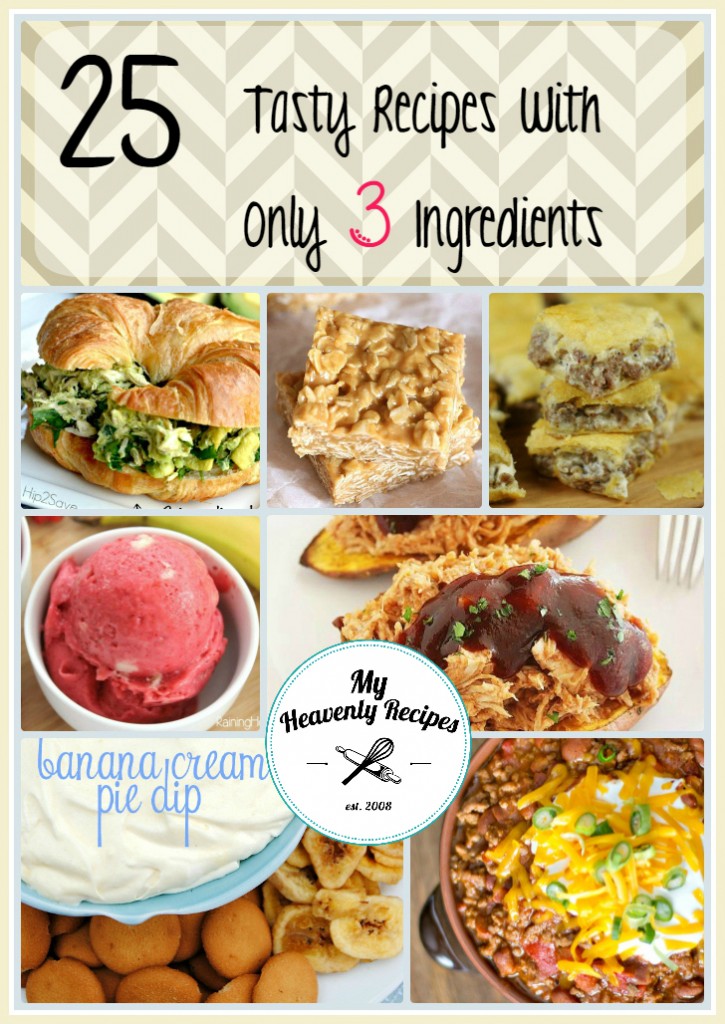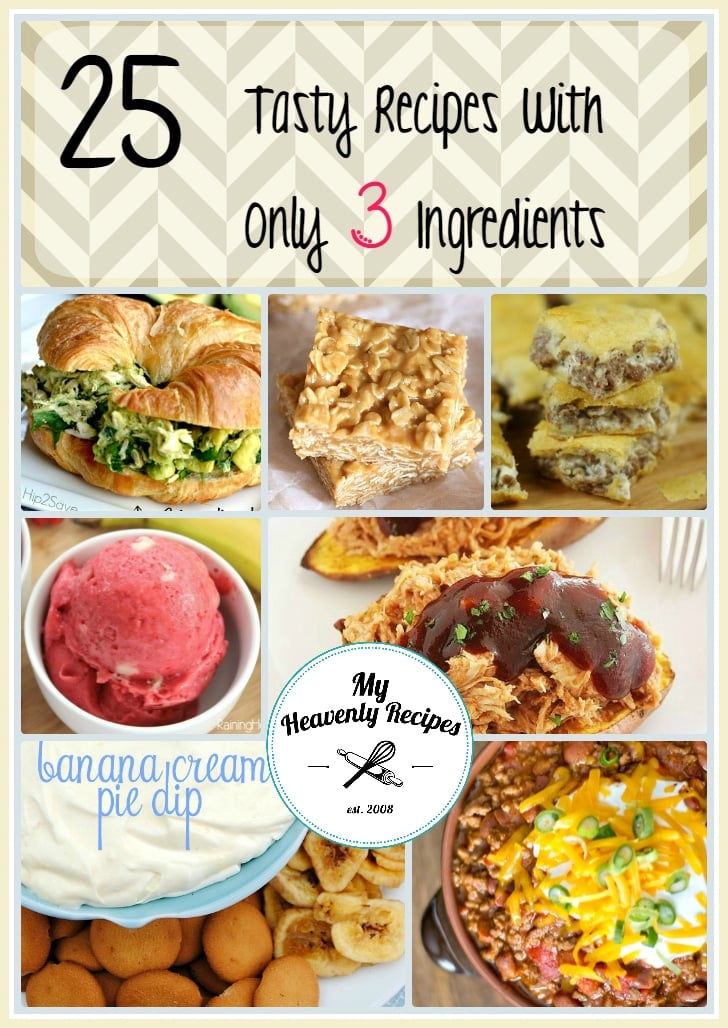 One of the easiest ways to begin to enjoy cooking is when you accomplish meals that are tasty, yet simple. So let's get you cooking up a storm with these recipes that are made with 3 Ingredients….there's really no way you can screw these up!
Raining Hot Coupons – Crock Pot Ranch Pork Chops
Raining Hot Coupons – 3 Ingredient Strawberry Banana Ice Cream (non-dairy)
I Heart Naptime – Easy 3 Ingredient Chili
Yellow Bliss Road – 3 Ingredient Caramel Stuffed Spiced Pumpkin Muffins
Yellow Bliss Road – Easy Limeade Ice Cream Pie
Hip 2 Save – Avocado Chicken Salad
The Kitchen is My Playground – 3 Ingredient Crescent Sausage Bites
Stock Piling Moms – Easy 3 Ingredient Banana Bread
Living on a Dime – Easy 3 Ingredient Dinner Recipes
The Comfort of Cooking – 3 Ingredient BBQ Chicken Stuffed Sweet Potatoes
The Comfort of Cooking – 3 Ingredient Oreo Thin Mints
The Comfort of Cooking – Incredible 3 Ingredient Nutella Brownies
This Girl's Life Blog – "Snack Hack" Banana Pudding Cups
The Frugal Foodie Mama – 3 Ingredient Zucchini Brownies
Pinch of Yum – 3 Ingredient Grilled Chicken
Cookies and Cups – 3 Ingredient No Bake Peanut Butter Oat Squares
Shaken Together Life – Banana Cream Pie Dip
Shaken Together Life – Pina Colada Fruit Dip
Stock Piling Moms – Crockpot 3 Ingredient Chicken & Sweet Potatoes
I love to see what you are creating in your kitchens! Be sure to share the recipes you found on MyHeavenlyRecipes.com with me on Facebook, Twitter, Pinterestand Instagram.
Cinnamon Spice and Everything Nice – Three Ingredient Ravioli Lasagna
My Mommy Style – 3 Ingredient Buffalo Potato Wedges
Cooking With Cakes – Pretzel Coated Honey Mustard Chicken Tenders
Sweet and Savory by Shinee – 3 Ingredient Souffle Cheesecake
Homemaking Hacks – 3 Ingredient Slow Cooker Fiesta Chicken Recipe
The Domestic Rebel – 3 Ingredient Nutella Croissants
What are some of your favorite recipes that you make in your kitchen that only have 3 ingredients?
Here's a few of my favorite 3 ingredient recipes:
Be sure bookmark Submit a Recipe so that I can feature it on the site once you've completed this project! See you soon 😉
Enter your Name and Email Address Below to receive a email when a new recipe is published!
I PROMISE I won't sell your info to those scammer people!