This post may contain affiliate links, read our
Disclosure Policy
for more information. As an Amazon Associate I earn from qualifying purchases, thank you!
This weekly meal plan printable will help you stay organized in the kitchen, and planning meals for your family will be so much easier!
***UPDATE: This weekly meal plan printable has been super popular, so I've created a Weekly Meal Plan Workbook. If you don't ever have ink or printer paper this Workbook is for you! Grab it NOW on Amazon! As always, THANK YOU for your continued support. It means more than you know!***
FREE Weekly Meal Plan Printable!
If there's one piece of advice that I can give you when it comes to living a healthy lifestyle it would be the importance of a Weekly Meal Plan.
Every Saturday morning, I pull out the calendar and take a peek at what we have on our schedule for the week ahead. I simply plan Crock-Pot meals on the nights that we have plans, gymnastics or PTA meeting. On nights that we don't have anything I will cook dinner which I usually start cooking between 4:40-5.
With all three children at home, there are times I have to step away to break up an argument, wipe some tears and give kisses or simply just spend some time in the kitchen with the girls while Bubby naps. Because I enjoy cooking, I love to make up new recipes & play around in the kitchen as a hobby so I tend to do that on weekends we are home.

To print this recipe right click on the image above and Save As! Then open & print!
I want to give you this Weekly Meal Plan Printable for free. I believe in it's importance and will help to keep your organized.
Once I jot down my game plan on this Weekly Meal Plan template, I then write up each meal on my chalkboard vinyl that's on my pantry door.
I write down every meal for the week and it's available for everyone to see. The stress of not knowing what is for dinner is removed from my life and it also keeps us healthier. Plus we're saving money by not eating out as much as we use to.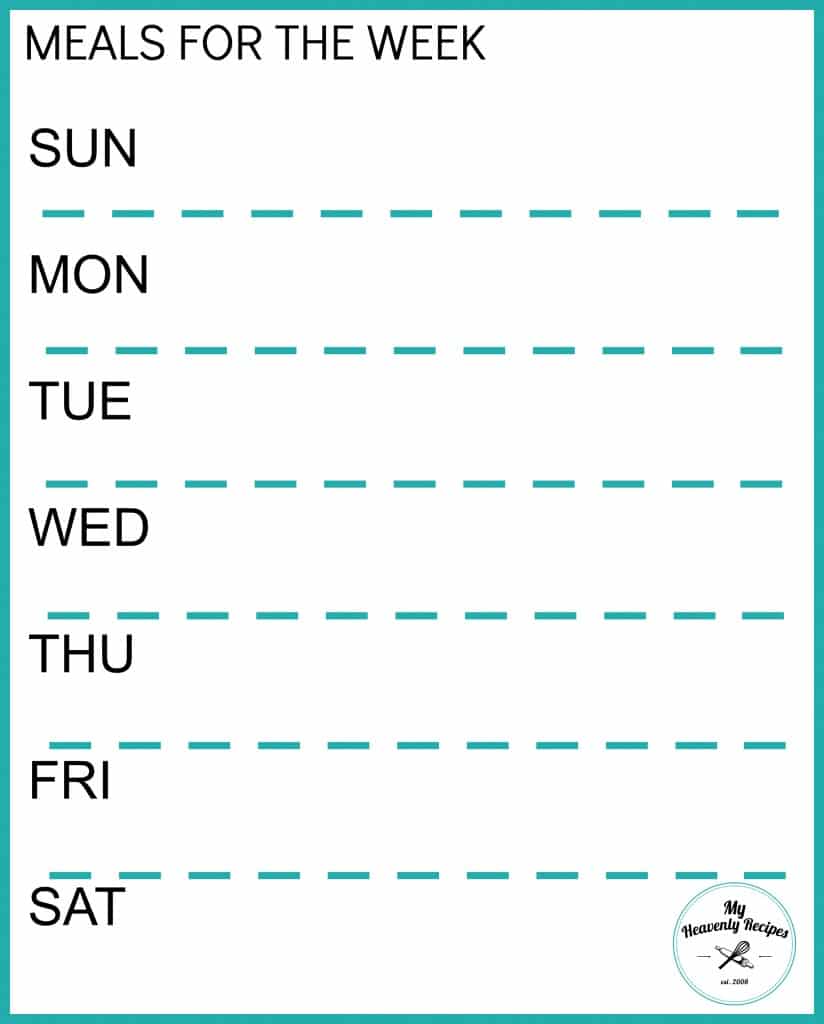 Now if you don't want the grocery list option and just want a tried and true Meal Plan that you can display in your kitchen to help keep your family on track and allow others to know what's on the menu for the day, you'll want to consider printing out this Weekly Meal Plan. It's all you need to get you started!
Be sure to check out my other Printables to help your life become less stressful in the kitchen!