How to Make Fried Cream Cheese Wontons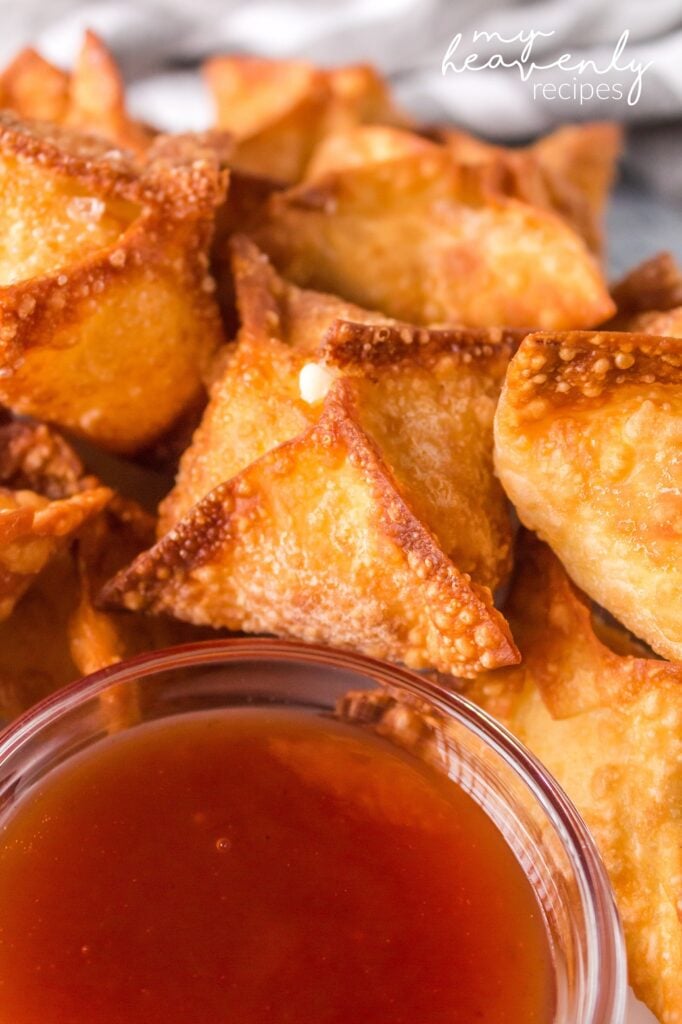 One of my favorite appetizers when ordering Chinese food is cream cheese puffs!! I could literally sit down and eat a whole batch by myself. They are getting kind of spendy at the restaurants so it's time to make your own at home! You can buy a whole pack of wonton wrappers, use half then freeze the other half for another use. There are so many filling ideas too, like our crab ragoons recipe!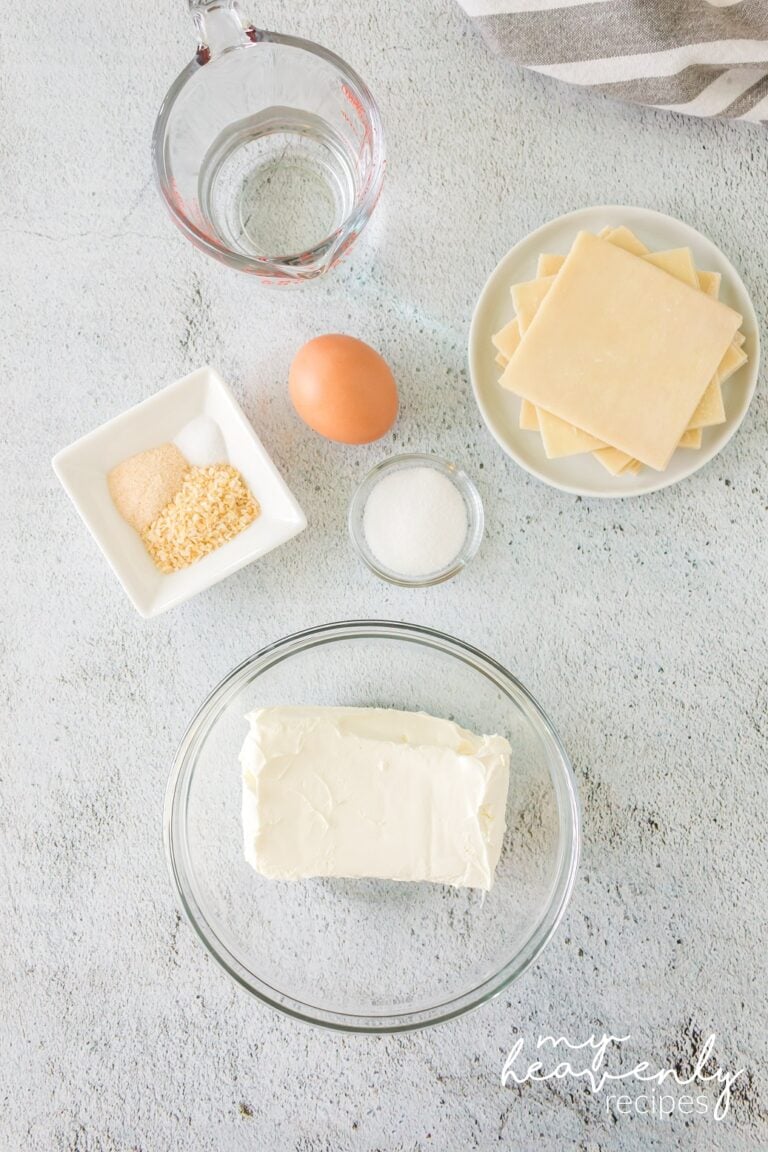 What ingredients do I need to make cream cheese wontons?
Cream cheese
Granulated sugar
Onion powder
Garlic powder
Salt
1 egg
Water
Wonton wrappers
Oil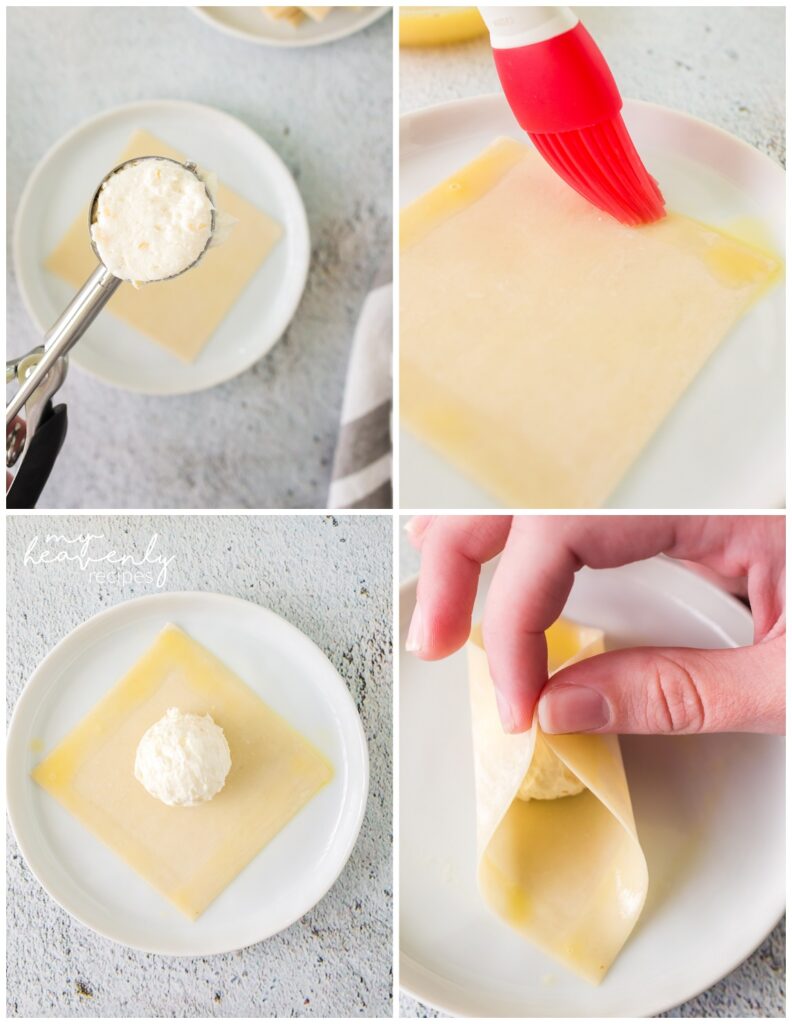 Personally, I love frying the cream cheese ragoons the best because you get the golden crisp outside but there are two other options as well if you're trying to be healthier…
How do I make cream cheese wontons in the air fryer?
Spray the outside of the wontons with olive oil. Preheat your air fryer at 350 degrees for 1 minute then put them in for 5-8 minutes until there are golden brown edges.
How do I make baked cream cheese wontons in the oven?
Preheat oven to 400 degrees. Spray wonton wrappers with olive oil, place on a cookie sheet. Bake for 8-10 minutes until golden brown edges.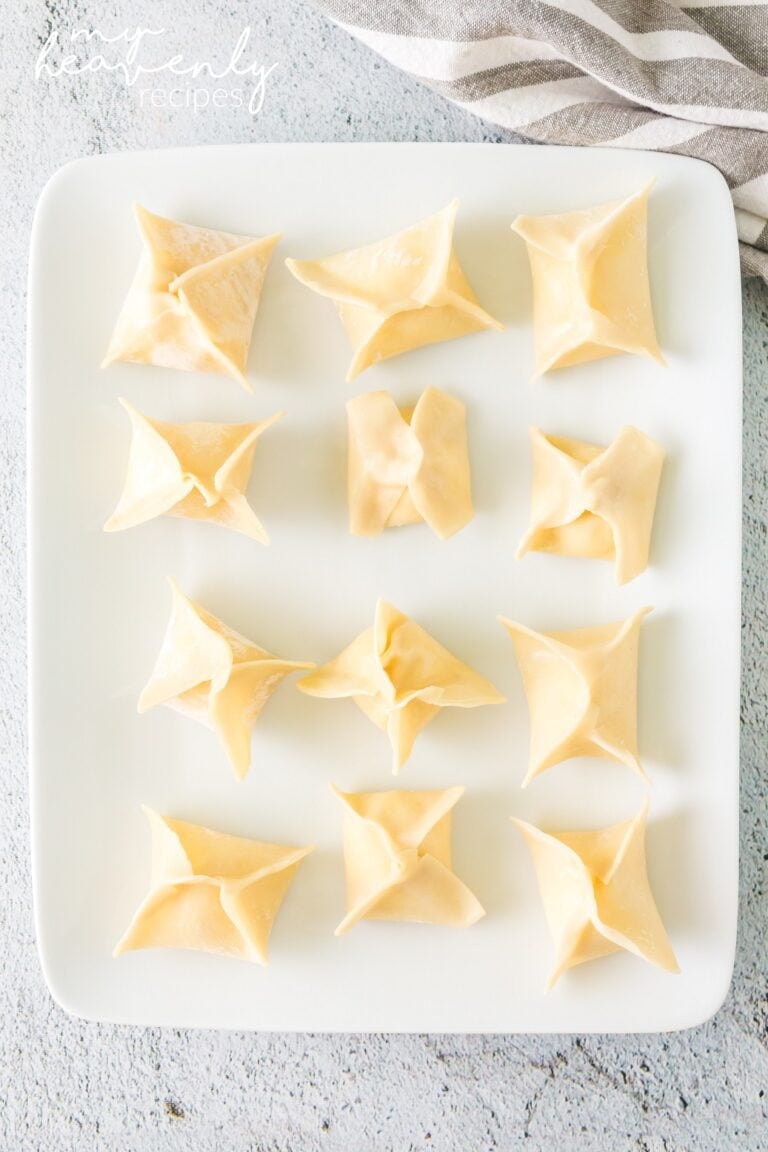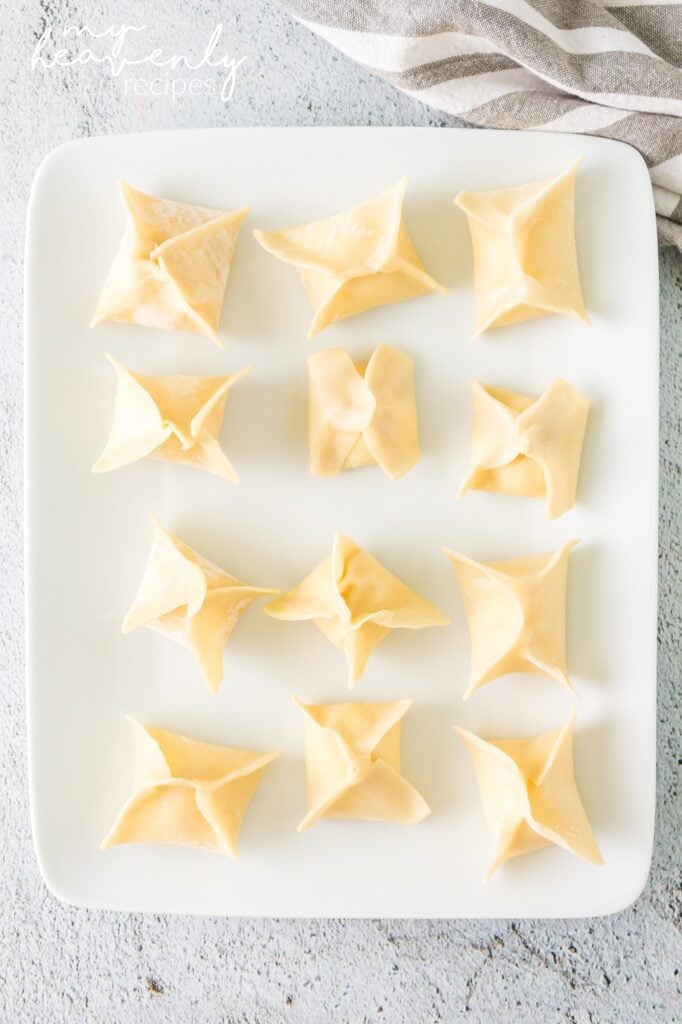 What can serve it with: Serve with a sweet chili sauce, spicy mustard, or sweet and sour dipping sauce.
Storage: Store the leftovers in a container in the fridge for up to 3 days.
Re-warm: You can re-warm the wontons in an air fryer at 350 degrees F for 3 to 4
minutes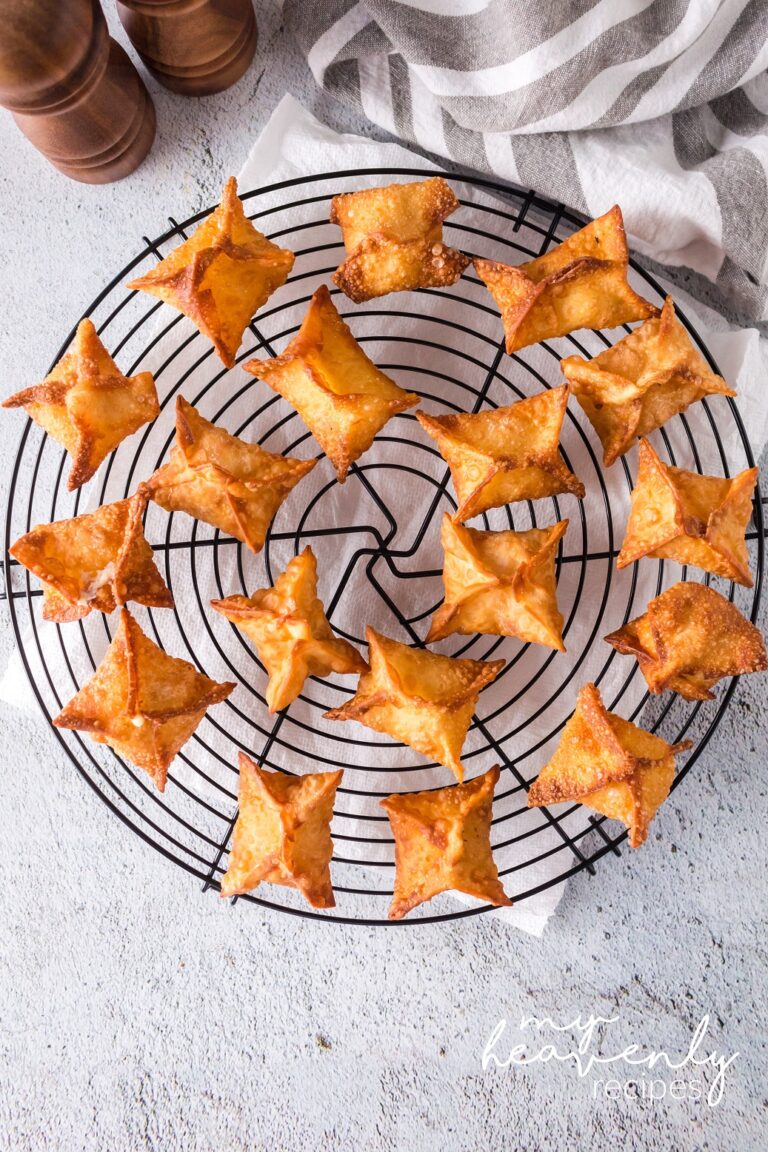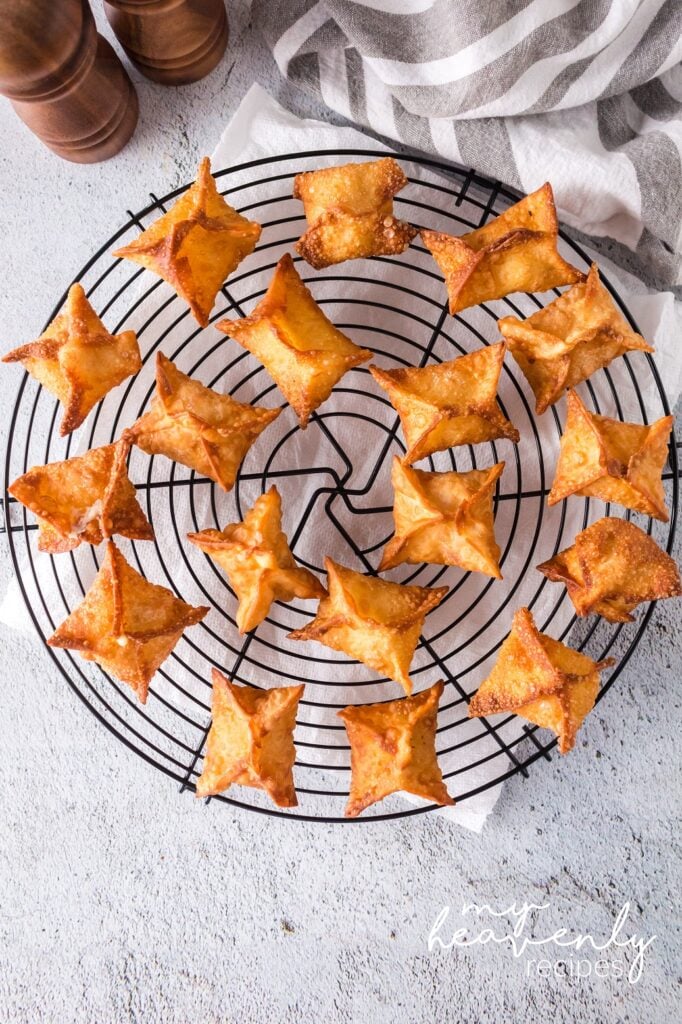 Have fun with the recipe:
Make it spicy: Add a pinch of cayenne pepper in the cream cheese mixture.
You can substitute granulated sugar with powdered sugar.
Make it more Authentic: Add a tsp of sesame oil, soy sauce, or Worcestershire sauce.
Make it Deluxe: Add chopped herbs or a few tablespoons of chopped green onions.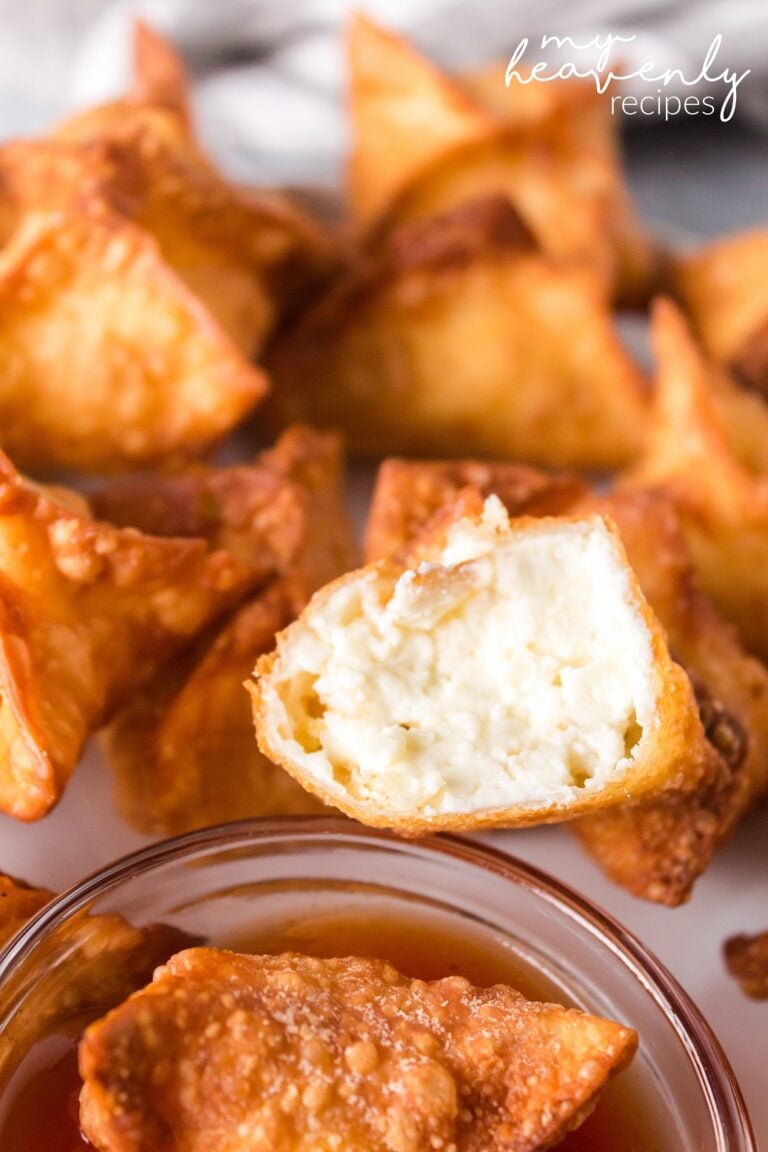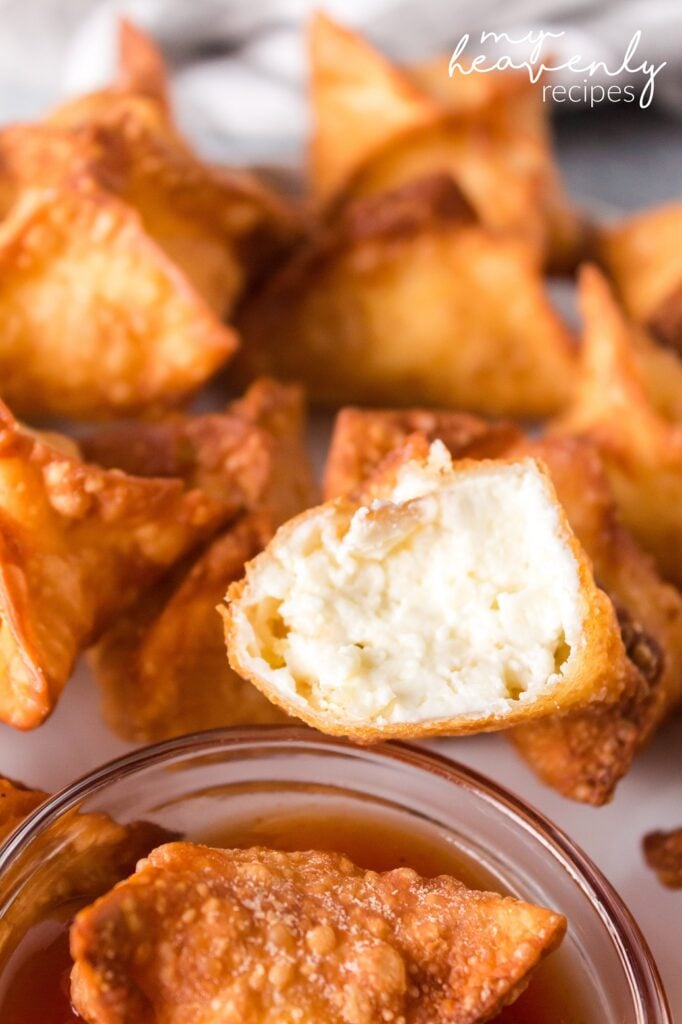 Make sure to close the wonton wrapper really well. Don't be afraid to squeeze those edges together.
I used a small cookie scoop (2 teaspoons) and filled it about ¾. If you are using
less, you will have more cream cheese filling to make more wontons.
Cream Cheese Wontons
Ingredients
1

block

8 oz. Cream cheese

room temperature

1

tablespoon

Granulated sugar

½

teaspoon

Onion powder

½

teaspoon

Garlic Powder

¼

teaspoon

Salt

1

Egg

2

tablespoons

Water

Wonton wrappers

Oil for frying

I used olive oil but you can use your favorite frying oil
Instructions
In a medium size bowl, mix the cream cheese, granulated sugar, onion powder, minced onion, and salt. Mix until all ingredients are combined. Set aside.

In a small bowl, whisk the egg and water. This is going to be your mixture to seal the wonton. Set aside.

Place one wonton wrapper on a clean plate.

Using a pastry brush, brush the egg mixture on the edge of the wrapper.

Scoop the cream cheese mixture and place it in the middle of the wrapper.

Take 2 opposite corners of the wrapper and pinch them together.

Take the 2 other corners and squeeze them together.

Squeeze all seams to close the wrapper.

Place on a plate.

Repeat until you use all the cream cheese mixture.

Warm up the oil to 360 degrees F.

Once the oil has reached 360 degrees F, place a few wontons.

Fry for 1 minute and 30 seconds then flip.

Fry until nice and golden (for another 1:30 minute)

Carefully take the wontons out of the oil and place them on a paper towel to drain the excess.

Serve and Enjoy with your favorite dip!