How to Make Fried Crab Ragoons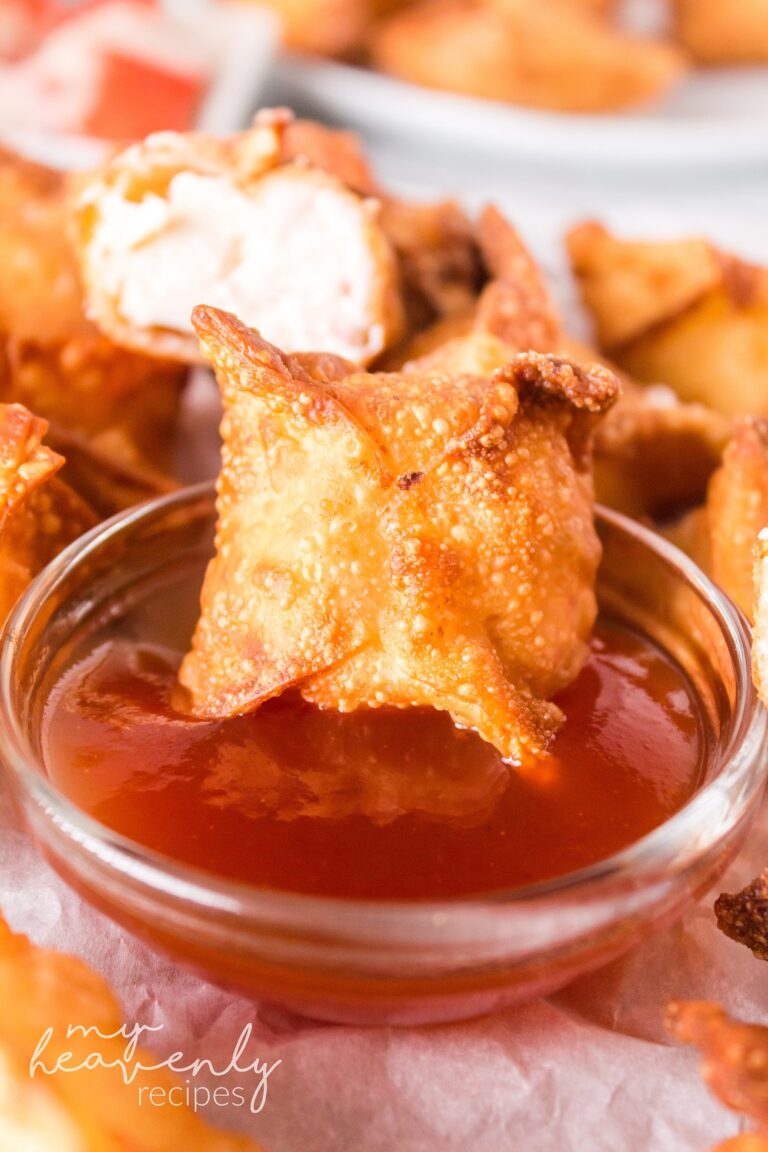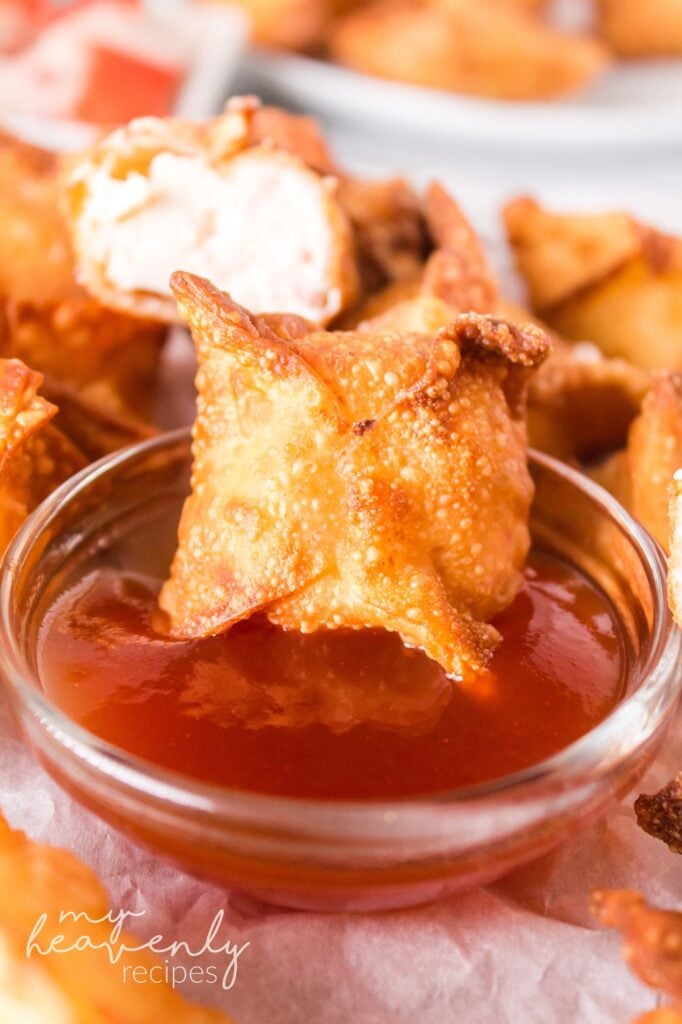 These crab ragoons are my favorite thing to order on the menu at Chinese restaurants! I like to make them at home to save some money. If you don't like crab, try our cream cheese wontons too!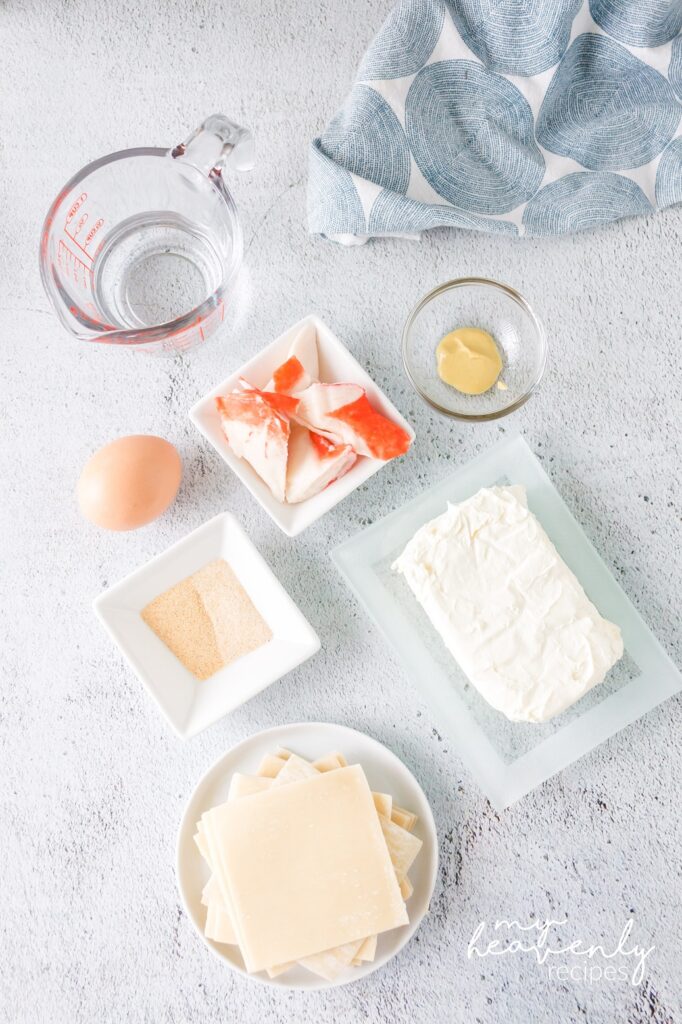 What ingredients do I need to make crab ragoons?
Crab meat (or imitation crab)
Cream cheese
Garlic powder
Onion powder
1 egg
Water
Wonton wrappers
Oil
Dijon mustard (optional)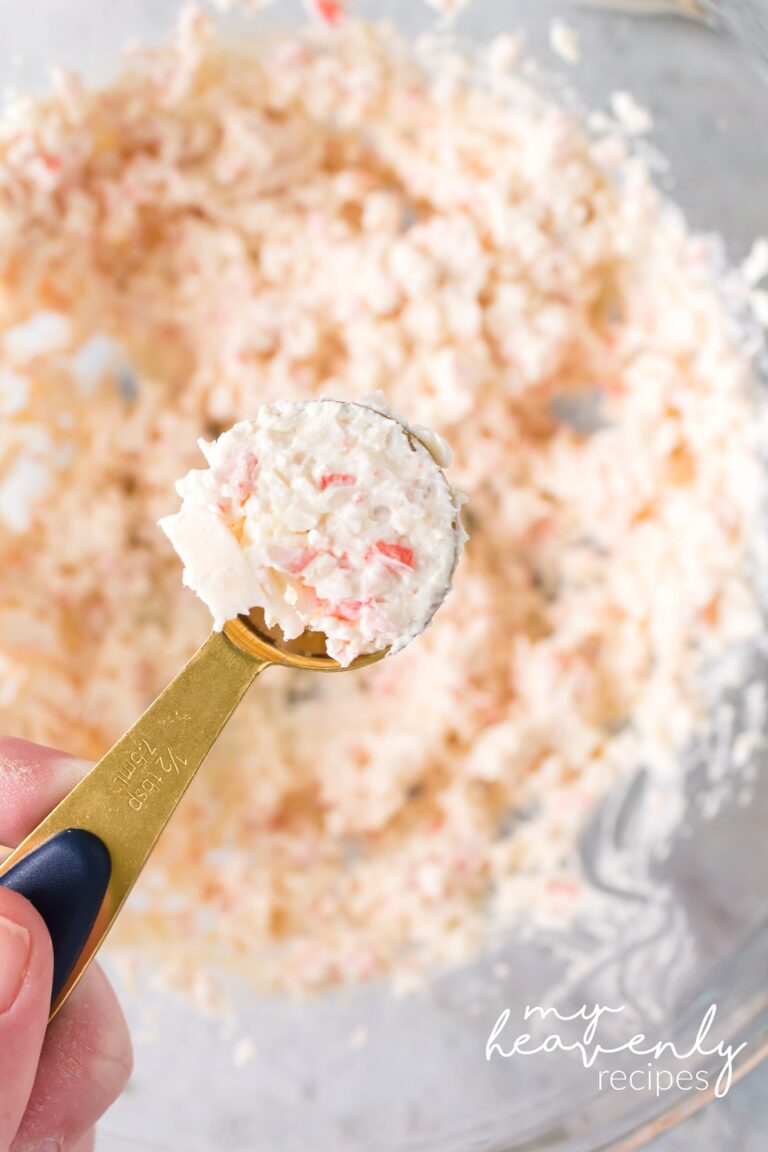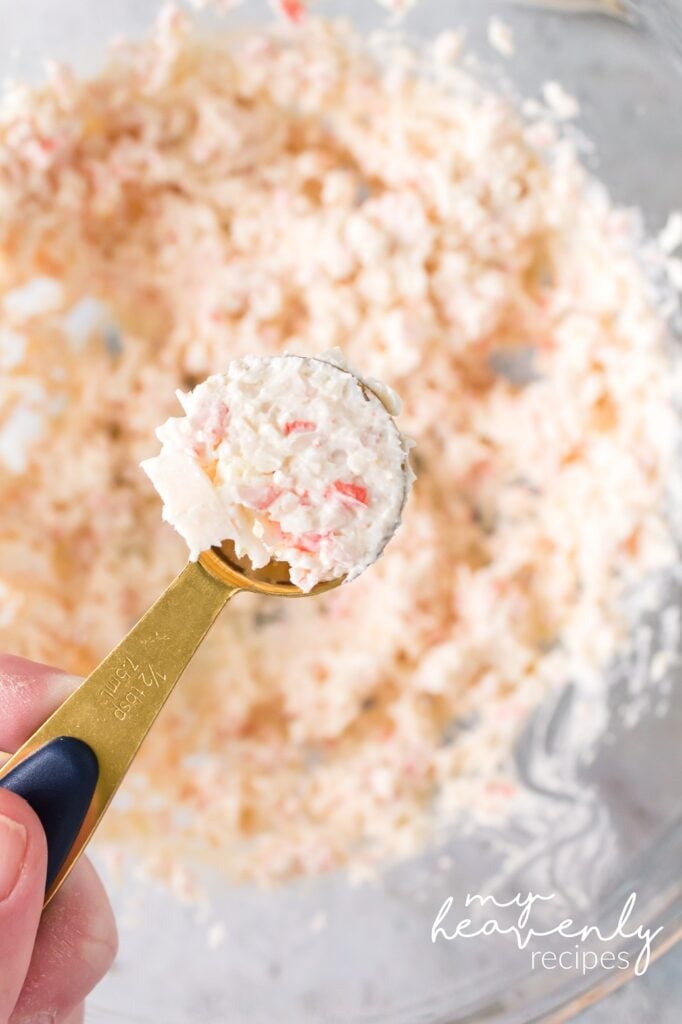 Sauce to serve: serve with sweet and sour sauce, sweet chili sauce.
Storage: Store the leftovers in an airtight container for up to 3 days.
Re-warm: They re-warm really well in the air fryer on a manual setting for 350 degrees F for 3 to 4 minutes or until desired temperature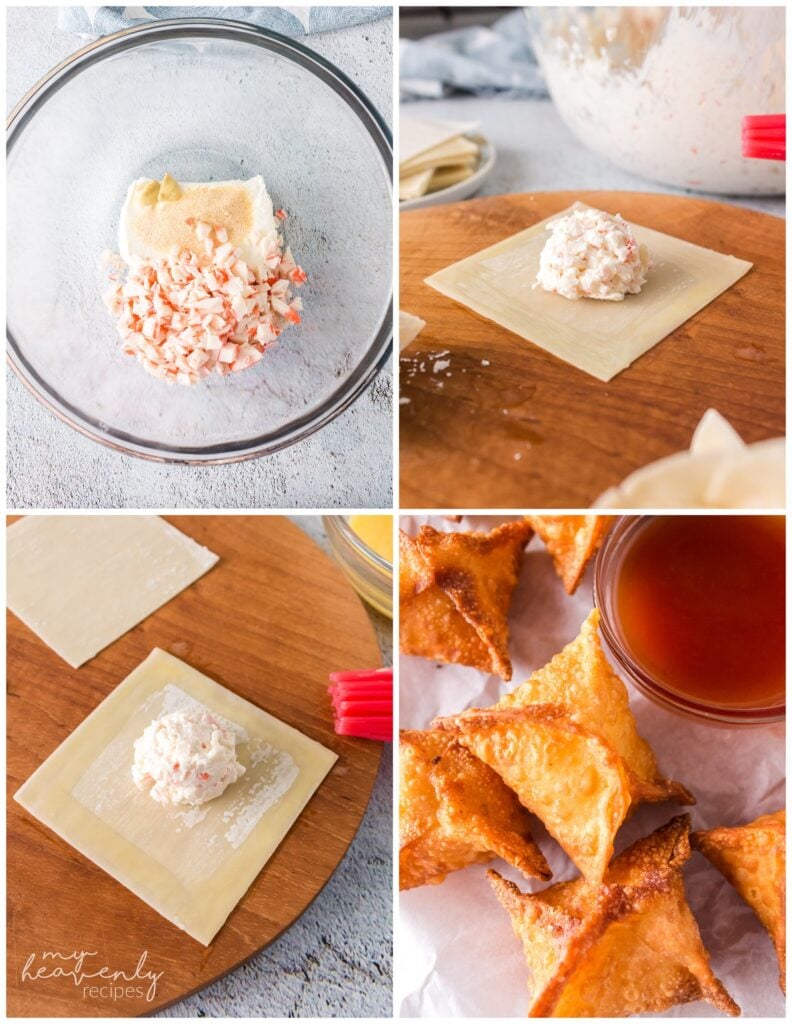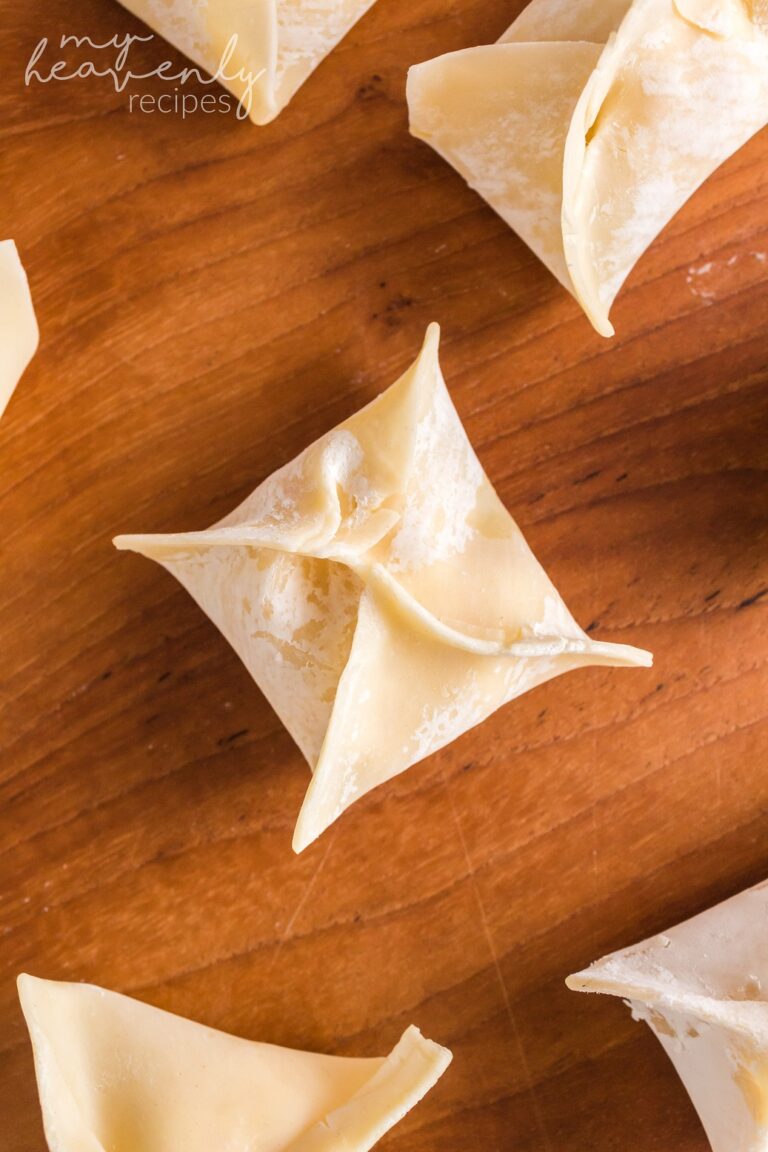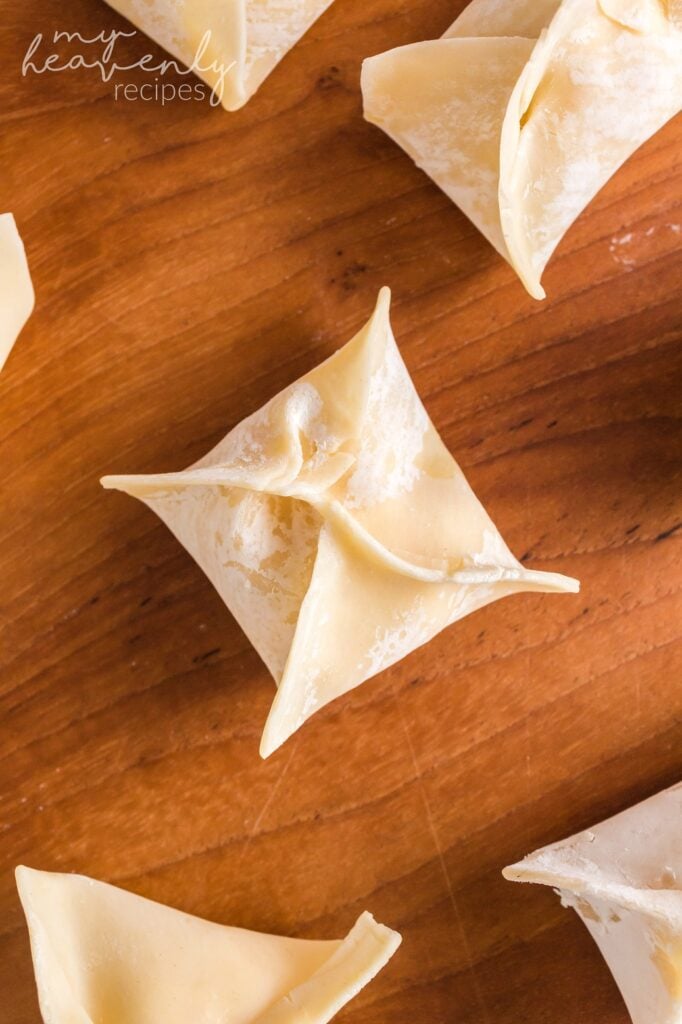 Personally, I love frying the cream cheese crab ragoons the best because you get the golden crisp outside but there are two other options as well if you're trying to be healthier…
How do I make cream cheese wontons in the air fryer?
Spray the outside of the wontons with olive oil. Preheat your air fryer at 350 degrees for 1 minute then put them in for 5-8 minutes until there are golden brown edges.
How do I make baked cream cheese wontons in the oven?
Preheat oven to 400 degrees. Spray wonton wrappers with olive oil, place on a cookie sheet. Bake for 8-10 minutes until golden brown edges.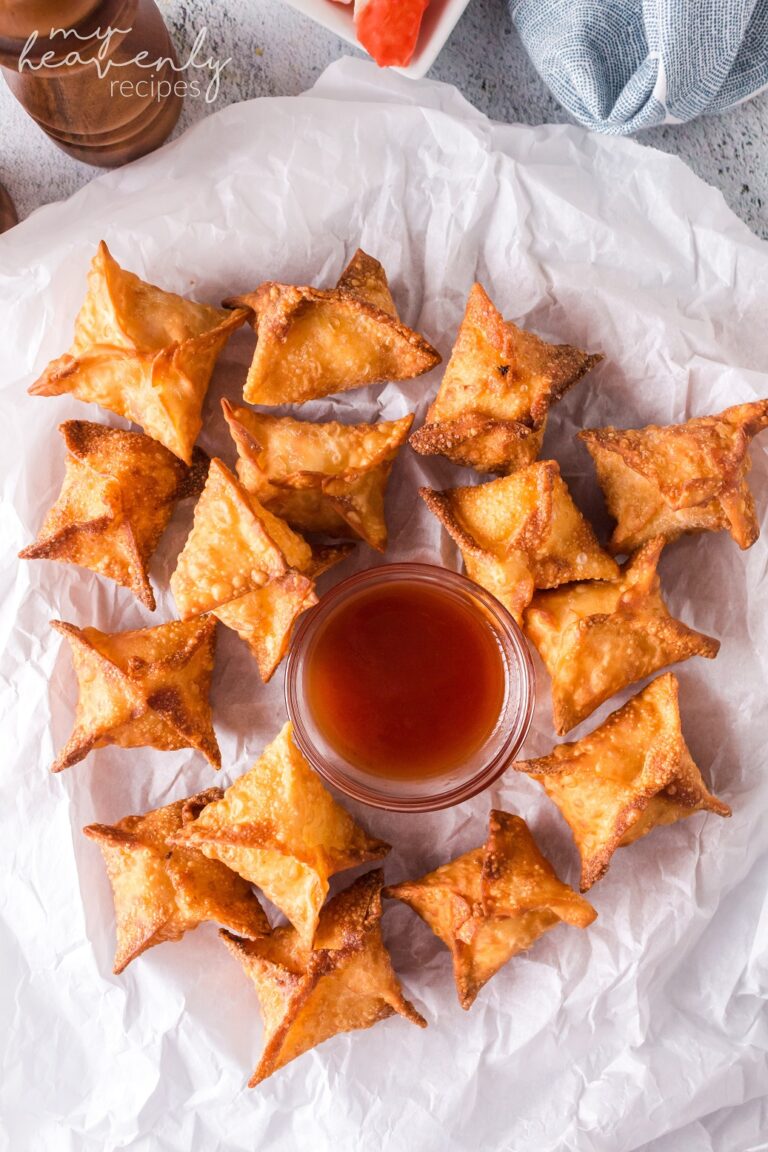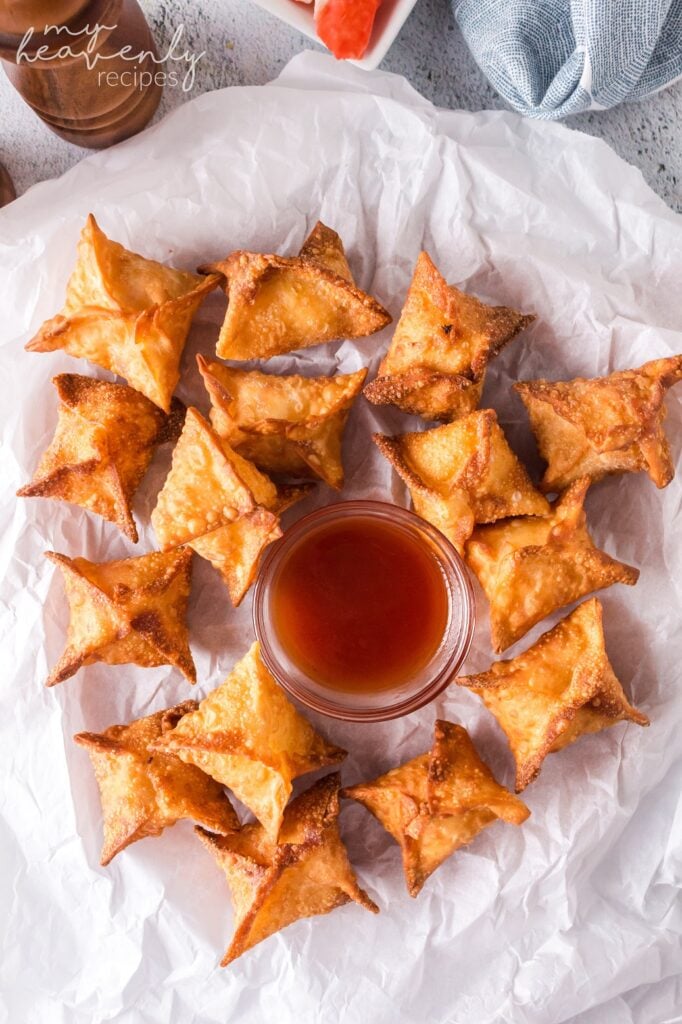 Crab Ragoons
Ingredients
1

cup

8 oz. chopped crab meat (or imitation crab)

1

block

8 oz cream cheese

room temperature

½

teaspoon

garlic powder

½

teaspoon

onion powder

1

egg

2

tablespoons

water

Wonton wrappers

Oil for frying

1

teaspoon

Dijon mustard or sesame oil

optional

½

teaspoon

Powdered sugar

optional
Instructions
In a mixing bowl, combine the crab meat, cream cheese, granulated sugar, Dijon mustard, garlic, and onion powder. Mix until all ingredients are combined. Set aside.

Whisk the egg and water together for the egg wash in a separate small bowl. Set aside.

Assemble the wontons.

Place one wonton wrapper on a clean surface.

Brush the egg wash on the edge of the wrapper.

Using a cookie scoop, scoop the crab cream cheese mixture and place it on the wrapper.

Close the wrapper by folding 2 of the opposite corner and squeezing them together.

Then take the 2 other opposite corners and squeeze all of them together.

Press all the seams together to close the wrapper.

Place on a plate.

Repeat until you use all the cream cheese mixture.

Warm up the oil to 360 degrees F. I used a candy thermometer.

Once the oil has reached 360 degrees F, fry the wontons, only a few at a time so you don't lose too much of the oil temperature.

Fry for 1:30 minutes then flip.

Fry for another about 1 minute and 30 reconds until nice and golden

Using a basket or a large scoop, the wontons out of the oil and place them on a paper towel to drain the excess.

NOTE: I like to use a cookie sheet, place 2 layers of paper towels and a rack on top. When the wontons are out of the oil, they rest on the rack, and all excess oil is drained on the paper towel making cleaning really easy and my wonton don't sit in oil.

Serve and Enjoy with your favorite dip!