Learn how to easily prepare the most tender and delicious Crockpot Cornish Hens using simple ingredients. The meat will melt in your mouth while falling apart with ease as you prepare to cut it or shred it, whichever you prefer.
How to Make Cornish Hens in a Slow Cooker
Whether you're a cooking enthusiast or someone who typically avoids doing most of the cooking, you can follow this simple, stress-free Crockpot Cornish Hens recipe to make the most flavorful meat you've ever tasted and pair it with some of your favorite side dishes, such as roasted asparagus or homemade mashed potatoes.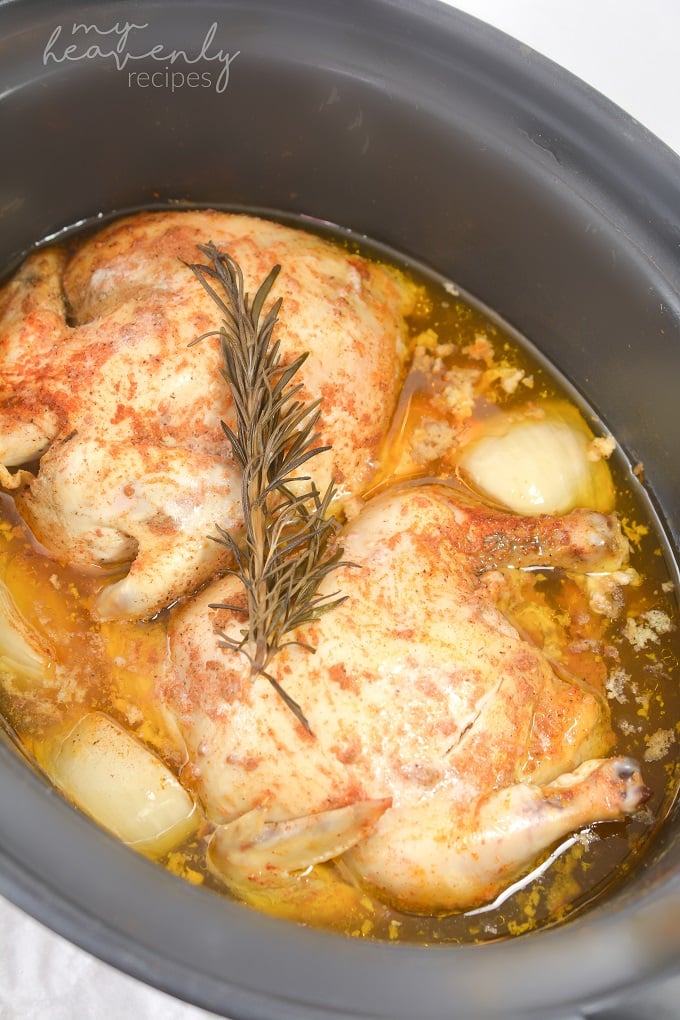 What You'll Need to Prepare the Cornish Hens
If you're planning to prepare these delicious Crockpot Cornish Hens, be sure to gather the following ingredients:
Cornish Hens – You can use two cornish hens for this recipe.
Onion – Cut your onion in quarters for the added flavor it brings.
Butter – Use cold butter, cutting it into pieces.
Garlic Powder – Be sure to add flavor to your meat with a bit of garlic powder.
Onion Powder – A teaspoon of onion powder contributes to the flavor, too!
Chicken Broth – Keep your chicken moist and tender with a bit of chicken broth.
The only other ingredients you'll need are salt, pepper, paprika, ground thyme, and a sprig of fresh rosemary.
What type of onion should I use with this recipe?
You can use a traditional yellow onion or Spanish onion for this recipe. Make sure to cut your onion into quarters and allow it to sit on the cornish hens so that they'll soak up all that flavor from the onion pieces.
Can I use margarine instead of butter on the cornish hens?
While you can use margarine as a butter alternative, using real butter will give these cornish hens such an incredible flavor while keeping them juicy and tender.
What type of chicken broth should I use?
The brand of chicken broth used is entirely up to you. You can use a generic brand or even College Inn, depending on what you like. Feel free to use traditional chicken broth or roasted chicken broth.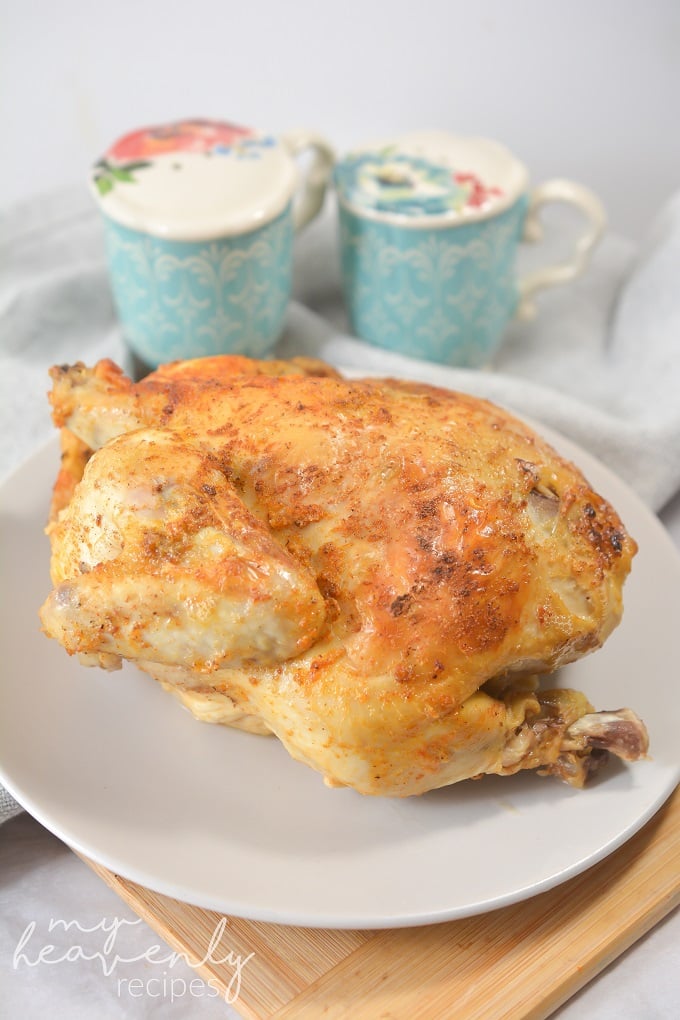 What should I do if I don't have chicken broth?
If you don't have chicken broth, you can replace it with water or combine one packet of chicken bouillon with water to create something similar to chicken broth that will taste as good with your cornish hens.
What to Serve with Crockpot Cornish Hens
You can serve the Crockpot Cornish Hens with a side of homemade mashed potatoes, corn on the cob, honey-glazed carrots, or any other sides that you like. The juicy chicken tastes great with various starches and vegetables that you can use to complete this meal.
What to Do With the Leftovers
Remove your chicken from the bone and store it in food storage containers, keeping them in the fridge to preserve the freshness. Once you've stored the leftovers, you can reheat the meal to make more meals, use it in chicken salad, or even add it to bread with your favorite toppings to make sandwiches from it.
Crockpot Cornish Hens
Ingredients
2

Cornish hens

1

Onion quartered

½

cup

Butter cold and cut into pieces

1

tsp.

Garlic powder

1

tsp.

Onion powder

2

tsp.

Paprika

Salt and pepper to taste

½

tsp.

Ground thyme

Sprig of fresh rosemary

½

cup

Chicken broth
Instructions
Add the onion to the bottom of the Crockpot.

Place the cornish hens in the Crockpot.

Sprinkle the cornish hens on both sides with the garlic powder, onion powder, paprika, ground thyme and salt and pepper to taste.

Add the butter pieces all over and around the chicken.

Top the chicken with the sprig of rosemary.

Pour the chicken broth in the bottom of the Crockpot.

Cook on high for 4 hours.

Remove the chicken from the Crockpot, and place under the broiler for a few minutes to crisp up and brown before serving.