How to Make Danish Butter Cookies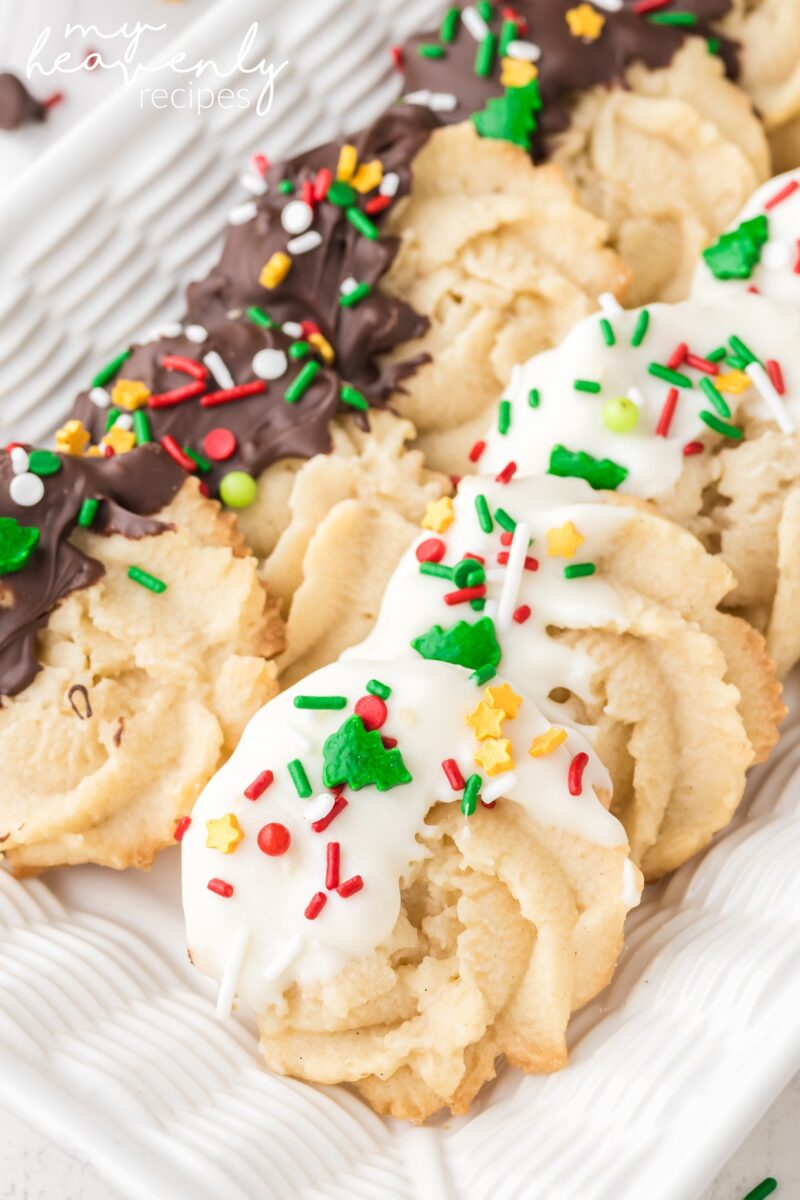 Make these delicious Danish butter cookies for your next holiday cookie exchange party! They are always a hit for Christmas. The taste is amazing! You can also not dip them if you prefer plain.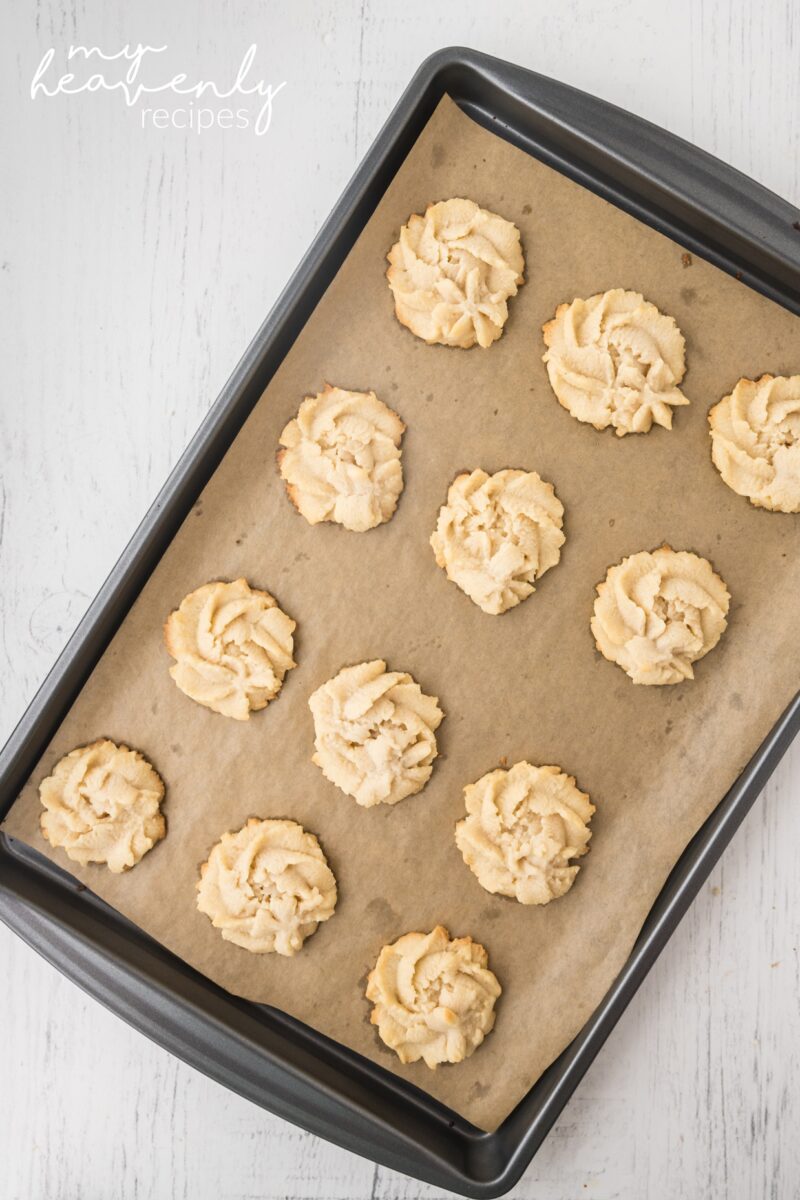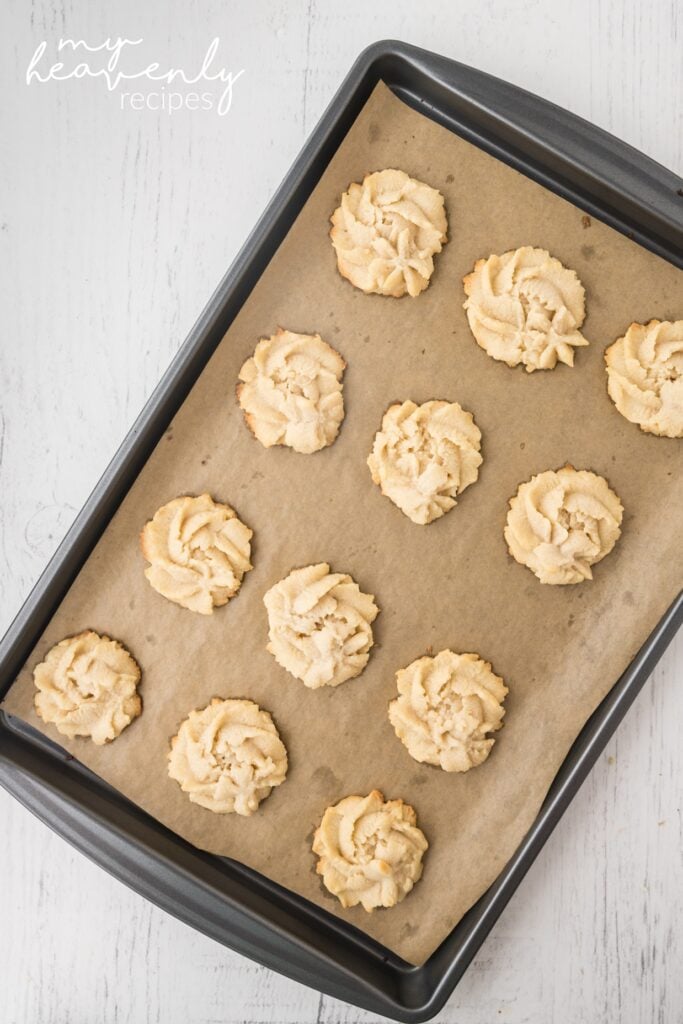 What ingredients will I need to complete this recipe? You will need the following ingredients: butter, powdered sugar, vanilla, flour and corn starch. Heavy cream can be used to loosen dough. Optional dipping : chocolate chips, white chocolate chips, chocolate almond bark and white almond bark, candied sprinkles.
What supplies and baking equipment will I need? You will need the following supplies: (bloggers feel free to use your Amazon affiliated links) cookie sheet, parchment paper, mixing bowls, measuring cups & spoons, stirring spoon, spatula and piping bag and large star tip. Small glass bowls for dipping.
How long will it take to make this recipe ? It should take you approximately 20 minutes to gather your ingredients and prepare recipe. Bake time is 8-10 minutes, don't over bake.
How should store my cookies? Store cookies in an airtight container.
What piping tip do I need to make these butter cookies? A large star tip such as Ateco 826 or 827.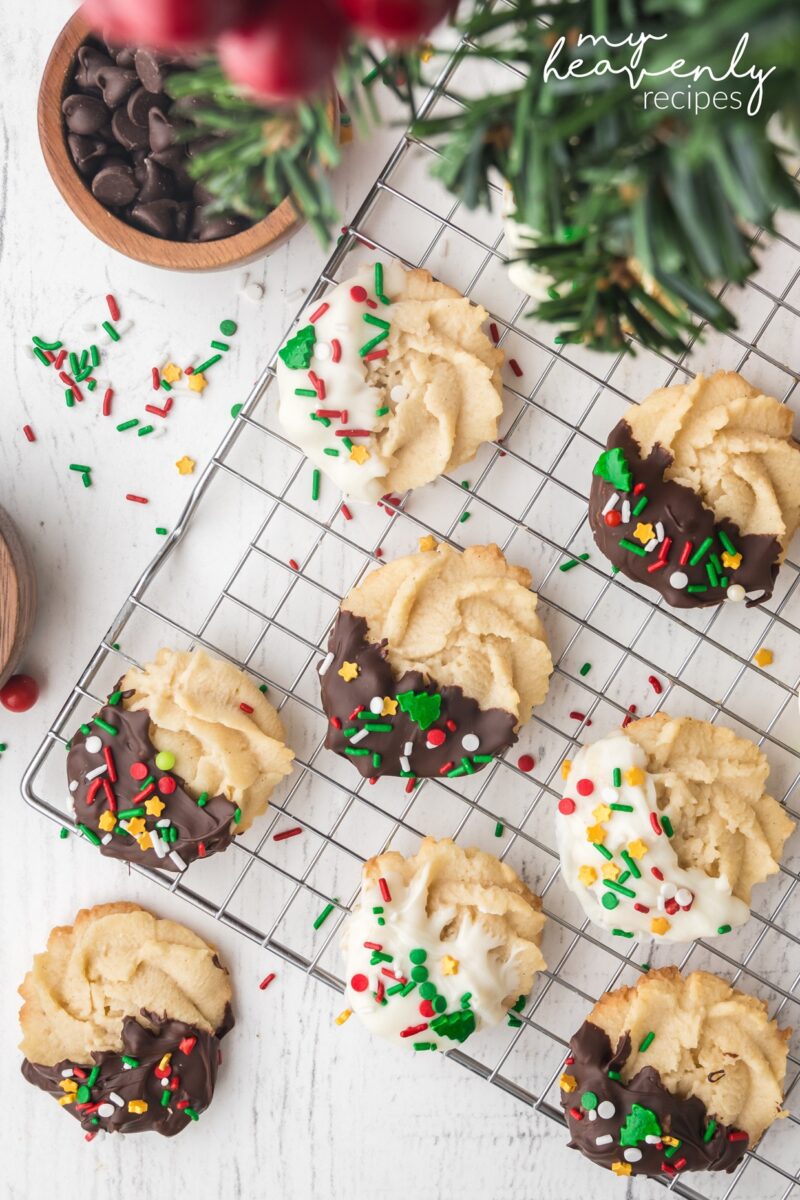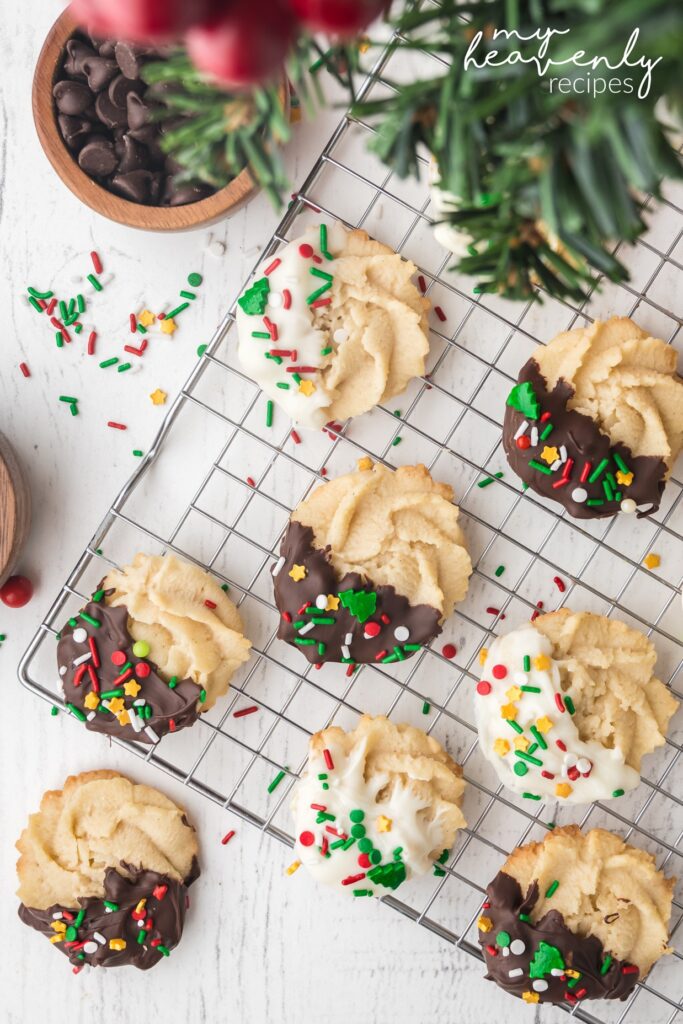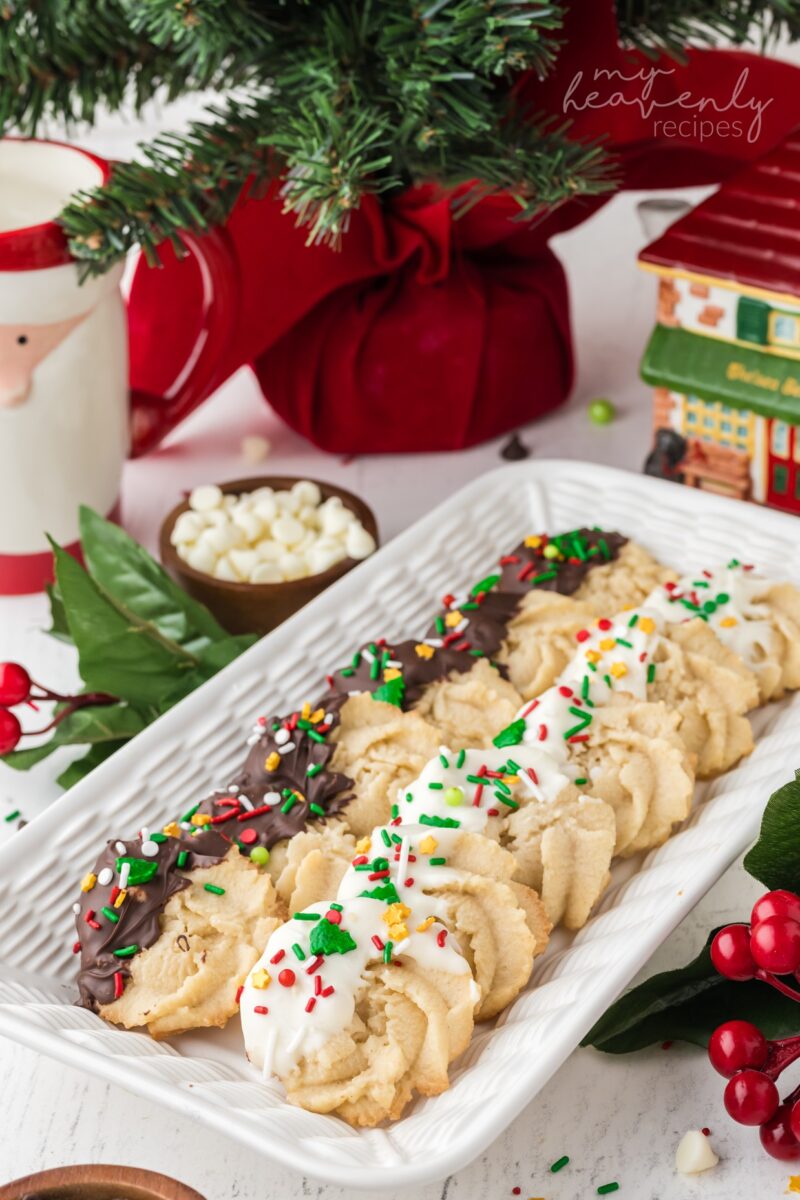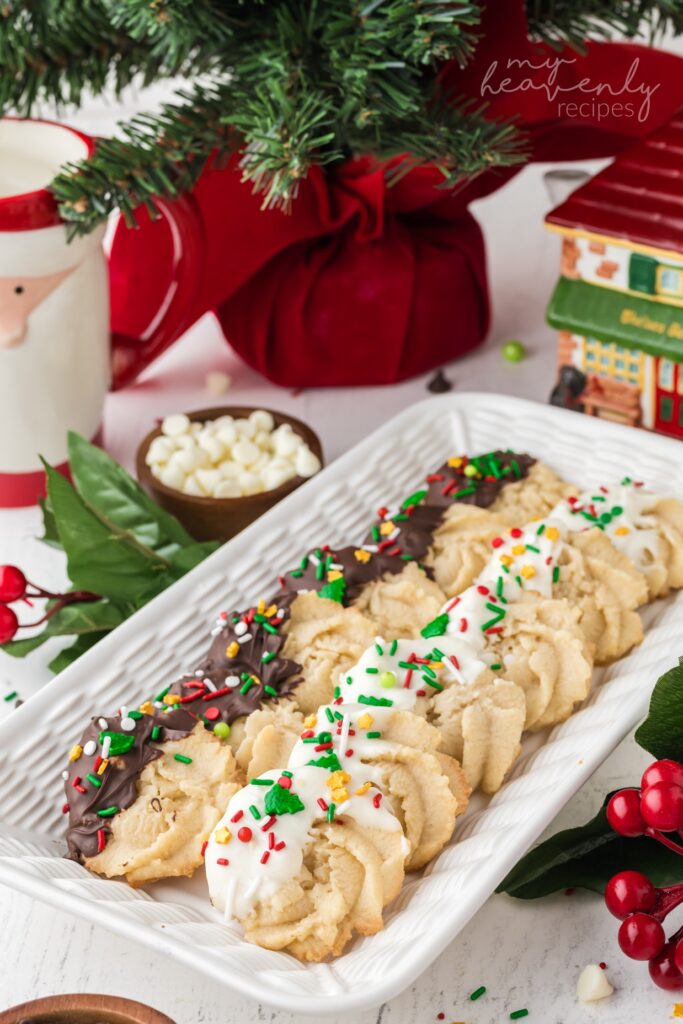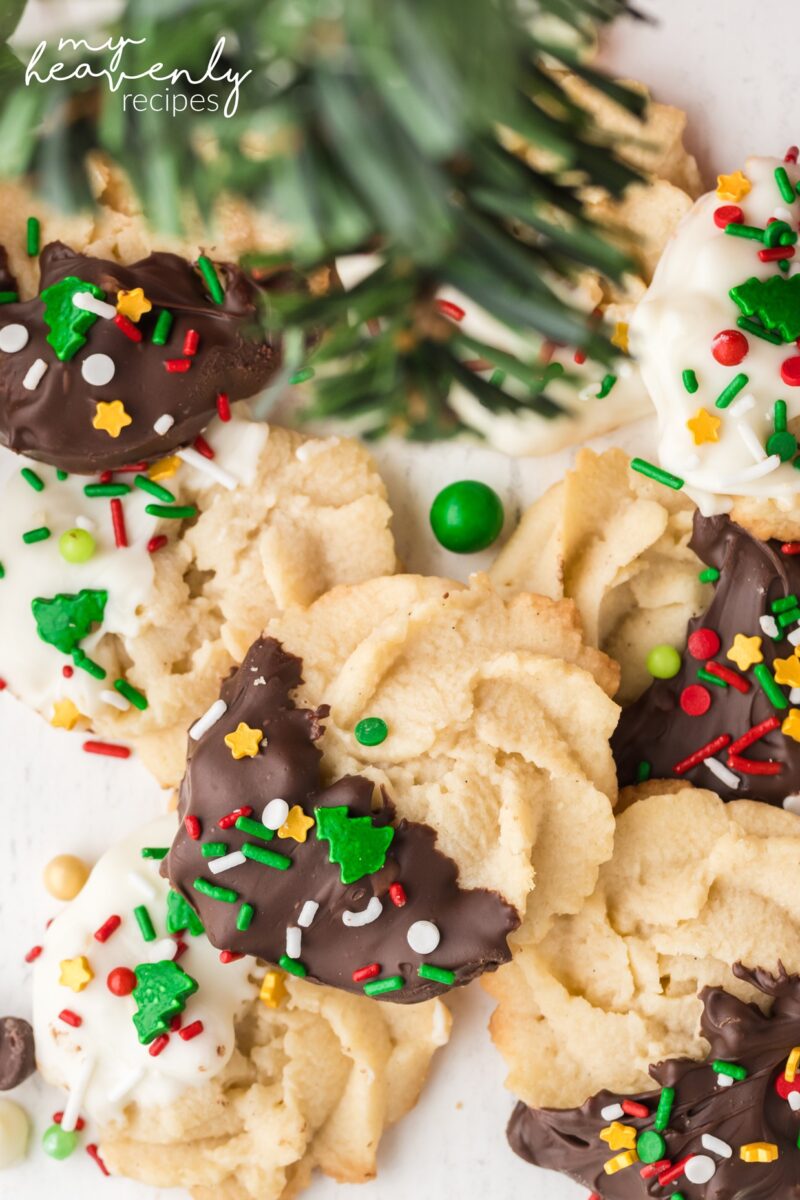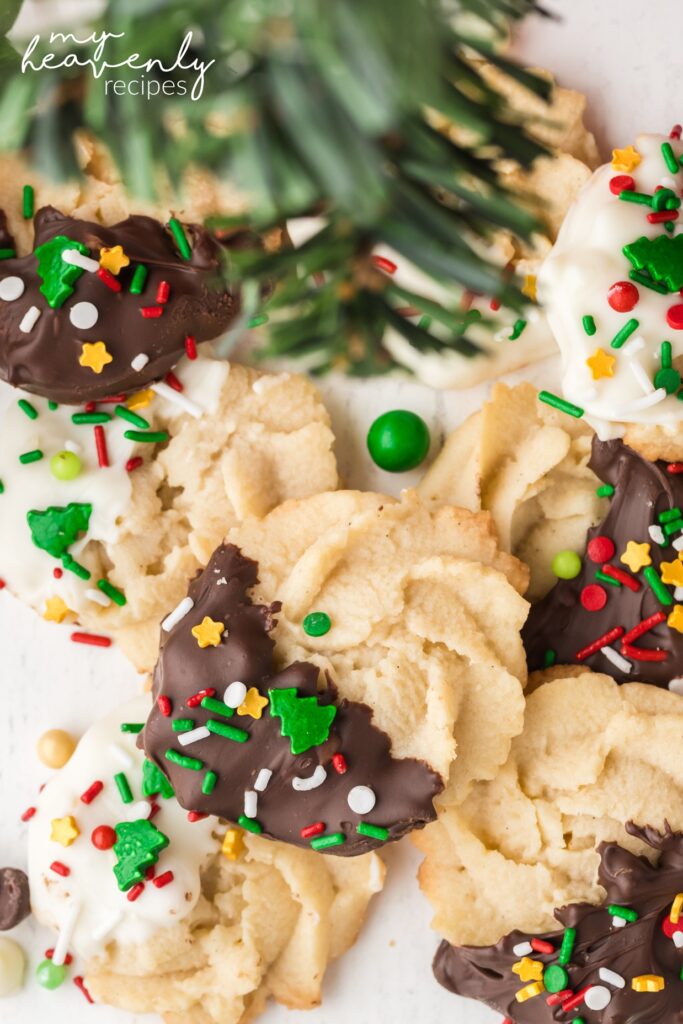 Danish Butter Cookies
Ingredients
1

cup

+ 3 tablespoons butter

(2 sticks of butter + 3 TBSP)

¼

powdered sugar

1

teaspoon

vanilla extract

1 ¼

cup

flour

1

tablespoon

cornstarch

Optional : 1-2 teaspoons heavy cream to loosen dough to help pipe
Optional Dipping:
1

cup

chocolate chips or chocolate almond bark melted

1

cup

white chocolate chips or almond bark melted

Candied sprinkles
Instructions
Prepare a cookie sheet with parchment paper.

In a medium bowl addd butter and mix for 2-3 minutes until lighter in color. Add powdered sugar and mix the until butter is light in fluffy, about 2 minutes. Add vanilla and mix.

Add flour to butter mixture and mix together until flour is just incorporated.

Use a open large star tip with piping bag. Test the consistency of the dough by putting a small amount of dough in piping bag to see if it will pipe. If dough is not loose enough to pipe put it back in the bowl and add 1-2 teaspoons of heavy cream to dough until piping is easier. Chill piped cookies for 30 minutes.

Preheat oven to 350 degrees F.

Bake for 8-10 minutes until golden brown just around the edges of the cookie. Don't let cookie get to dark on top or your will loose the "classic" butter cookie look.

If dipping your cookies, slowly heat chocolate of choice in the microwave, about 20 seconds at a time until just a few unmelted pieces are left. Continue you to stir and those will melt.

Dip cooled cookie half way into melted chocolate and set back on parchment paper to cool. If adding sprinkles to dipped size, add before chocolate sets. Let chocolate set and Enjoy!
Notes
Gather all ingredients at once and prepare pans ahead of time.  Use room temperature ingredients.

Beat butter first by itself if it needs a little more warming up.

Add flour on top of butter mixture and if you would like to add just a pinch of salt it will add to the flavor of the cookie.  

Take your time to melt the chocolate or almond bark.  You can easily seize the chocolate if you heat to fast.   I run the bottom of the cookie across the edge of the dipping bowl so there is not a lot of chocolate on the bottom.