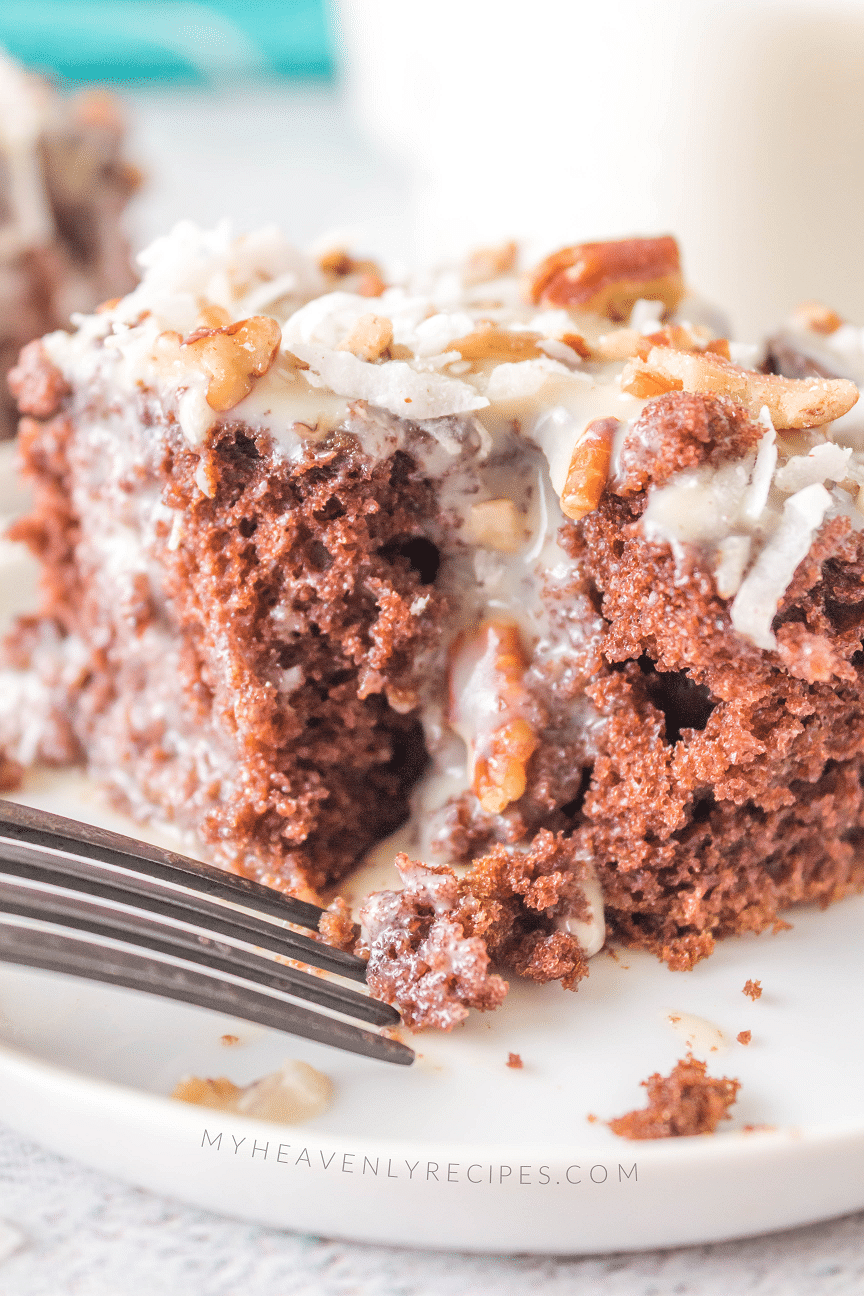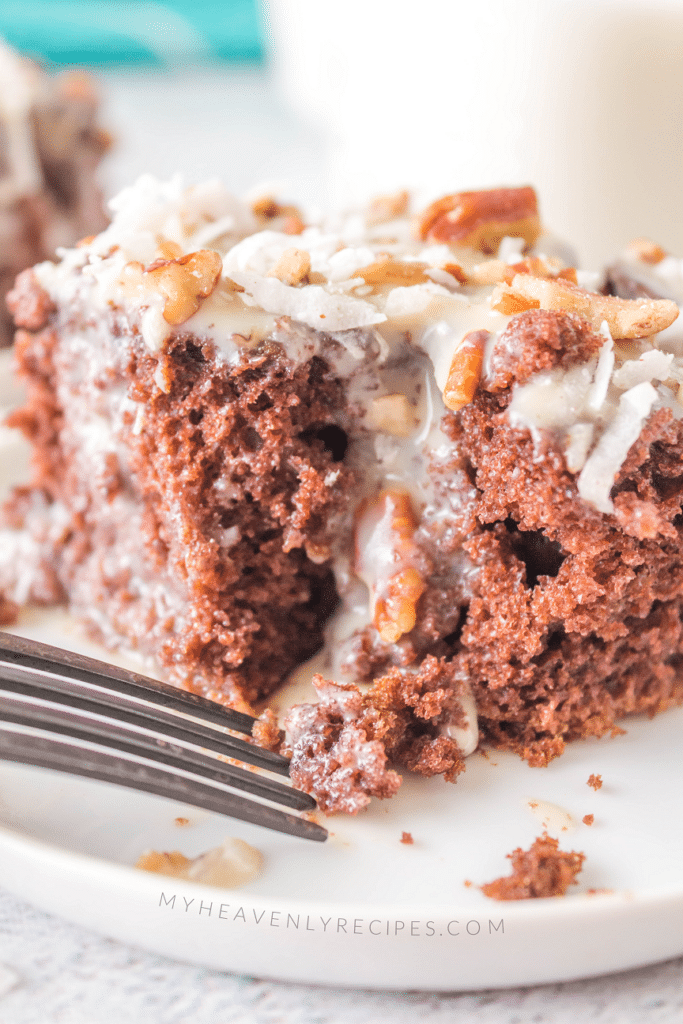 If you love German chocolate cake, you MUST make this poke cake version! It is so moist and delicious. Make it for your friend's birthday or any get together! I promise you there will be no leftovers.
       INGREDIENTS SUBSTITUTION
Betty Crocker Super Moist Chocolate Fudge: I chose this cake because I wanted a light, airy but very chocolaty cake for this recipe. Any chocolate cake mix will work.
1 cup of cream is optional. When you add it to the mixture it makes the sweetness and creaminess of the topping seep through the cake and make every bite a pure pleasure. If not added it is as good, you will have the thickness and richness of the sweetened condensed milk in every bite.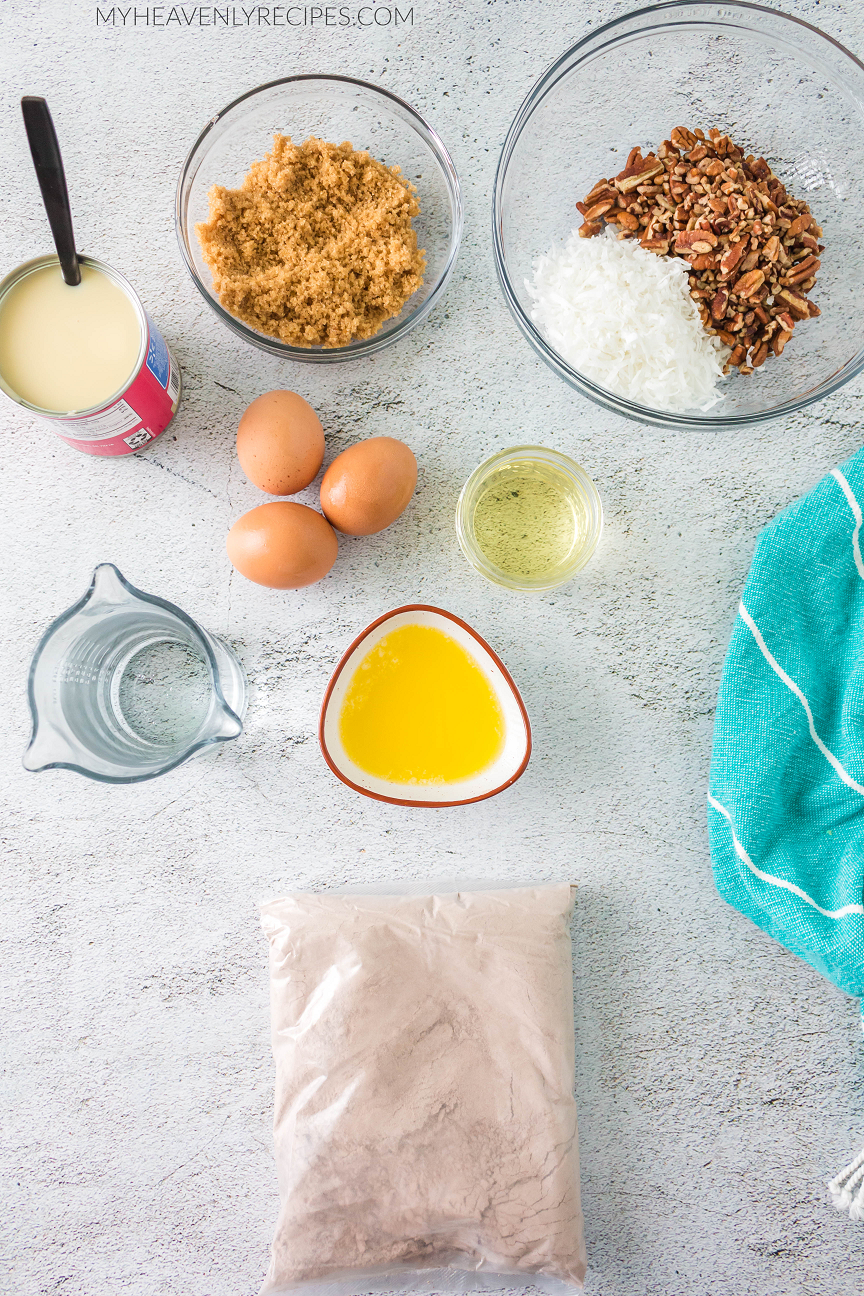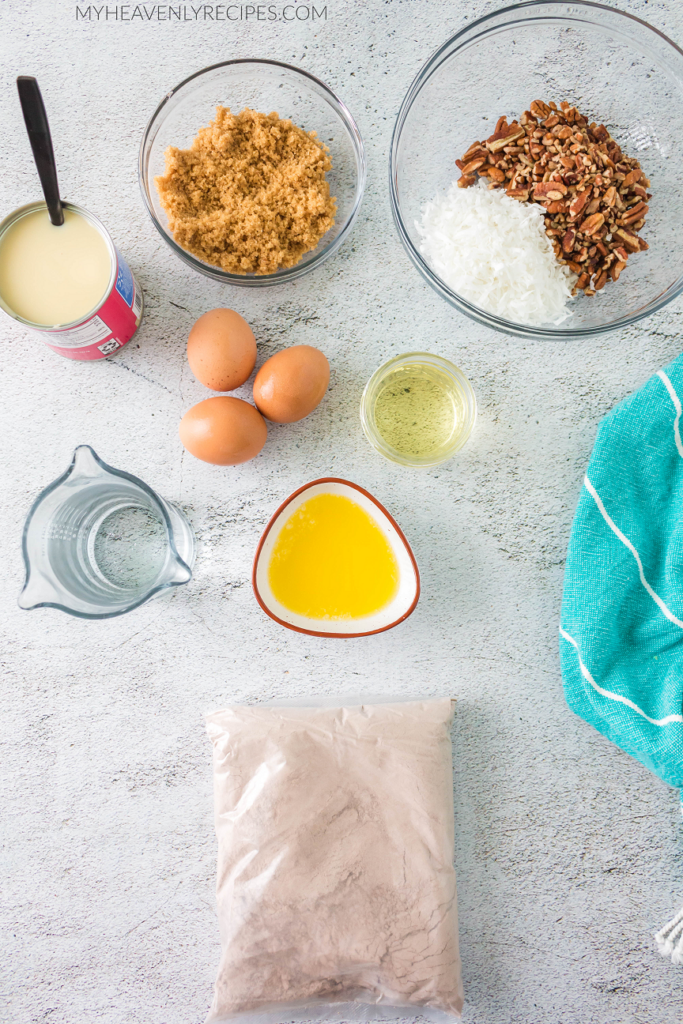 –       SKILLS
When making the holes, assure the cake is completely cool. Makes it easier to have even holes.
When pouring the sweet milk over the cake, make sure the cake is cool, so the mixture goes to the wholes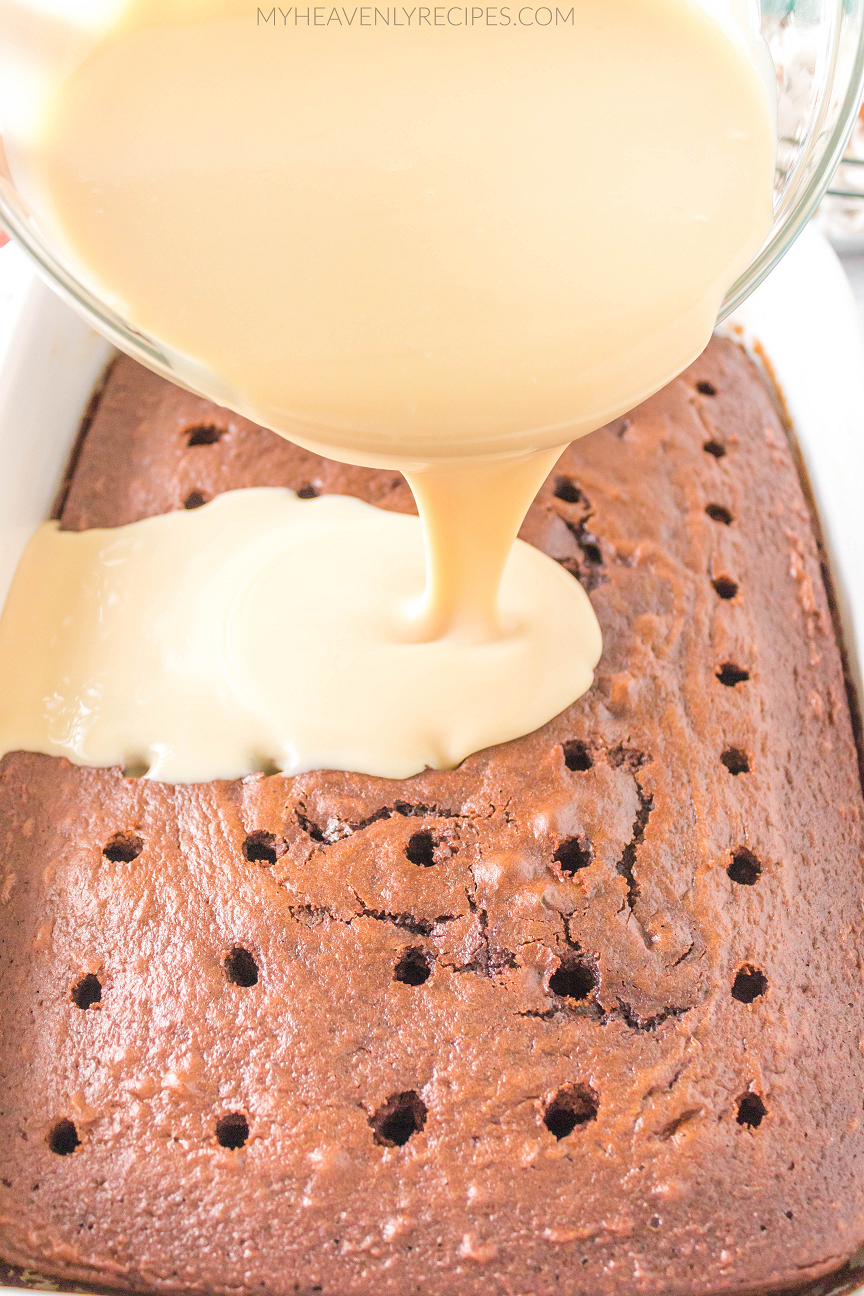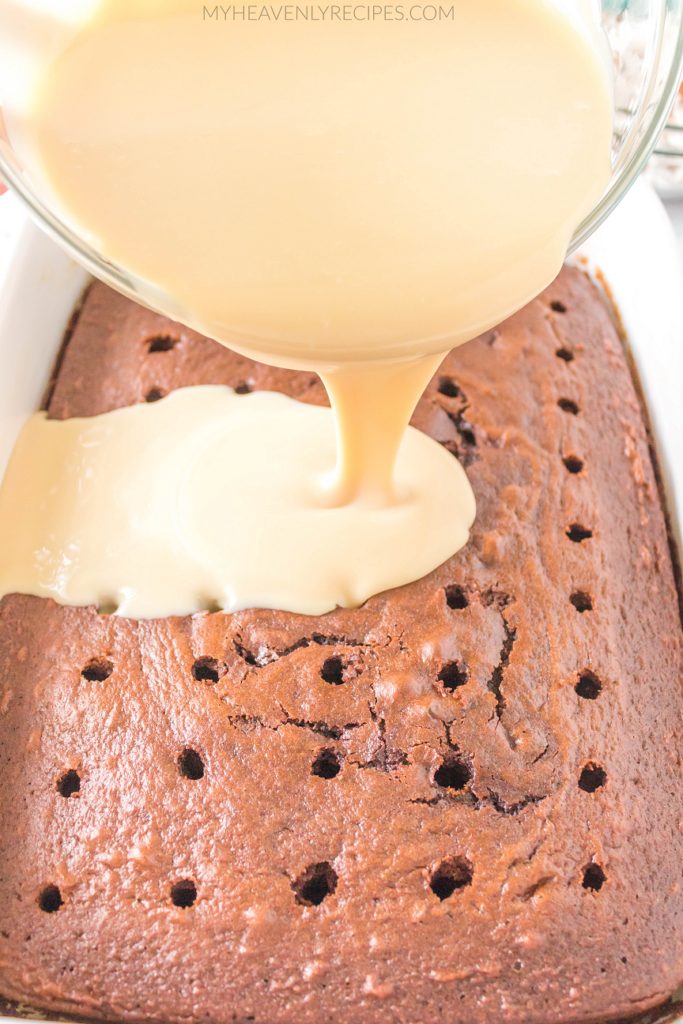 –       CHEF'S TOOLS
Mixing bowls: Anchor and Hockings glassware
Hand Mixer: Oster Heatsoft
German Chocolate Poke Cake
Ingredients
1

box

15.25 oz Chocolate Cake Mix (I like using Betty Crocker Super Moist Chocolate Fudge) + what you need to make the cake. In this case 3 eggs, 1 ¼ cup water, ½ cup oil

½

cup

packed brown sugar

¼

cup

unsalted butter

melted

1

can

14 oz., sweetened condensed milk

1

cup

cream

optional *NOTE* I like using 1 extra cup of milk to the condensed milk mixture so the mixture can really go all over the cake.

⅔

cups

chopped pecans

⅔

sweetened flaked coconut flakes
Instructions
Prepare the box cake as indicated on the box as the instruction.

Preheat your oven to 350 degrees F.

Butter (you can also use nonstick spray) an oven-proof 9×13 bakeware. Set aside.

Pour cake mix in a large mixing bowl.

Add the water, oil and eggs.

With a big spoon or a hand mixer mix until all the ingredients are combined (no more dry flour).

Pour the mixture into the prepared bakeware and bake for 30 to 35 minutes or until a toothpick comes back clean when inserted in the middle.

While the cake is cooling, mix in a medium size mixing bowl brown sugar, melted butter and condensed milk. Mix until all combined. If you want to have the mixture more liquidy, add 1 cup of cream. Mix well.

Once your cake is baked and completely cool, with a straw make holes.

Pour the sweet milk mixture over the cake making sure to spread all over. *NOTE* For this step you may need to use a knife and with a movement like you are buttering a toast move the milk mixture over the hole is it can go in the cake.

Let the cake and the sweet milk mixture set for 5 minutes.

Giving you just enough time to mix the coconut and the pecans together.

Evenly spread the coconut and pecans over the cake as a topping.

Serve and Enjoy!