This post may contain affiliate links, read our
Disclosure Policy
for more information. As an Amazon Associate I earn from qualifying purchases, thank you!
Make adorable Easter Bunny Fruit Kabobs!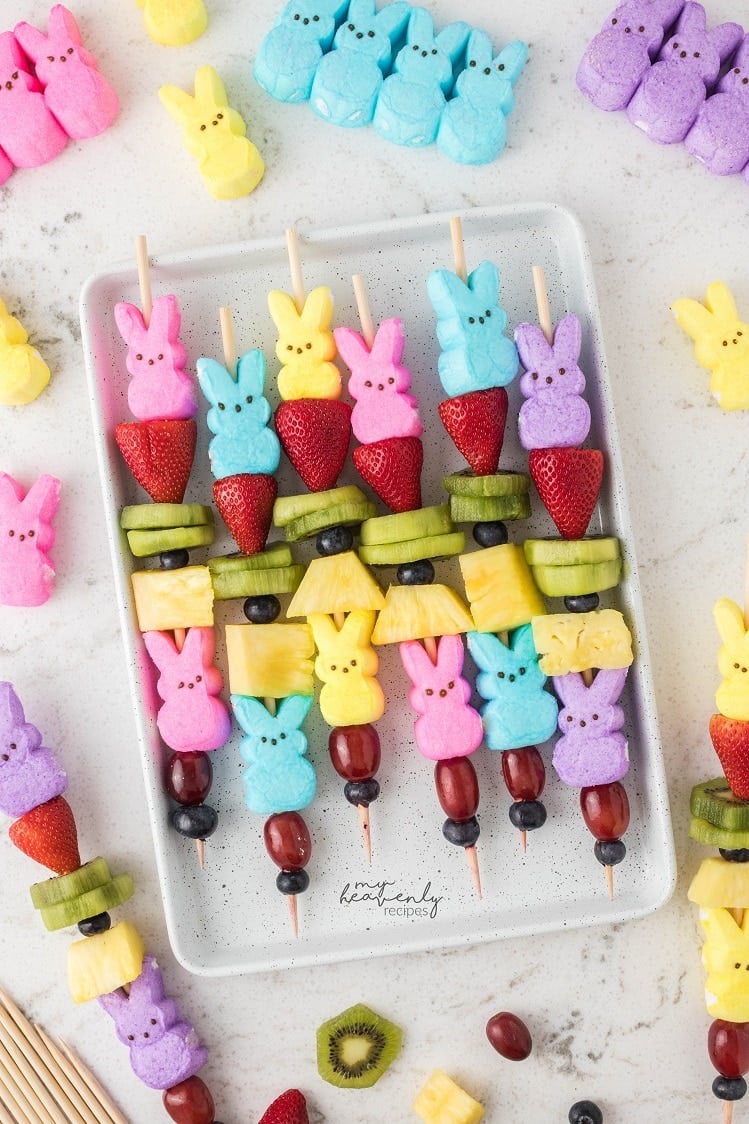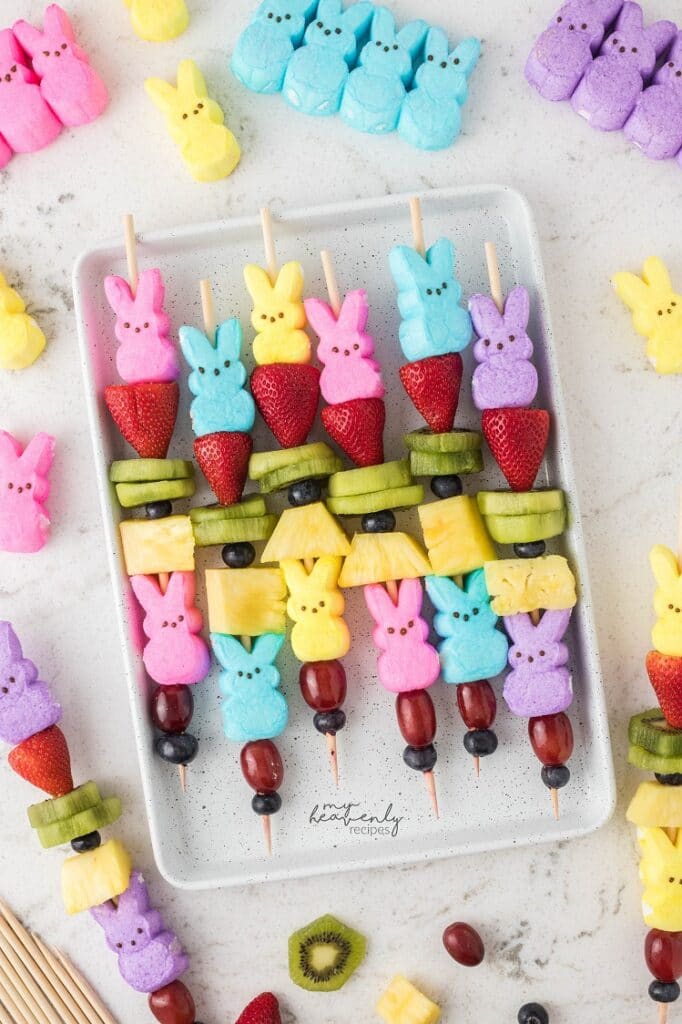 If you want to have your kids not go crazy on candy this Easter, consider making these Easter fruit kabobs. It helps get some healthy snacks in them too!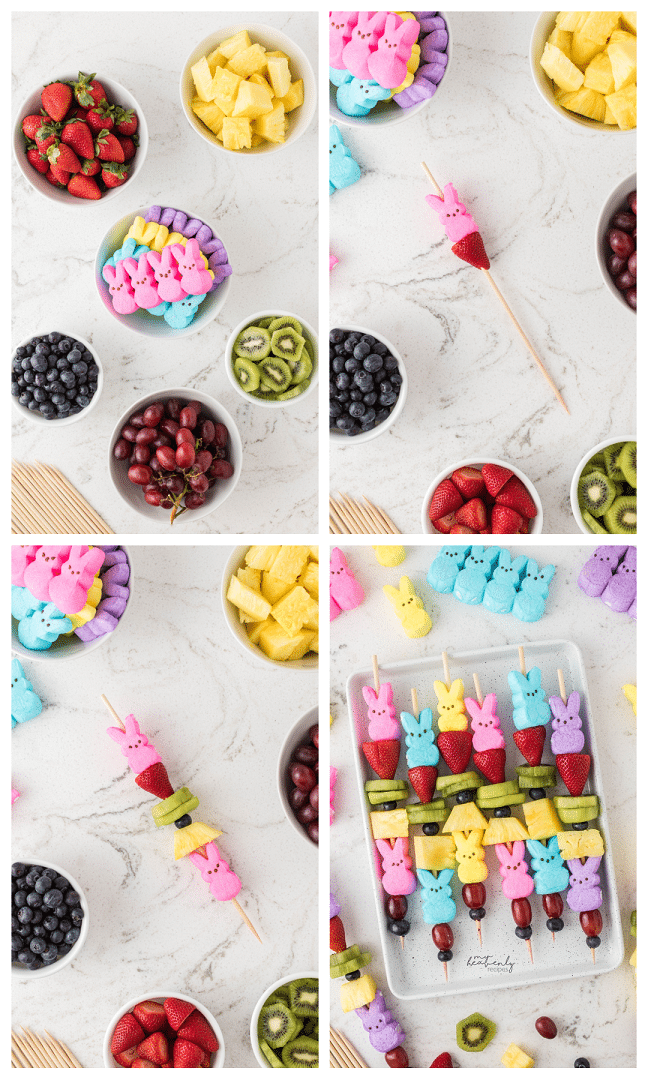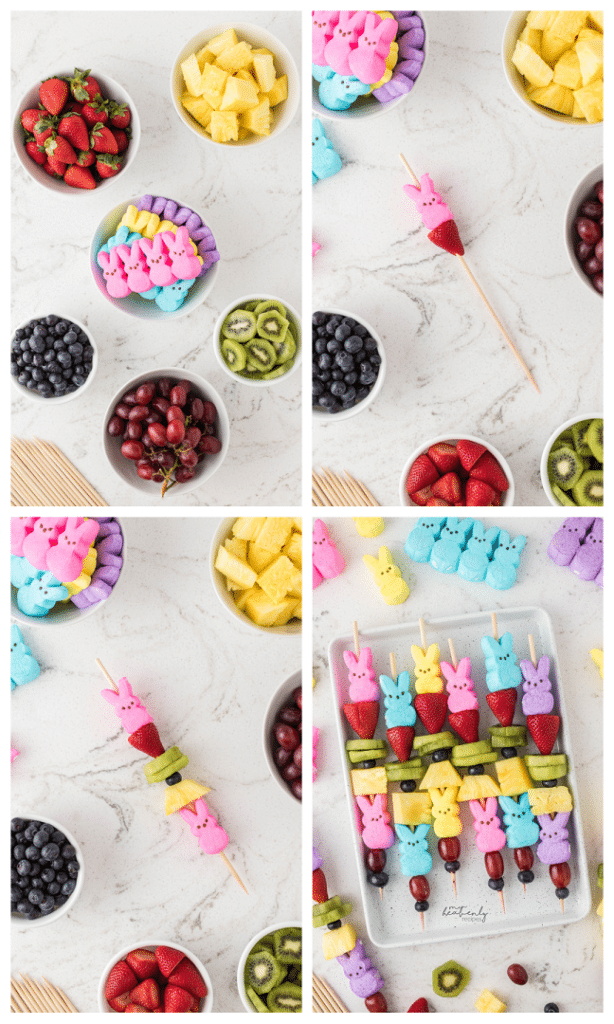 You could also make this a family fun night where even the kids help thread the fruit and bunny peeps on the skewers!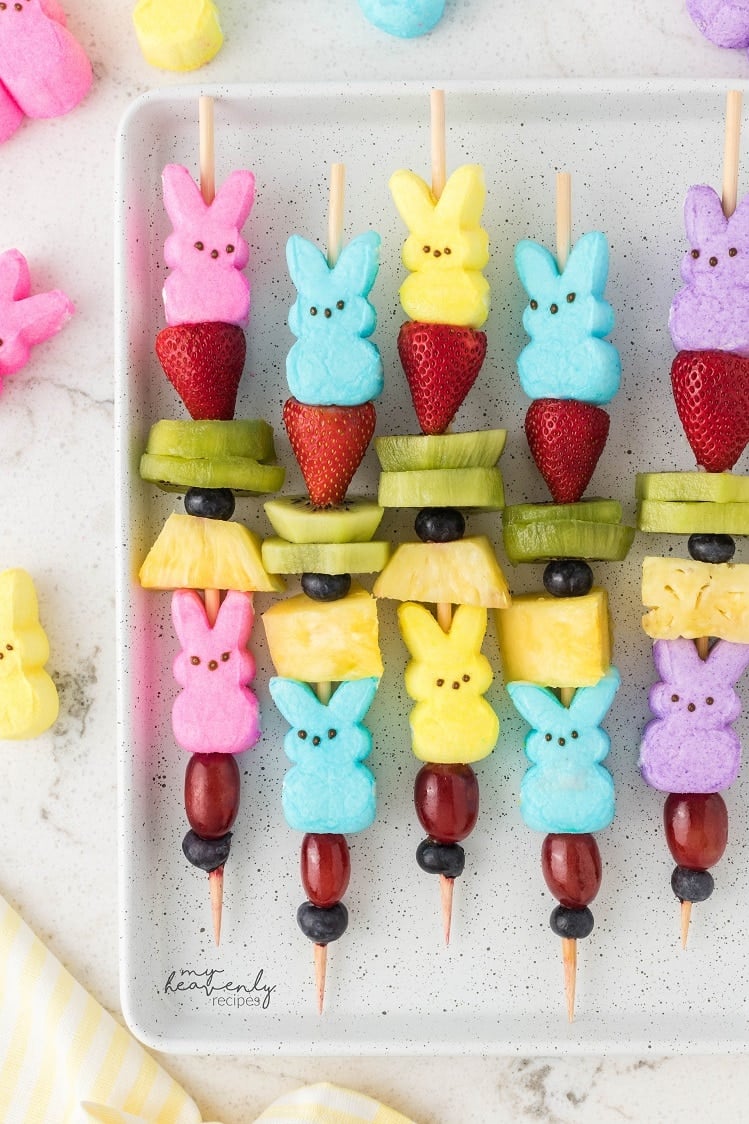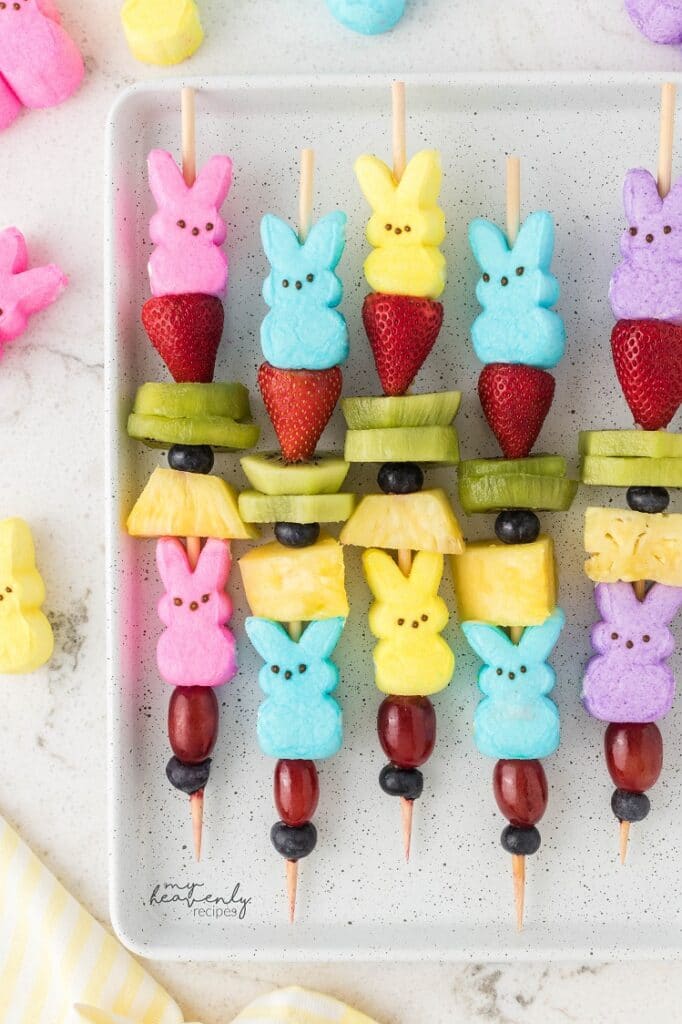 They are so bright and fun to put on a big platter for an Easter party. There will be no leftovers that's for sure!
FAQs:
What will I need to complete this recipe?
a. You will need the following ingredients:
i. Fresh pineapple
ii. Fresh strawberries
iii. Fresh kiwi
iv. Fresh blueberries
v. Fresh red grapes
vi. Peeps
b. You will need the following supplies:
i. Wooden skewers
ii. Cutting board
iii. Chef's knife or serrated knife
iv. Colander or strainer
How do I store my Fruit Kabobs?
a. You can make these fun fruit kabobs and serve them right away or up to 12 hours ahead of time. Store in the refrigerator until ready to serve. Serve within 12 hours.
b. It is not recommended to freeze fruit kabobs. Due to the nature of the thawing process, freezing and thawing will likely result in a watery fruity mess.
Can I make substitutions?
Yes, you can be creative and use other fruits like apples, mandarins, cantaloupe, honeydew, watermelon, mango, and bananas. When using apples and bananas, remember that once they are peeled they become brown very quickly so be sure to serve right away.
Easter Fruit Kabobs
Ingredients
– 2 cups whole fresh strawberry

– 2 cups fresh pineapple chunks

– 1 cup sliced fresh kiwi

– 1 cup fresh blueberries

– 1 ½ cups fresh red grapes

–

4 3 ounce packages of assorted color Peeps
Instructions
Before preparing your fruit, be sure to wash and then pat dry.

Once all of your fruit has been washed you can begin to cut. First, cut the green tops off of the whole fresh strawberries. Next, peel and cut the fresh kiwis into large slices. Then cut the fresh pineapple into large chunks.

Now that all the fruit has been prepared, grab a skewer and start layering your fruit. First, add 1 peep and 1 strawberry lengthwise through the center.

Next, add 2 kiwi slices and 1 blueberry.

Then add 1 pineapple chunk and another peep.

Lastly, add 1 red grape and 1 blueberry.

Serve and enjoy with your favorite yogurt, fruit dip, whipped cream or pudding!
Notes
Notes:
– Thin skewers are recommended for easier threading of the fruit.
– Get creative and try your own sequence of these delicious fruits.
Try These Reader Favorite Dessert Recipes
Quite a few of our Dessert Recipes have been very popular across social media. Here's a few of our readers favorite dessert recipes that we hope you'll also try!