How to Make Greek Meatballs with Feta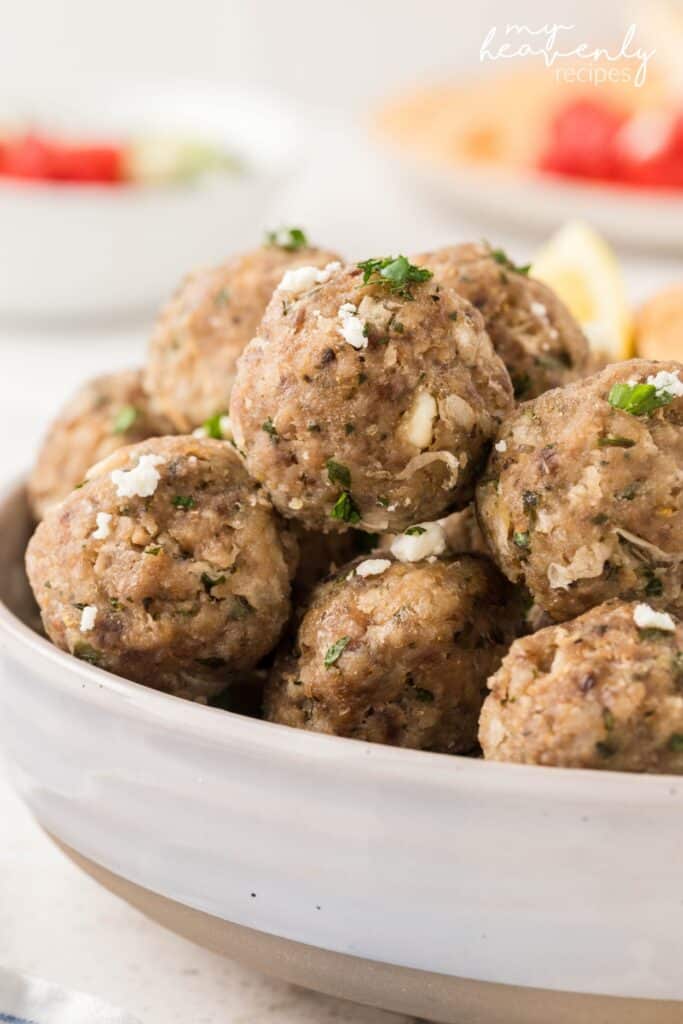 Make these delicious homemade greek meatballs for a dinner idea! Pair this with our delicious Tzatziki sauce recipe or try our greek chicken thigh dinner, too!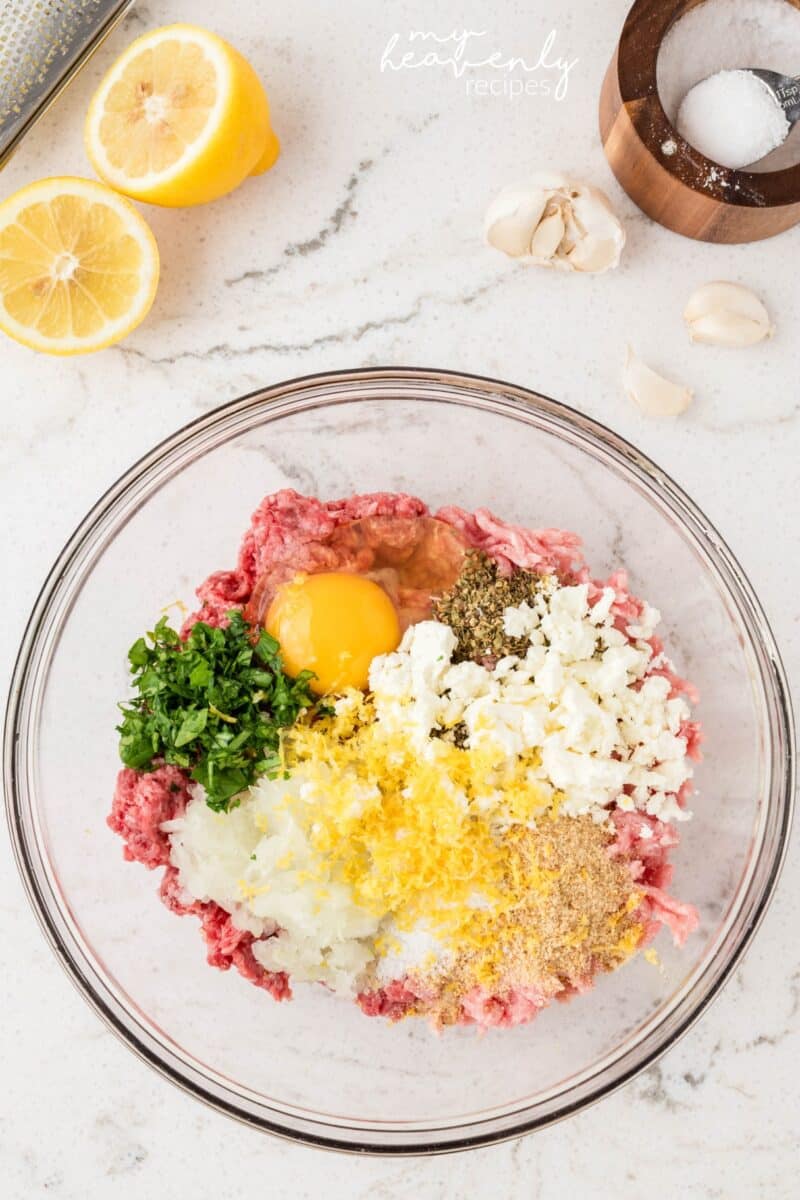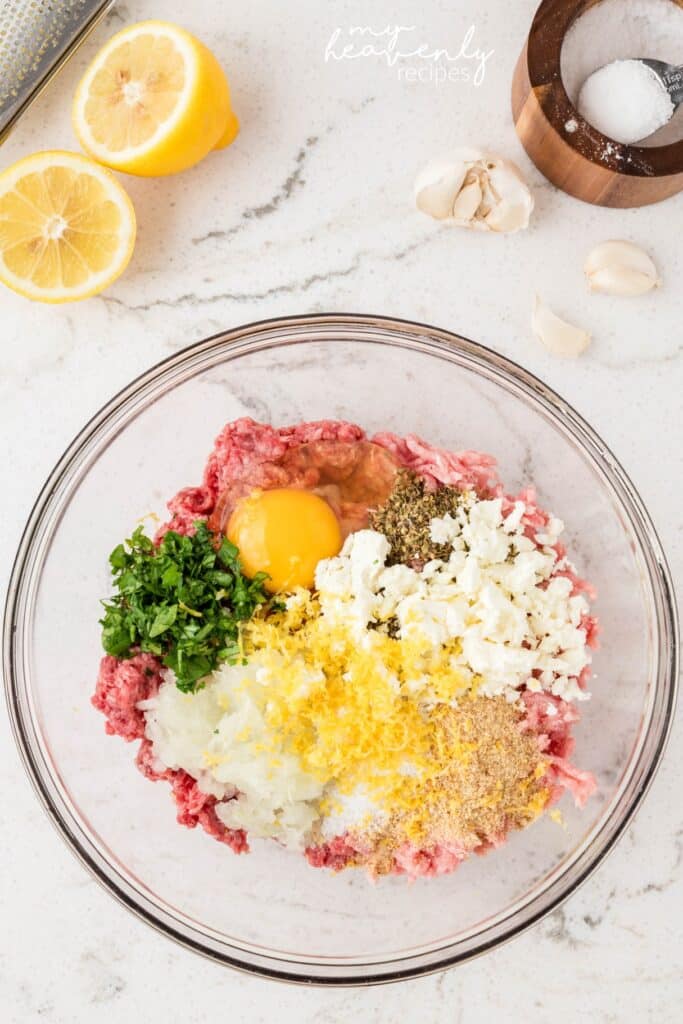 What will I need to complete this recipe?

You will need the following ingredients:

Ground beef chuck: We used an 80/20 blend of ground beef chuck to maintain a moist meatball for this recipe.
Ground pork: Pork elevates the taste of the meatballs. Be sure to buy plain ground pork and not pork sausage.
Sweet onion: Onion elevates the flavor of the meatballs. We used a medium-sized sweet onion and grated it using a box grater. You can also use a white, yellow, or red onion if you prefer.
Plain breadcrumbs: Breadcrumbs are used as a binder to help the meatballs stay together.
Large egg: An egg is also used as a binder for the meatballs.
Feta cheese: Feta adds saltiness and tanginess that elevates the flavor of the meatballs.
Extra virgin olive oil: EVOO helps to crisp the outside of the meatballs and also adds flavor to the meatballs.
Fresh parsley: Parsley adds flavor and freshness to the recipe. You can also use dried parsley if that is what you have on hand.
Lemon zest and fresh lemon juice:
Garlic: For this recipe, we use 3 cloves of fresh garlic, minced to elevate the flavor profile of the meatballs.
Oregano: Oregano elevates the taste of these yummy meatballs.
Kosher salt and ground black pepper: Salt and pepper also elevate the taste of the meatballs.

You will need the following supplies:

Measuring cups
Measuring spoons
Box grater
Large baking sheet
Parchment paper
Mixing bowl
Stand mixer
Cooking spray

How do I store my Greek Meatballs? Store your meatballs in the refrigerator using an airtight container for up to 3 days.
Can I make substitutions?

Sweet onion: You can substitute the sweet one with a white, yellow, or red one.
Plain breadcrumbs: You can use Italian or panko breadcrumbs instead of plain breadcrumbs.
Fresh parsley: You can use dried parsley instead of fresh parsley.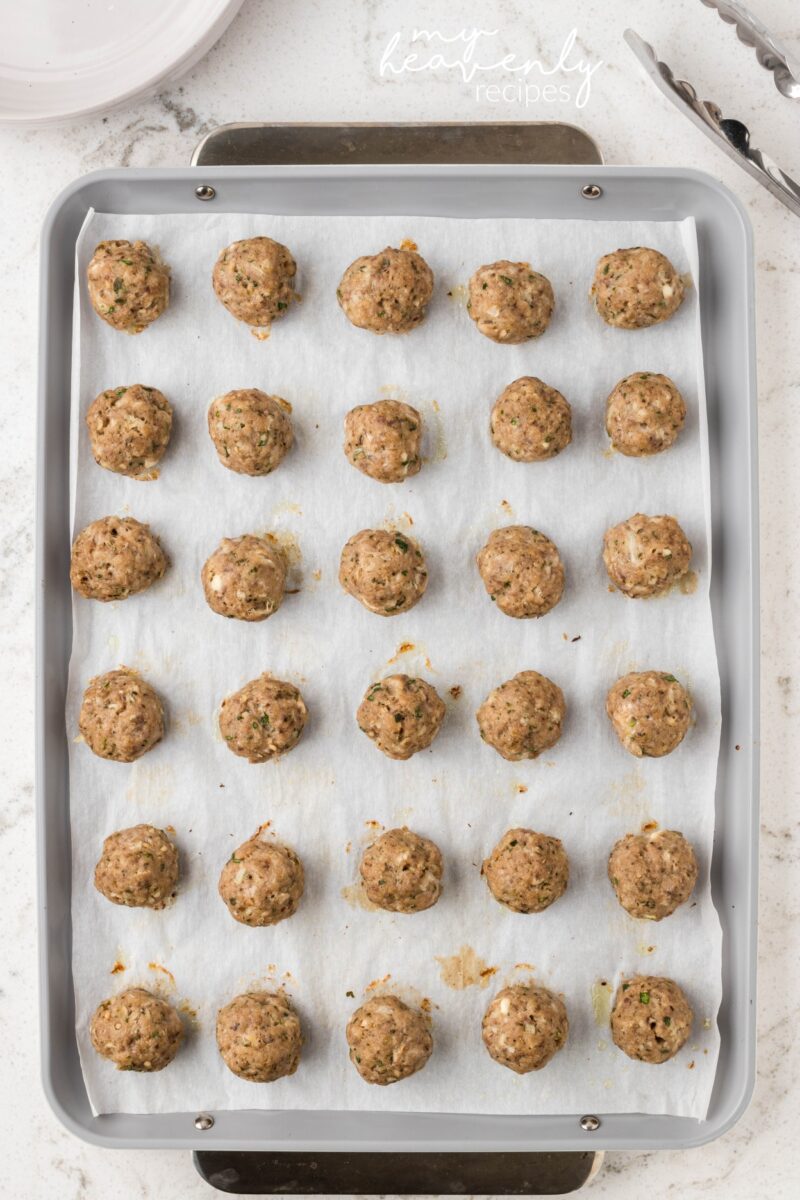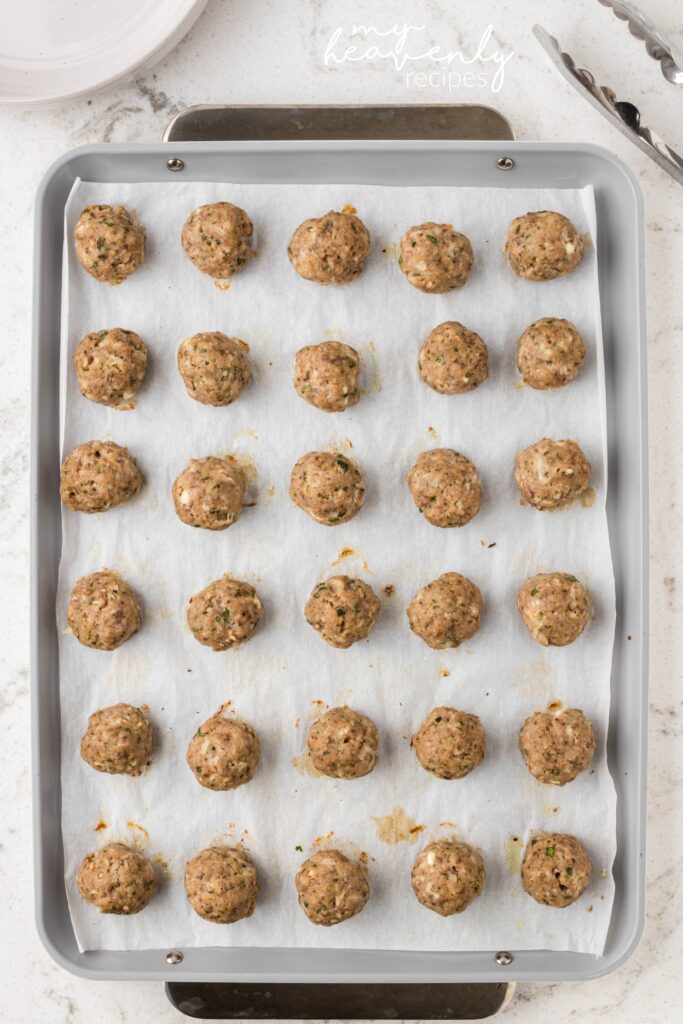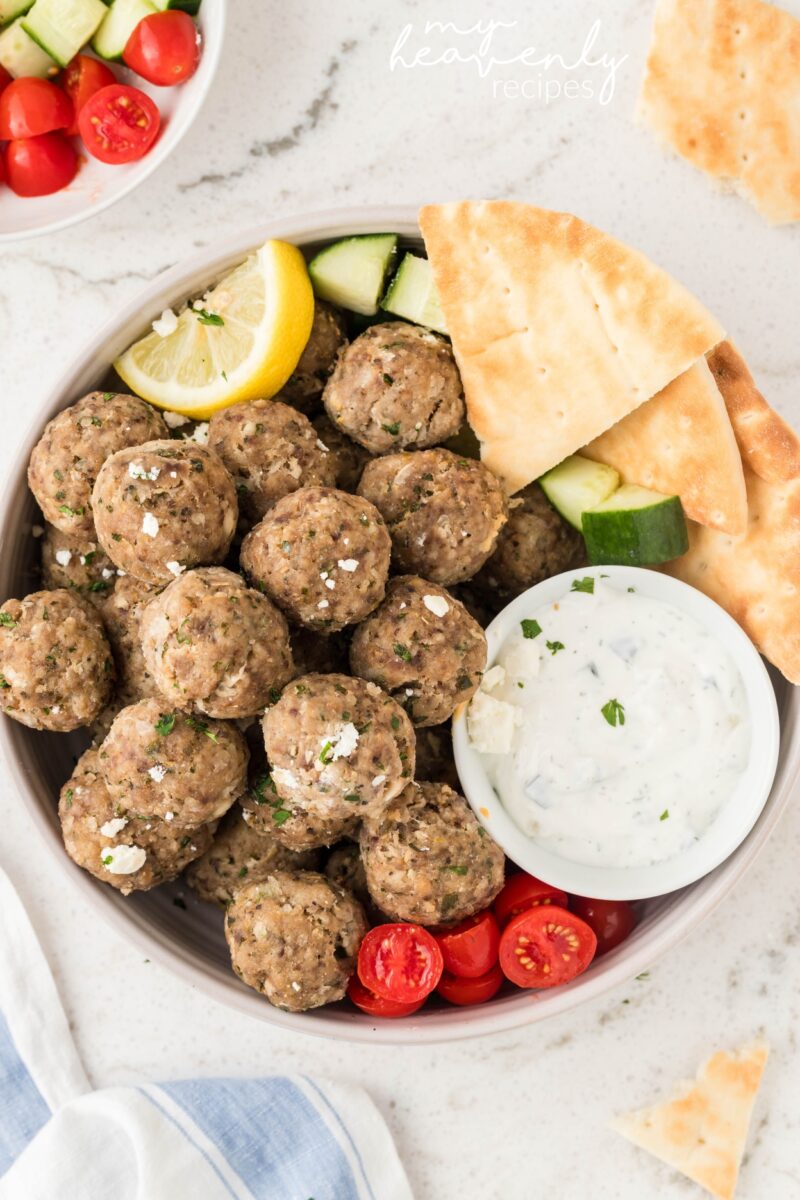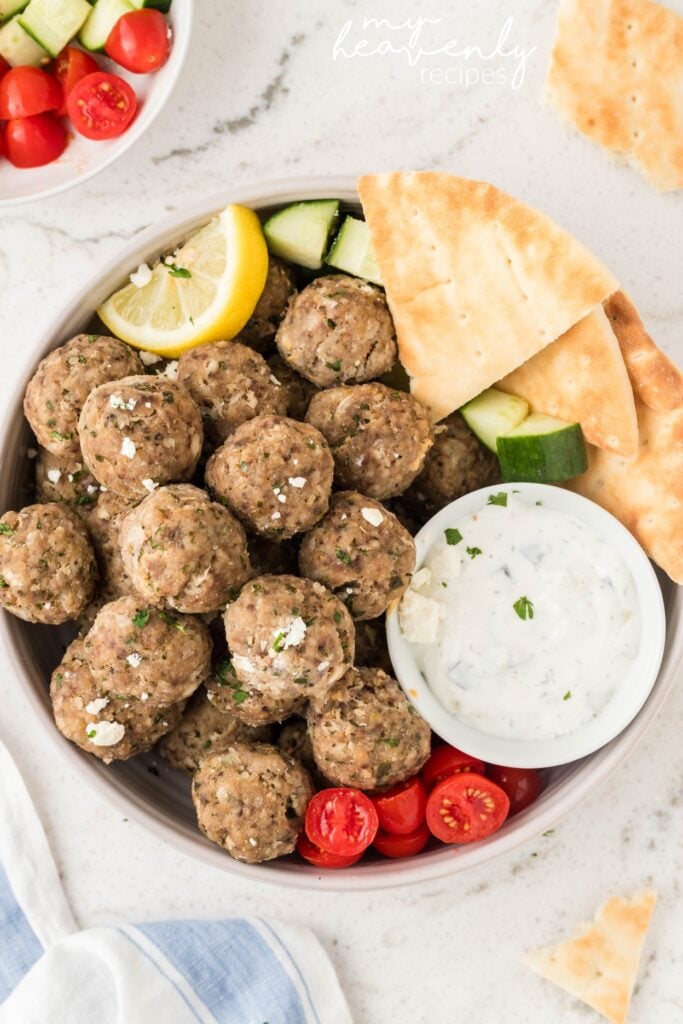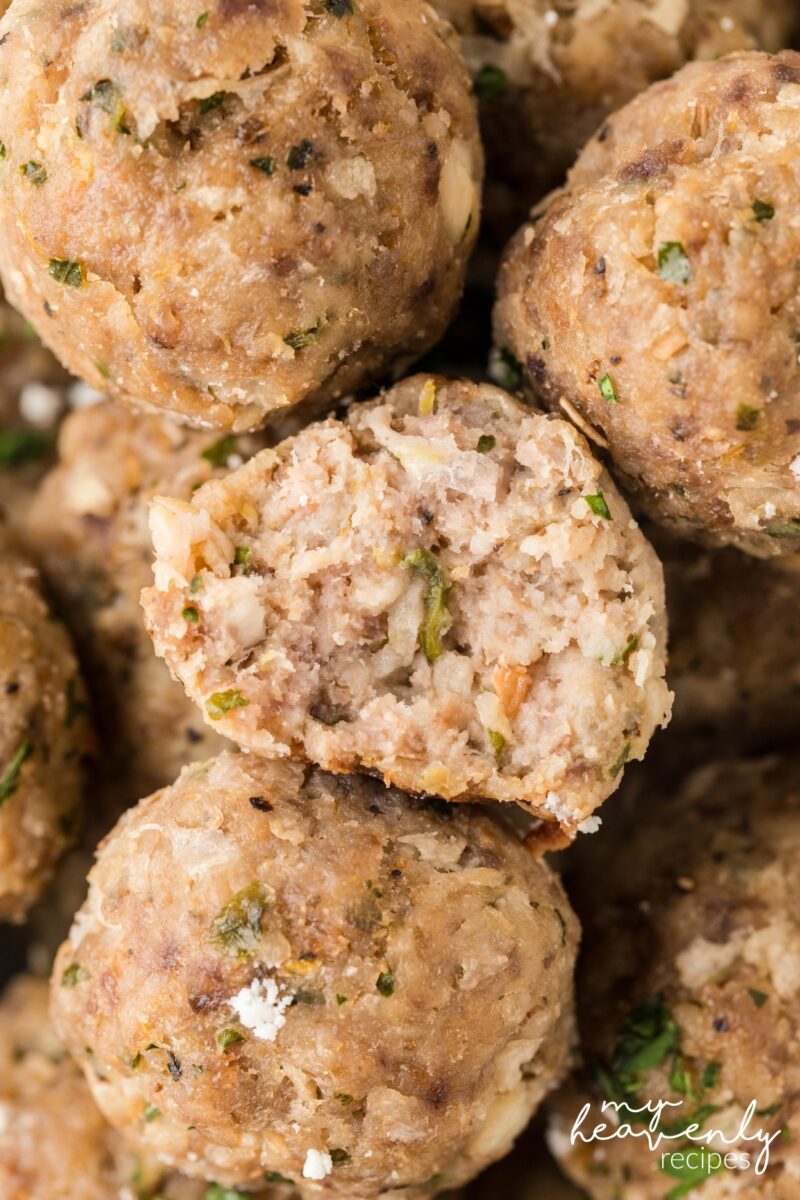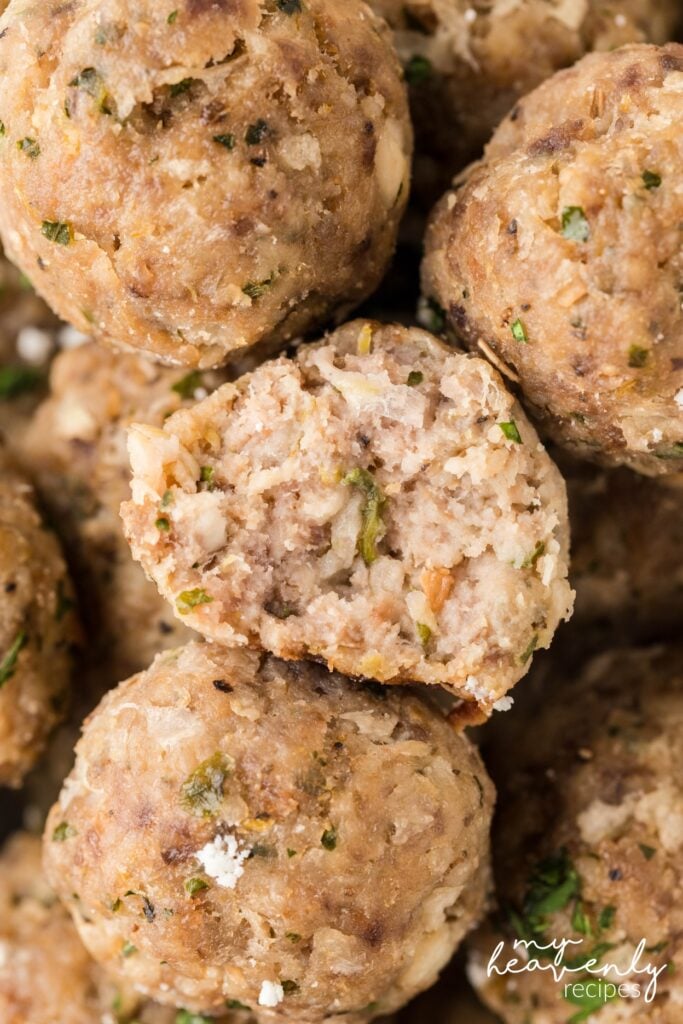 Greek Meatballs
Ingredients
8

ounces

ground beef chuck

8

ounces

ground pork

1

sweet onion

grated

1

cup

plain breadcrumbs

1

large egg

¼

cup

feta cheese

finely crumbled

¼

cup

fresh parsley

chopped

1

tablespoon

extra virgin olive oil

1

tablespoon

lemon zest

3

cloves

garlic

minced

2

teaspoons

oregano

1

teaspoon

kosher salt

1

tablespoon

fresh lemon juice

½

teaspoon

ground black pepper
Instructions
Preheat oven to 375°F. Line a large baking sheet with parchment paper.

Add all your ingredients in a large mixing bowl and combine using your hands or a stand mixer with a paddle attachment.

Use a tablespoon to portion the meat, and use your hands to make 30 meatballs. Place on your prepared baking sheet.

Bake for 20 – 25 minutes or until the internal temperature reaches 160°F. Remove from the oven and allow to rest for 5 minutes.

Serve hot, and ENJOY!
Notes
-It may be helpful to spray your hands with cooking spray when rolling the meatballs by hand. Your meatballs may come out slightly more browned when spraying your hands.
-You can make these meatballs ahead of time by keeping them in the fridge until you are ready to cook.