How to Make Steak Bites in the Air Fryer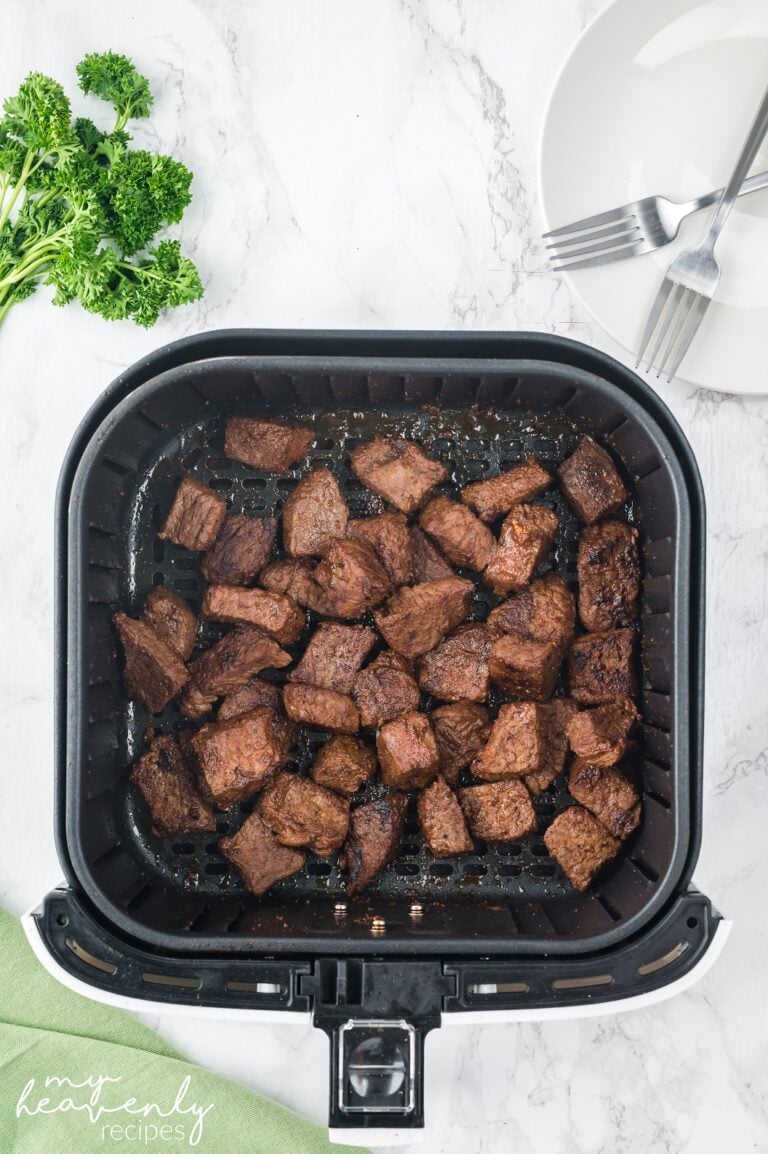 Make some quick and easy steak bites in your air fryer for dinner! This is my go-to recipe to whip up a delicious fast meal for the family. I also pair it with our air fryer bacon wrapped asparagus and air fryer potato skins!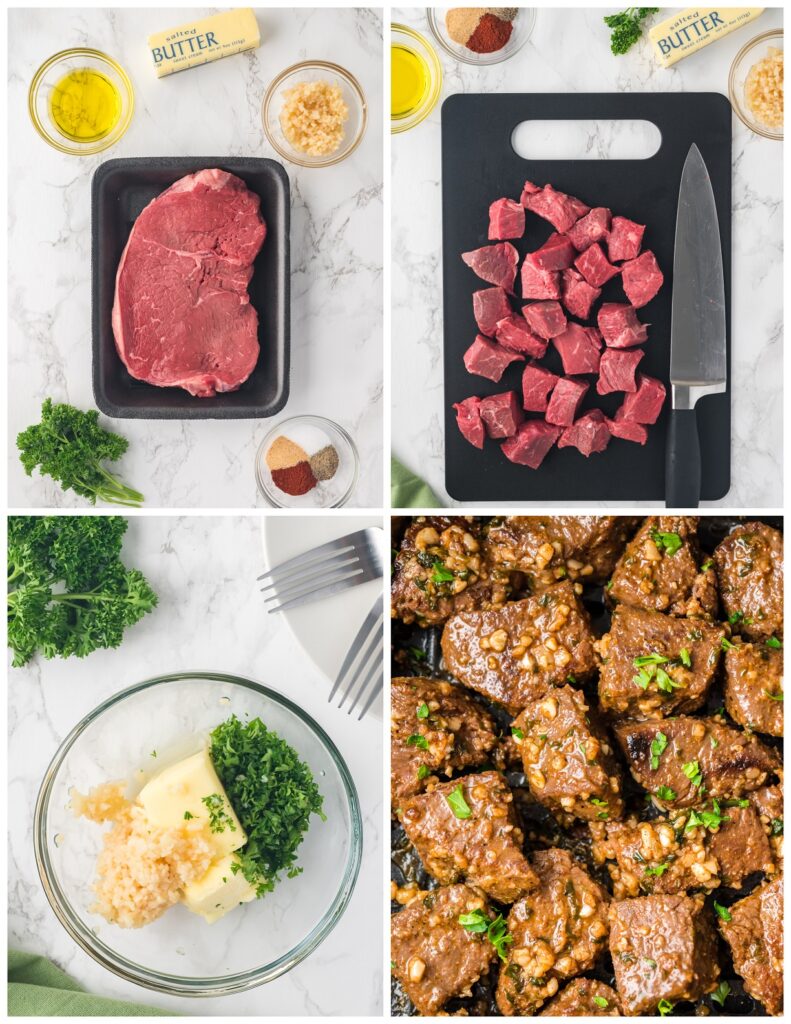 FAQ Questions:
What will I need to make this recipe?

You will need the following ingredients:

1 ½ pounds of steak, cut into bite-sized pieces
2 tablespoons of olive oil
1 teaspoon of salt
1 teaspoon of garlic powder
1 teaspoon of paprika
½ teaspoon of pepper
4 tablespoons of butter (Salted)
1 tablespoon of minced garlic ( i used the jar of store bought minced garlic)
1 tablespoon of fresh parsley (minced)

You will need the following supplies:

Air fryer
Mixing bowl
Tongs

How do I store Air fryer steak bites?

Store the cooked steak bites in an airtight container in the refrigerator for up to 4 days.
To reheat, place the steak bites in the air fryer or oven at 400°F for 5-7 minutes.

Can I eat this warm or cold?

You can eat them warm or cold, both options are delicious but they will taste better when eaten warm!

What are some substitutions I can make?

Instead of olive oil, you can use avocado oil or melted butter.
You can substitute sirloin steak with NY strip.
Instead of salt, you can use sea salt or Himalayan pink salt.
If you don't have minced garlic you can use garlic granules.

What is another variation I can make?

You can add other seasonings to the steak bites, such as cumin, chili powder, or Italian seasoning.

Can I make this ahead of time and freeze it?

Yes, you can make the steak bites ahead of time and freeze them for later use. Simply place the cooked and cooled steak bites in a freezer-safe container and freeze them for up to 3 months. When ready to eat, simply defrost and reheat in the air fryer.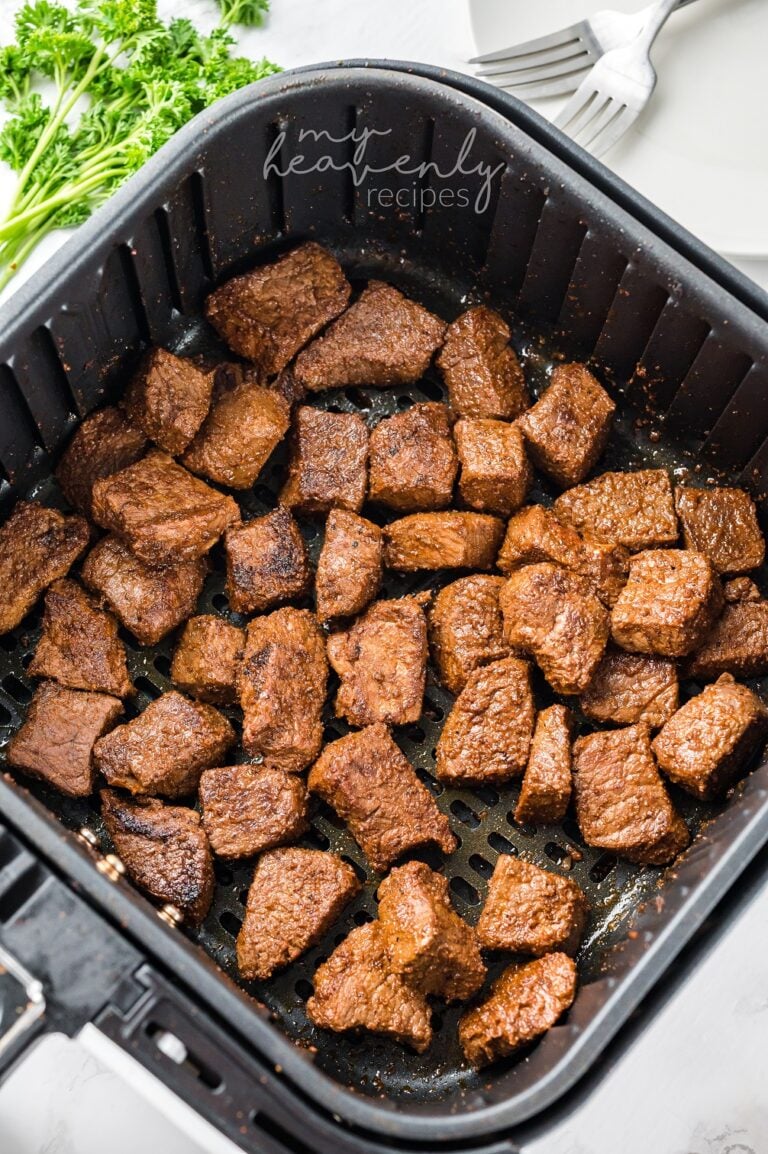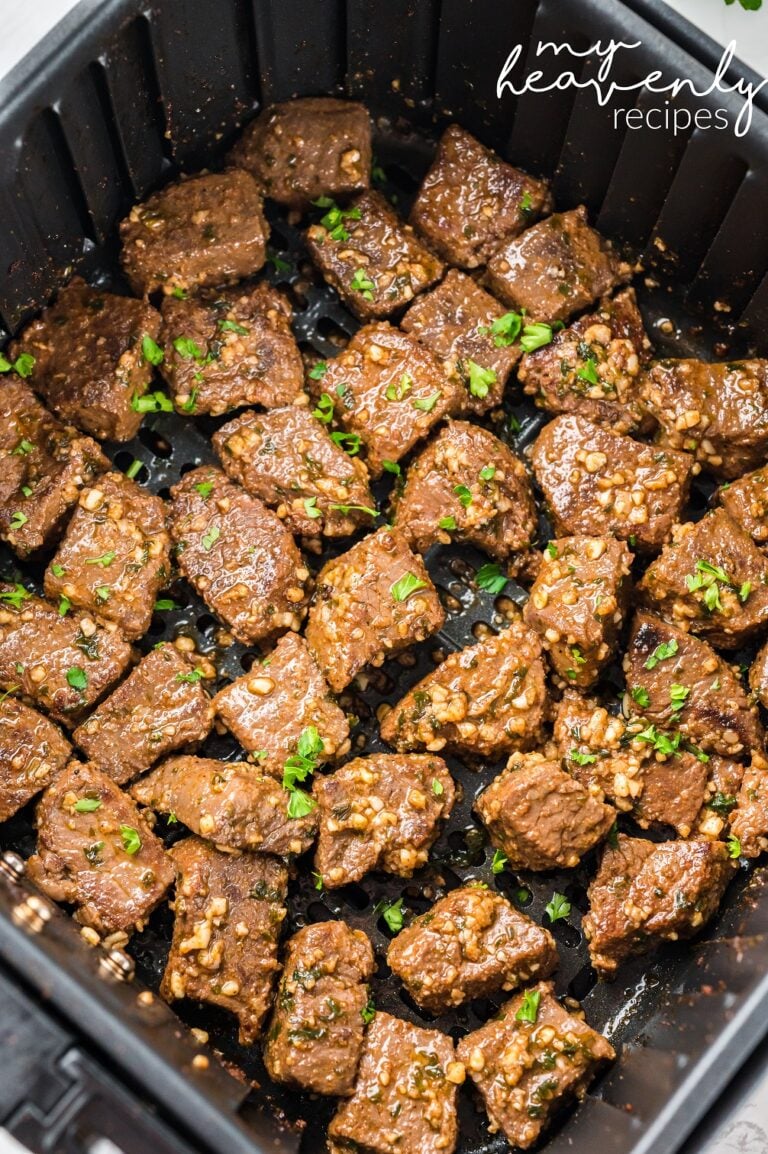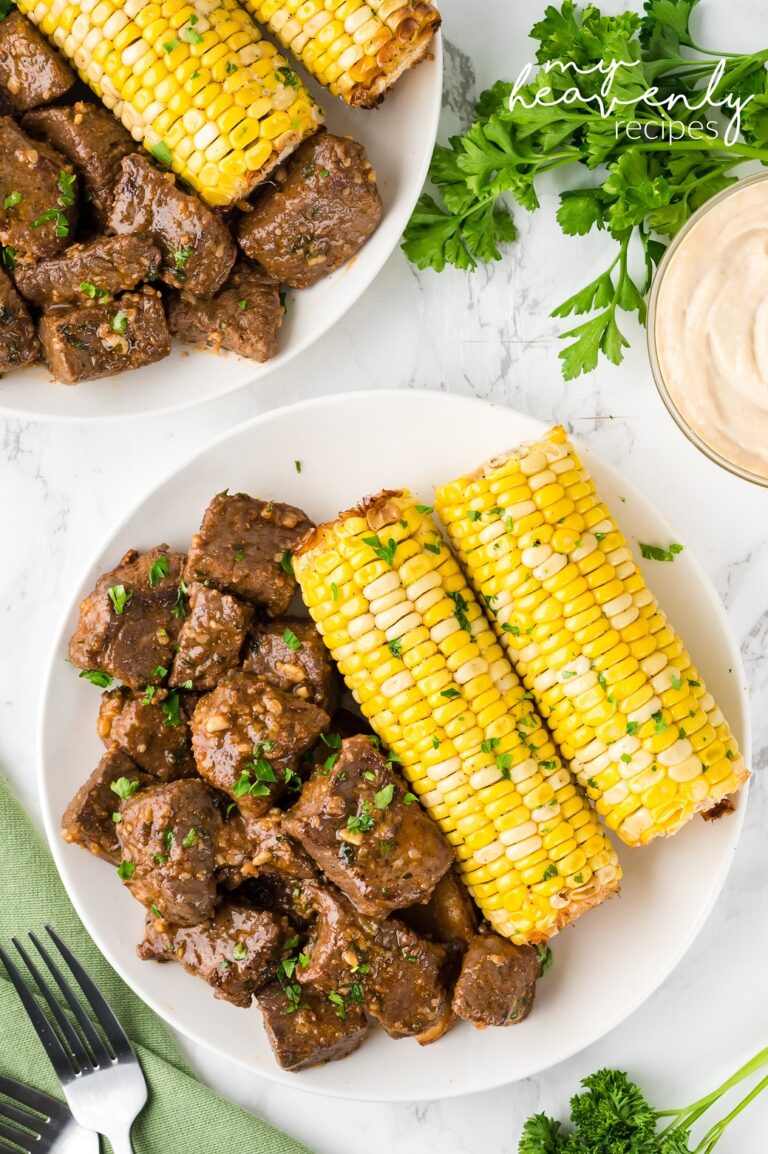 I like to pair our steak bites with corn on the cobb, potato wedges, mashed potatoes and veggies!
Air Fryer Steak Bites
Ingredients
1 ½

pounds

of sirloin steak

cut into 1-inch cubes

2

tablespoon

olive oil

1

teaspoon

salt

1

teaspoon

garlic powder

1

teaspoon

paprika

½

teaspoon

of pepper

4

tablespoons

of butter

Salted

1-2

tablespoons

of minced garlic

i used the jar of store bought minced garlic

1

tablespoon

of fresh parsley

minced

I served it with garlic aioli. I used a store bought by JL Kraft.
Instructions
Preheat the air fryer to 400°F

Cut the steak into 1-inch cubes.

In a bowl, mix together the steak cubes, olive oil, salt, pepper, garlic powder, and paprika.

Place the seasoned steak cubes in the air fryer basket in a single layer.

Cook the steak bites at 400°F for 6-10 minutes or until they reach an internal temperature of 145°F. 6-8 minutes will give you close to medium with not much sear on the outside. If you'd like a darker sear on the outside and a more well-done interior leave them in for longer.

While the steak bites are cooking, melt the butter in a microwave and mix in the minced garlic and fresh parsley

Once the steak bites are done toss them in the garlic butter

Serve and enjoy!