How to Make Bacon Wrapped Asparagus in the Air Fryer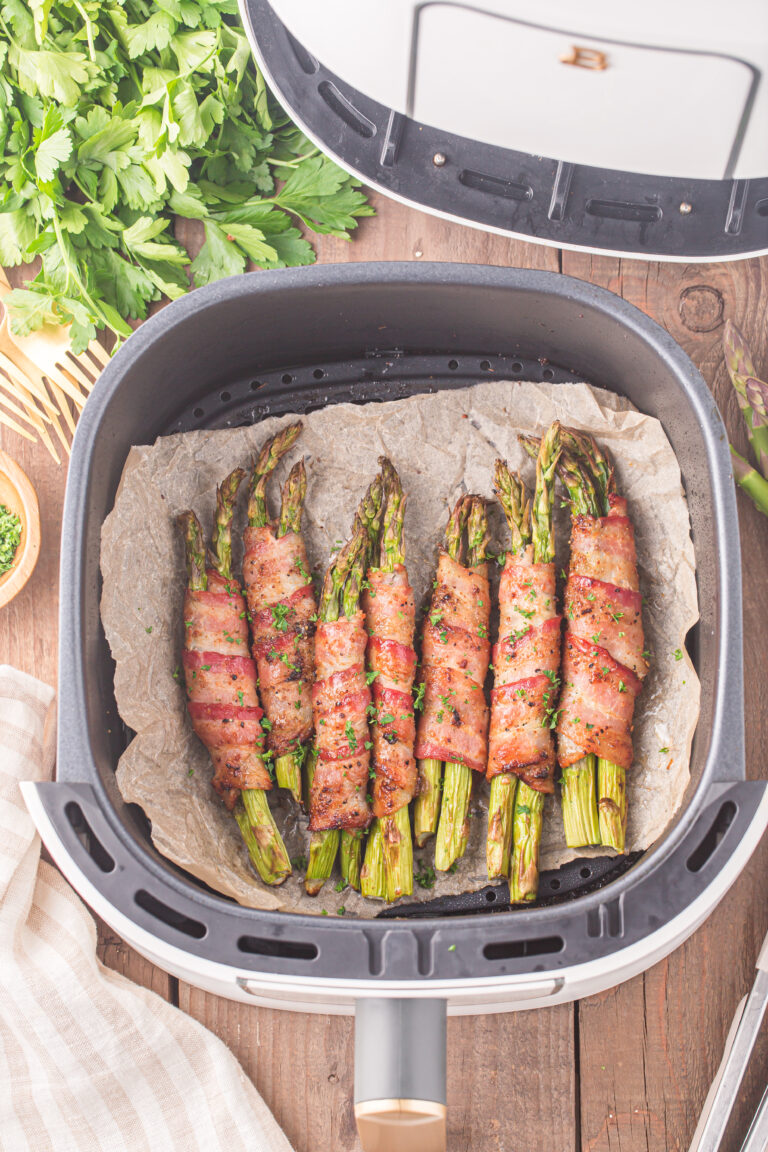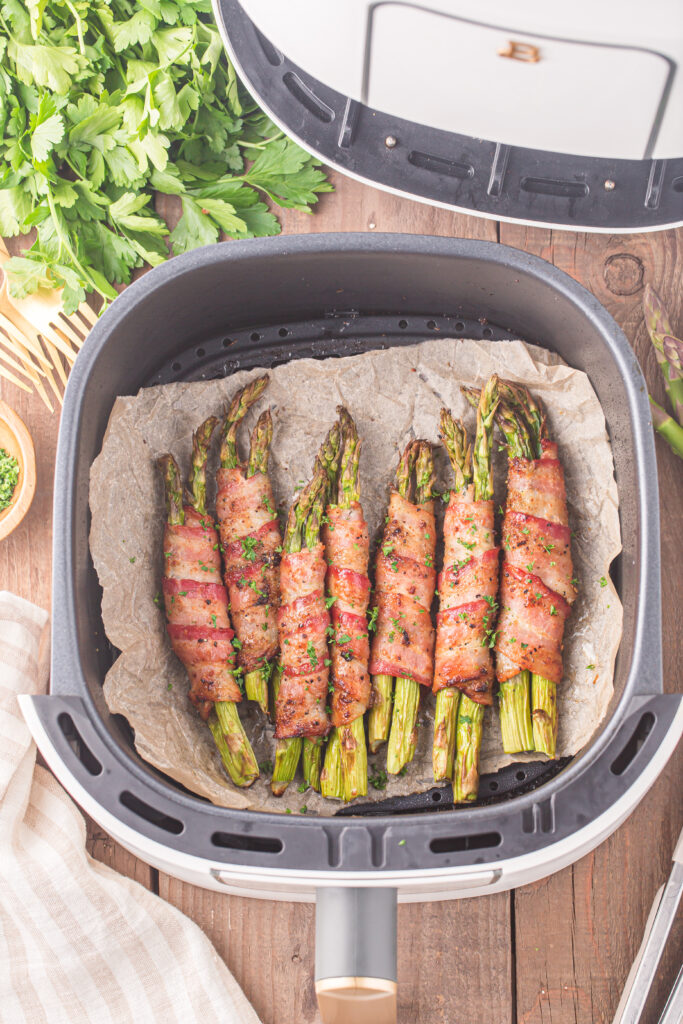 Get out your air fryer to make the most delicious side dish for your dinner! These are fantastic paired with a protein such as steak, chicken, shrimp, etc. and a pile of mashed potatoes on the side!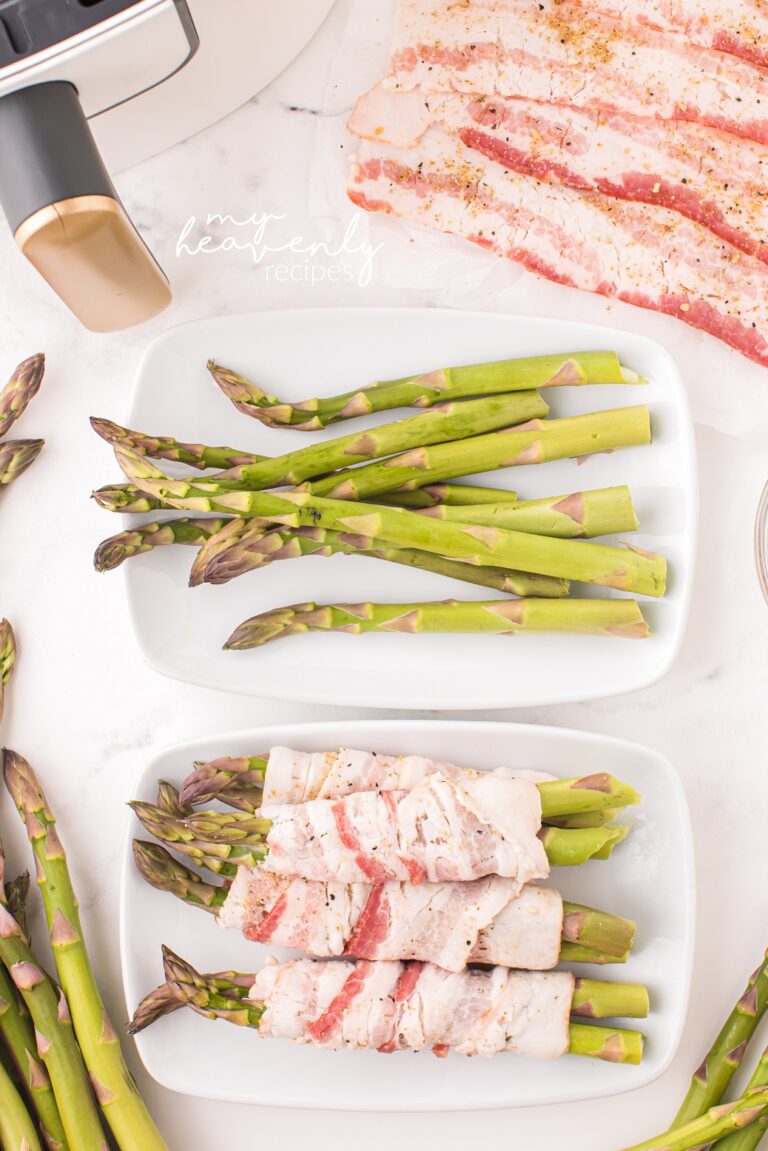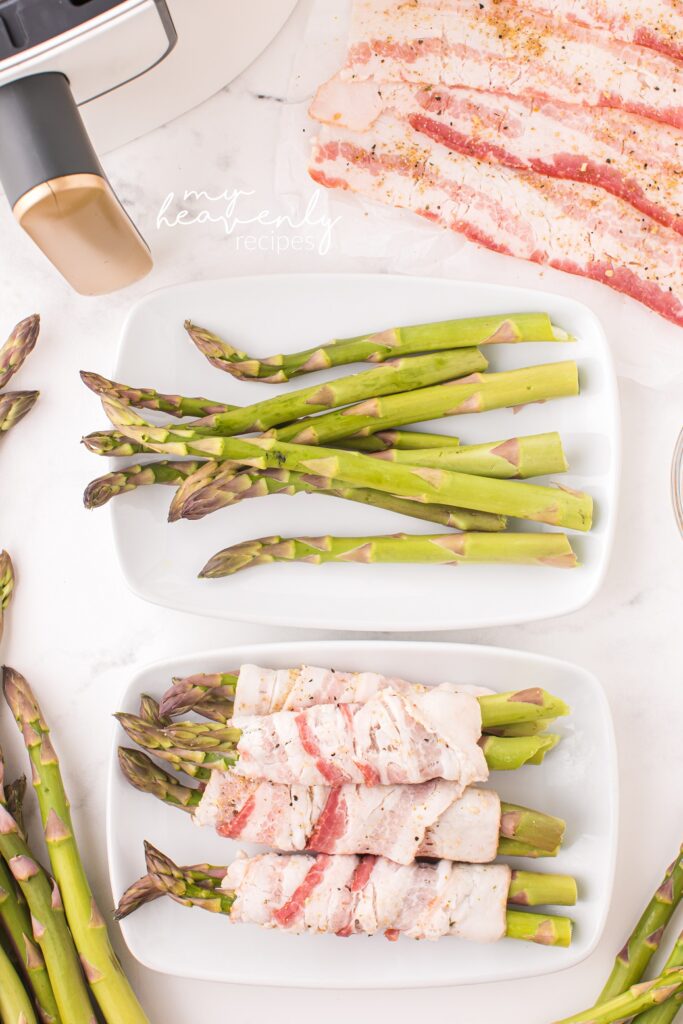 FAQs:
What will I need to complete this recipe?

You will need the following ingredients:

Asparagus spears: I prefer thicker asparagus spears because they are less likely to overcook while the bacon gets crispy. You do need to use fresh asparagus spears, pickled or frozen spears will not work in this recipe.
Dark brown sugar: You can substitute light brown sugar or white granulated sugar instead for a sweeter result.
Garlic and herb seasoning: I use Dash brand garlic and herb seasoning. You can use any brand but be sure to use an unsalted seasoning as the bacon is plenty salty and extra salt is unnecessary.
Bacon: I used regular cut, hickory smoked bacon. You can use thick sliced bacon but it may not crisp up before the asparagus overcooks. If you want to use a maple bacon I recommend omitting the brown sugar in this recipe.

You will need the following supplies:

Air Fryer
Parchment paper
Small mixing bowl
Measuring tools
Mixing tools
Cutting board and knife, optional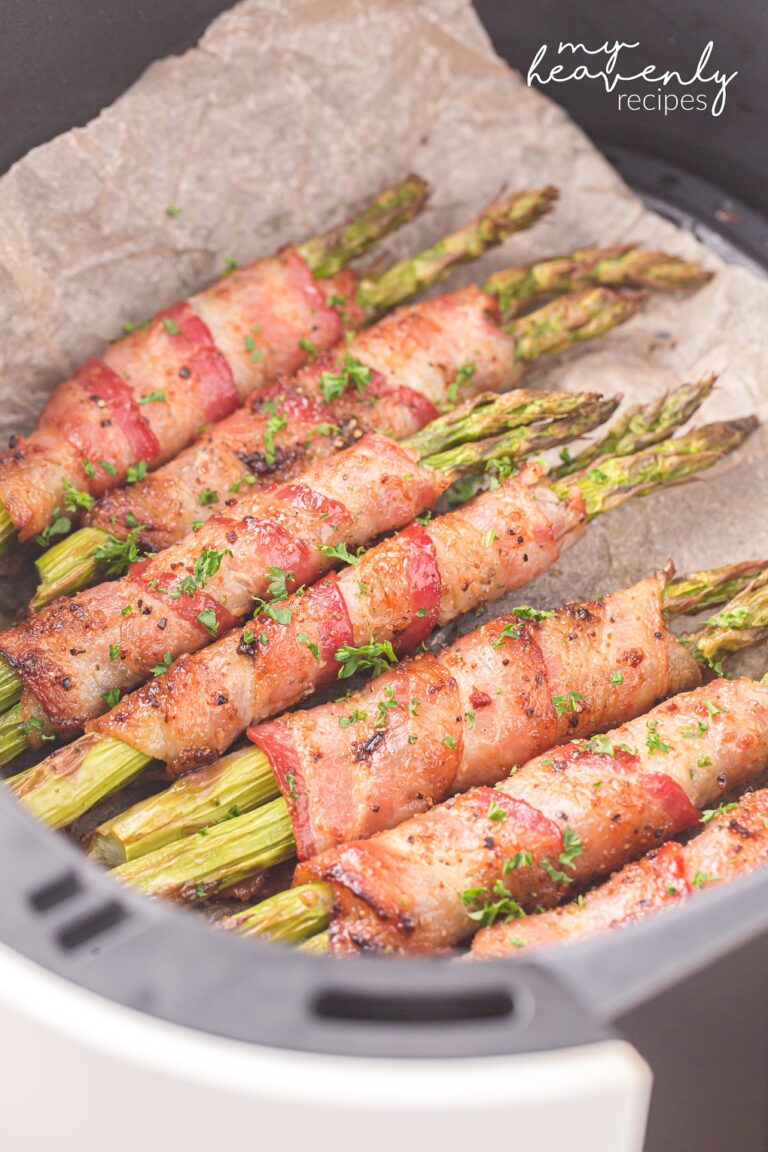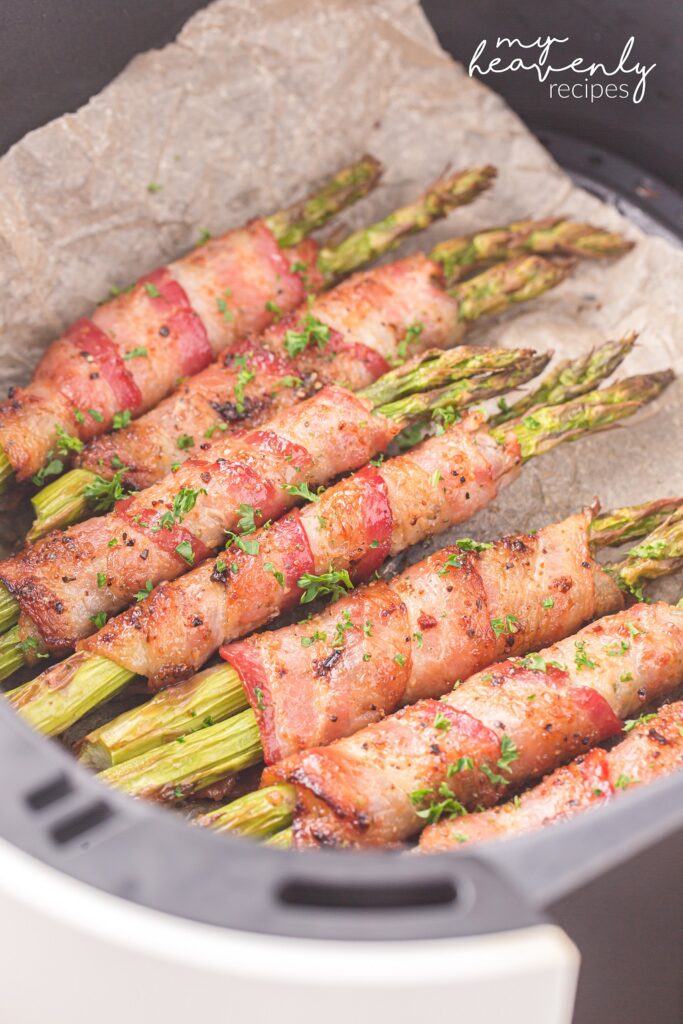 How should I store my Air Fryer Bacon Wrapped Asparagus?

While it is best eaten fresh you can store your Air Fryer Bacon Wrapped Asparagus in an airtight container in the refrigerator for up to 3 days. Reheat in the air fryer or oven before serving. You can also freeze any leftovers in an airtight container or freezer-safe bag for up to 2-3 months. Thaw in the refrigerator overnight before reheating in the air fryer or oven. Please keep in mind that the texture of both the asparagus and the bacon will change when chilled. While you can microwave the leftovers to heat them it is not recommended as the result will likely be limp and soggy.

How do I know where to trim the asparagus?

Asparagus spears typically have a thicker, woody bottom and the rest is more tender and edible. The woody part of the asparagus has a slightly darker green color and a more fibrous texture. The edible part is thinner, has a lighter green color, and is more tender and juicy. My preferred method to trim the asparagus is to hold each spear at both ends and gently bend it until it snaps. The tough, woody part will snap off and the tender, edible part can be used in the recipe. Alternatively, you can use a knife and cutting board to cut off the tough end.

How do I know when the asparagus is cooked?

The asparagus is cooked when it is tender but still crisp and not mushy. You can check by gently piercing the thickest part of the asparagus spear with a fork or knife. If it slides in easily, the asparagus is cooked. You can also look for the color to change from bright green to a more muted green, indicating that it is cooked through. Because the asparagus is wrapped in bacon it can be more difficult to tell visually so I recommend using a fork to check.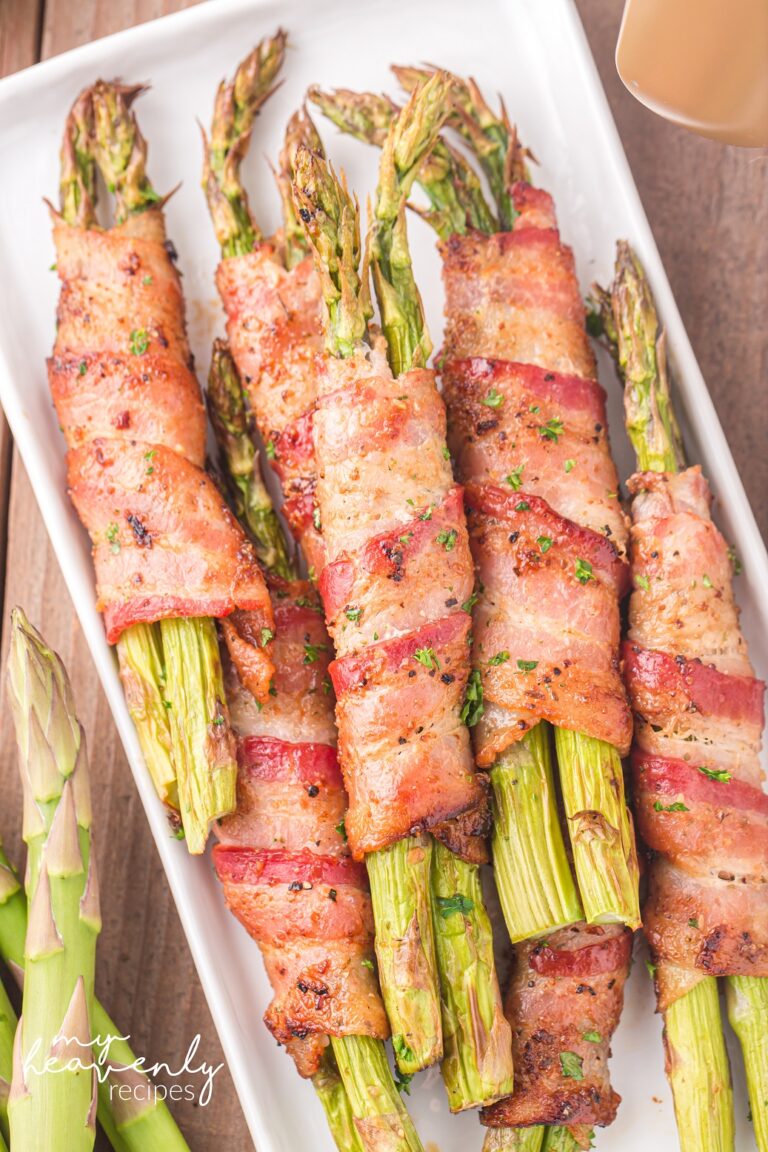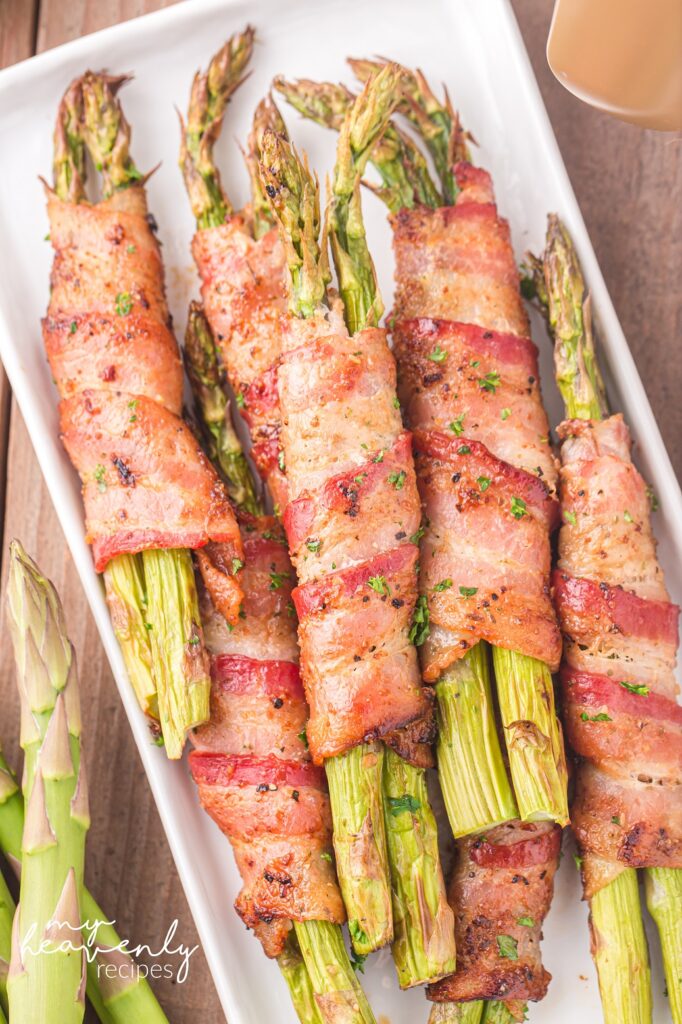 Air Fryer Bacon Wrapped Asparagus
Ingredients
16

asparagus spears

washed

2

teaspoons

dark brown sugar

1 ½

teaspoon

garlic and herb seasoning

8

strips bacon
Instructions
Preheat the air fryer to 400 degrees Fahrenheit.

Pat the asparagus dry and snap off the end of the spears or trim them with a knife and cutting board.

Mix together the dark brown sugar and garlic and herb seasoning until combined in a small mixing bowl.

Lay the bacon out on a piece of parchment paper and sprinkle the spice mixture all over the bacon. You won't need it all, some will be left for the outside.

Wrap the asparagus up in the spiced bacon, 2 stalks per piece of bacon.

Sprinkle more of the seasoning mix on the outside of the asparagus bunches.

Place only 4-5 bunches of bacon wrapped asparagus in an even layer in the preheated air fryer and cook for 6-8 minutes or until the edges of the bacon are crispy and the asparagus is cooked through, turning halfway through.

Remove from the air fryer and place on a plate covered with a clean paper towel. Serve warm.