This post may contain affiliate links, read our
Disclosure Policy
for more information. As an Amazon Associate I earn from qualifying purchases, thank you!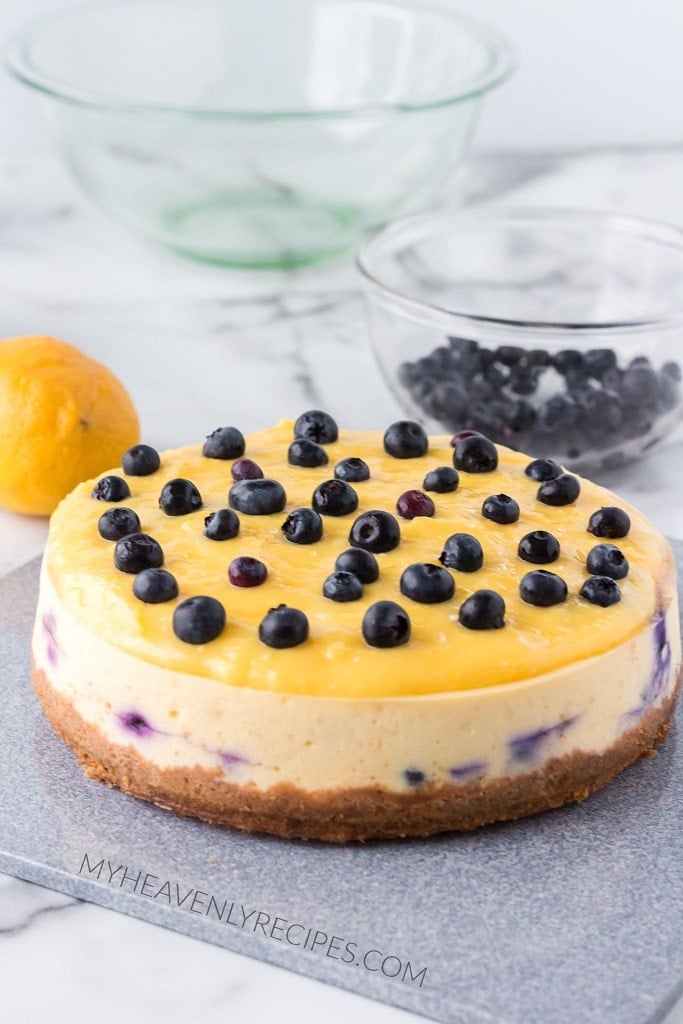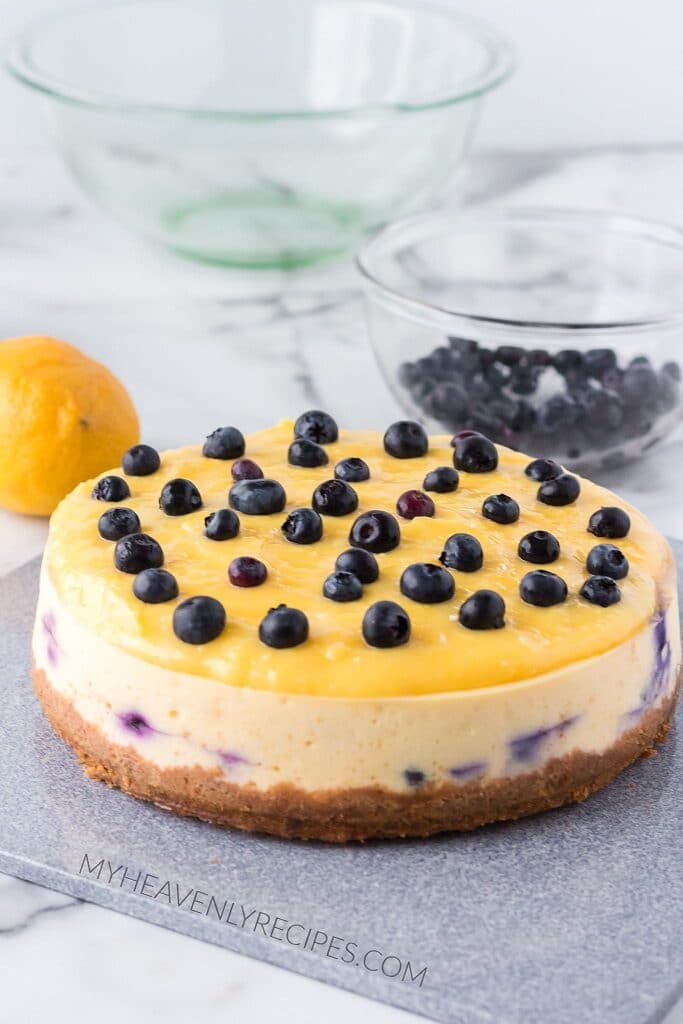 Make this gorgeous and delicious lemon blueberry cheesecake in an instant pot! It's so easy and your guests will love it!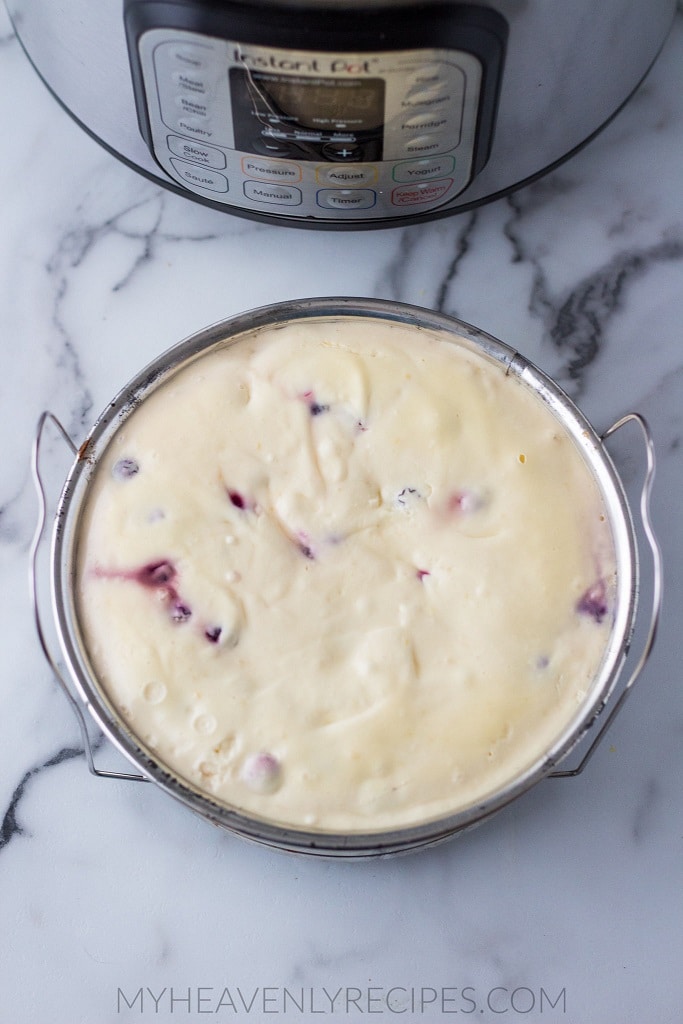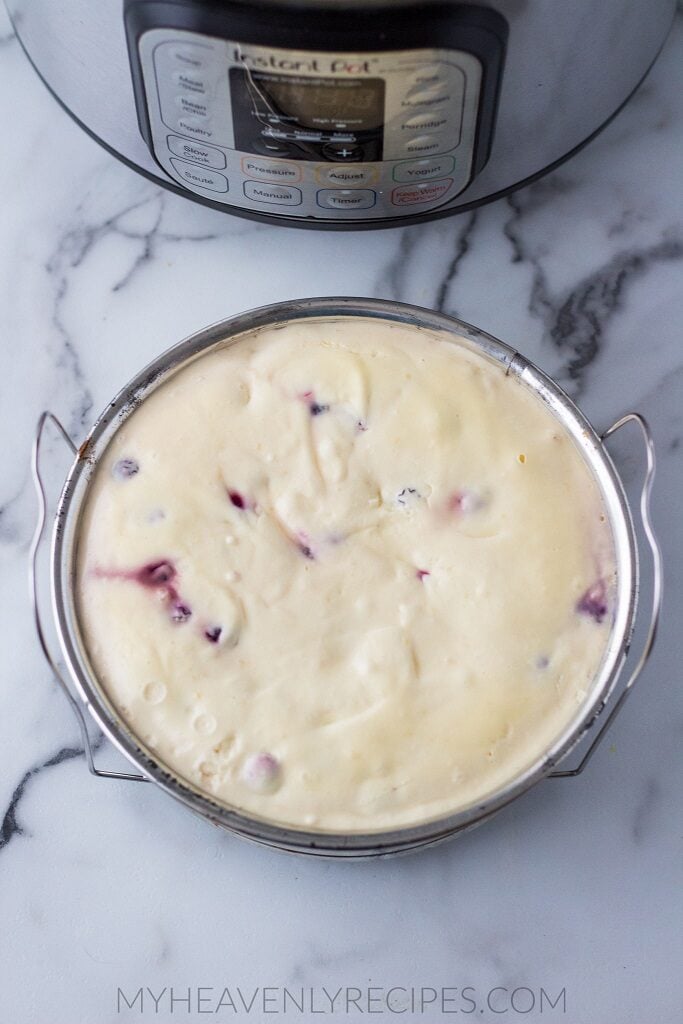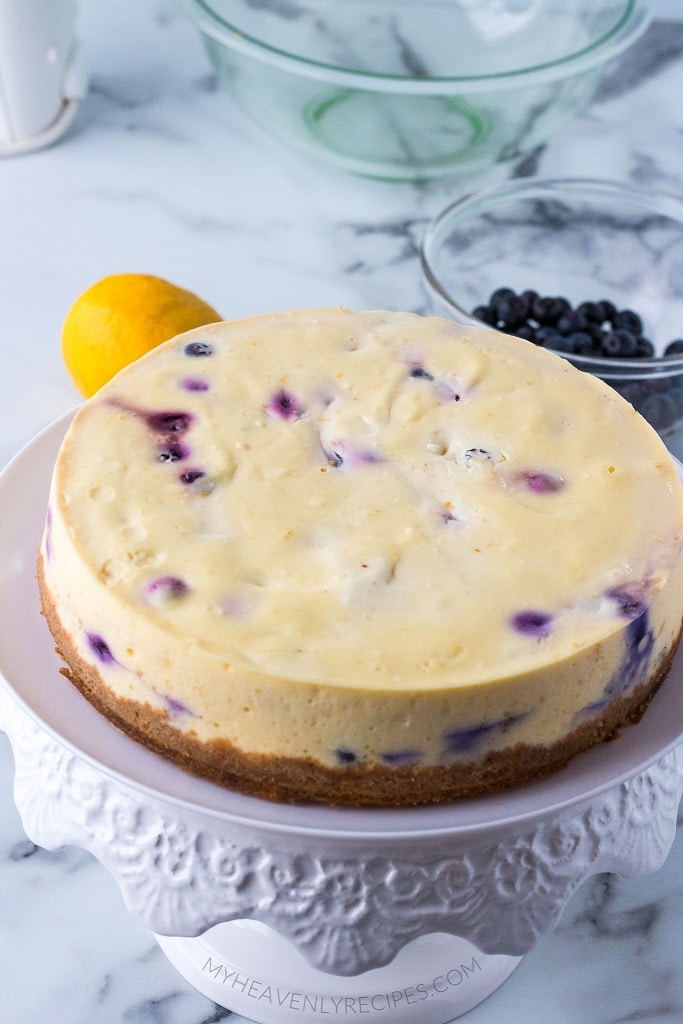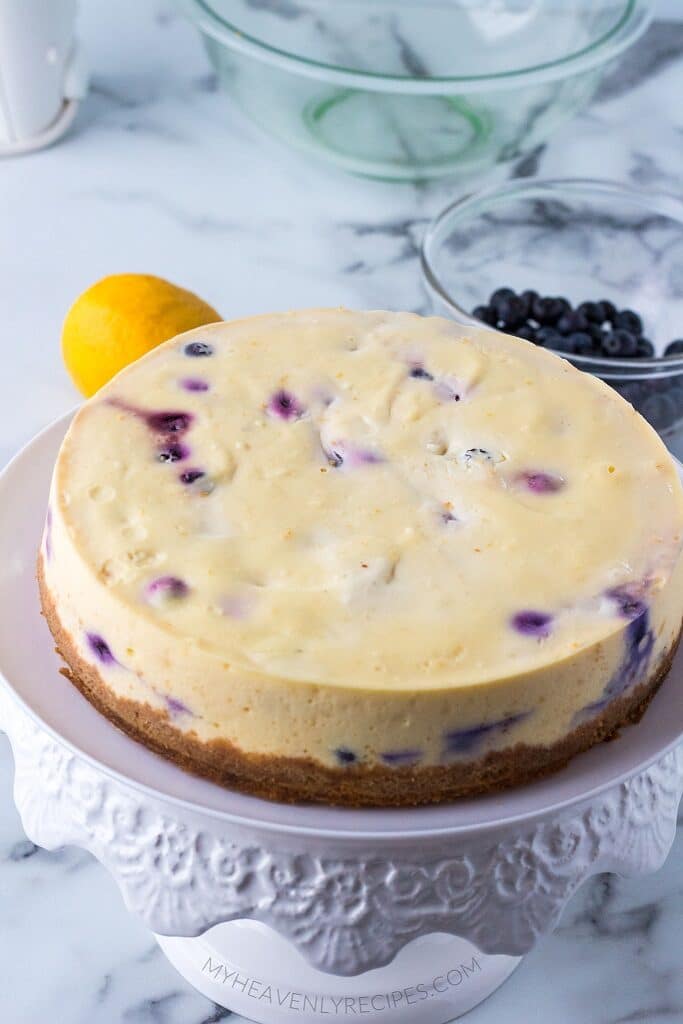 Aren't the swirls just gorgeous with the blueberries?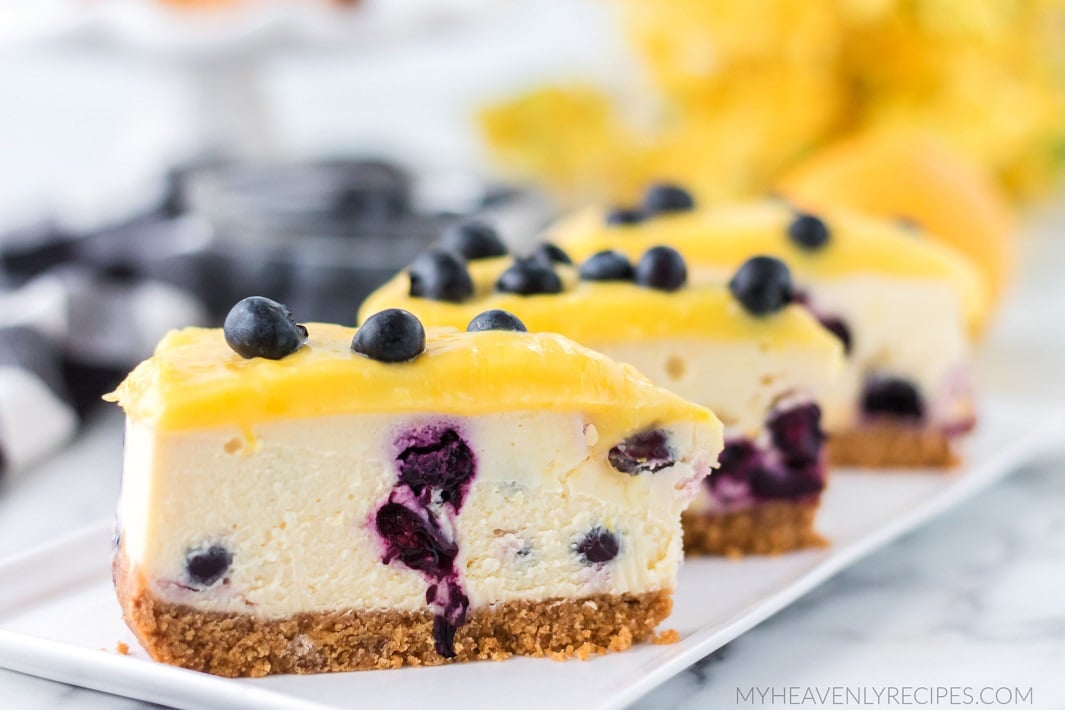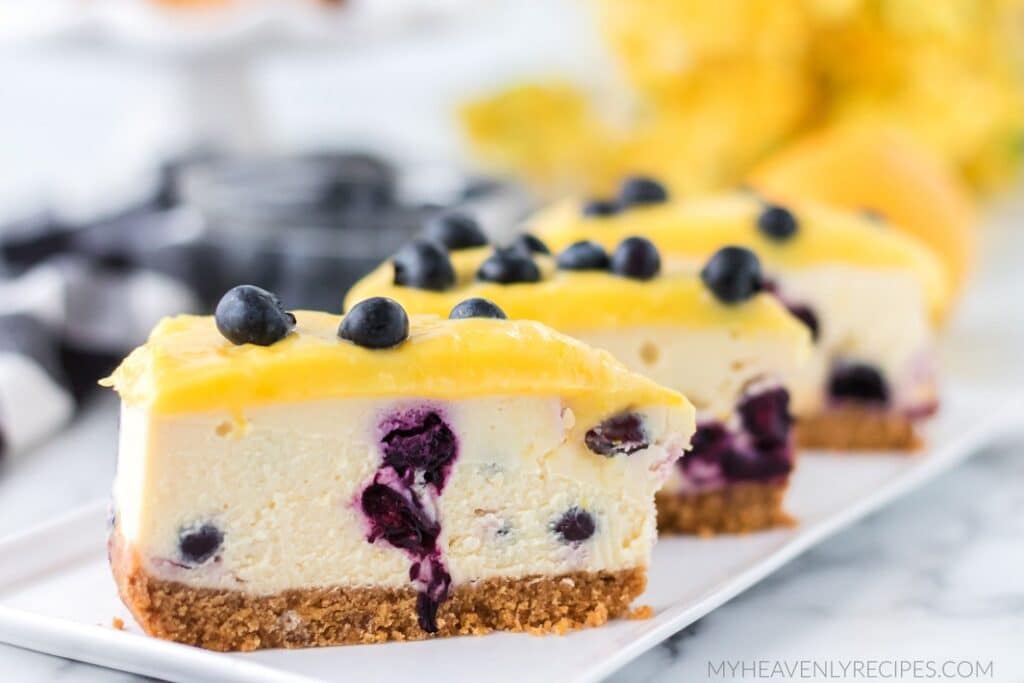 Time: 20 min. prep, 35 min. baking, 2+ hrs. chilling
This recipe is for an 8" cheesecake and fits into an 8 qt. Instant Pot. The
recipe and pan size can be adjusted to smaller Instant Pots.
Instant Pot Lemon Blueberry Cheesecake
Ingredients
Cheesecake Ingredients:
 2 c. crushed graham crackers

 8 tbsp melted butter

 3 tbsp brown sugar

 24 oz. cream cheese

softened

 3 tbsp. all-purpose flour

 ¾ c. sour cream

 1 c. granulated sugar

 6 tbsp. lemon juice approx. 2 large lemons

 2 tbsp. lemon zest

 3 lg. eggs room temp.

separate yolks from whites

 1 c. fresh blueberries
Lemon Blueberry Topping Ingredients:
 3 lg. eggs mixed together with fork or whisk

 ⅔ c. granulated sugar

 1 tbsp. lemon zest

 ⅓ c. lemon juice

 4 tbsp. butter

 ½ – 1 c. fresh blueberries

depending on your preference.
Instructions
Cheesecake Instructions:
Combine graham cracker crumbs, butter, and brown sugar until the consistency of wet sand.

Cut parchment paper to fit bottom of cheesecake pan. Place in bottom of pan and lightly spray paper and sides of pan with a non-stick cooking spray.

Place graham cracker mixture in bottom of pan and spread evenly.

Press mixture into bottom and approx. ½ in. up sides of pan.

Chill in freezer while preparing filling.

In large mixing bowl, on low speed, beat cream cheese, sugar and flour until smooth and totally combined. Scrape bowl throughout mixing to ensure all ingredients are incorporated.

Add sour cream, lemon juice and lemon zest. Mix on low to combine.

Add eggs, one at a time, mixing after each addition.

Gently fold blueberries into batter.

Remove crust from freezer and evenly pour batter into pan.

Place trivet included with instant pot into bottom of pot.

Add 1 c. of water to bottom of instant pot.

Gently lower cheesecake pan onto trivet.

Place lid on instant pot and using the instructions that came with the pot, lock lid and seal.

Cook on high for 35 min.

Release pressure on pot and remove cheesecake pan. The cheesecake will be done when it only jiggles a bit. Cheesecake will have some water around edges. Using a paper towel, wick up the water.

Chill cheesecake for several hours or overnight.
Lemon Blueberry Topping Instructions:
In med. saucepan, over med-low heat, stir together eggs, sugar, juice and zest with a wooden spoon until creamy and smooth.

Turn heat to low and continue to stir until mixture thickens and coats the back of spoon. (4-5 min.)

Add butter and stir well.

Remove from heat and allow to cool.

Spread on top of the cheesecake and sprinkle with fresh blueberries.
Notes
 It is important to use a wooden spoon when making the topping as metal utensils can
cause a chemical reaction with citrus.  Also, metal conducts heat differently and may
affect the outcome.
 Using a low speed on the mixer will help to incorporate air better in the cheesecake,
resulting in a lighter cake.
 In general, a 6 qt. Instant Pot should fit a 7" pan.
Try These Reader Favorite Dessert Recipes
Quite a few of our Dessert Recipes have been very popular across social media. Here's a few of our readers favorite dessert recipes that we hope you'll also try!