This post may contain affiliate links, read our
Disclosure Policy
for more information. As an Amazon Associate I earn from qualifying purchases, thank you!
How to Make Jack-O-Lantern Stuffed Peppers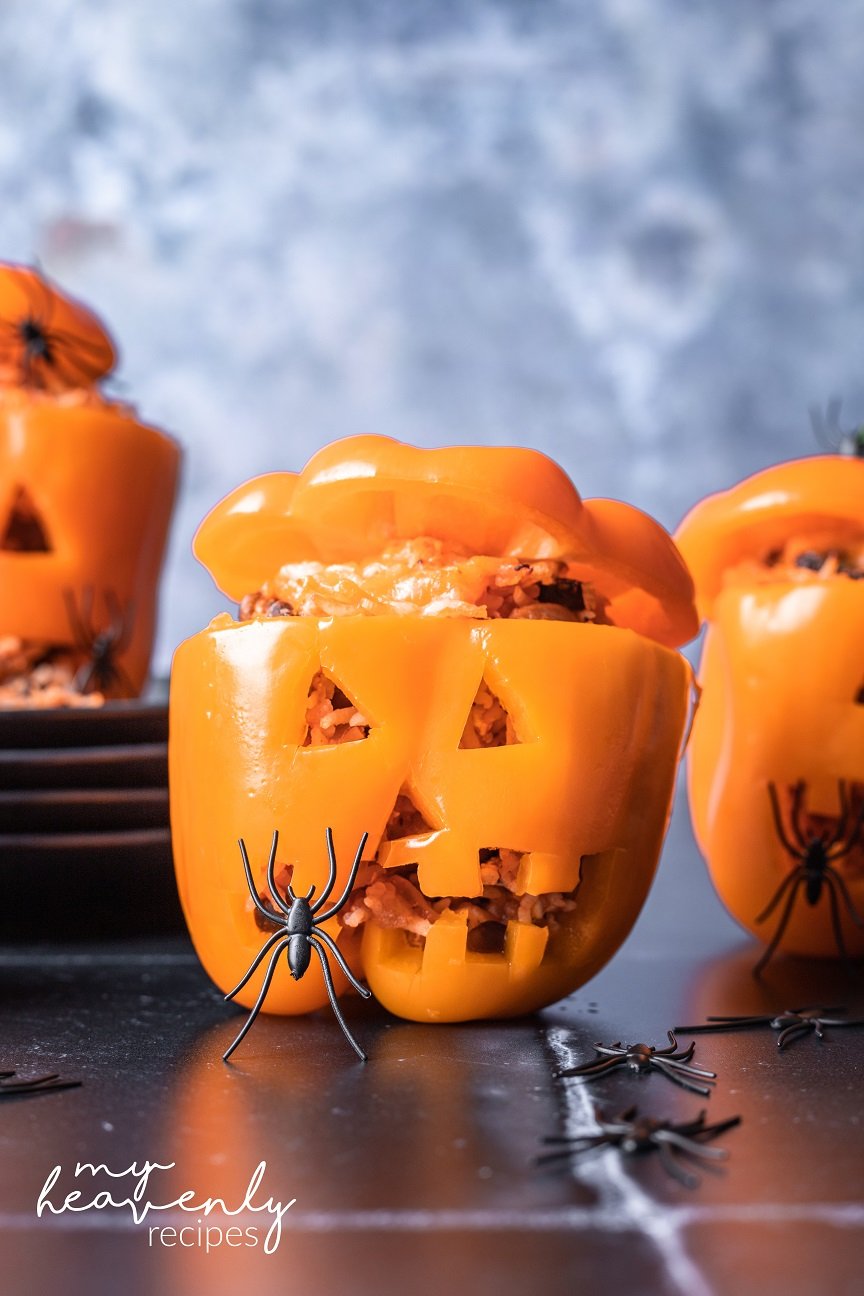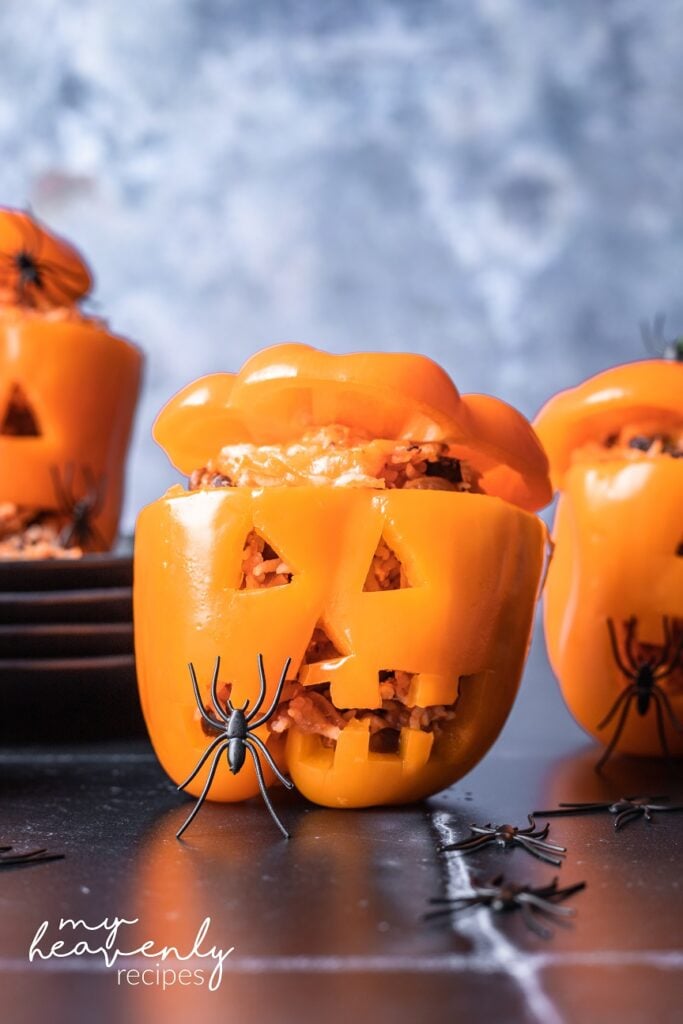 Looking for a fun Halloween dinner idea for the family? Try these jack-o-lantern peppers that get creepier looking in the oven! It's a crowd pleaser and so fun to make the pumpkin faces on the bell peppers.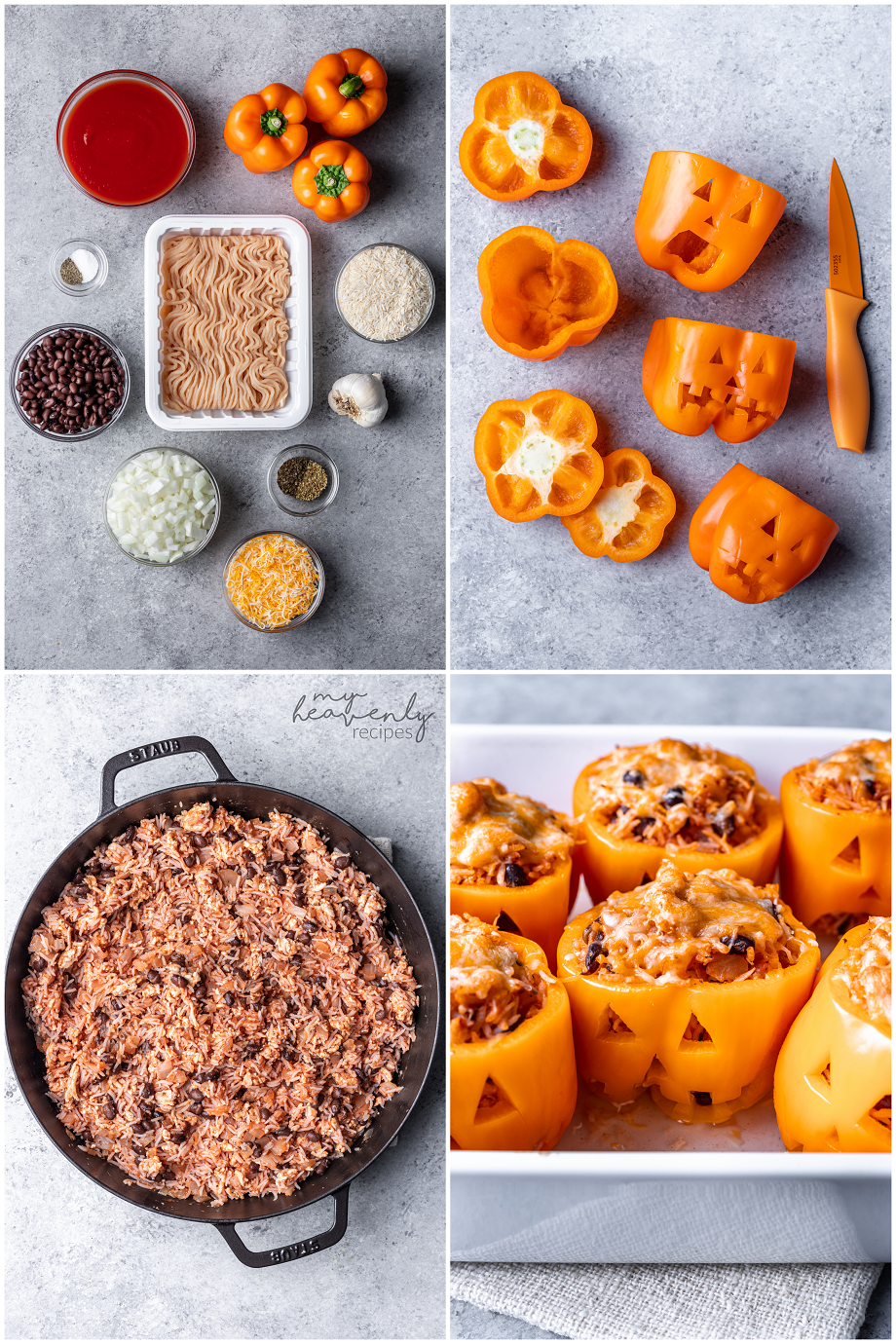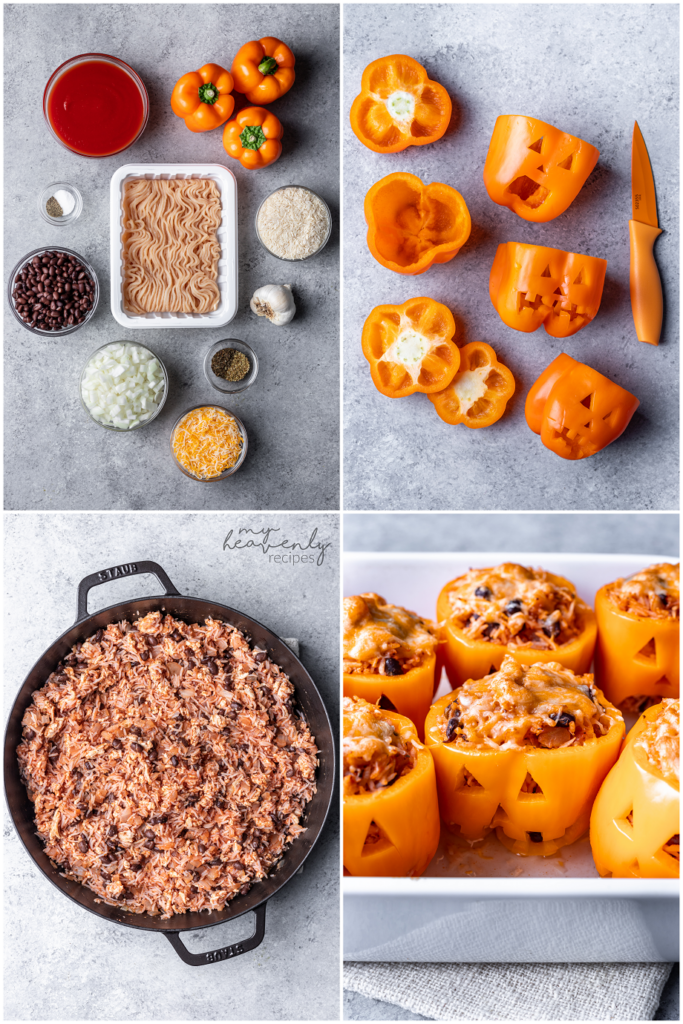 Just mix up the filling, cut the orange peppers into pumpkins, fill, and bake!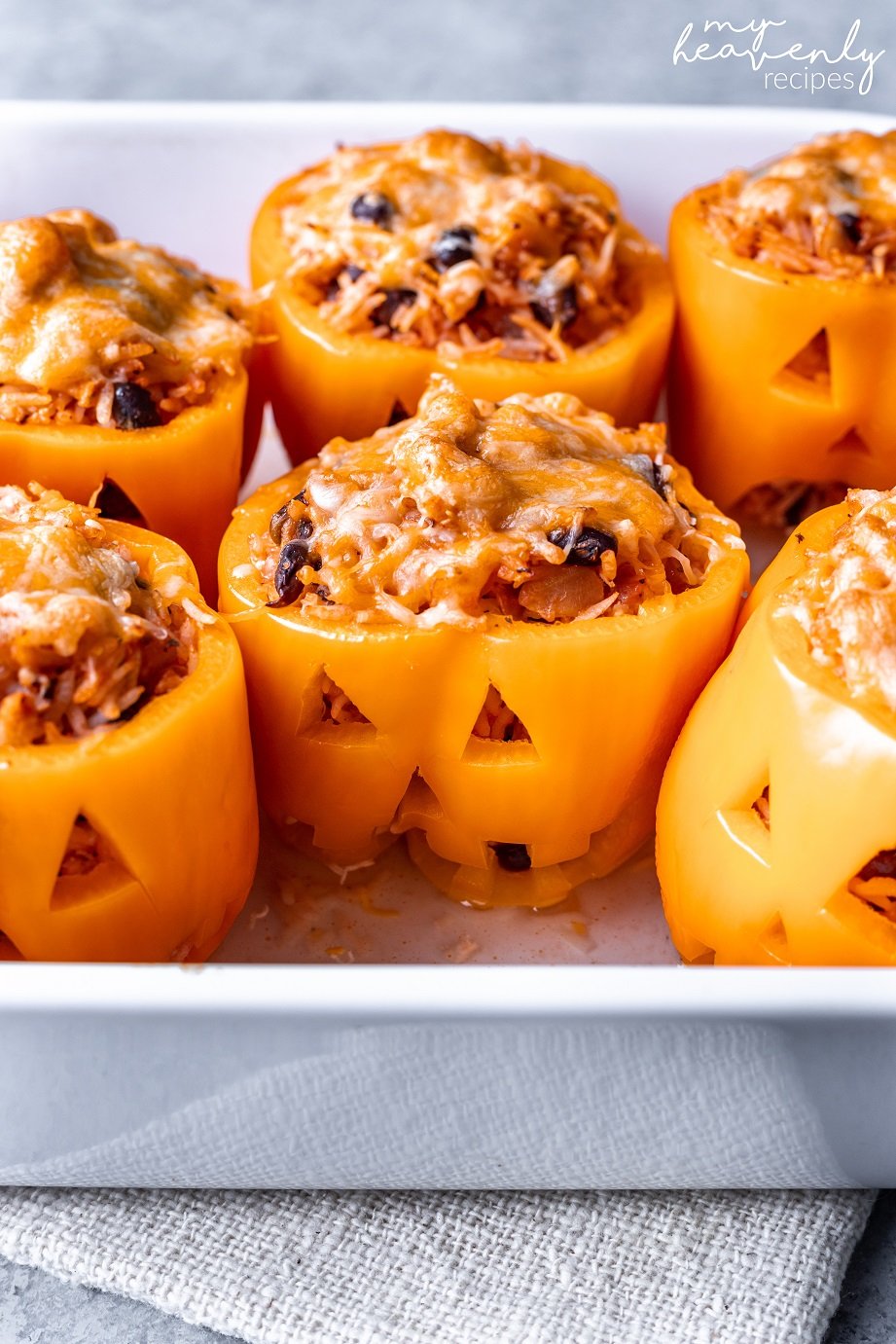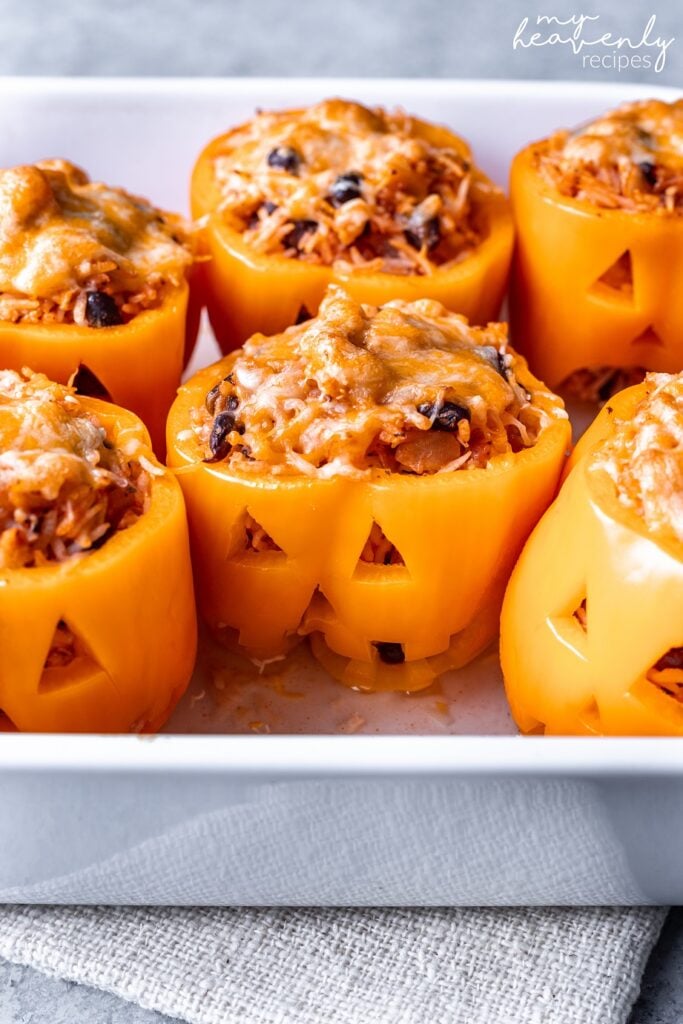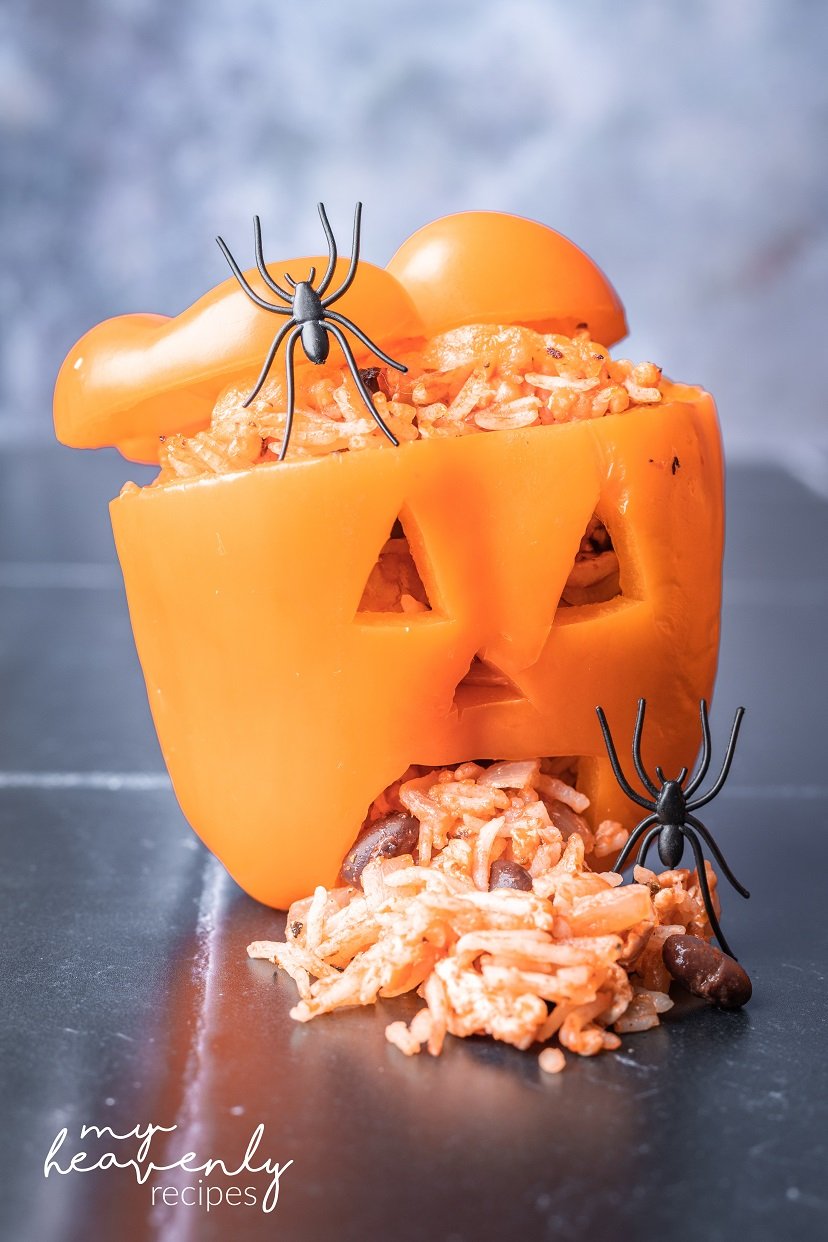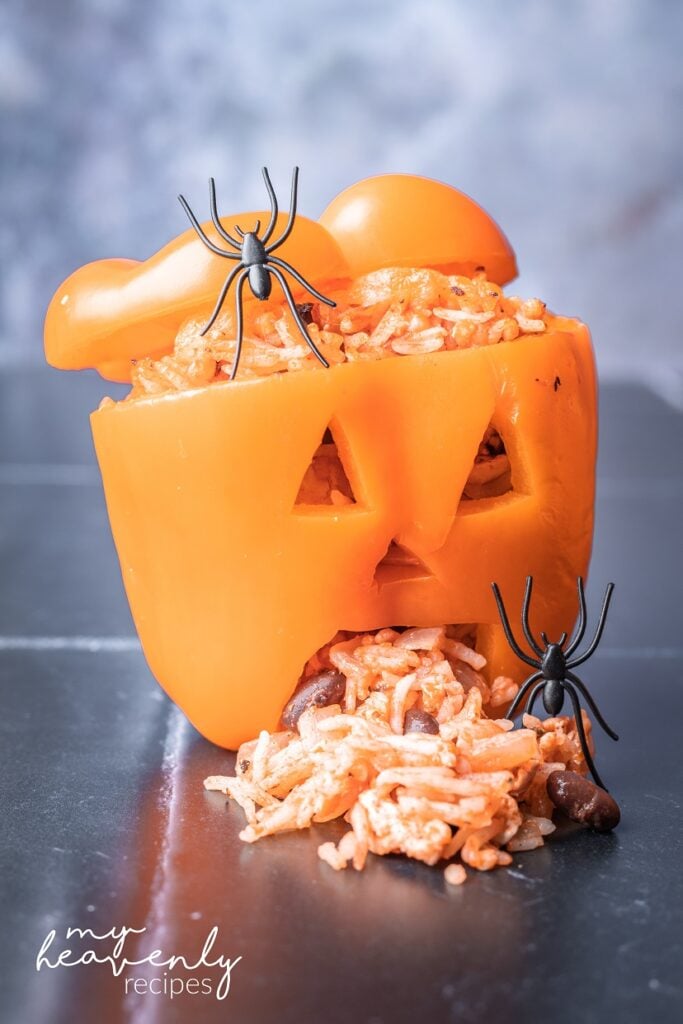 Serve the stuffed peppers individually on plates and have some filling coming out of its mouth like he's throwing up! So fun!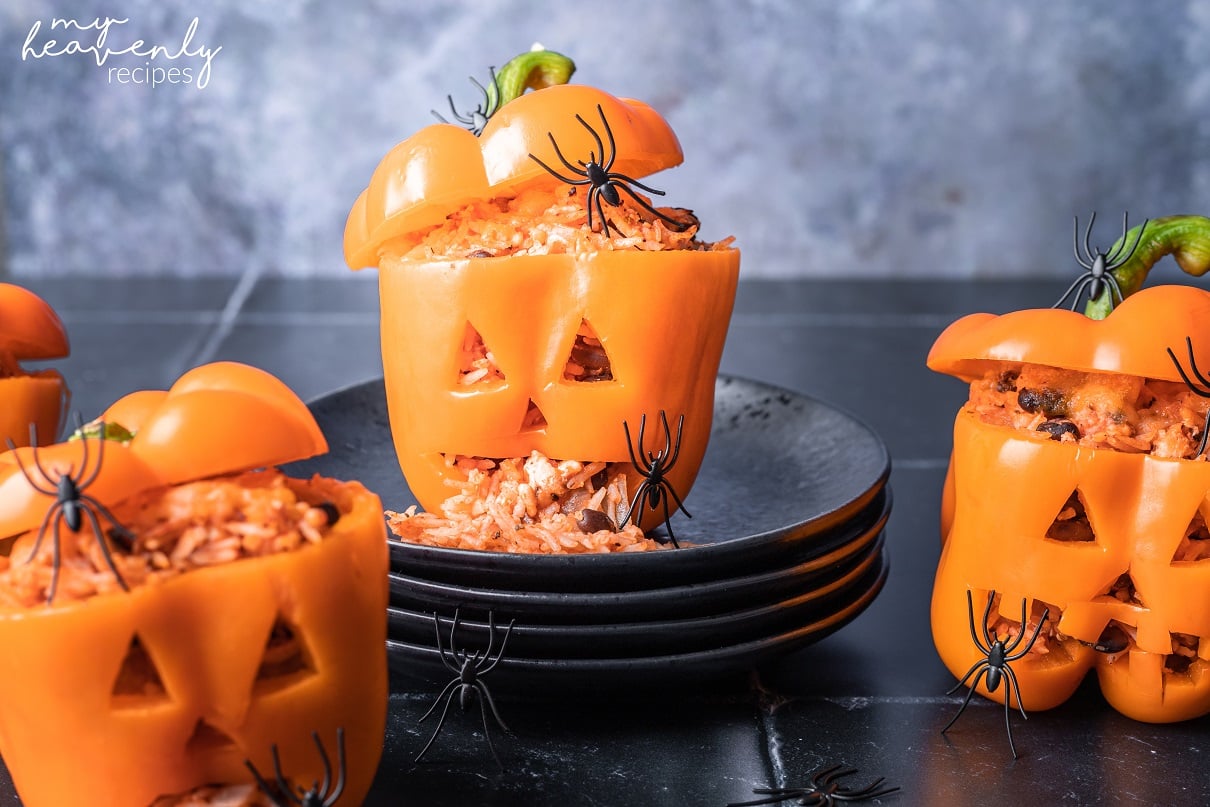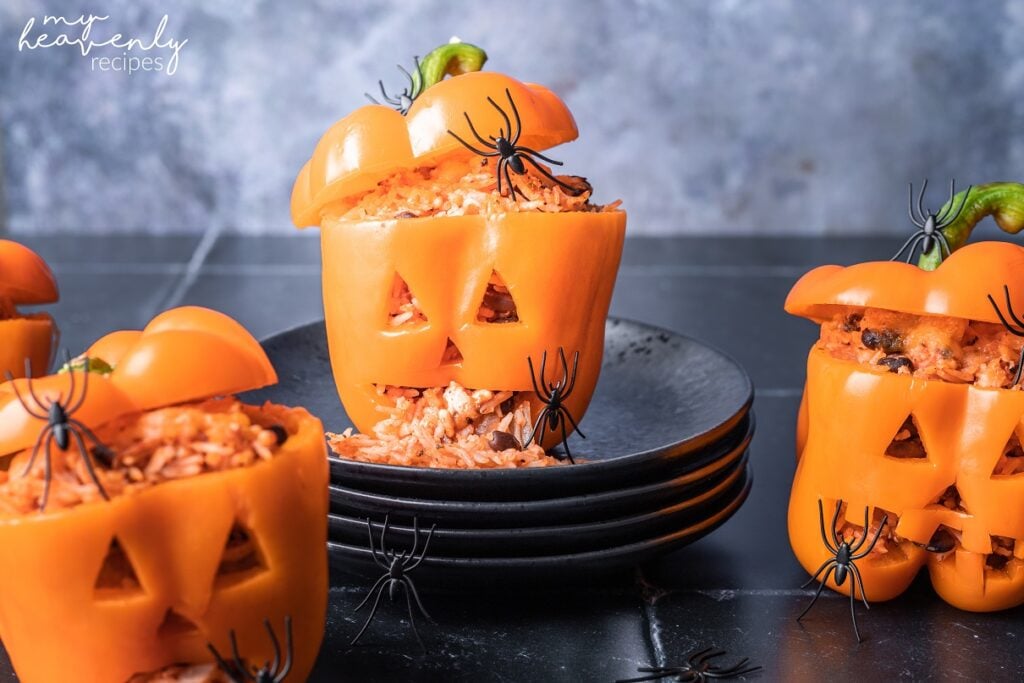 Should peppers be pre cooked before stuffing? They do not need to be as you add water to the dish in the oven but if you like don't like any crunch that is an option!
Should you cover stuffed peppers when baking?
No they do not need to be covered!
How long does it take to soften peppers in the oven?
It only takes about 10-15 minutes at 400 degrees in the oven but you can leave it longer for your personal preference.
Do you need to boil peppers before stuffing them?
No! The oven works great at softening the bell peppers.
How do you store stuffed peppers in the fridge?
I would put them in tall tupperware with a lid or cover them with saran wrap. You can also wrap the whole peppers in tin foil, just spray the foil with a bit of pam cooking spray first.
How do you cut a bell pepper for stuffing?
Just cut off about a inch from the top straight across.
How do I know when my stuffed peppers are done?
The peppers will look a darker color and the skin will be soft to the touch.
How long does it take to roast bell peppers at 400?
10-15 minutes!
Halloween Stuffed Peppers
Ingredients
8

orange bell peppers

2

tablespoons

olive oil

2 1

⁄4 cups diced yellow onion

about 1 onion

1

pound

16 ounces ground turkey or ground chicken

1

tablespoon

minced garlic

about 3 garlic cloves

1 1

⁄2 cups white basmati rice

cooked according to package instructions

1

15.5 ounce can black beans, rinsed and drained

1

15 ounce can tomato sauce

1

teaspoon

dried oregano

1

teaspoon

dried basil

1

⁄2 teaspoon kosher salt

1

⁄4 teaspoon black pepper

3

⁄4 cup shredded cheddar or colby jack cheese
Instructions
Preheat oven to 400 degrees F.

Cut the tops off the bell peppers. Using your smallest paring knife, remove the ribs and seeds from inside. Then, cut jack-o-lantern faces on one side of each pepper. Place peppers in a 9×13-inch baking dish.

Heat olive oil in a large skillet over medium heat. Add onions. Cook 5 minutes, stirring occasionally.

Add ground turkey (or ground chicken) and garlic. Cook another 5 minutes, breaking apart the meat with a wooden spoon or rubber spatula.

Stir in rice, black beans, tomato sauce, oregano, basil, salt, and pepper. Cook 3 to 5 more minutes, or until the rice starts to absorb the sauce. Remove from heat.

Scoop a heaping amount of the rice filling into each pepper. Top each with an equal amount of shredded cheese.

Pour 1 1⁄2 cups of water in the bottom of the baking dish. Bake, uncovered, for 10 minutes, or until the cheese melts and the peppers begin to soften.
Notes
● The water added to the baking dish helps the peppers steam and soften.
● Get creative with the jack-o-lantern faces. Cut them however you like.
● Feel free to add other vegetables to the rice filling.
● Any extra rice filling can be served as a side dish or stuffed into other vegetables, like
zucchini, tomatoes, or mushrooms.