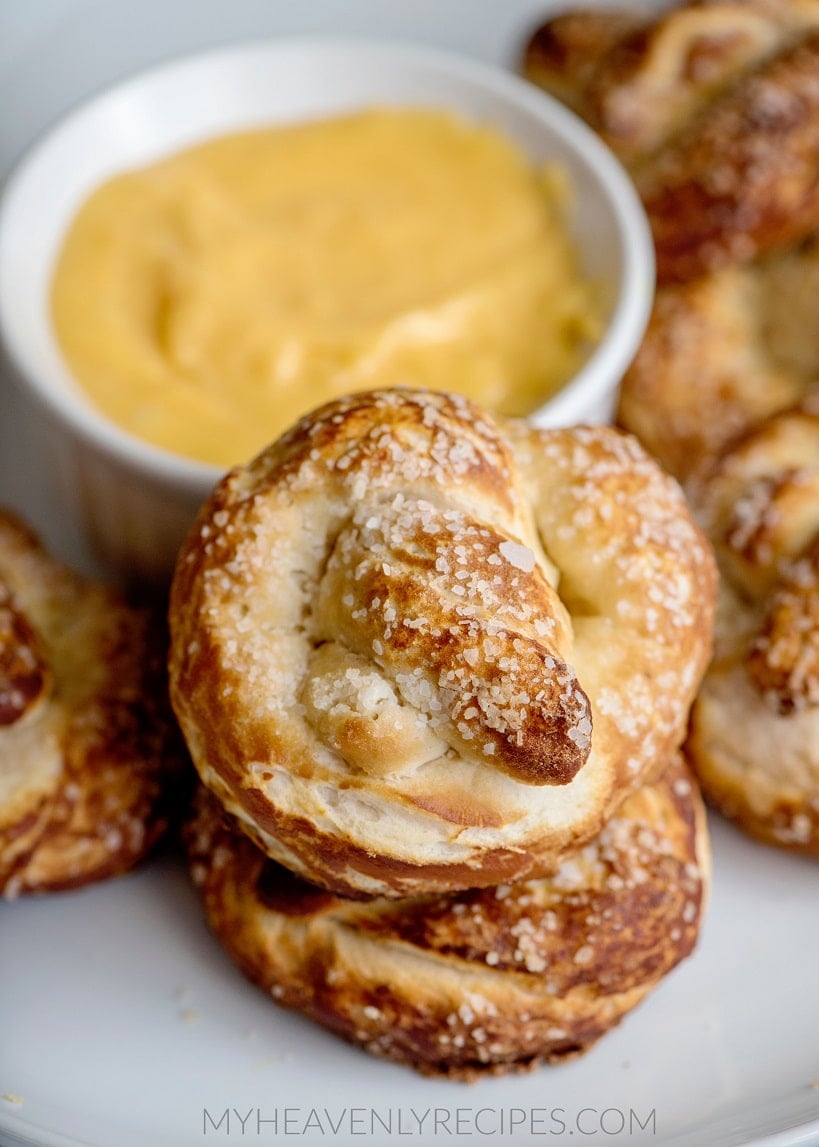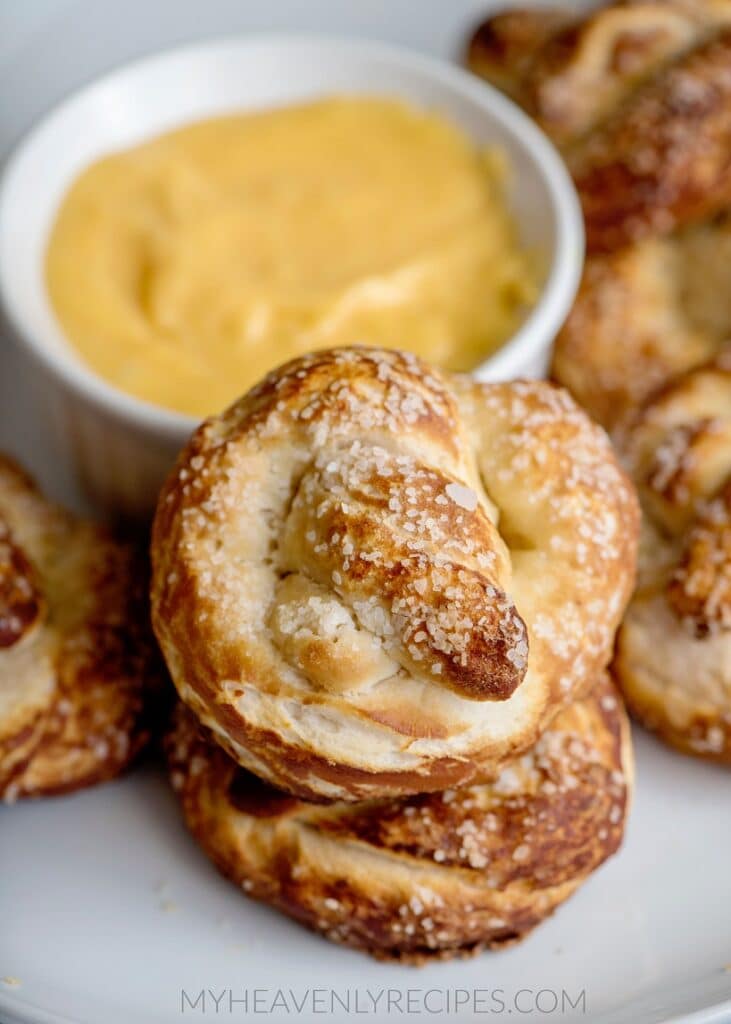 Turn your dollar canned biscuits into delicious crunchy pretzels on the outside and chewy inside! So easy and your family will love them.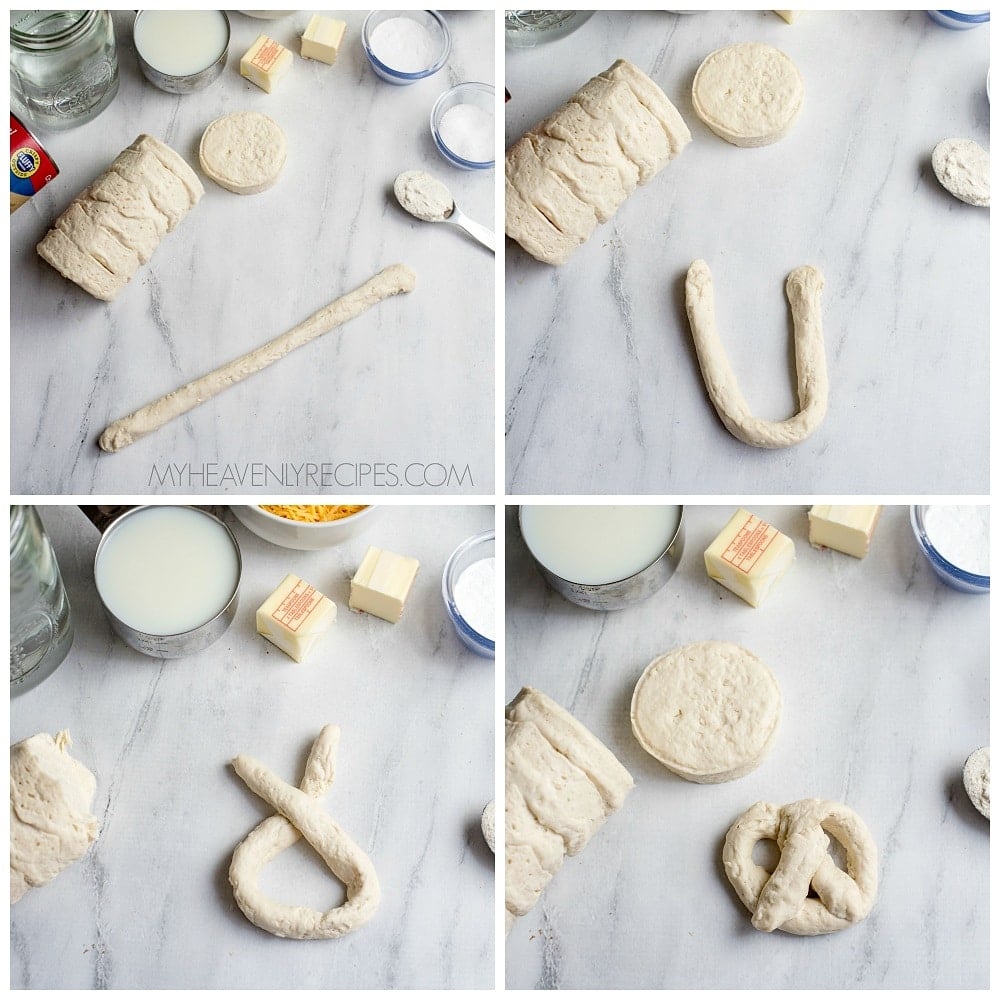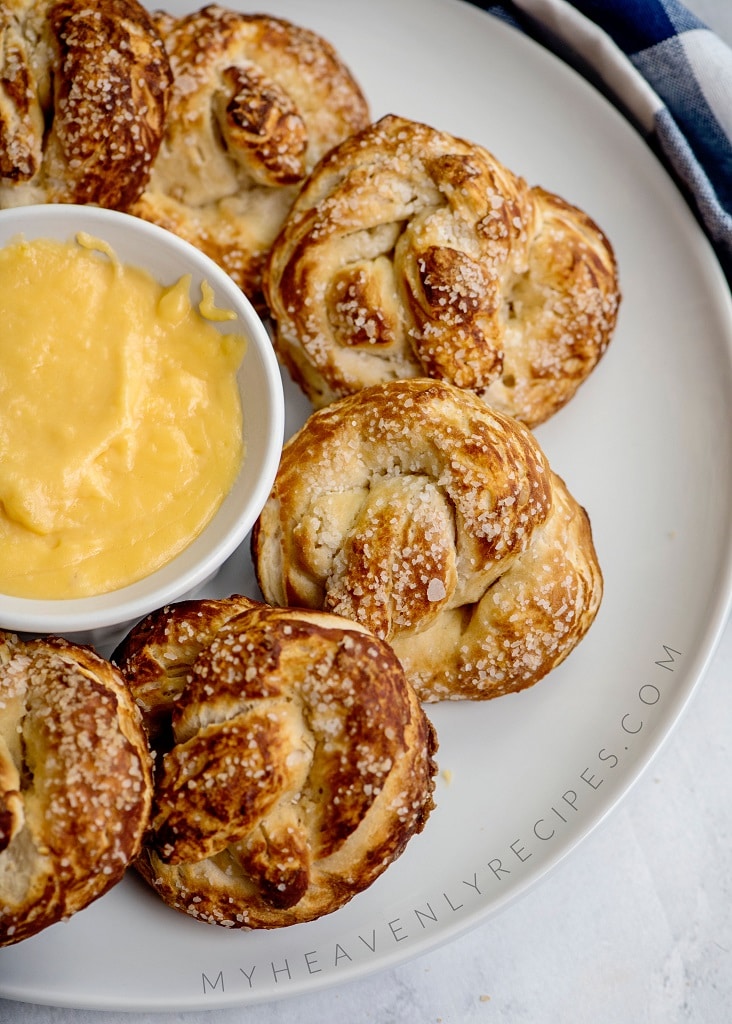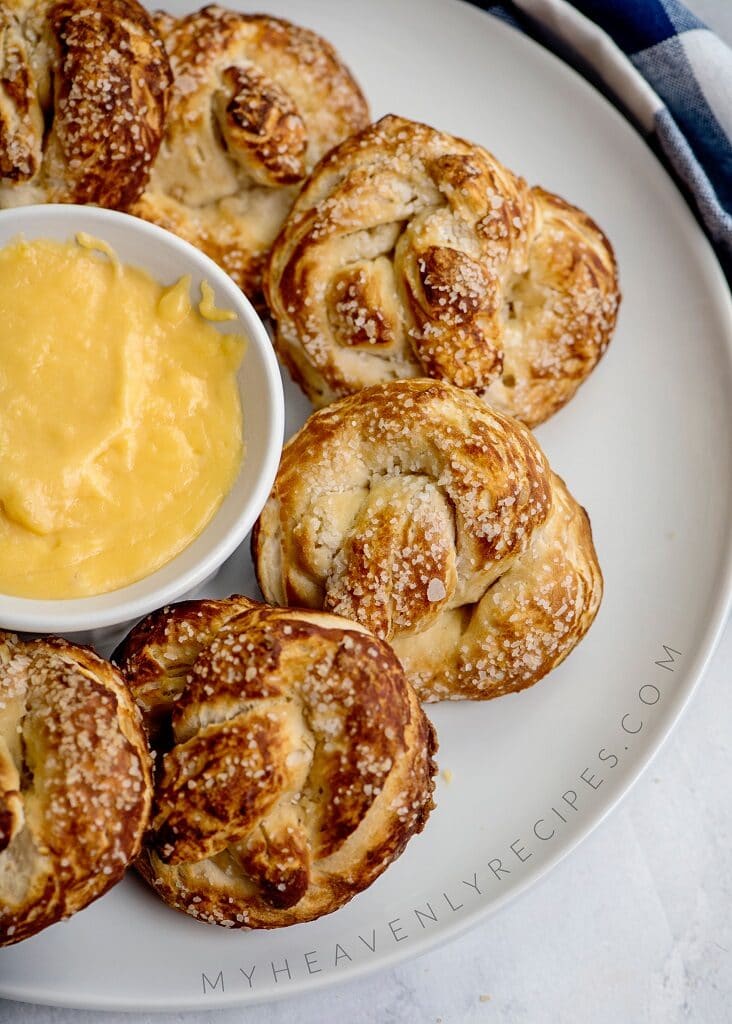 Canned Biscuit Pretzels
Ingredients
1

can big sized biscuits – I used Pillsbury Grands Southern Homestyle – 8 Count

3

cups

water

3

tbsp.

baking soda

2

tbsp.

butter

1

tbsp.

coarse salt
Cheese Sauce
1 ½

cups

shredded sharp cheddar cheese

1-

cup

milk

2

tbsp.

all purpose flour

2

tbsp.

butter

Salt/pepper to taste
Instructions
Prepare the Dough:
Take one of the biscuits and squish it into a tube shape and then begin to roll it into a long rope. Try and get the rope as long as you can without ripping the biscuit dough, at least 12-15 inches.

To shape the dough into a pretzel, begin with a U shape, then crossover the two ends, crossover one more time and then bring the ends down to the bottom of the U and attach the ends.

Do this with all of the biscuits and place them onto a cookie sheet that has been lined with parchment paper. Place the cookie sheet into the freezer for a minimum of 1 hour, 2 if you can wait. The pretzels will be easier to handle in the next step if they are frozen.

When the time is up, leave the biscuits in the freezer while you prepare the baking soda bath.

Preheat the oven to 450 degrees.

Boil 3 cups of water on the stove and then mix the baking soda in. Remove the pretzels from the freezer and start by dropping 1-2 of them into the baking soda bath for 45 seconds at a time. Remove them from the water with tongs and place the pretzels back onto the parchment paper lined cookie sheet. Do this with all of the remaining biscuit pretzels.

Once the baking soda bath is done, melt the 2 tbsp. of butter in the microwave. Brush the butter onto each pretzel and generously sprinkle with the coarse salt.

Bake at 450 for 12-15 minutes; start watching it around 12 minutes and remove when all of the pretzels have turned a crispy brown color. Remove from the oven and allow cooling while you prepare the cheese sauce.
Cheese Sauce:
On the stove, melt the 2 tbsp. of butter in a saucepan. Stir in the flour and cook for a minute. Slowly whisk in the milk, salt and pepper and cook until it's thickened. Remove from the heat and stir in the cheese. If the dip is too thick, just add some more milk until the desired consistency has been reached.

Dip your warm pretzels in and enjoy!

Store the pretzels in a zip lock bag or airtight container.