How to Make Smoked Salmon Bites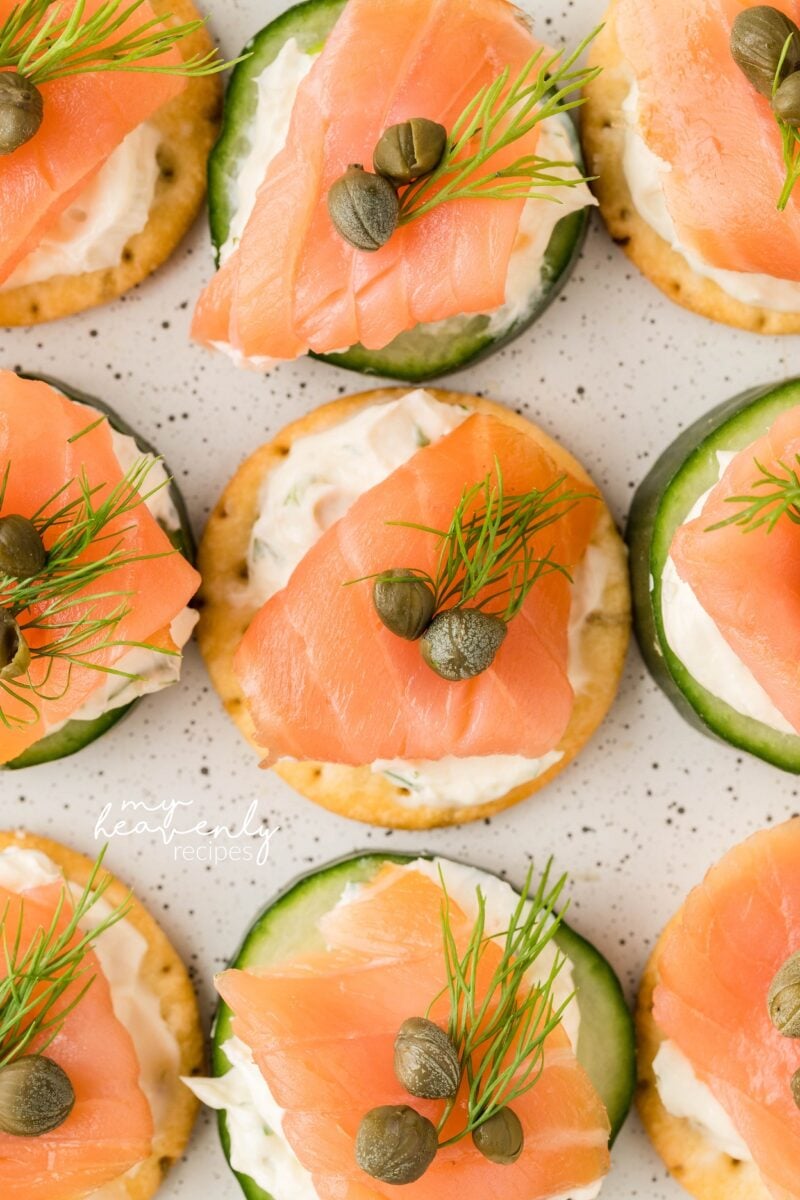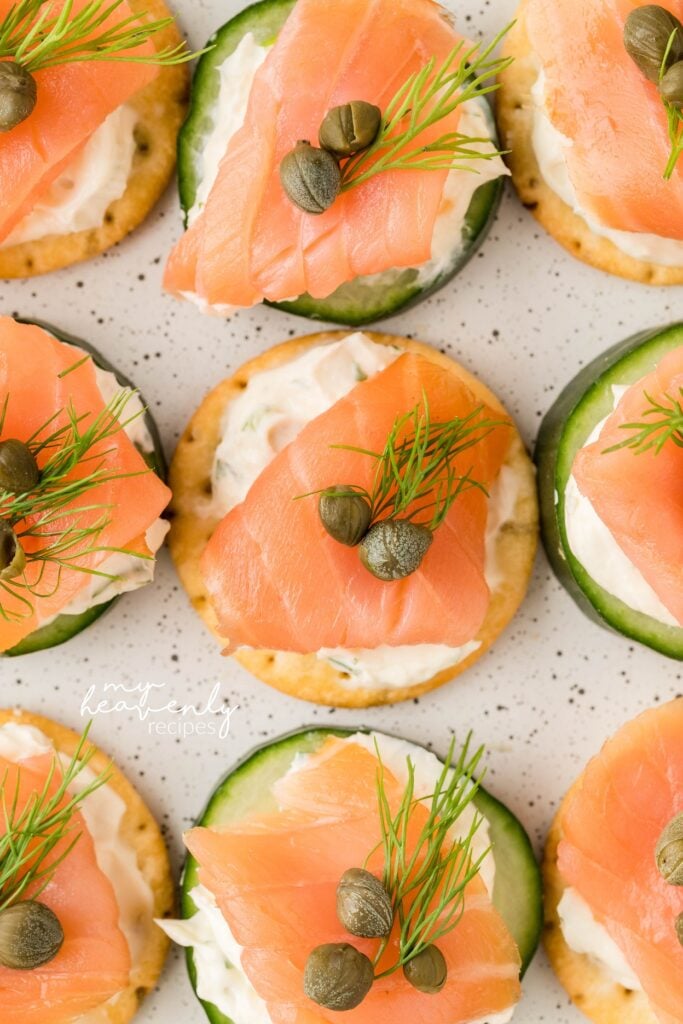 Impress your friends and family with these smoked salmon bites! They are simple to assemble and look gorgeous on a white platter to serve. We love to make these for holidays like Thanksgiving and Christmas time!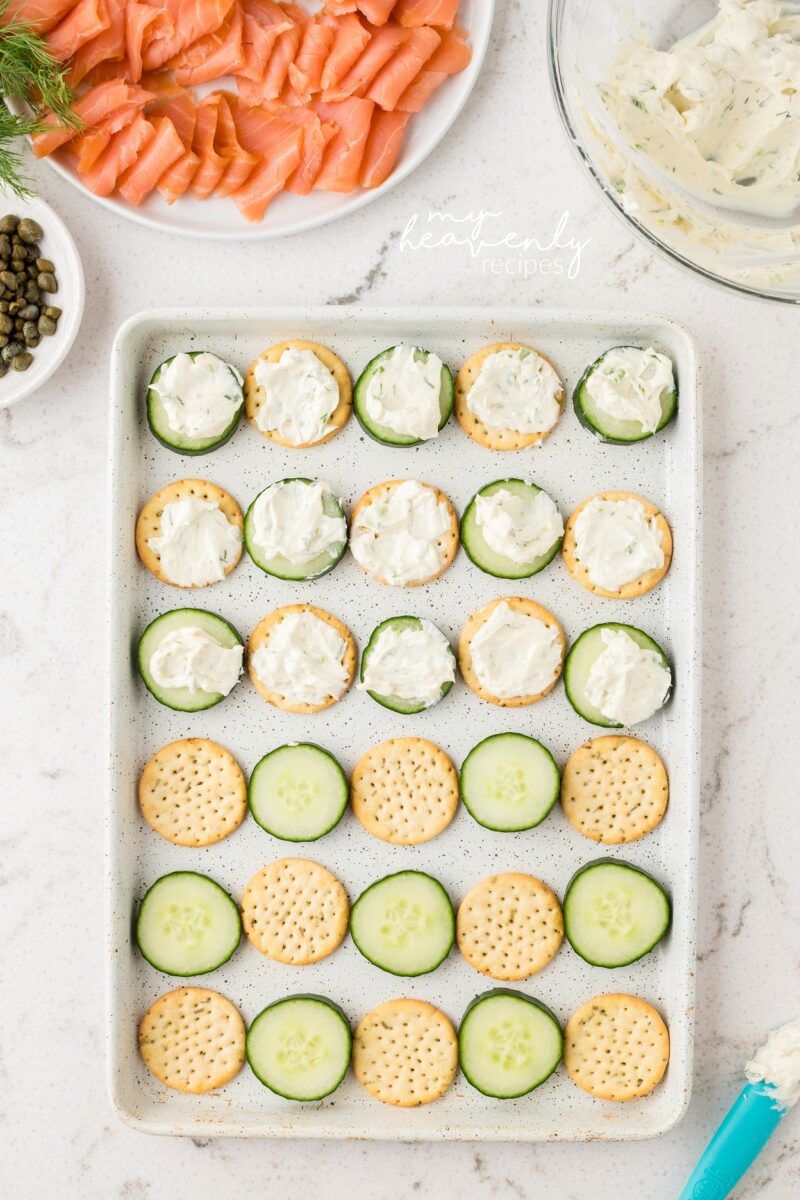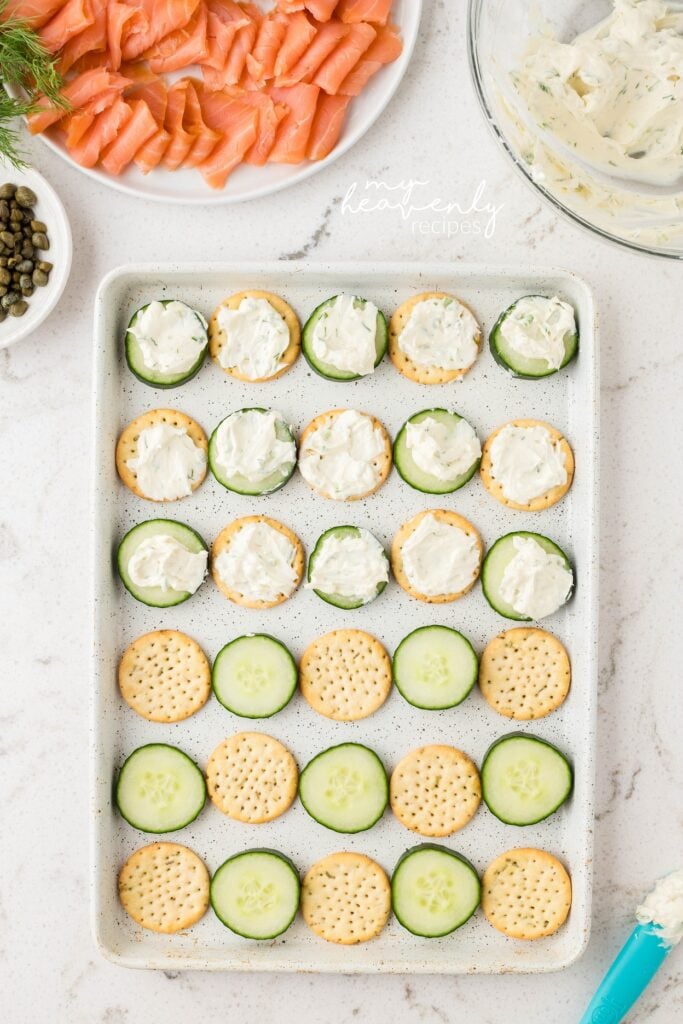 If you prefer crackers over cucumbers you could just make them by themselves or vise-versa!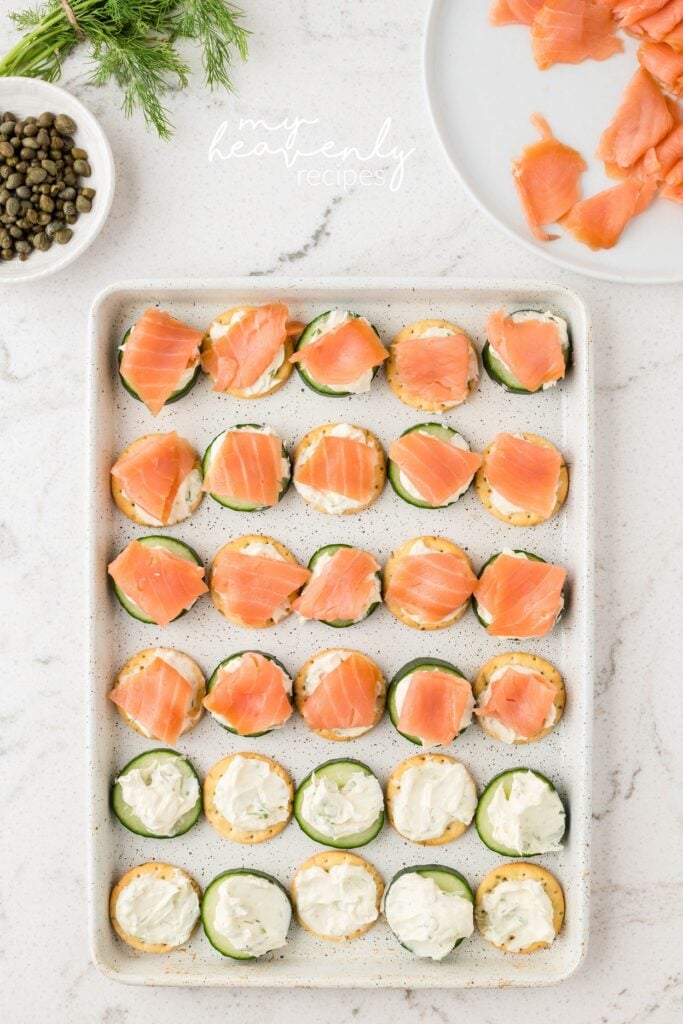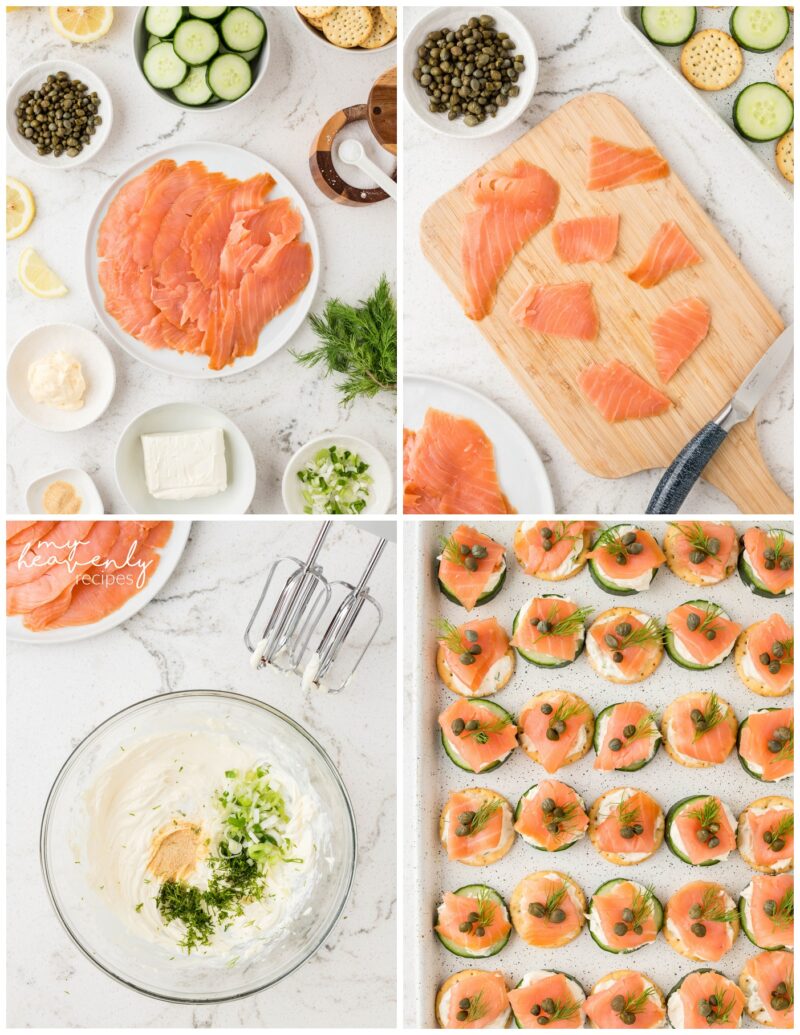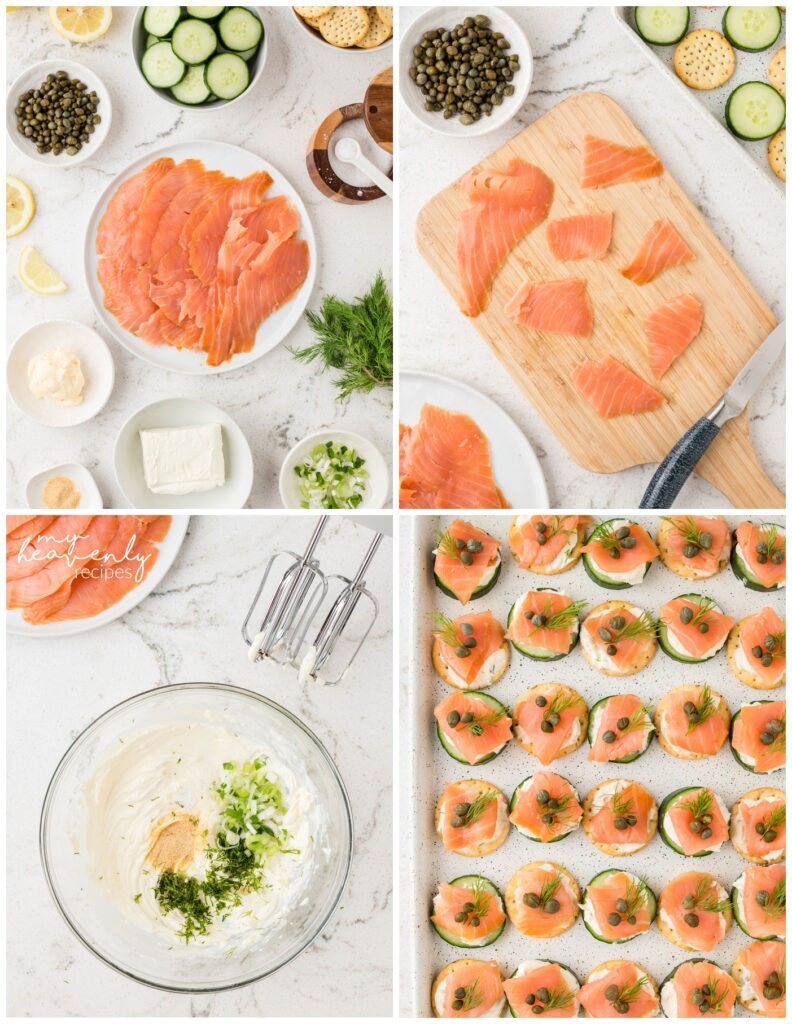 FAQs:
What will I need to complete this recipe?

You will need the following ingredients:

Cream cheese: For this recipe, we use full-fat cream cheese.
Mayonnaise: We use mayo to thin the cream cheese and elevate this recipe's flavor profile.
Freshly squeezed lemon juice: Fresh lemon juice boosts the taste and adds freshness to the spread.
Garlic powder: Garlic elevates the flavor profile of the cream cheese spread.
Kosher salt: Kosher salt elevates the taste of the cream cheese spread.
Fresh dill and green onions: Fresh dill and green onions enhance the flavor of the cream cheese spread.
Smoked salmon: We use cold-smoked salmon for this recipe. We found ours in the seafood section of our favorite supermarket.
Non-pareil capers: Capers add some saltiness and texture to this recipe.
English cucumber: We love English cucumbers for this yummy appetizer because of their thin skin and tiny seeds. You can use an American cucumber, but consider removing the skin as they tend to be thick and tough.
Crackers: You can use your favorite crackers for this recipe.

You will need the following supplies:

Measuring spoons
Chef's knife
Mixing bowl
Hand mixer
Serving platter

How do I store my smoked salmon appetizer? You may store this appetizer in the fridge using an airtight container for 1 – 2 days.
Can I make substitutions?

Cream cheese: This recipe uses full-fat cream cheese for its rich taste. You can use reduced-fat cream cheese if you prefer.
English cucumber: You can substitute the English cucumber for an American cucumber. You will want to remove the skin of the American cucumber before serving.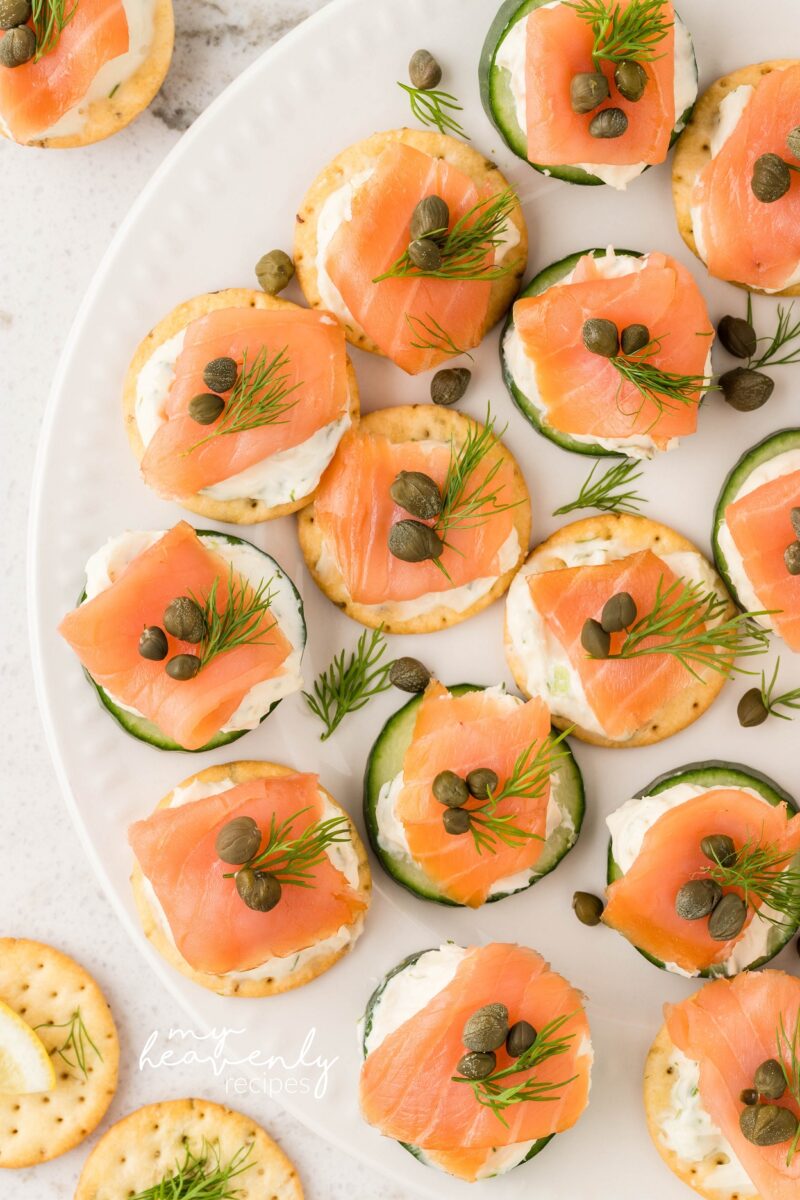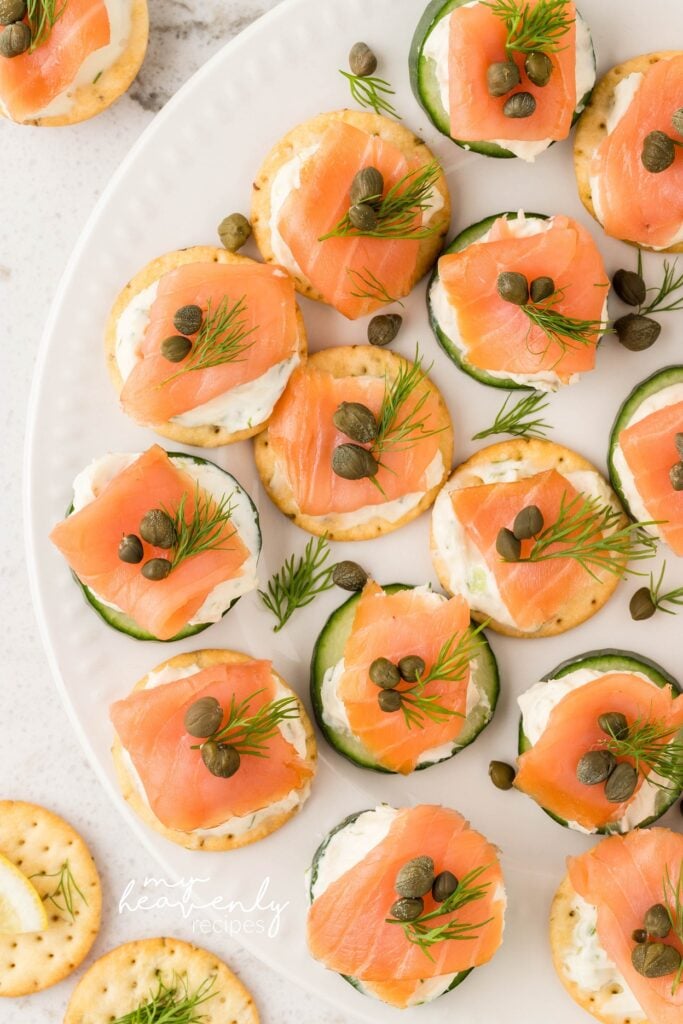 Do I need to use capers? No! In fact, you could make half with them and half without. Just add the dill pieces on top.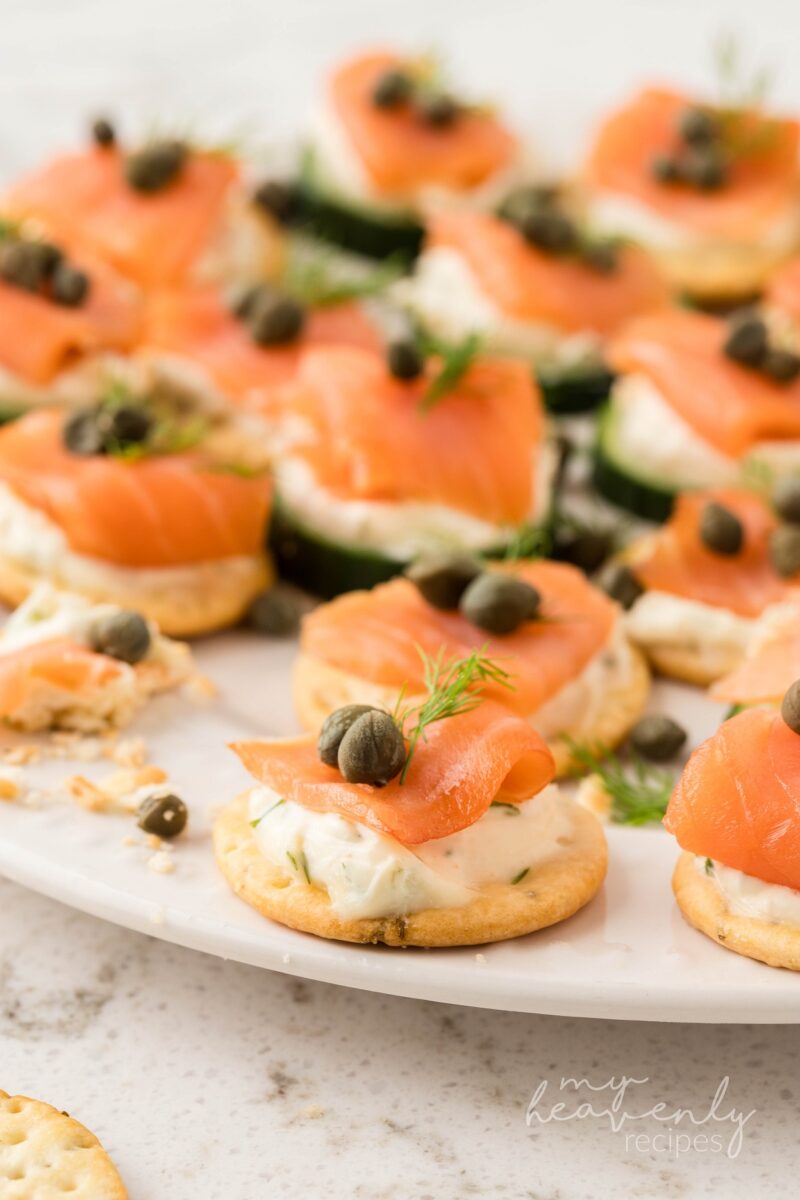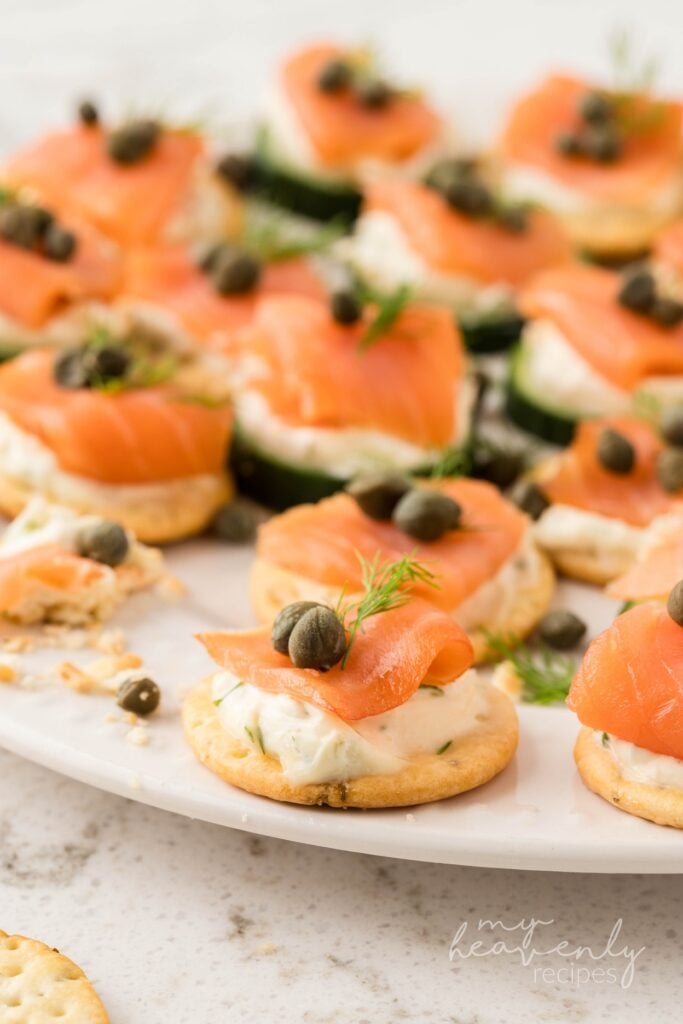 Smoked Salmon Appetizer
Ingredients
4

ounces

cream cheese

softened

1

tablespoon

mayonnaise

1

teaspoon

lemon juice

¼

teaspoon

garlic powder

⅛

teaspoon

Kosher salt

2

teaspoons

fresh dill

chopped

2

teaspoons

green onions

finely chopped

8

ounces

sliced smoked salmon

1

English cucumber

sliced

Crackers

round

Non-pareil capers

garnish

Fresh sprigs of dill

garnish
Instructions
Add 4 ounces of softened cream cheese, 1 tablespoon of mayonnaise, and 1 teaspoon of lemon juice in a medium mixing bowl. Using a hand mixer, blend the ingredients until creamy.

Next, add ¼ teaspoon of garlic powder, ⅛ teaspoon of Kosher salt, 2 teaspoons chopped fresh dill, and 2 teaspoons finely chopped green onions. Blend again until the ingredients are combined. Cover and place in the refrigerator while preparing the remainder of the recipe.

Cut the slices of smoked salmon into small bite-sized portions.

Now it's time to assemble! Remove the cream cheese mixture from the refrigerator. Start an assembly line beginning with crackers and cucumber slices. Place the crackers and cucumbers on a serving platter. Top each with cream cheese spread, a small piece of smoked salmon, and a few capers, and sprinkle with chopped fresh dill.

Serve and enjoy!
Notes
It's best to assemble this appetizer the day you serve it. You can make the cream cheese mixture ahead of time for quicker assembly.