Strawberry Crunch Bars
Surprise the family with these Strawberry Crunch Bars. They are a little piece of heaven!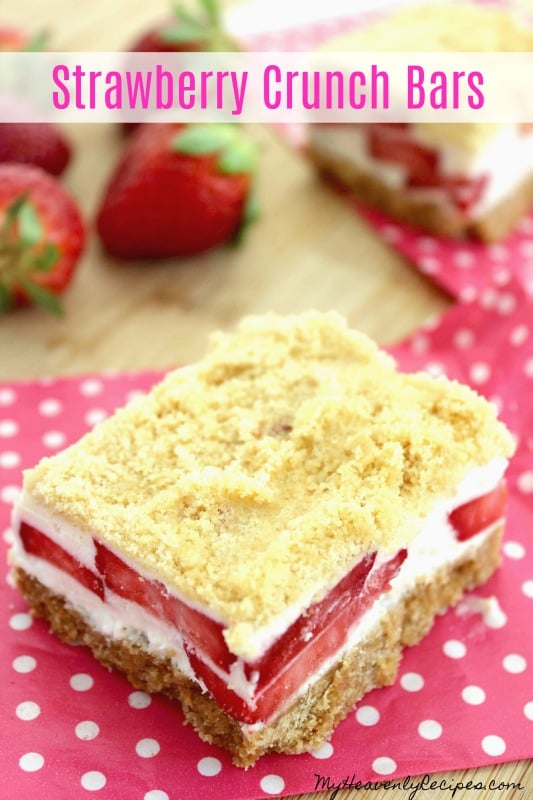 There are three sweet flavors that I am just obsessed with: 1. Chocolate 2. Nutella 3. Strawberries!
What flavors are you obsessed with? Let me know by leaving a comment below!
As the kids get older I think I'm instilling those flavors into them! I consider it as right of passage as they grow older.
Other super simple dessert recipes you may be interested in:
Listen we don't do fussy recipes here at MyHeavenlyRecipes.com. But, what we do do is recipes made with real ingredients and they are all Kid Tested & Husband Approved!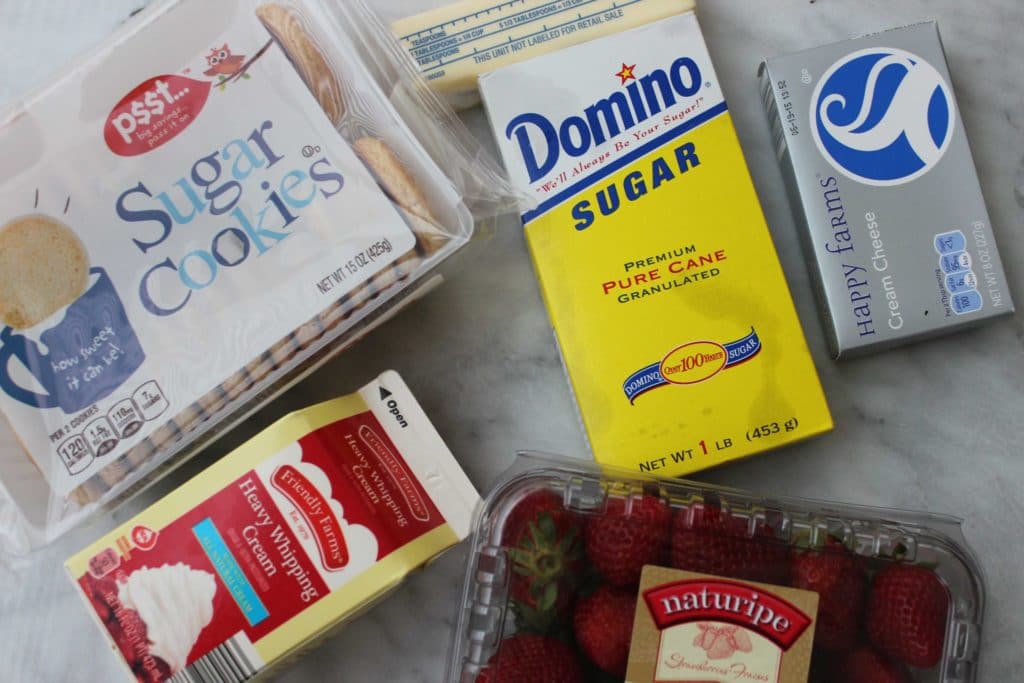 INGREDIENTS
15 oz Sugar Cookies
1/2 cup Sugar
6 tbsp melted Butter
8 oz softened Cream Cheese
1 cup Heavy Cream
1 lb Strawberries
DIRECTIONS
Grease 9×13 baking dish.
Preheat oven to 325.
Crush 10 oz of sugar cookies in food processor.
Add 6 tablespoons of melted butter and pulse until blended.
Press mixture into bottom of prepared pan.
Bake for 30 minutes.
Set aside to cool.
Wash, hull and slice strawberries.
Whip heavy cream with sugar until peaks form.
Add in softened cream cheese and mix until blended.
Fold in sliced strawberries.
Spread mixture on top of cooled crust.
Crush remaining sugar cookies in blender and sprinkle over top of pan.
Cover and place in freezer.
Remove from freezer about 15-30 minutes prior to serving time.