This post may contain affiliate links, read our
Disclosure Policy
for more information. As an Amazon Associate I earn from qualifying purchases, thank you!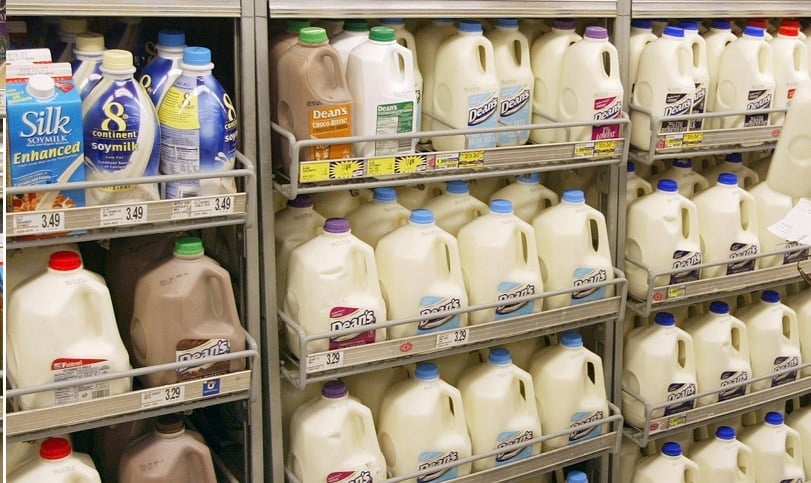 The expiration date is quickly approaching on your gallon of milk and you haven't even opened it. Or there's over half left and you don't want to waste it. Sound familiar? Don't fret! As long as you freeze it before that expiration date it is just fine. But you can't just shove the whole gallon into your deep freezer. It doesn't work that way! Make sure to check out my other 2 posts: how to freeze eggs and 21 foods that freeze well!
How to Freeze Milk
Pour a cup of milk out of the gallon first. Milk will expand in the freezer so you must make sure to leave enough room for it (about 1 ½ inches from the top.) Otherwise you'll have an exploded mess in your freezer!
If you want to freeze milk to add to macaroni and other recipes, get out your ice cube tray! Pour milk into each section and freeze for a few hours. Once they are set up, put the cubes into a ziplock bag to store in the freezer. Then it's super easy to just grab one cube and thaw!
Never freeze milk in a glass container only plastic ones. Glass cannot withstand the extreme temperature change and it might crack/break.
How Long Can you Freeze Milk?
You can freeze milk for up to three months.
You can also freeze chocolate milk!
How Do I Thaw My Frozen Milk?
Take your milk out 1 to 2 days before you want to use it.
Fill a sink or large container with cold water from the ink. Submerge the container of frozen milk in the container of cold water to thaw. Set a timer for 30 minutes.
How Long Does Milk take to Freeze?
A gallon of milk will take about 24 hours to completely freeze.
What About Food with Milk in them?
Yes! You can freeze cheeses, cream cheese, yogurt, butter, and sour cream in the freezer! I would recommend you wrapping them with a plastic bag as that'll keep the freezer burn away. Up to three months.