How to Make Chocolate Truffles with Raspberry Filling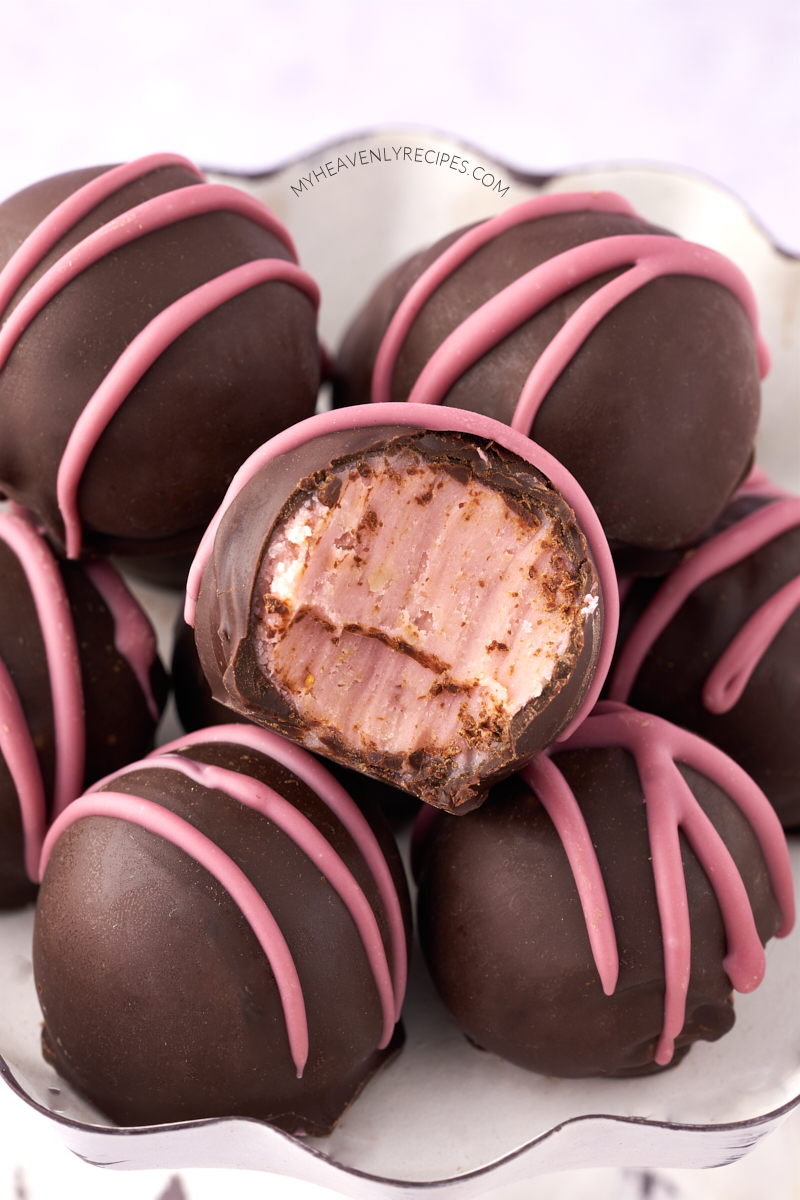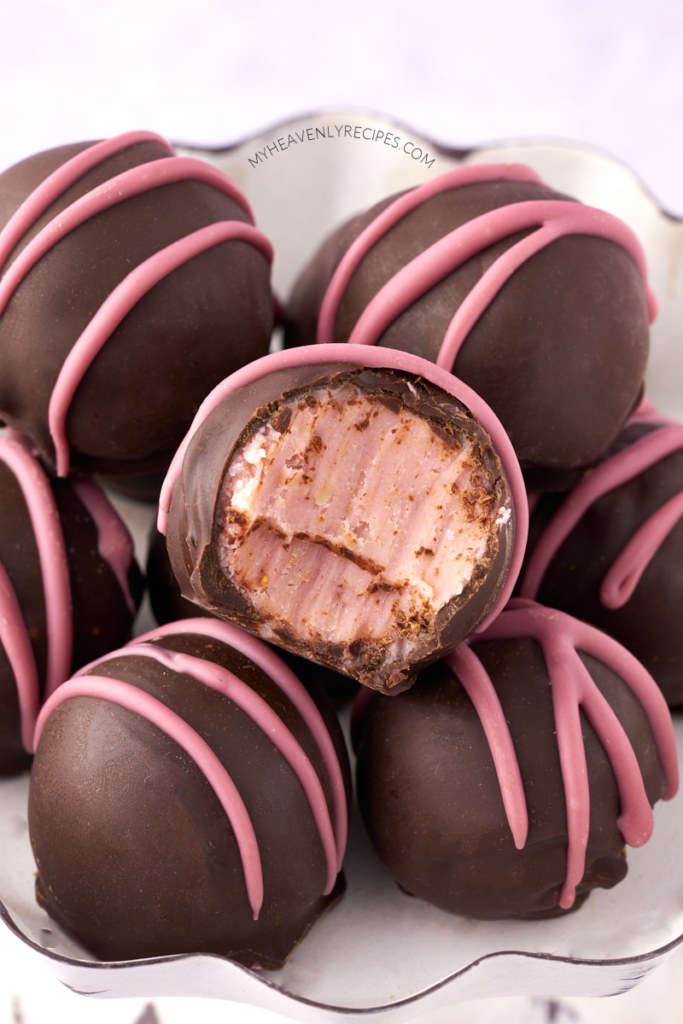 Valentine's Day is coming up quickly and if you want to impress your significant other you NEED to make these chocolate raspberry truffles! They are to die for. Make sure to also try our strawberry cake truffles!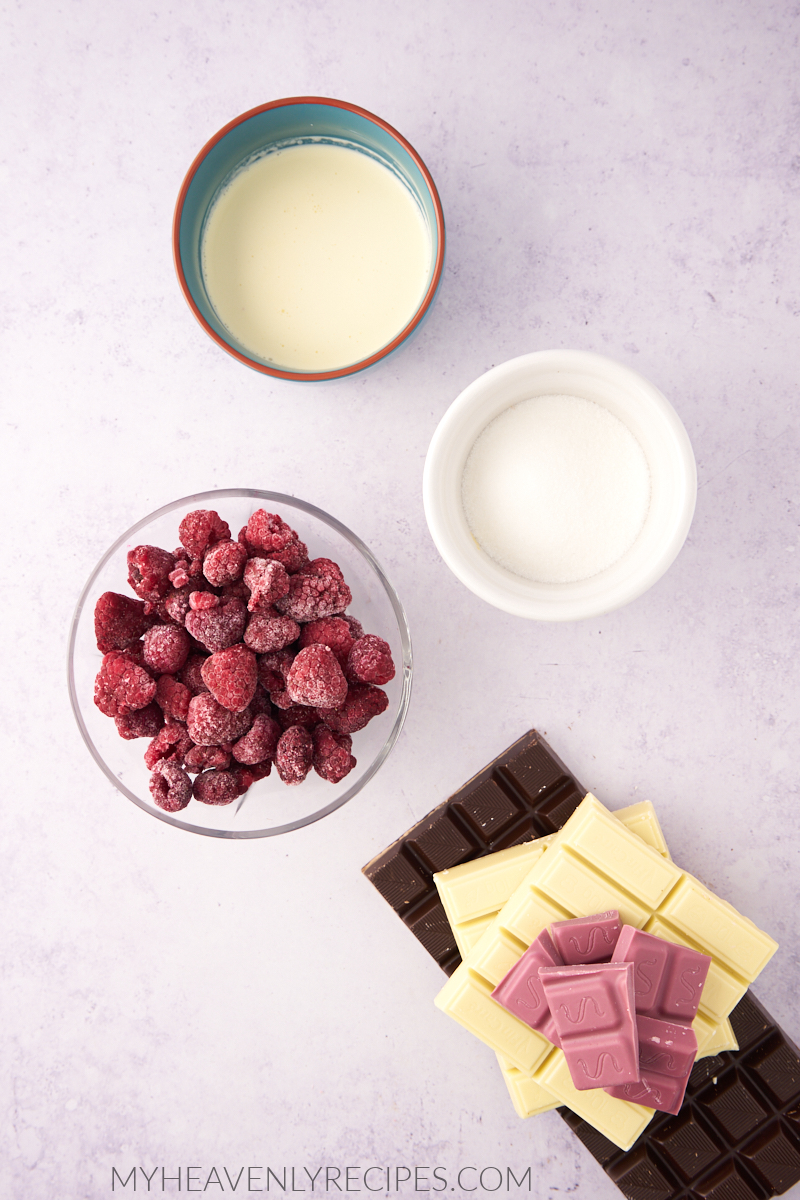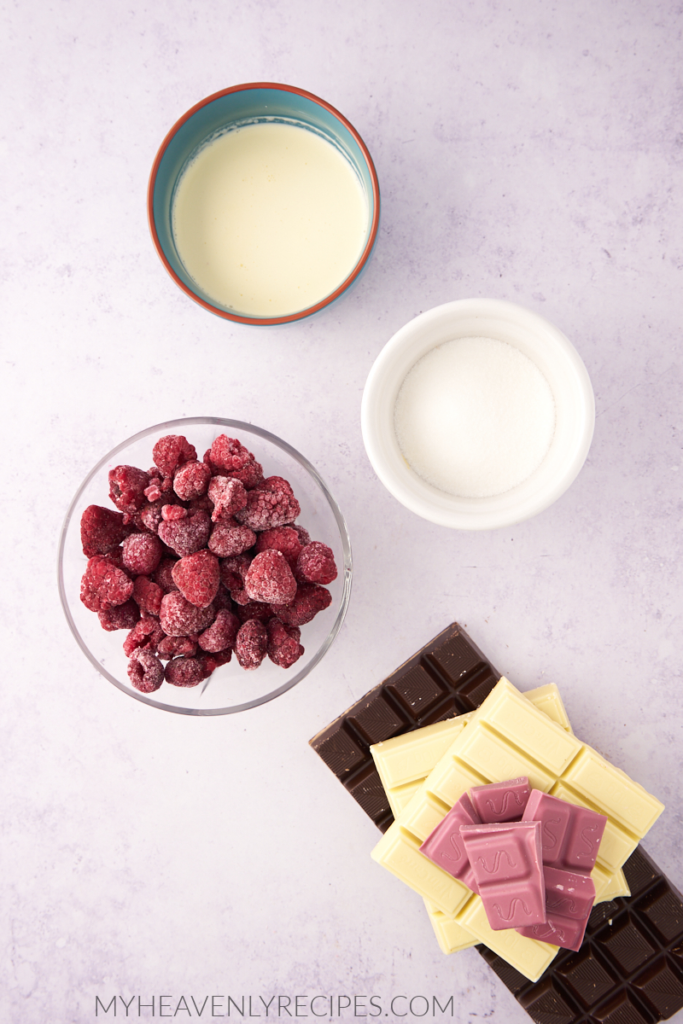 For this recipe you use real raspberries which gives it so much flavor!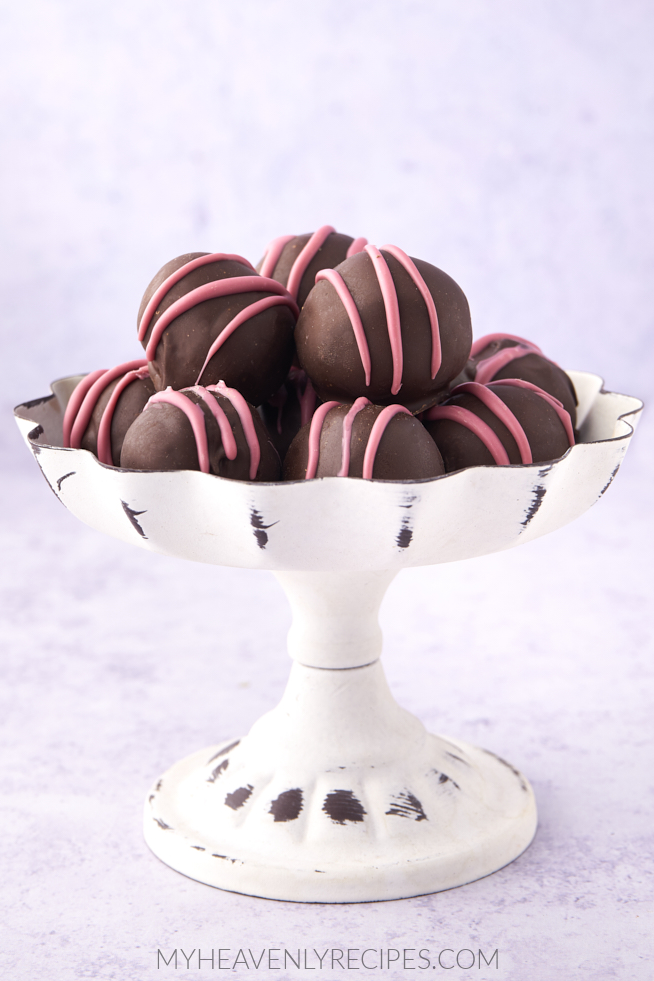 They also look gorgeous on a platter or bagged up with ribbons for gifts!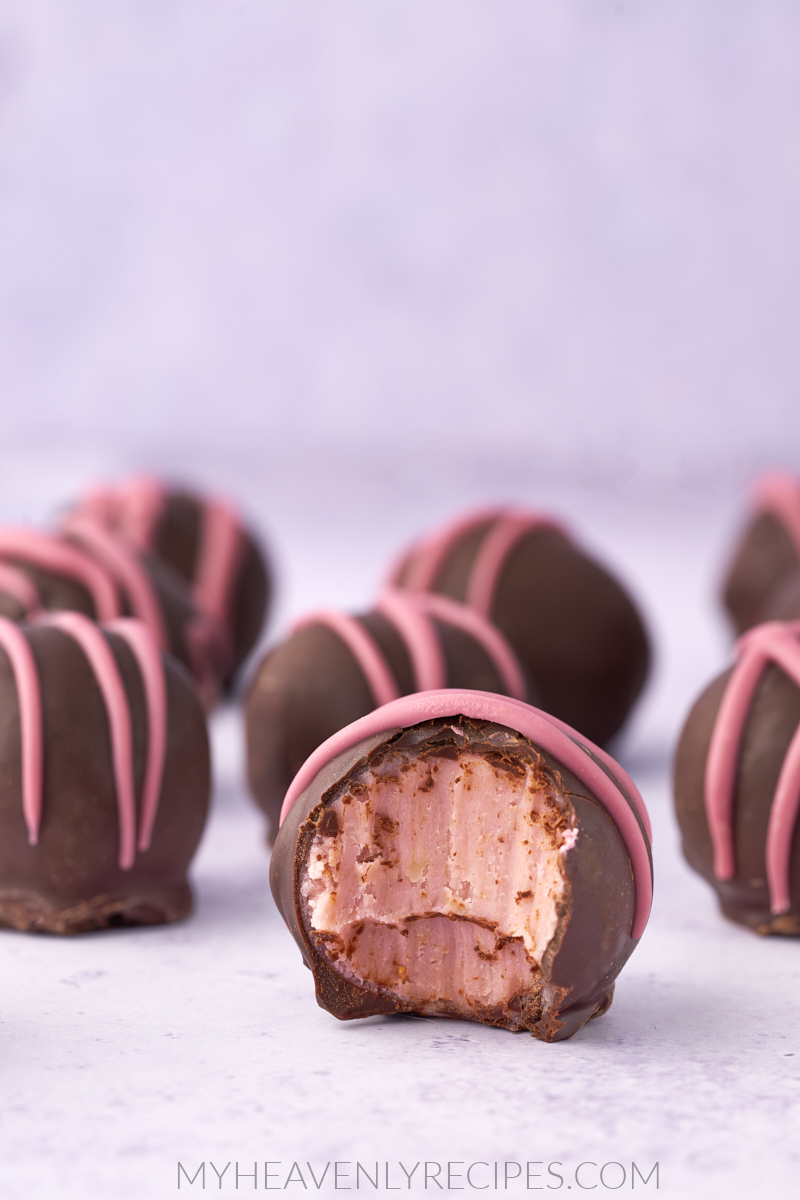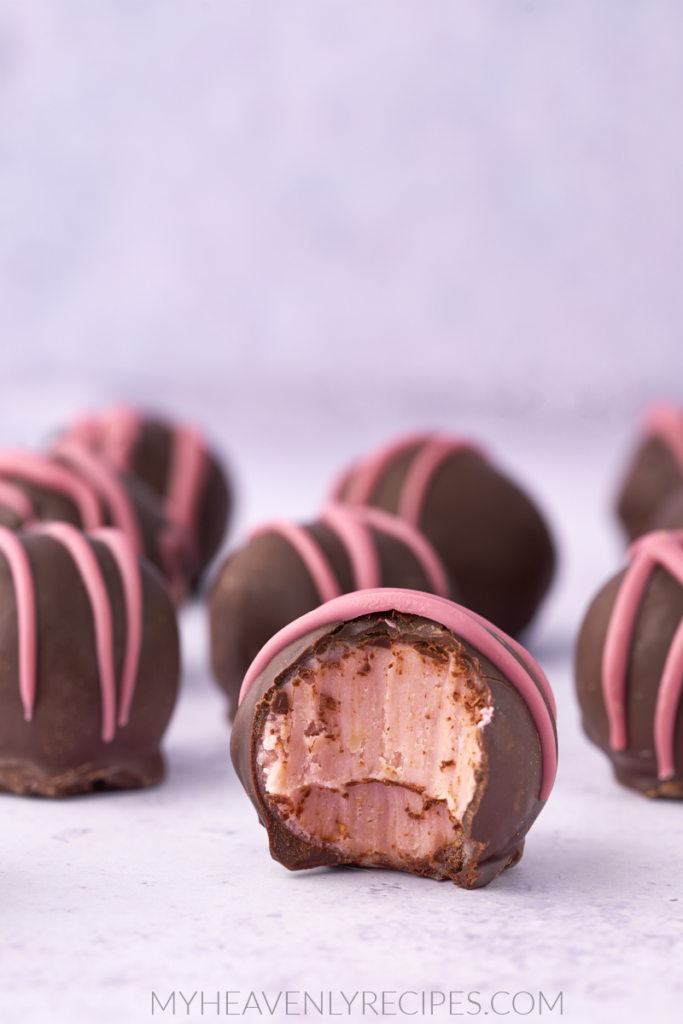 Chocolate truffles have always been my favorite but this raspberry filling is the best! Make sure to try our red velvet truffles too!
Chocolate Raspberry Truffles
Ingredients
Raspberry Ganache
1 ⅓

cup

Frozen raspberries

¼

cup

Powdered sugar

¼

cup

Heavy whipping cream

7

oz

Good quality white chocolate

1

TBSP

Water
Dipping
7

oz

Dark chocolate

52% to 70% cocoa
Decoration (optional)
Pink chocolate as ruby chocolate or pink candy melts
Instructions
Start to defrost the raspberries.

Chop finely the white chocolate. Set aside. (Note: absolutely necessary to chop finely the chocolate. It will help to melt uniformly in the puree)

Add the thawed raspberries in a blender and whizz until they are completely reduced in puree.

Pour the raspberry puree through a strainer to remove the seeds. You might need to add a bit of water if your puree is too thick (just a little bit of water, we still want a puree texture).

In a saucepan, add the raspberry puree and the powdered sugar. Stir.

Over medium heat, bring to boil, stirring frequently.

Once boiled, heat over low heat, stirring frequently, until it is reduced by about half. It takes about 25 minutes.

Add the heavy whipping cream. Mix until fully incorporated.

In a large bowl, add the chopped white chocolate. Pour the warm raspberry puree and stir until the chocolate is melted and the texture is smooth. (Note: you can let your bowl in a warm water bath. It would help to melt the chocolate.)

Cover with a plastic wrap and place in the fridge for 2 hours until firm.

Scoop the ganache and, using your hands, shape into small balls (about 1 inch diameter).

Melt the dark chocolate. Using a fork, dip a truffle into the melted chocolate. Shake gently to allow any excess of chocolate to drip back.

Place the truffle onto a baking sheet lined with a baking parchment. Dip the remaining truffles, one by one.

Refrigerate the truffles until the chocolate is set (about 25 min). Note: You should have an excess of dark chocolate but necessary to dip the truffles properly. Once all the truffles are covered with chocolate, pour the remaining melted chocolate on a baking parchment, spread it and let it set. You can reuse it later.