Guys and gals if you can operate a microwave you can TOTALLY make this Skyline Chili Dip recipe. Now, I live in Cincinnati and I'm a Skyline Chili girl. I purchase the frozen Skyline Chili from my local Sam's Club, simply because it's the best deal and we enjoy Skyline for quick and easy dinners.
*If you don't have frozen Skyline Chili, you can order Skyline Chili Cans. You'll need to heat it up before making this recipe!
However, you may be a Gold Star fan and that's fine…I swing into our local Gold Star a few times a year and grab some coneys or nachos! However, on game day we tend to stick around the house and snack on appetizers. Years and years ago I use to make this every Sunday with friends as we cheered on the Bengals.
If you don't have picky eaters you can totally throw in some diced tomatoes on top of the chili. You can also dice some onions up and serve on top. However, the girls LOVE LOVE LOVE eating this with no tomatoes…and Beanies loves tomatoes!
I don't know kids are weird.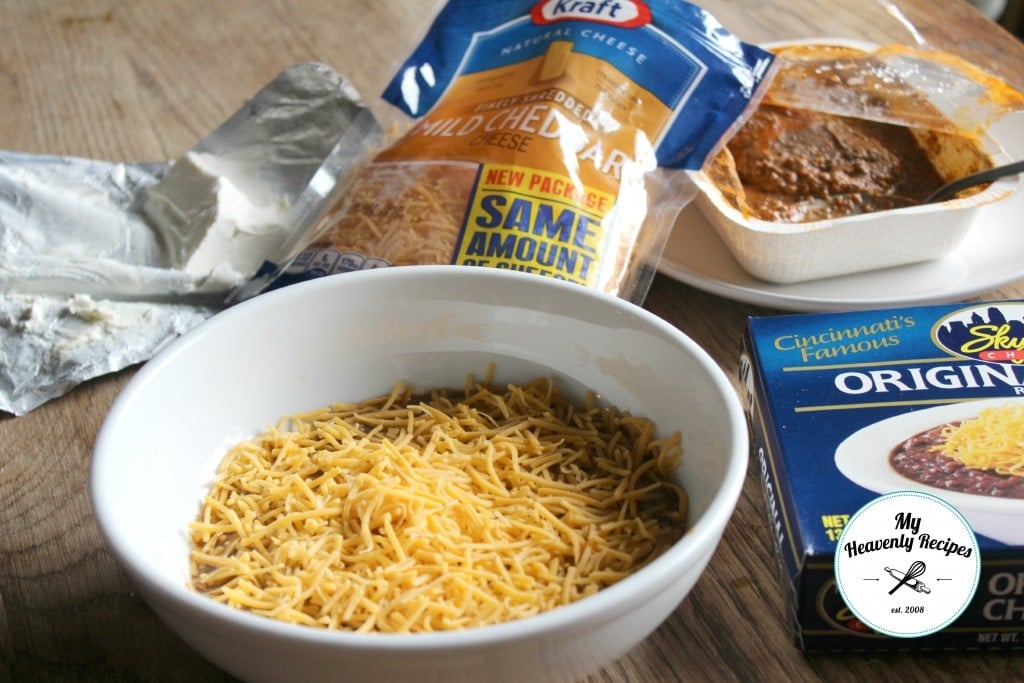 On nights that we just have cheese coney's chances are there is some leftover Skyline in the fridge. On the next day I'll make some Chili Dip for a snack or even to go with lunch….yes, I'm a bad Mom sometimes! I love the fact that it's something to nibble on and set on the table in under 3 minutes. The girls love the fact that it's something different and a "treat".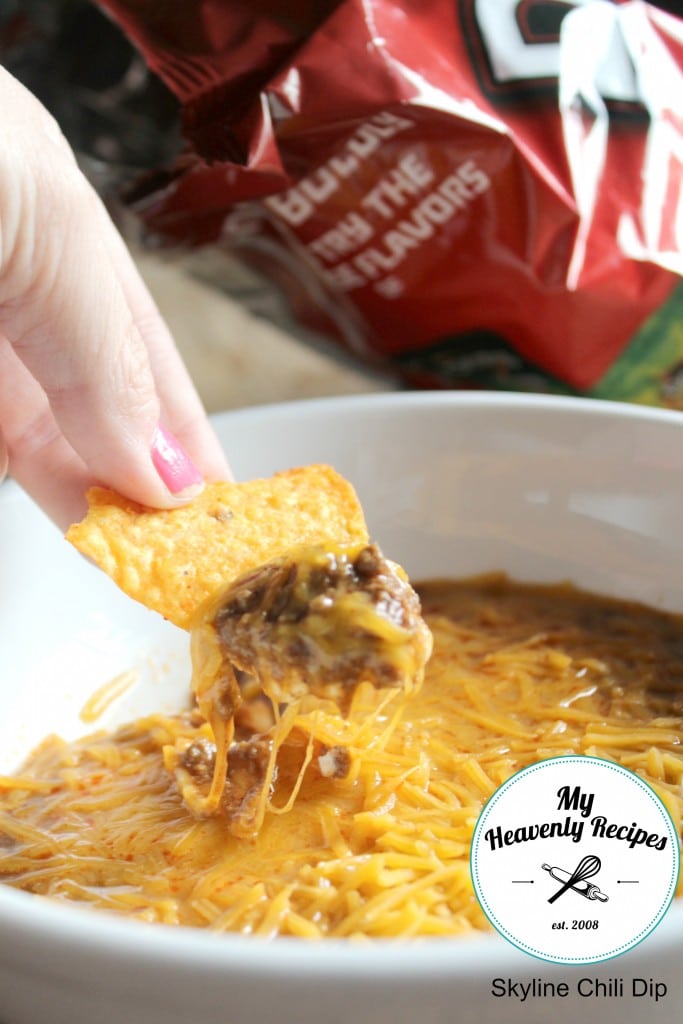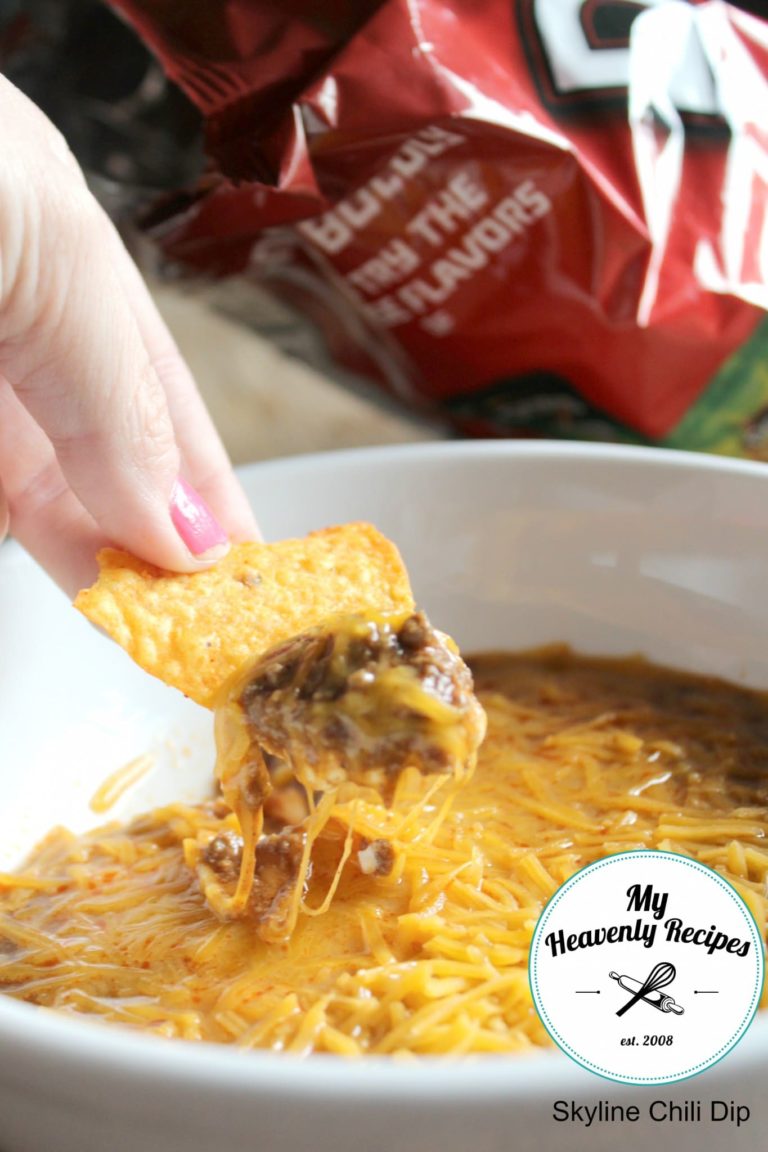 The recipe below is for 2 people. If you are looking to feed a crowd place one 8 oz. package of cream cheese evenly into a pie dish. Using a large spoon, laddle the Skyline Chili over the top of the cream cheese with a even layer. Next place about 2 cups of Kraft Shredded Cheese onto the top. Place in microwave for 30 second to 1 minute just to melt the cheese. Feel free to top with a little diced onion if you please!
Other appetizer recipes you may be interested in:
Cincinnati Skyline Chili Dip
It's a Cincinnati thing, but, Skyline Chili Dip can now be enjoyed in your home!
Ingredients
4

TBSP

Philadelphia Cream Cheese

2

C

Skyline Chili

1/2

C

Kraft Shredded Cheddar Cheese
Instructions
In a microwave safe bowl spread cream cheese on bottom of bowl.

Add in Skyline chili and top with cheese.

Place in microwave for 30 seconds (or until cheese is melted).

Serve with Doritos or tortilla chips for a quick and easy appetizer.
Nutrition
Calories:
248
kcal
|
Carbohydrates:
8
g
|
Protein:
13
g
|
Fat:
18
g
|
Saturated Fat:
8
g
|
Cholesterol:
55
mg
|
Sodium:
601
mg
|
Potassium:
255
mg
|
Sugar:
0
g
|
Vitamin A:
6.7
%
|
Vitamin C:
2.6
%
|
Calcium:
15.2
%
|
Iron:
14.2
%