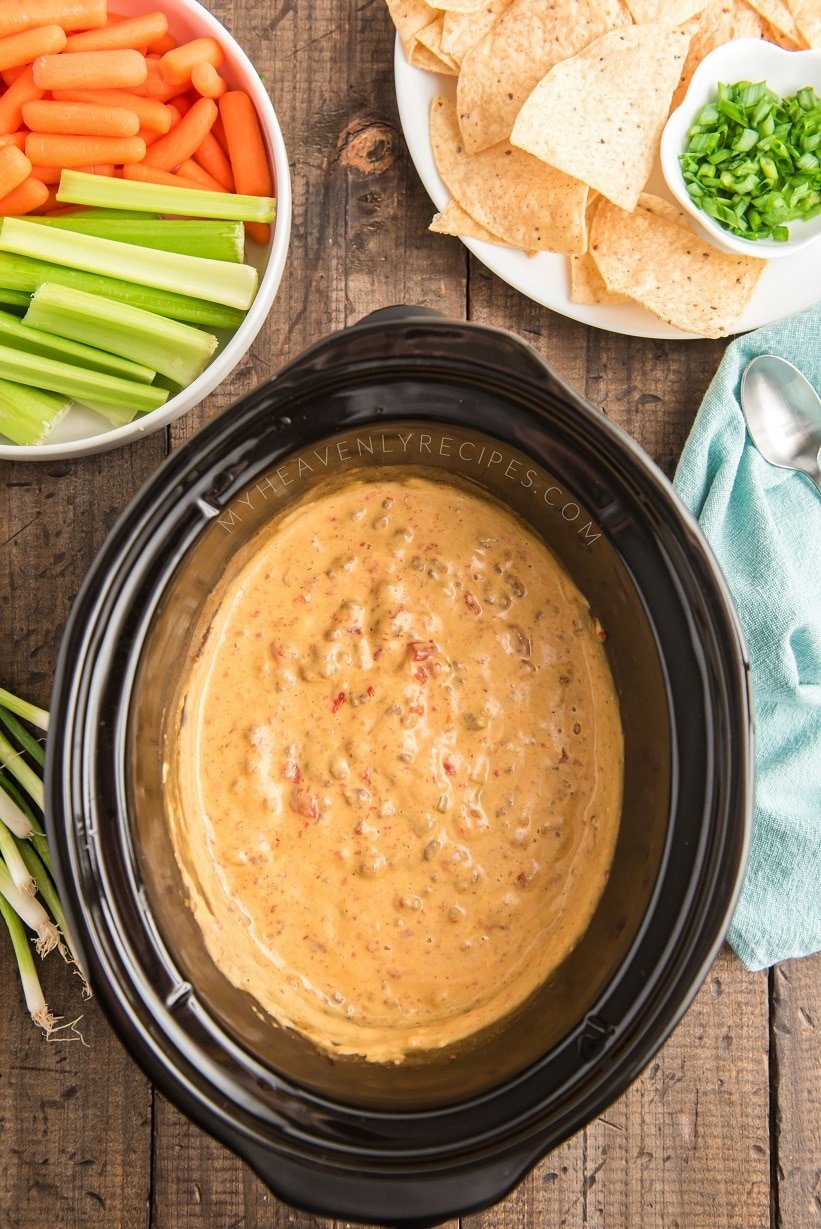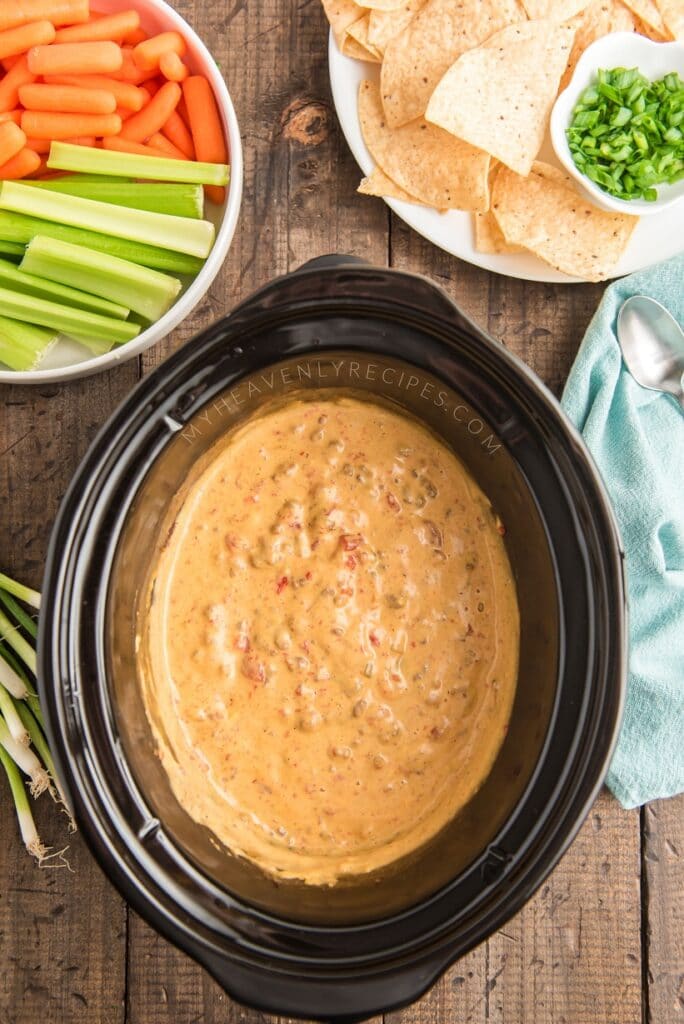 I just love easy dip recipes that you can put out for game day or all the holiday parties! This Velveeta cheeseburger dip is one of my all time favorites for entertaining. You can literally see me hovering around the crockpot all night, it's that good. It uses Rotel which gives it a little kick to it in spice. Make sure to try our white queso dip and crockpot reuben dip, too.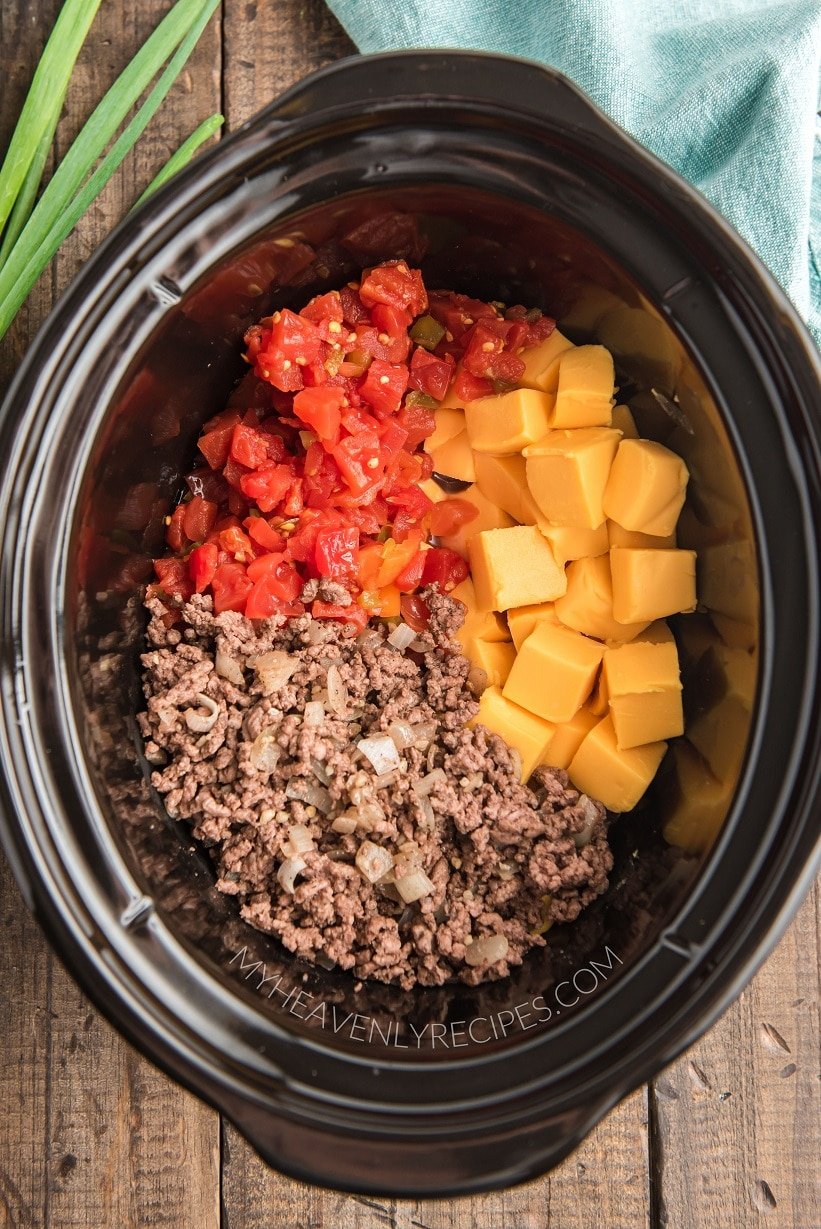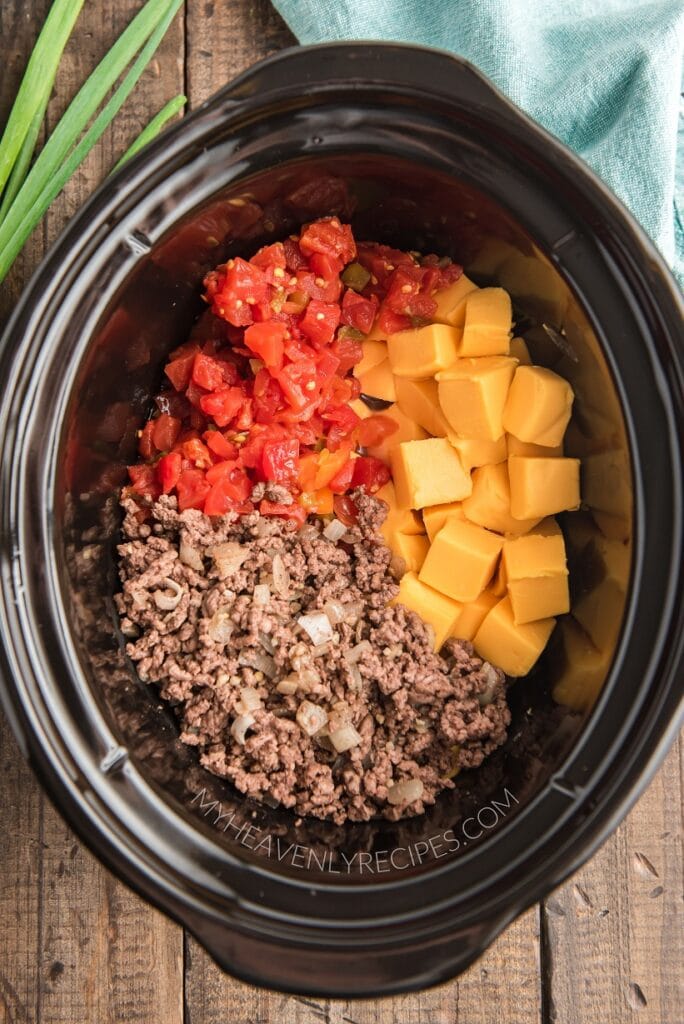 You will need to fry the ground beef/onions first then just dump chunks of velveeta cheese and a can of rotel in the slow cooker.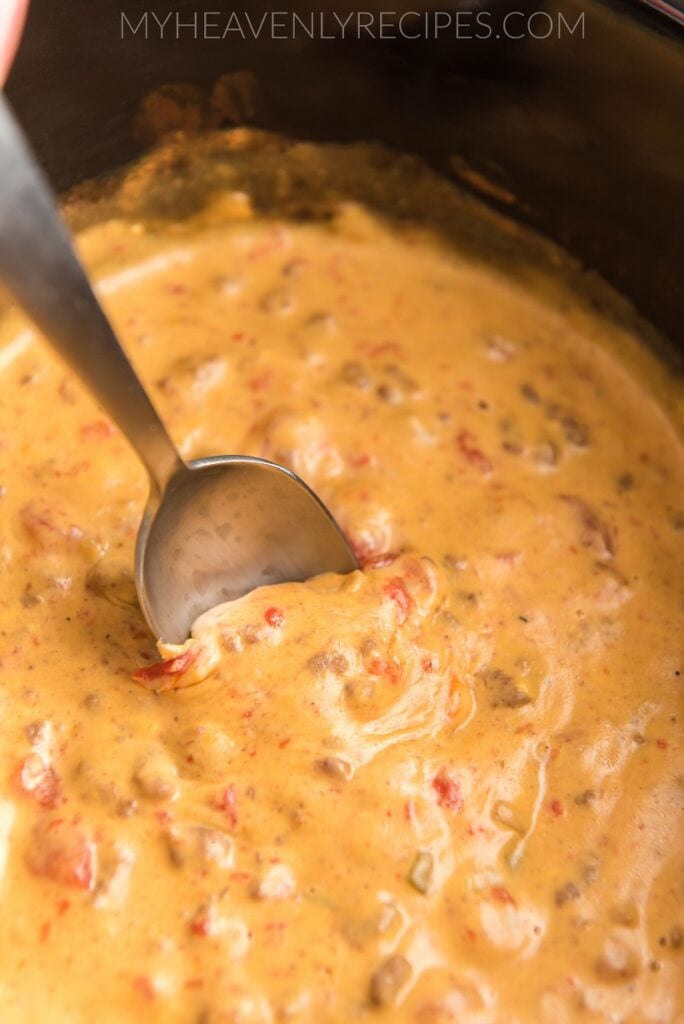 Turn it on low and you will have the best slow cooker appetizer ready to go when guests start arriving!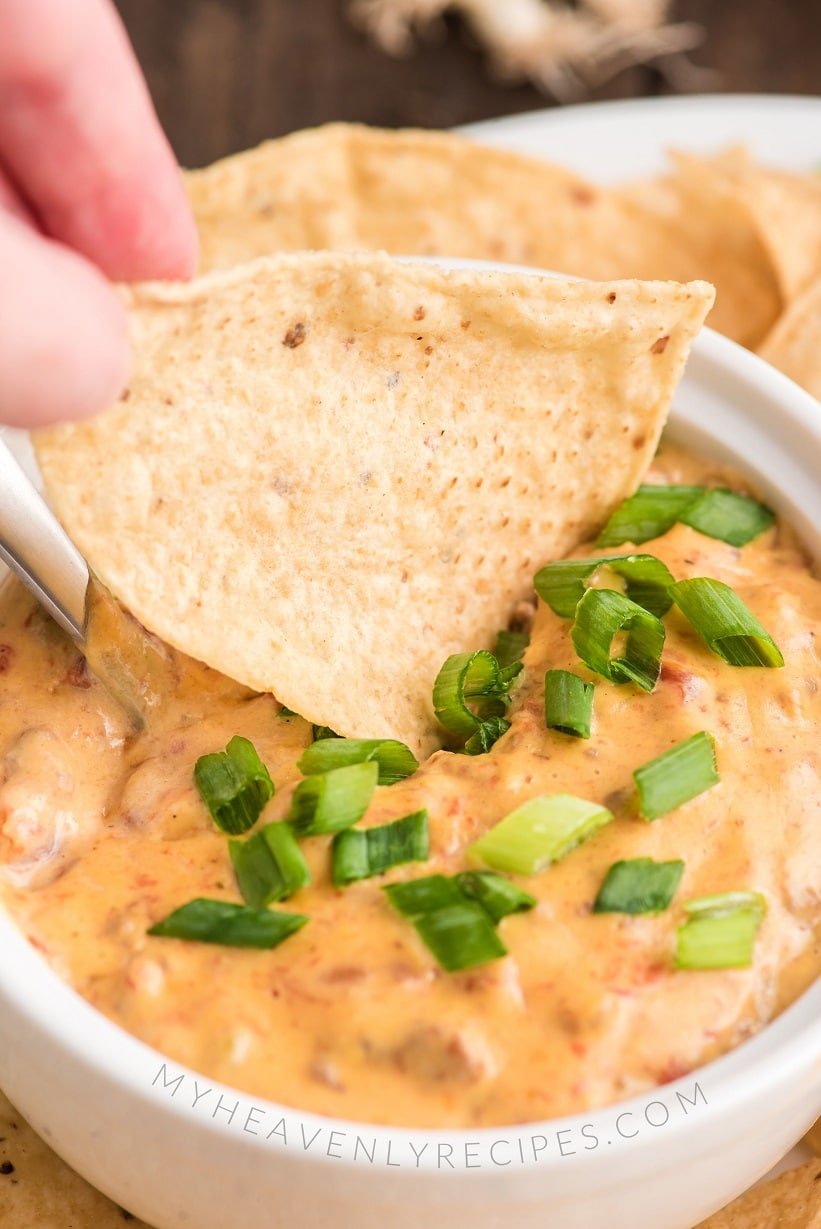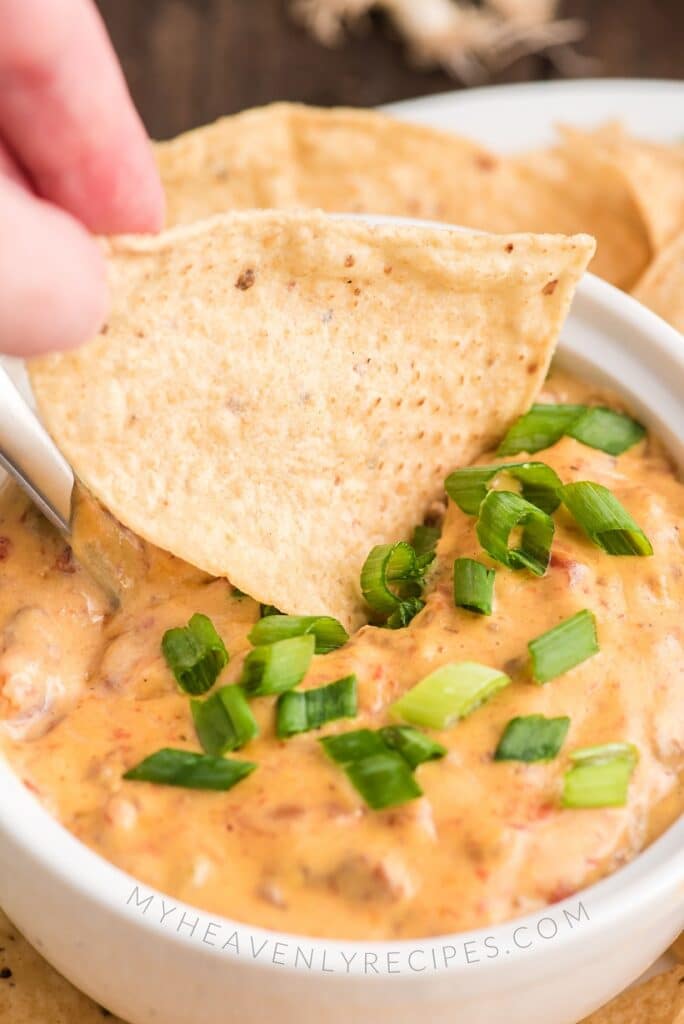 Crockpot Velveeta Cheeseburger Queso Dip

Can I leave the cheeseburger dip in the crockpot on low? Yes, you can do that to keep your dip warm, just be sure to stir on occasion and check to make sure it is not getting too hot or starting to burn.

Can this queso dip be made ahead of time? Yes, I recommend browning the ground beef with the onions and spices and then cutting up your velveeta cheese. When you are ready to turn your crockpot on for your party, just add all ingredients and turn it to high. Just remember that it takes about 1 ½ to 2 hours to cook in the crockpot.

What goes well with Cheeseburger Crockpot Dip? Tortilla chips, Ritz crackers, triscuits, carrots, and celery.
What size slow cooker should I use for this? I recommend a smaller size if you have it, 4.5 qt or smaller is a great size.
Crockpot Cheeseburger Queso Dip
Ingredients
½

pound

lean ground beef

¼

cup

yellow onion

diced

¼

teaspoon

salt

¼

teaspoon

pepper

½

teaspoon

Worcestershire sauce

2

garlic cloves

minced

1

16 ounce package Velveeta cheese, cut into 1 inch cubes

1

10 ounce can Rotel, undrained
Serve with:
Crackers

tortilla chips, or fresh veggies
Instructions
Spay a large skillet with non-stick spray, add ground beef, and heat over medium-high heat. Break up and stir the meat with a spatula as it cooks until only slight pink remains. Drain grease if needed. Add diced onion, salt, pepper, Worcestershire sauce and minced garlic to the skillet. Continue cooking and stirring until onions are translucent.

In a small crock pot, add ground beef mixture, Velveeta cheese cubes, and rotel. Cover and cook on high for 1 ½ to 2 hours, stirring about every half hour until all cheese has melted.

Stir thoroughly, turn heat off, and garnish with green onions. Serve immediately with your favorite chips, crackers or veggies!
Notes
This can be refrigerated and reheated the next day. Place your cheese dip in a microwave safe container and reheat in 30 second increments, taking out to stir each time.
Please note that the Rotel in this recipe makes the dip spicy. If you want a milder dip you can substitute diced tomatoes.
You can remove the dip from the crockpot to serve in a separate dish. The dip can be reheated in a microwave safe container.