This post may contain affiliate links, read our
Disclosure Policy
for more information. As an Amazon Associate I earn from qualifying purchases, thank you!
These adorable easy Easter cupcakes (Bunny Tail cupcakes) will make a perfect addition to your Easter dessert spread this year. Kids will love making them too!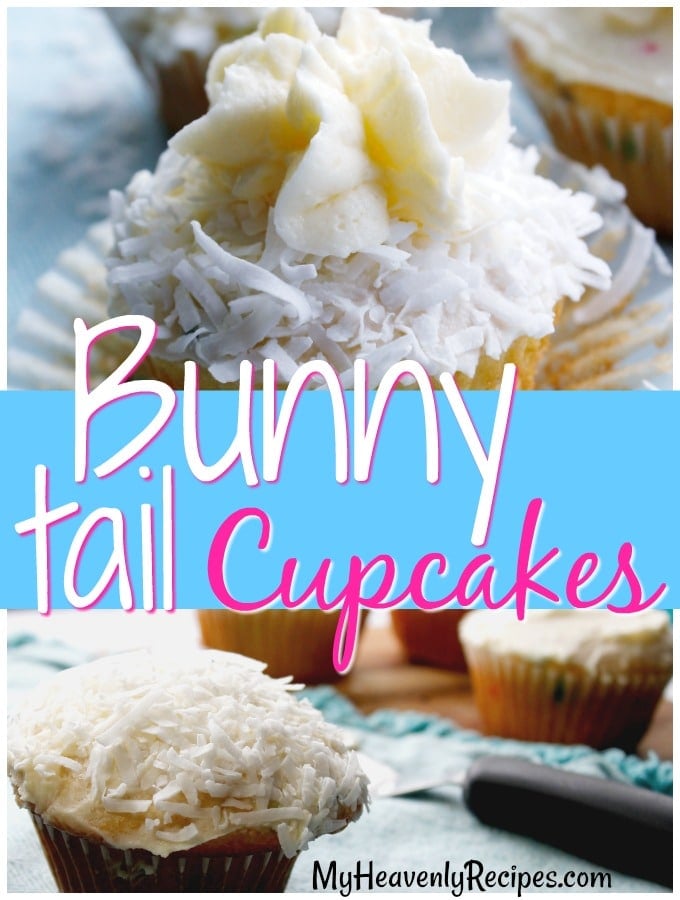 While cupcakes certainly don't need to be cute to taste good (my Easy Bunny Cupcakes aren't perfect but we created great memories with them and they tasted darn good!), it is fun to be able to make cute cupcakes for the holidays.
And cute does NOT need to be complicated. You don't need to get out 27 pastry piping bags, be a royal icing expert, or create complex fondant animals to make cute Easter cupcakes. When you're a busy mom like I am, that's just too much!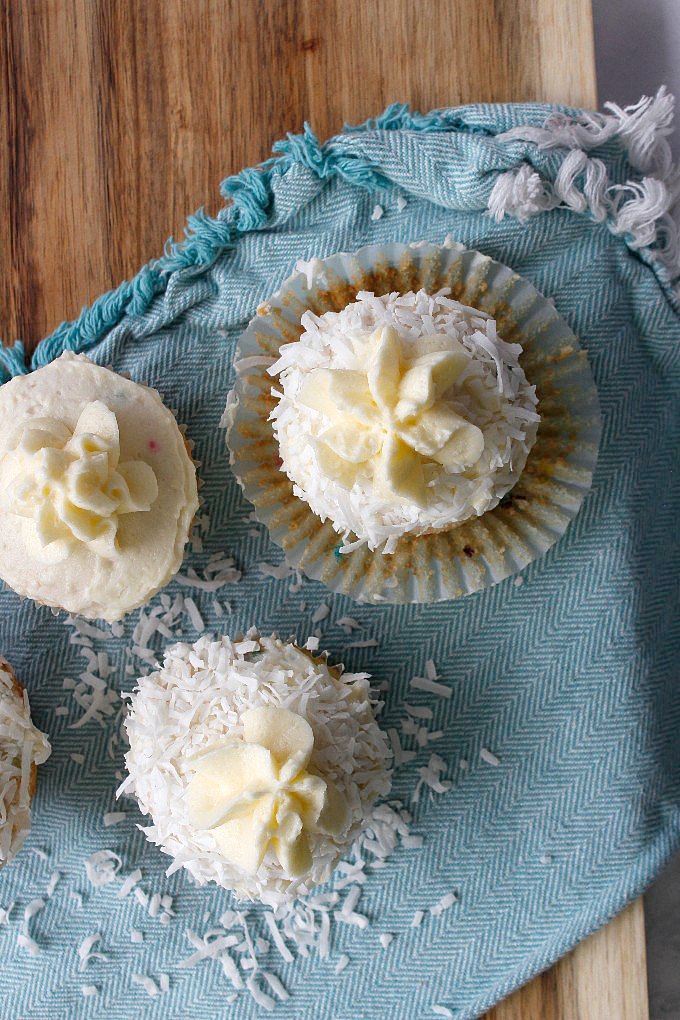 That's why I love these Bunny Tail Cupcakes (aka easy Easter cupcakes!). They're not just easy; they're ridiculously easy. Let me take you through the process…
How to Make Easy Easter Cupcakes – Recipe Video Tutorial 
How to Make These Easy Easter Cupcakes
You're going to love how easy these Easter cupcakes are to make. They're perfect for kids too, so definitely get 'em involved!
Step #1: Using a box of white cake mix, bake cupcakes. The only thing you want to change is to bake them at 325 degrees (this will create a moister cupcake).
Step #2: When the cupcakes are done baking, spread a thin coating Homemade Whipped Icing on top of each cupcake.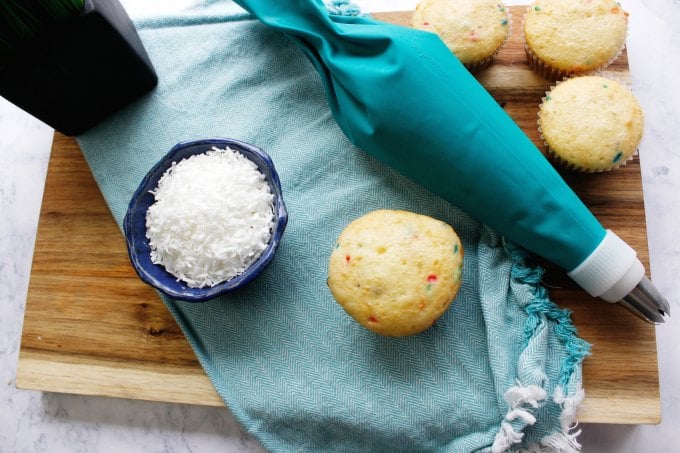 Step #3: Dip each iced cupcake in coconut flakes.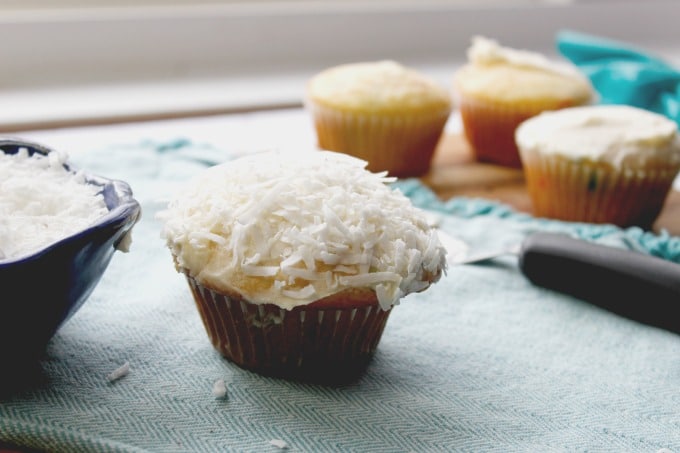 Step #4: Using a piping bag, create a (cute!) bunny tail on each cupcake.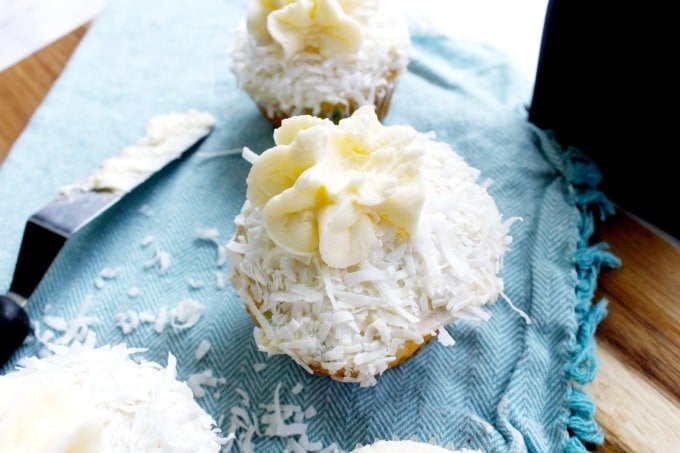 That's it! You're done. I told you these were easy cupcakes. 😉
Easy Easter Cupcakes Video
Want to see exactly how to make these easy Easter cupcakes? Take a look at this video I made for you!
More Easter Cupcakes Ideas
If you want to add a few more cupcakes to your "must-bake" list this year, try a few of these ideas:
Bird's nest Easter cupcakes: Bake cupcakes and assemble a bird's nest on top made out of (chilled) melted chocolate and coconut flakes. Even better, use my No Bake Chocolate Birds Nest recipe and put one on top of an iced cupcake!
Carrot Easter cupcakes: Not to be mistaken for carrot cake cupcakes — just make a carrot out of orange candy melts, let them set, and stick them on top of a frosted cupcake. Learn how to do this in my Carrot Cupcakes recipe post.
Peeps Easter cupcakes: Just frost a cupcake in a pastel color and stick a marshmallow Peep on top!

Enjoy!
I hope you and your family have a wonderful Easter. Make sure to check out my Easter Bunny Cake (Kid-Friendly Easter Recipe!) too!
Easy Easter Cupcakes | Bunny Tail Cupcakes + Video
These adorable easy Easter cupcakes (Bunny Tail cupcakes) will make a perfect addition to your Easter dessert spread this year. Kids will love making them too!
Ingredients
Boxed White Cake Mix

made according to directions

2

C

Unsweetened Coconut Flakes

Homemade Whipped Icing (see notes)
Instructions
Once your cupcakes have cooled, spread a thin coat of the whipped icing onto the cupcakes.

Dip your cupcakes into the coconut flakes.

Using your piping bag, create a bunny tail.
Notes
Get the recipe for the Homemade Whipped Icing here.
TIP: Baking your cupcakes at 325 will allow for a moister cupcake.
Try These Reader Favorite Dessert Recipes
Quite a few of our Dessert Recipes have been very popular across social media. Here's a few of our readers favorite dessert recipes that we hope you'll also try!