How to make Meatloaf in the Crock Pot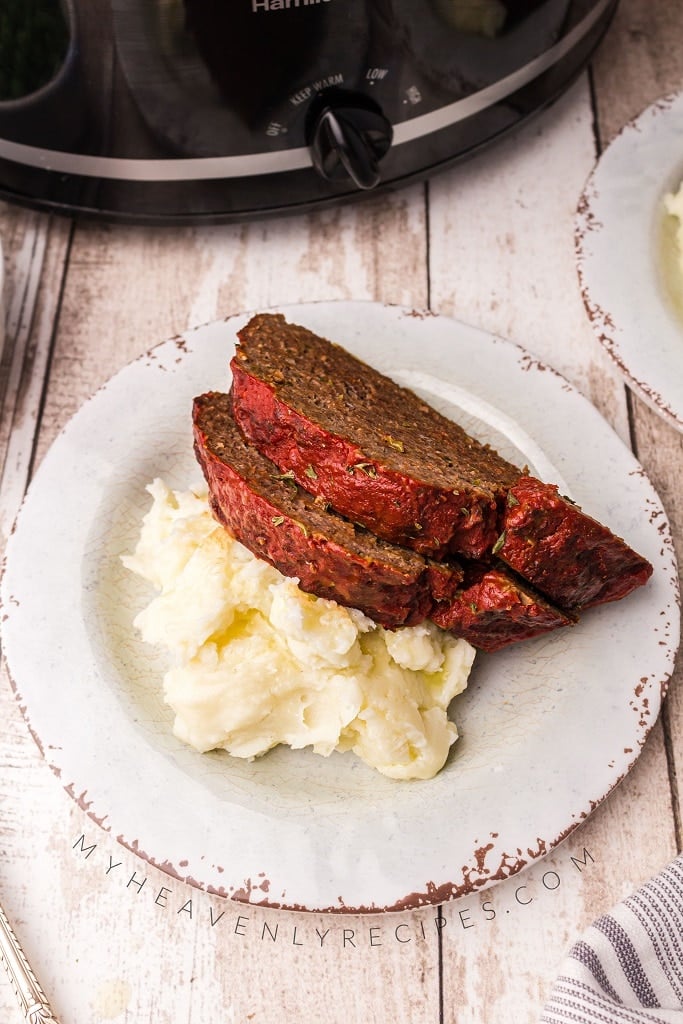 Meatloaf has a long history, dating back to the Roman's cookbook – Apicius – where they mixed chopped meat with wine and bread, and pressed them into patties. Since then there have been all kinds of variations throughout Europe but with the invention of the meat grinder in the U.S. in the 1800's – the modern day meatloaf was born.
This easy meatloaf recipe has my whole family gobbling it up and asking for seconds every time! My son, who hates all things green can spot an onion a mile away and he even loves this meatloaf.
We are a hunting family and so mostly use venison in this recipe but it works perfectly with beef.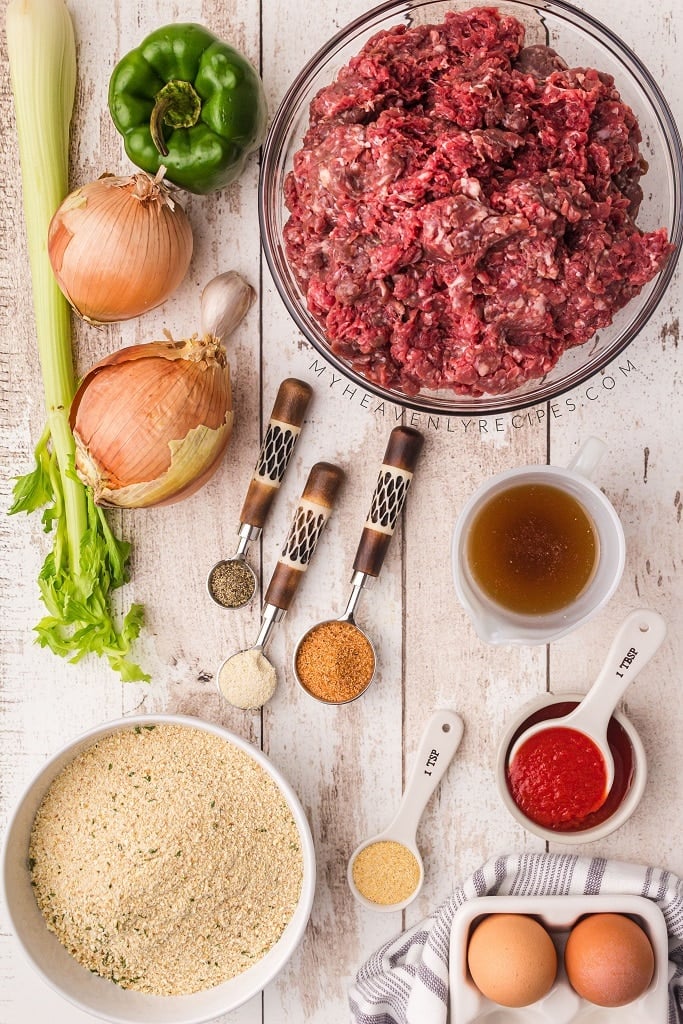 Make sure to also try our stove top stuffing meatloaf and mini meatloaves!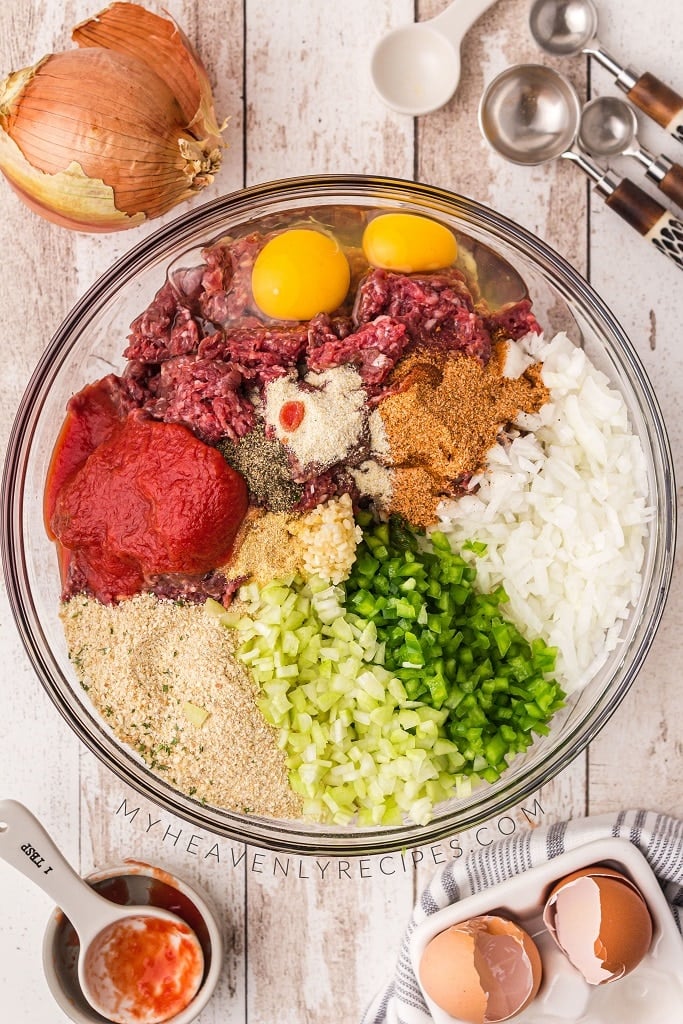 Cooked in the crock pot the meatloaf is deliciously moist and full of flavor and the vegetables are super soft.
I prefer a red gravy with my meatloaf, as do my family, but this recipe works well with a brown gravy too. For my red gravy I take the remaining tomato sauce add some Worcestershire sauce and seasoning and that is all. If you're making a brown gravy go ahead and pour that all over the top of this meatloaf. It will be just as delicious!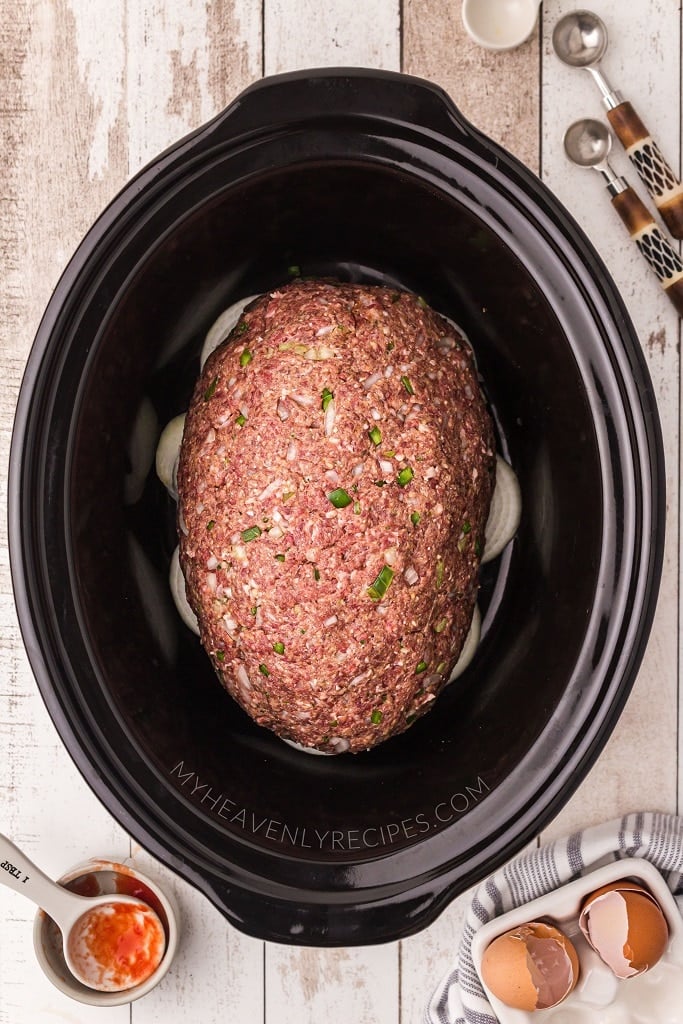 One of the things I love about a good meatloaf is there is never any gone to waste. The next day meatloaf sandwiches are my husband's absolute favorite snack.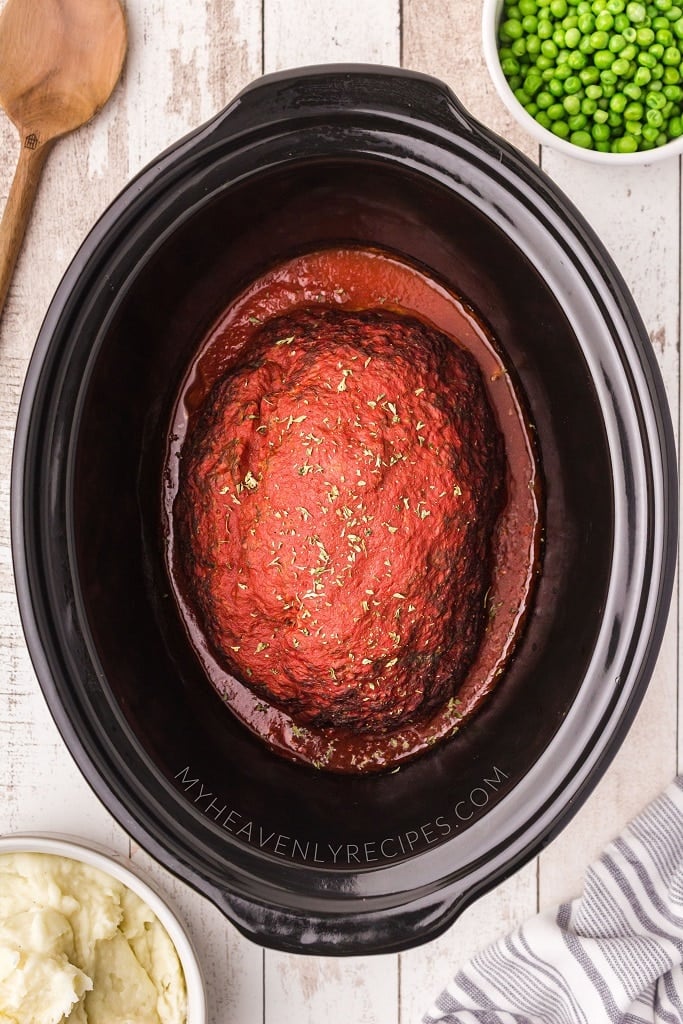 FAQ's
What size crock pot should I use?
This recipe is for a larger quantity so is best suited for the bigger crock pots (7 or 8 Quart)
How long to cook Meatloaf?
In the crock pot/slow cooker, you can cook a meatloaf on low for 6-8 hours, or high for 4-6 hours.
Can you freeze Meatloaf?
This recipe freezes well for 3 months.
What should I serve with Meatloaf?
I like to serve mashed potatoes (and I think that is the most popular), vegetables can be various! We even put a slice of meatloaf on bread and have the BEST meatloaf sandwich.
Make sure to check out all our other easy crockpot meals!
Crockpot Meatloaf Recipe
Ingredients
3

lb

Ground Meat

Beef, Venison

2

Cups

Italian Bread Crumbs

2

Eggs

1

Green Bell Pepper

2

Sweet Onions

1

Celery Stick

1

Garlic Clove

1

Tbsp.

Creole Seasoning

1

Tsp.

Garlic Powder

1

Tsp.

Onion Powder

¼

Tsp.

Black Pepper

2

Tbsp.

Tomato Sauce

6

Tbsp.

Beef Broth
Instructions
Slice one onion and line the bottom of the crock pot (this raises the meatloaf off the bottom and prevents burning).

Add the ground meat and bread crumbs to a large mixing bowl.

Chop the vegetables (onion, bell pepper, celery and garlic) and add to the mixing bowl with the meat and breadcrumbs.

Add the remaining ingredients and combine well. Keep kneeding the mixture until it is well mixed and place mixture onto a chopping board to create your 'loaf' shape.

Keep patting the loaf and moulding it until no cracks are on the surface of the loaf.

Carefully place the loaf on top of the onions in the crock pot and cook on low for 6 hours or high for 4 hours.

Coat the meatloaf with preferred sauce and cook a further 40-60 minutes.